The best startup cities in the world is a hotly debated topic among entrepreneurs. What makes an up-and-coming startup hub is dependent on many different factors making the debate a nuanced one.
But new business owners can agree on one thing - startups represent the future of business. Even the largest of corporations started out as an idea. But one thing is for certain that just like the Goldilocks zone that lets life flourish on our planet, startups too need an ecosystem that is 'just right'.
Best up-and-coming cities for startups
Top global startup cities and innovation hubs like Silicon Valley, Tel Aviv, and Berlin seem to have fostered such an extensive ecosystem, but what about the up-and-coming cities for startups?
[Related Article –The 50 Best Startup Cities in 2021]
For investors, these newly rising innovation hubs are increasingly attractive when looking to get ahead and on top of new trends.
For those in the know, here are 25 up-and-coming startup cities are projected to grow into the innovation hubs of the future:
25. Boulder, Colorado
Boulder – not just the town from that Chainsmokers song anymore. Once thought of as a mere satellite town of the state capital, Denver, Boulder is a clean and safe town surrounded by outstanding natural beauty.
Business in Boulder is thriving, and so is the startup scene. By 2010 Boulder boasted six times more high-tech startups than the national average, and hosts the annual 'Boulder Startup Week' (sponsored by Google and Uber), an event designed as a meeting point for startups, investors and incubators.
As a college town the talent pool is full of young, eager workers and aspiring entrepreneurs. CU-Boulder ranked in the top 20 of "America's Most Entrepreneurial Universities" and the atmosphere breeds an entrepreneurial spirit.
Boulder County also ranks high in terms of venture capital invested per capita and the town was named "America's Startup Capital" and "America's Startup City", making it one of the newest innovation hubs to keep an eye on.
About the startup city - Boulder

Advantages: History of startup culture, forward-thinking atmosphere, high quality of life
Disadvantages: Regulations limit the ability to scale up, lack of low-wage workforce (favors tech startups), rising cost of living
Successful startups: Sphero, Misty Robotics, Bonusly
Incubators/Coworking spaces: Techstars, The Studio, MergeLane
24. Dallas, Texas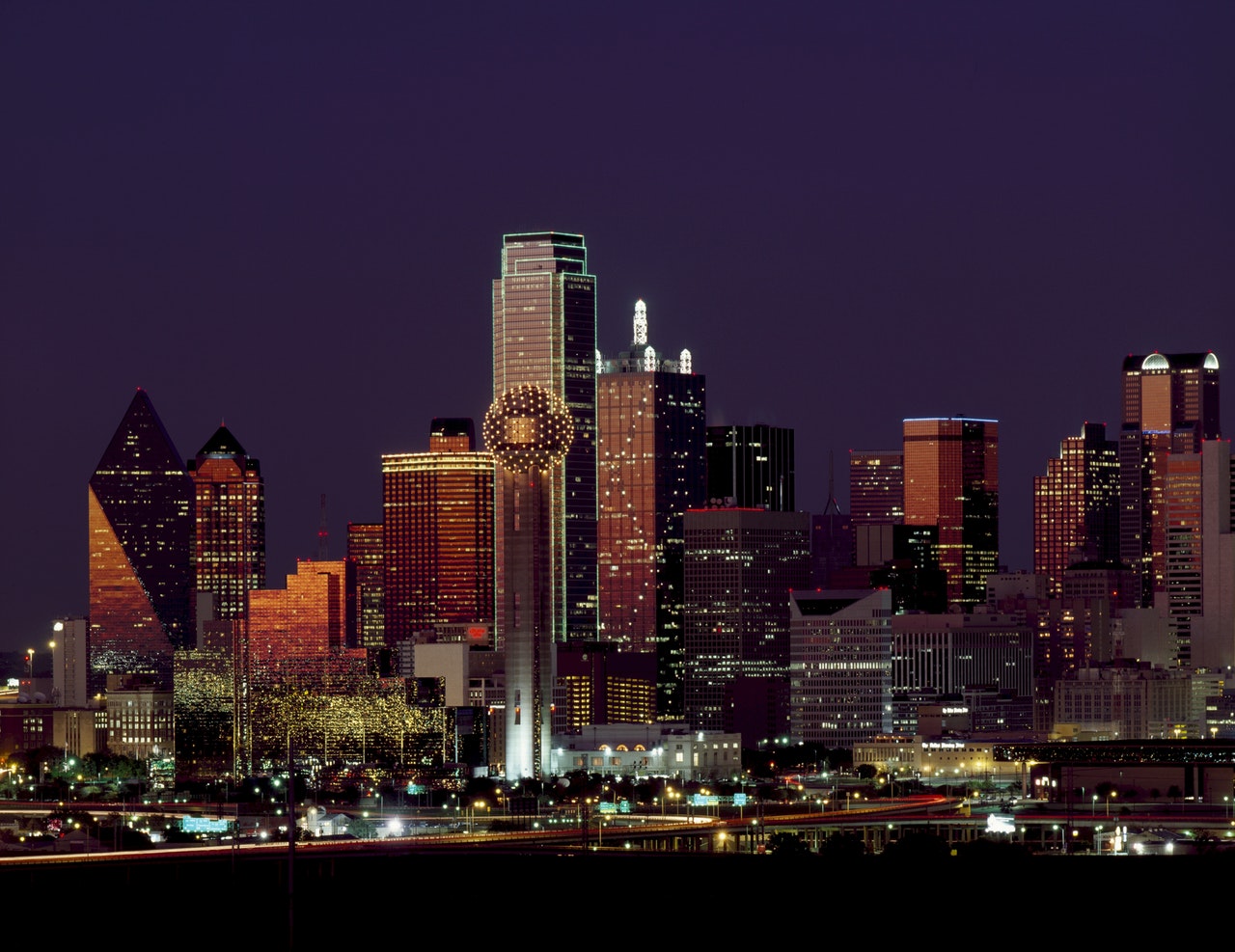 The ninth largest city in the US, Dallas has a strong economy and is home to the headquarters of 43 Fortune 1000 companies. A significant amount is also being spent on a downtown reactivation effort and the promotion of a burgeoning innovation district. Plus, it's sunny 232 days of the year.
Dallas collects no local income tax, and Texas collects no state income tax, fostering an environment of job creation and encouraging local talent to stay. For startups with limited capital, this is hugely beneficial as it affords them access to an educated talent pool available at a lower wage.
Texas also ranked first on CNBC's Top States for Business list, as well as first place in economy and infrastructure, and claims 41 universities and colleges within the Dallas-Fort Worth metroplex, supplying an ample quantity of highly educated workers, making Dallas an attractive startup scene for young entrepreneurs.
About the startup city - Dallas

Advantages: Advantageous tax system, strong business climate
Disadvantages: Attractive to corporations, lacking venture capital, lacks incubator opportunities
Successful startups: Roomored, PICKUP, CruiseBe
Incubators/Coworking spaces: Capital Factory Dallas, Health Wildcatters, coLAB Workspace
23. Bratislava, Slovakia
Slovakia, a small and relatively young country in central Europe, has had Bratislava as its capital since the countries independence in 1993. Slovakia's economic growth rate in Q4 2018 was 4.6%, far ahead of the EU average of 1.5%. The buoyant market makes Slovakia a great starting point for a business and a good test market before internationalization.
This is evident in the breakdown of the country's economic output - with 57% of that generated by small- and medium-sized enterprises (SME's). Bratislava's startup scene is home to 107 of the companies on Inc.'s 5000 Europe list of fastest-growing private companies in Europe in 2017.
Approximately 1000 startups are launched annually in Slovakia, and the government supports the growth of this industry with events, office space, and initiatives to allow creative minds to flourish. Bratislava is becoming one of the top up coming startup hubs in Europe.
About the startup city - Bratislava

Advantages: Government support, low cost of living,
Disadvantages: Small national market, language barrier limits expansion, young startup scene
Successful startups: InSolutions, Pixel Federation, Sygic
Incubators/Coworking spaces: The Spot, Impact Hub Bratislava, Connect Coworking
22. Mumbai, India
Whether or not the glitz of Bollywood is the reason Mumbai was given the moniker 'City of Dreams', it doesn't stop thousands of Indians from moving to the city every year searching for a better life.
The Indian government is hoping to encourage growth with a broad range of initiatives, most notably its massive Dehli-Mumbai Industrial Corridor Project, a mixture of high-tech zones and infrastructure hoped to increase the ease of doing business. This is making the city one of the fastest growing startup cities in the world.
The 'Startup India' initiative also facilitates the creation of startups by providing access to funding, reduction in fees and taxes for startups, and the establishment of innovation hubs. India is also the country with the most universities in the world, supplying large numbers of educated workers to the market.
India's business capital has only benefited from these facts, making Mumbai a more attractive startup destination than ever. The city is also home to major corporations which are increasingly taking an interest in the startup scene. This provides investment opportunities, as well as experienced mentors. Startups in Mumbai received a total of $240 million in funding within the last 12 months.
About the startup city - Mumbai

Advantages: government startup initiatives, access to unlimited skilled and unskilled labor
Disadvantages: safety concerns, comparatively high cost of living on a national level, low level of social security in case of failure
Successful startups: Cleartrip, Pricebaba, Pokkt
Incubators/Coworking spaces: Venture Nursery, Zone Startups, Amplifi Asia
21. San Diego, California
Approximately 190km south of Los Angeles, San Diego might seem left behind in the California startup landscape by industry heavyweights San Francisco and Silicon Valley, but for those that dismiss San Diego it should not be forgotten that Arnold Schwarzenegger once designated it as an 'iHub Innovation Centre'.
Ranked 4th 'Best Startup City in the US' in both Hatch magazine and the US chamber of commerce's 'Innovation that Matters' list in 2017, San Diego continues to outclass its state rivals in terms of affordability. In Q1 2017 alone, investment deals totaling $349,700,000 were made in the San Diego area.
San Diego hosts a large number of tech venture capitalists, angel groups, incubators, and accelerators as well as startup communities and coworking spaces. The growth of its startup scene can also be attributed to the increasing recognition of its academic institutions, and the innovative products developed at them, particularly in biotech and telecommunications.
About the startup city - San Diego

Advantages: affordable compared to regional competitors, financing options, innovation at educational institutions, desirable living location
Disadvantages: overshadowed by regional competitors, investment in startups may have plateaued
Successful startups: Human Longevity, SweetLabs, Tealium
Incubators/Coworking spaces: CONNECT, Desk Hub, Downtown Works
20. Mexico City, Mexico
Mexico City, as the most populous agglomeration in the Americas and home to approximately 21 million people is an economic center and now becoming one of the top innovation hubs in Mexico. Mexico City's economic output surpasses that of many small nations, and its GRP is set to double by 2020 to $780 billion, when compared to 2009 levels.
The North American Free Trade Agreement (NAFTA) helped to transform the national economy as part of a larger liberalization effort. The lasting effects have been a growing middle class and increasing digital literacy, especially in the larger cities.
The startup scene in Mexico City was fueled by increasing Silicon Valley-Mexico cross border companies who recognized the opportunity to access a skilled workforce at a lower cost. This trend has influenced the startup environment towards fintech, innovative tech, and e-commerce.
The city's geographic location and position as the de facto capital of Latin America provide significant possibilities for scaling up, both to Spanish language South- and Central-America but also the US market.
About the startup city - Mexico City

Advantages: Young digitally-literate population, regulatory support, proximity to the USA
Disadvantages: High corruption index, city suffers from brain-drain
Successful startups: Bitso, Boletia, Clip
Incubators/Coworking spaces: 500 Startups, Wayra Mexico, WeWork
19. Edinburgh, Scotland
Often overshadowed by the big business global capital London. Edinburgh is more than the historic beauty that makes it so popular with tourists; not only does the city have the second largest economy in the UK, but it is a political and educational hub.
Edinburgh has a strong entrepreneurial ecosystem and ranks third for the number of Unicorns per capita in the UK. The free university education system encourages a robust talent pool of skilled workers, and having the highest percentage of professionals (43%) in the country is making it a tp up-and-coming innovation hub to watch out for.
$27 million of funding has been invested into Edinburgh startups within the last 12 months, and the UK's largest tech incubator (CodeBase) is located in the city. The local council also make available various grants and subventions for entrepreneurs.
About the startup city - Edinburgh

Advantages: Many incubators, significantly lower overhead costs compared to London, access to guidance and funding
Disadvantages: Fewer accelerators, majority of funding from external investors, tech startup scene is crowded
Successful startups: TravelNets, TVSquared, Mallzee
Incubators/Coworking spaces: Codebase, Nexus, The Melting Pot
18. Miami, Florida
As the biggest city in the Sunshine State, Miami has historically been associated with beach parties before innovation, but its consideration in the competition to become the location of Amazon's HQ2 in 2017 helped to reposition the city in the startup landscape.
Miami's economic output in 2016 was $328 billion, and the startup scene is growing as the local government looks to diversify beyond the hospitality industry. Job numbers in the tech industry grew 27.6% between 2012 and 2016, and in 2017 startups received $1.3 billion in venture capitalist funding.
National incubators and accelerators are moving into the growing market, and with Silicon Valley-based 500 Startups opening an office in the area Miami has huge prospects for those looking to get ahead of the trend.
About the startup city - Miami

Advantages: Culturally diverse community, gateway to Latin America, an Alpha minus world city
Disadvantages: Difficulties in scaling up, ranked 'Worst City to live' in 2017, flooding/hurricanes common in the area
Successful startups: CareCloud, lulu's, Zudy
Incubators/Coworking spaces: Florida Small Business Development Center Network, The Lab, Miami Shared
17. Krakow, Poland
With a comparatively low cost of living and a large number of educated workers due to its reputation as a student city, Krakow makes a great location for a startup. European companies are growing increasingly aware of this, with many SME's relocating their R&D headquarters from countries such as the UK, Ireland, Denmark, and Norway.
Poland is a country of 38 million consumers - a young population with high levels of English language proficiency and digital literacy. It has a stable economy, having continued to grow throughout the years following the 2008 global financial crisis. Krakow's history of tourism also makes it an extremely well-connected transport hub.
Whilst Krakow has room to grow into one of the top innovation hubs in the world, all the fundamentals are now present. This, along with increasing numbers of Poles returning to Poland, the city is poised to benefit from the influx of enterprising young talent. It is no coincidence that Krakow has been the sister city of San Francisco since 2009.
About the startup city - Krakow

Advantages: Educated workforce, named #9 for outsourcing IT in the world, lower cost associated with hiring employees
Disadvantages: Limited government aid for startups, focus on outsourcing instead of startups, market relies on lower-cost labor without long-term sustainability
Successful startups: Brainly, Reality Games, Railwaymen,
Incubators/Coworking spaces: COLAB, Krakow Technology Park, Business Link
16. Moscow, Russia
As the political, economic, cultural, and scientific capital of Russia, Moscow has not escaped the controversies that have plagued the country at large in recent years. However Moscow generates 20% of the country's economic output, and workers flock to the city seeking opportunity.
With $123 million of funding generated by startups in the last 12 months, the startup scene is far from saturated. The city recently ranked second on Inc.'s 5000 Europe list for fastest growing private companies.
This boom has been hampered by the unstable political situation though, foreign direct investment in the startup scene has dried up, and local venture capitalists moving investments to international markets in Eastern Europe and Asia.
In terms of tech talent, Moscow ranks second, only scoring lower than Silicon Valley and as such is very tech-driven, with industries such as e-commerce, online and mobile advertising, 3D printing, and robotics being prominent. The government recognizes this and hopes to promote these industries by relaxing regulations. Moscow is poised to be one top innovation hubs in the world.
About the startup city - Moscow

Advantages: megacity with strong infrastructure, economic hub of the country and Eastern Europe more broadly,
Disadvantages: high cost of living, high corruption index, political sanctions limit business
Successful startups: Elementaree, Busfor, Qlean
Incubators/Coworking spaces: #tceh, StartHub, Coworking 2.0
15. Pittsburgh, Pennsylvania
States in the rust belt are eager to shed their image as a desolate expanse for business, but with state government unwilling to adapt legislation, the responsibility has fallen on big cities to lead the charge in regeneration.
Numbers of incubators, accelerators, and coworking spaces are slowly increasing as big corporates like Uber, Google, and General Motors move to Pittsburgh. The number of startups is estimated to be around 450, with $19 million of investments made over the past 12 months, with an upward trend in the amount annually invested.
Startup scene in Pittsburgh is generally within the medtech industry due to the local influence of the University of Pittsburgh Medical Centre, but the cities unexpected breakout star has been Duolingo, the language learning app with 300 million users worldwide. This startup star has garnered new interest in the city's startup scene and with it the promise of further growth.
About the startup city - Pittsburgh

Advantages: Growing startup scene, growing access to capital, large corporate gaining interest in startups
Disadvantages: Poor state-level ease of doing business, brain-drain
Successful startups: Duolingo, 4moms, Pineapple payments
Incubators/Coworking spaces: Alloy26, Ascender, Avenu
14. Turin, Italy
Though Italy may now have a reputation for fashion and food, historically the country has a rich history of innovation: the Roman empire was responsible for developing technological marvels from aqueducts to surgical equipment.
With the Italian government passing legislation in 2013 to ease bureaucracy and provide tax exemptions for startups, the innovation sector is seen as a key pillar in reducing the youth unemployment that plagues Italy's economy.
Turin, whilst not as prominent on the startup scene as Milan or Rome, is being recognized as an engineering tech hub, with 1300 engineering graduates entering the job market annually. Turin is also home to the oldest Italian incubator, I3P, which was ranked fourth best in Europe and draws entrepreneurs from all over the world.
About the startup city - Turin

Advantages: Low cost of living, tax incentives, flexible labor laws for SME's (by Italian standards)
Disadvantages: Brain drain, ease of doing business
Successful startups: Sherlock, Argotec, Fink Solutions
Incubators/Coworking spaces: Toolbox, Talent Garden Turin, Spazio19
13. Hamburg, Germany
As the second largest city in Germany, Hamburg's GRP in 2016 amounted to €111 billion. The city is known as a major hub for science, research and education in Europe, and as Europe's third-largest port is of substantial importance geopolitically. But now it looks like Hamburg will become one of the leading innovation hubs as well.
Hamburg has a flourishing startup scene with the most startups per capita in Germany, and the opening of the Hammerbrooklyn.DigitalCampus in 2019 is only expected to accelerate the startup industry. Startups in commerce and services account for 22% and 18% of the market respectively and are the largest sectors for entrepreneurship.
Local government is highly supportive of entrepreneurs, and accordingly, the Hamburg Chamber of Commerces' in-house startup center is the starting point for new business, offering free advice and support. Beyond this, there is an established network of resources and events available to startups.
About the startup city - Hamburg

Advantages: Large educated workforce, free personal advice from government bodies, city with a dynamic and robust business environment
Disadvantages: High living costs, high overheads
Successful startups: Cargonexx, Tinnitracks
Incubators/Coworking spaces: 20scoops, TruVenturo, Gruner + Jahr
12. Chicago, Illinois
Home to 29 Fortune 500 companies, Chicago ranks third in economic output amongst US cities. The city has historically been a hub of manufacturing and is considered an alpha world city, but is now also known for its culture and contemporary lifestyle.
Investment in Chicago startups reached $957 million over the last 12 months. The number of incubators and accelerators has increased from 25 to over 100 in the last 5 years, and Chicago's 1871 was ranked number one university-affiliated incubator in the world in 2018.
Large corporations in Chicago are stimulating the startup market (presumably with the goal of identifying enterprises with buyout potential), with venture funds and innovation centers. The city is still becoming acquainted with the startup scene and culture (Midwesterners are traditionally risk-averse), but Chicago's star continues to rise and if the city is able to cultivate and retain talent, it may one day rival Silicon Valley.
About the startup city - Chicago

Advantages: Lower operating cost compared to NY/SF, strong economy
Disadvantages: High crime rate, high tax city, stagnant venture capital market
Successful startups: Home Chef, G Force Life Science, jiobit
Incubators/Coworking spaces: Chicago Blockchain Center, 1871, Builders
11. Antwerp, Belgium
Antwerp exists in the shadow of Brussels, the de facto capital of the European Union. On a national level, however, there is considerable rivalry between the two cities. This one-upmanship fuels much of the entrepreneurial drive in Antwerp's startup landscape.
In 2016 Belgian startups raised €320 million in investment deals, representing a 22% growth in investment from the previous year. The majority of startups coming from Belgium are B2B oriented: a common feature in countries with smaller populations who must internationalize in order to scale up.
In order to facilitate startups, local government offers financial resources, individual advice, and matchmaking for tech startups and creative entrepreneurs. They have also financed a 'Startup Village' to promote the community and create a space for startups to meet investors in Antwerp.
About the startup city - Antwerp
Advantages: Tax incentives, bi-, tri-, and quadrilingual workers are common better-facilitating internationalization
Disadvantages: High-income tax, relatively small community
Successful startups: beatswtich, Chestnote, Parcify
Incubators/Coworking spaces: Start it @ KBC, The Birdhouse, The Cofoundry
10. Cardiff, Wales
Cardiff, and Wales more broadly, has known many years of entrenched economic stagnation, but government initiatives of the 21st century have gone a long way to change that. Since these initiatives, many industries have moved into the city that is now flourishing, with world-class educational institutions.
Numerous accelerators and incubators have appeared on the market, many in association with local universities. One such of these innovation hubs was awarded £51m in UK government funding, and the Development Bank of Wales intends to supply £1 billion in investment support for Welsh businesses, many of whom will be startups.
With the boom in digital and tech startups in the area, Cardiff hopes to soon have its first unicorn in the startup scene: Amplyfi. The company credits its success to the local government's commitment to investing in innovation and the ability to recruit talented staff from local universities.
About the startup city - Cardiff

Advantages: Access to government grants and support, lower costs than London
Disadvantages: Angel investors are more cautious, fewer opportunities compared to close-by London
Successful startups: VRGO, Curapel, DevOps Group
Incubators/Coworking spaces: Barclays, Tramshed Tech, IndyCube
9. Salt Lake City, Utah
Utah's low tax rates (as low as 4.95% personal income tax) promote its startup landscape, business culture, and increases the affordability of hiring staff, which then reduces unemployment (3.5% statewide). As if in proof, Forbes labeled Salt Lake City the fourth best city for tech jobs in 2017.
Salt Lake City, when combined with Provo and Park City, forms the so-called 'Silicon Slopes', making it one of the top innovation hubs in IT, software, hardware manufacturing, and research. The area has produced several Unicorns, all in the software, cloud ,and digital markets.
Capital invested in startups in Utah totaled $856.37 million in 2017, marking an increase from 2016 levels. The state is ranked sixth nationally in terms of dollars invested per capita (with $353 of investment per citizen). Utah also ranks as the best state for business, according to CNBC, 24/7 Wall Street, and Forbes, making Salt Lake City a candidate to replace Silicon Valley in the near future.
About the startup city - Salt Lake City

Advantages: Affordable office rental, low taxes, culture of hard work
Disadvantages: Strong faith cultural off putting for some top talent, city not perceived as 'fun'
Successful startups: Health Catalyst, Nikola Motor Company, Recursion Pharmaceuticals
Incubators/Coworking spaces: BoomStartup, Lassonde Entrepreneur Institute, USTAR
8. Zagreb, Croatia
Zagreb is not only the political and economic capital of Croatia but a regional business and transport hub as well. Important industries in the city include electrical device production and pharmaceuticals.
The beauty and culture of Zagreb is attracting startups and venture capitalists alike as the city rapidly develops a network of incubators/accelerators and research institutions.
Startups received $765,000 of capital investment in the last 12 months. This figure highlights the current issue with Zagreb: the city has the educational facilities, it has the eager entrepreneurs, but it does not yet have a local source of venture capital.
With investors from more competitive markets (London, Berlin, Amsterdam) starting to look for investment opportunities however, this is likely to change in the near future with the foundations for a thriving startup scene.
About the startup city - Zagreb

Advantages: Low cost of living, eager community of entrepreneurs.
Disadvantages: Complex national legislation, inefficient public services, limited access to capital
Successful startups: Vollo, Oradian, Goodcode
Incubators/Coworking spaces: Impact Hub, BizKoshnica, Hub385
7. Rotterdam, The Netherlands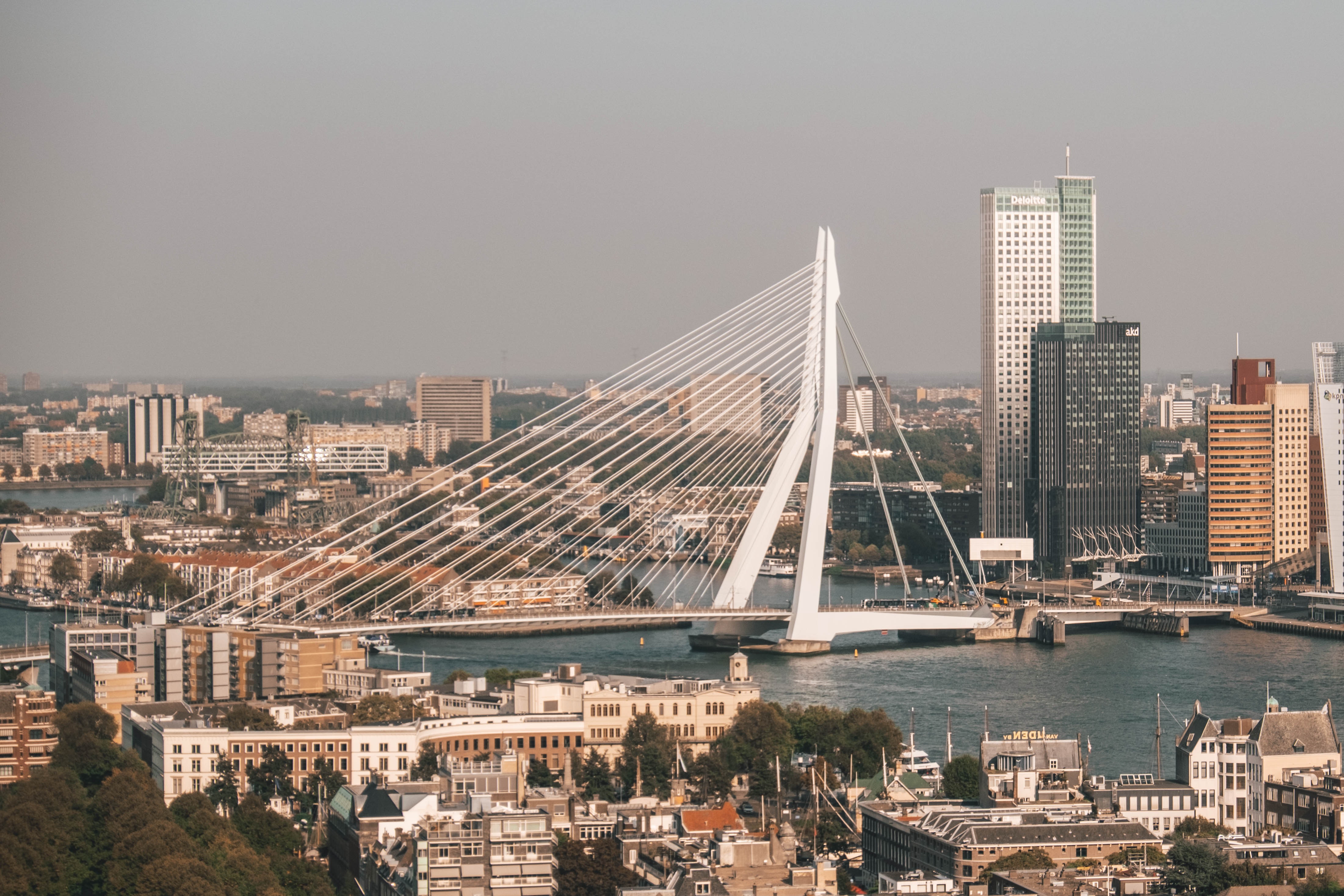 Photo from Pexels
Known as the 'Gateway to Europe', due to the city hosting the largest and busiest port in Europe, Rotterdam has long been a center of trade and commerce. This has formed a strong business culture in the city which is the home to many large corporate multinationals and offers much in terms of business clients for a growing startup scene.
Startups can also rely on the help of Rotterdam's many startup initiatives, a large pool of investors, and incubators/accelerators. Due to the city's status as a major port, most amenities available to startups are geared towards the maritime, logistics, and industrial sectors.
However, startups are evolving beyond a single industry. The Ocean Cleanup Project, based close to Rotterdam, combines the latest in maritime technology with innovative concepts about environmental protection. This kind of altruistic business venture is also gaining popularity in the Netherlands as part of Corporate Social Responsibility schemes for investors.
About the startup city - Rotterdam

Advantages: Logistic hub offers many clients, workforce fluent in English, respected universities producing educated talent pool
Disadvantages: Relatively high VAT, in the shadow of closeby Amsterdam
Successful startups: Coolblue, MetrixLab, Helloprint
Incubators/Coworking spaces: Erasmus Center of Entrepreneurship, Cambridge Innovation Center, Progress Bar
6. Yerevan, Armenia
Most people would probably not expect Yerevan to appear so high on this list, but the city and the country overall are making leaps in order to promote economic growth. Business leaders are beginning to recognize Armenia as a hotspot for IT development and innovation, and as a consequence, the country has a rapidly growing startup scene.
Self-described as the "Silicon Mountains", the number of software startups quadrupled between 2015 and 2017 to reach approximately 280. The government is legislating to facilitate further growth of this market, offering a five-year tax break for startups and creating two free economic zones in Yerevan in which tech startups can operate without paying VAT, property tax, income tax, or export customs duty.
These reforms have seen the tech industry grow by 20% annually, exploding compared to Armenia's overall economic growth (hovering at 2%). The large US tech corporations in Armenia are also funding educational programs, further developing Yerevan's talent pool. With the industry accounting for 15% of Armenia's exports, the startup scene here is only expected to continue to grow.
About the startup city - Yerevan
Advantages: Online business registration, low crime rate, low overhead cost
Disadvantages: Corruption, limited access to funding
Successful startups: SoloLearn, WIMEDIA, staff.am
Incubators/Coworking spaces: Beeline, EIF, PMC
5. Riga, Latvia
As the capital of a country of 2 million, Riga has a limited local market of consumers, but Latvia has promoted this limitation as an advantage. The country is positioning itself as a place to trial products, services or innovations before rolling out a full internationalization effort.
Since joining the European Union, the Baltic states have often been the chosen destination of many Western European companies outsourcing efforts for both tech and manufacturing. This is due to the low cost of labor and the tax and tariff benefits of producing within the EU. Resultant from this is the presence of an educated and skilled local workforce.
The government passed legislation in 2016 to give tax breaks to small businesses and provide a €15 million accelerator fund for startups. Foreign investment is also a big factor in Riga's startup landscape, with €35 million of the €44 million invested in 2016 coming from foreign investors.
About the startup city - Riga

Advantages: Founding a business is easy and inexpensive, high-speed internet
Disadvantages: Small national market, brain drain, bureaucracy
Successful startups: Aerones, Anatomy Next, Solfeg.io
Incubators/Coworking spaces: ALTUM, TechHub Riga, Liaa
4. Portland, Oregon
The city slogan 'Keep Portland Weird' blankets the city's startup scene when compared to the greater US startup landscape. Portland is perhaps best known for its green vistas and hipster philosophy, and this is reflected in much of its startup scene.
Portland demonstrates how tech allows startups to disrupt the traditional industry, diversifying the options consumers have, creating new market niches in the process. Many of Portland's prominent startups are related to food and lifestyle, (important industries locally). For example, Poached, a platform similar to LinkedIn but for those working in the foodservice industry.
Portland also houses many events for startups and investors from the Pacific Northwest, establishing a sense of community and an opportunity to build a network. As Silicon Valley begins to lose its luster, entrepreneurs are poised to move to one of the fastest growing startup cities, Portland, in search of greener pastuers.
About the startup city - Portland

Advantages: Friendly community, history of entrepreneurship
Disadvantages: High-income tax, high housing costs
Successful startups: Vacasa, Urban Airship, Act-on Software
Incubators/Coworking spaces: TenX, MESO, Starve Upshttps
3. Ljubljana, Slovenia
As the first state to break away from Yugoslavia, Slovenia has had a rocky economic past, but the country is prospering, experiencing 5% economic growth in 2017. With it, the capitals startup community is growing rapidly.
Ljubljana is a small city, and the startup scene is similarly sized. Curiously in Ljubljana's case, this is seen as a bonus to aspiring entrepreneurs as they have easier access to some of the best accelerators in the world: Y Combinator, 500 Startups, Wayra, etc.
Funding currently presents a problem for Slovenian startups. Investors in Slovenia are typically risk-averse, and entrepreneurs recognize the need for venture capital required to internationalize. Whilst Ljubljana's investor pool may be small, external investors are entering the market, and the market is expected to take off in the near future.
About the startup city - Ljubljana

Advantages: Low corporate tax, simple business registration, quality of life
Disadvantages: Investors are risk-averse, small domestic market, bureaucracy
Successful startups: Zemanta, Doctrina, Fieldoo
Incubators/Coworking spaces: Kovacnica, ABC Hub, Technology Park Ljubljana
2. Tallinn, Estonia
For Tallinn innovation isn't a disruptor to the market, innovation is the market. Tallinn is perhaps the best example of how government dedication to innovation can be a model for success. The only surprise here is that Tallinn missed out on the top spot...
As one of the most digitally advanced nations in the world, Estonia was the first country to allow online electoral voting, and free public wifi is available almost everywhere. The country also allows internationals to become 'e-citizens'. This digitization is designed to facilitate the growth of small tech enterprises.
In 2017 Estonian startups raised a record €242 million of capital, and this figure is expected to increase in 2018 and beyond. The genesis of the boom in investment came when eBay purchased Skype in 2005 (Skype's software was produced by Estonian software engineers in Tallinn).
Since then, Tallinn has produced more Unicorns: fintech behemoth TransferWise, Uber rival Taxify, and gambling software PlayTech, with many more startups approaching this level. Tech talent actually emigrates to Tallinn and for a small Baltic nation this is the true mark of having 'made it'. Tallinn is one of the major innovation hubs globally and boasts a vibrant startup landscape.
About the startup city - Tallinn

Advantages: Low taxes rates, digital society, government support
Disadvantages: Small market, high competition, limited buying power
Successful startups: Taxify, TransferWise, Pipedrive
Incubators/Coworking spaces: Kopli Business Incubator, Creative incubator, Lift 99
1. Wroclaw, Poland
Wroclaw is one of the most attractive cities in Europe, where historic charm intertwines with the progressive attitudes of the large and young student population. Local government has been actively promoting its development as a smart city and pursuing a pro-investment policy.
EU funding has helped many of Wroclaw's startups to scale up, but the number of venture capitalists in Poland is rapidly increasing. There are currently around 12 incubators and three accelerators operating in Wroclaw, working particularly in the eCommerce, digital health and software markets.
The city has traditionally been a center for outsourcing by both international corporations and SME's due to the cities academic character, comparatively low salaries, and many trilingual residents (Polish, English, and German).
Labeled the most business-friendly city in Poland, Wroclaw is set to ascend into the ranks of European startup hubs, competing with industry heavy-hitters London and Berlin.
About the startup city - Wroclaw

Advantages: Low overheads, large educated workforce, government support
Disadvantages: Limited tax breaks, complicated business law,
Successful startups: LiveChat, XTPL, ZMorph, T-Bull
Incubators/Coworking spaces: Lower Silesian Academic Incubator of Entrepreneurship, Incubator of Entrepreneurship and Technology, RST LIFT-OFF Startup Accelerator
Check out the interactive map!
25 up-and-coming cities for startups
The importance of startups cannot be overstated as they are drivers of the technical innovations that benefit society. They also fuel the economy by providing significant job opportunities, usually for the young and educated.
Whatever a startups business model is, they require many elements to make it past the idea stage. Whether it be an issue of funding, guidance, or a suitable workforce, a startup is as much the product of its environment than it is its founding concept.
This can be facilitated by legislative initiatives, but the responsibility cannot lie on government bodies alone. Government agencies, corporations, and educational institutions must come together to nurture the startup scene and startup landscape.
There is best place to start a business or startup, there are so many factors that go into what makes a location right for your specific needs. However, this list is meant to shed light on the some of the fastest growing startup cities to watch out for. Hopefully, we'll see these cities blossom into some of the top innovation hubs and sustain a healthy startup ecosystem for years to come.