Here is a statistic that no entrepreneur wants to believe - only 20% of companies survive their 10th year after launch, and only 50% of them survive their 5th year after becoming operational.
After all, these are scary numbers and can easily demotivate some of the most ambitious and disciplined entrepreneurs.
Though worry not as the barrier of entry to market is becoming lower.
The leaders of today are becoming wary of the factors that pose a threat to their startups. These include cut-throat competition, a lack of technical expertise, poor management, and of course, limited funds.
[Related Article - How Resoursful Startups are Changing the World]
The following are six ingenious ways the startups of today are saving costs
1. Co-working spaces
One of the largest costs for a startup is the rent dedicated to office space. However, as shared workspaces are becoming common, smart entrepreneurs are capitalizing on this trend rather than spending a fortune on traditional offices.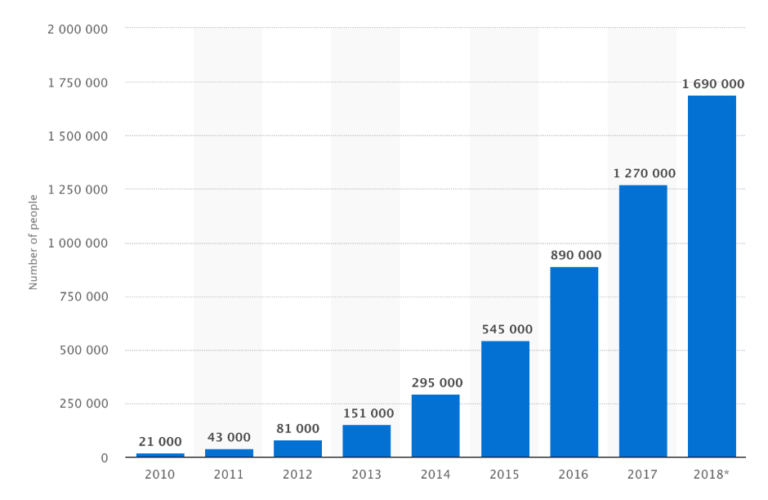 Co-working spaces are growing
The graph above, based on the data provided by Statista.com, shows growth in global numbers of those choosing to "co-work" since 2010. The increase is exponential.
In the space of nine short years, the number has increased by a whopping 7,947 percent.
Yes, you heard that right, that is almost eight T-H-O-U-S-A-N-D percent.
It is also predicted that by 2022 the number of people working in a co-working environment will hit over 5.1 million.
How many co-working spaces exist? Currently, there are over 19,000 co-working spaces positioned globally.
Why startups choose co-working spaces over conventional offices
Examples:
Entrepreneurs pay for the amount of space they use in a coworking area. Facilities like kitchens, conference rooms, and so forth are shared by other startups and maintained by the facility owners. This way, organizations are able to save money that is better spent internally.
Outfitting the space with desks, chairs, filing cabinets, and other office interior is necessary but it also comes at a hefty price. These expenses are eliminated in a coworking space.
[Related Article - 5 Lessons Bootstrapped Startups Can Teach Large Corporations]
People and corporations thrive in co-working spaces
The concept of coworking has become so popular that corporates are beginning to realize its potential. Many have started to capitalize on it through a new approach called "corpo-working".
The definition of "corpo-working"
Corpo-working spaces are great. They give your employees a safe space to learn new skills and create connections quickly.
They are less likely to feel hindered by the stress and panic that comes with monthly KPI's, short-term goals, and multiple levels of management. They are more likely to feel in control and enjoy the flexibility felt by younger businesses.
You - the corporation - gain a happier and more productive workforce.
On top of this, you are able to increase the output from employees and the latter enjoy job satisfaction.
More corporations are turning to corpo-working spaces
Orange, the well-known French telecommunication company is an example of a corporation adopting this modern work ethic.
Among the hustle and bustle in the Silicon Sentier of Paris is Villa Bonne Nouvelle (VBN). VBN has over 60 employees of which half are freelancers. The other half are employees of orange.
This method of working makes it possible for orange programmers and engineers to gain external knowledge by working with these freelancers.
Orange reported that teams temporarily stationed at VBN experience faster turn-over times on projects. They also experience higher levels of work satisfaction.
They are not the only business looking to move portions of their workforce to co-working spaces to improve the efficiency of their businesses. IBM, AT&T, and SAP are a few notable examples of corporations taking on similar initiatives.
2. Freelancers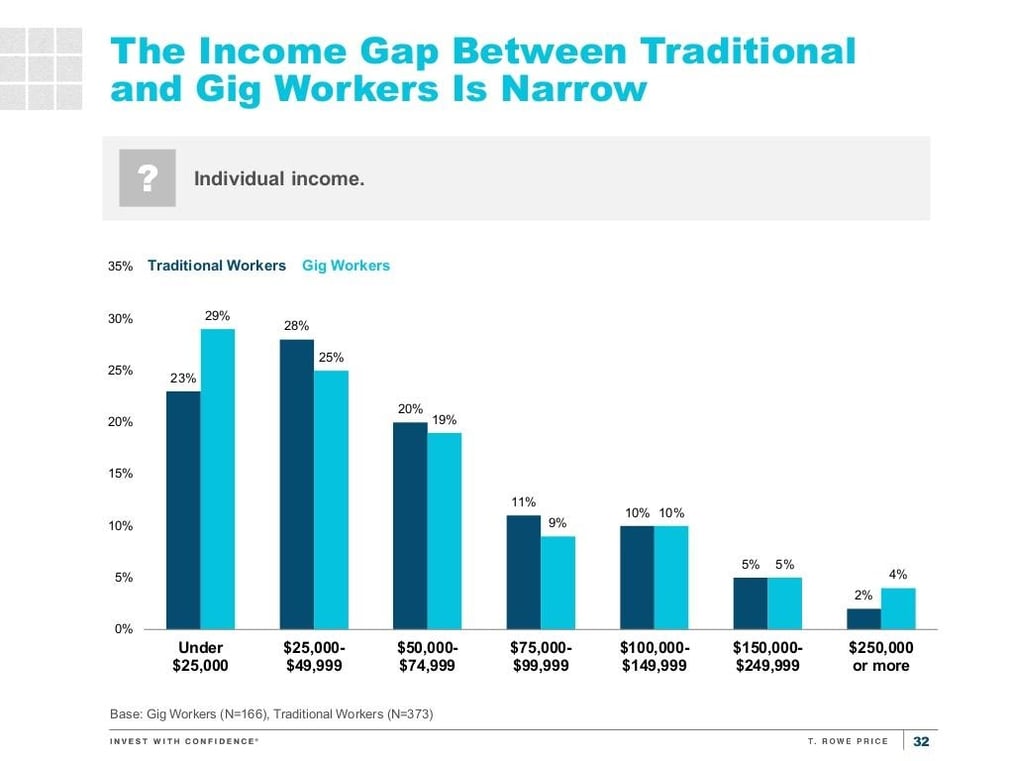 The gig economy (which comprises contractual employees and freelancers) isn't new but it's growing faster than ever.
In fact, as many as 40% of companies believe that gig workers will become an important part of their workforce.
Today, the biggest job providers for freelancers and remote workers are startups and solopreneurs.
This is because most have limited funds and can't afford to organize large teams of professionals with specialized skill sets.
However, young companies are resourceful. There are plenty of websites focused solely on finding freelancers to help with tasks across all departments.
Examples:

Fiverr,
UpWork,
TopTal,
99 Designs and
Simply Hired, Inc.
Freelancers are especially useful in marketing. For an affordable sum, they can write a lengthy article, run social media campaigns, design banners for digital ads and eBook covers.
They are able to work outside of the marketing realm too. They are especially useful for back and front end development of a product, application, and website.
The fluctuating workload that is commonly found in a startup is another big reason why freelancers are the ideal workforce. They are paid for the exact amount of work they deliver.
Forward-thinking entrepreneurs are aware of the benefits that the gig economy offers in saving costs and growing business.
The workforce changes with time
Although, it goes without saying that as your business develops and matures, one must shift from generalized freelancers and employees to those specialized in a particular field.
An example:
At first, you hired a trick of all trades in your sales department. He is able to find leads, execute sales, attend external meetings, deliver monthly reporting, dabble in internal communication, oh and he even plans the occasional company outing.
With time, it becomes unsustainable for one human being to fulfill all of these roles effectively. As you grow, the needs of your company change.
A shift takes place, and often one person who is specialized in internal communications will take on the role, another will specialize in events, and the last in sales.
You get the gist ;)
3. Cloud computing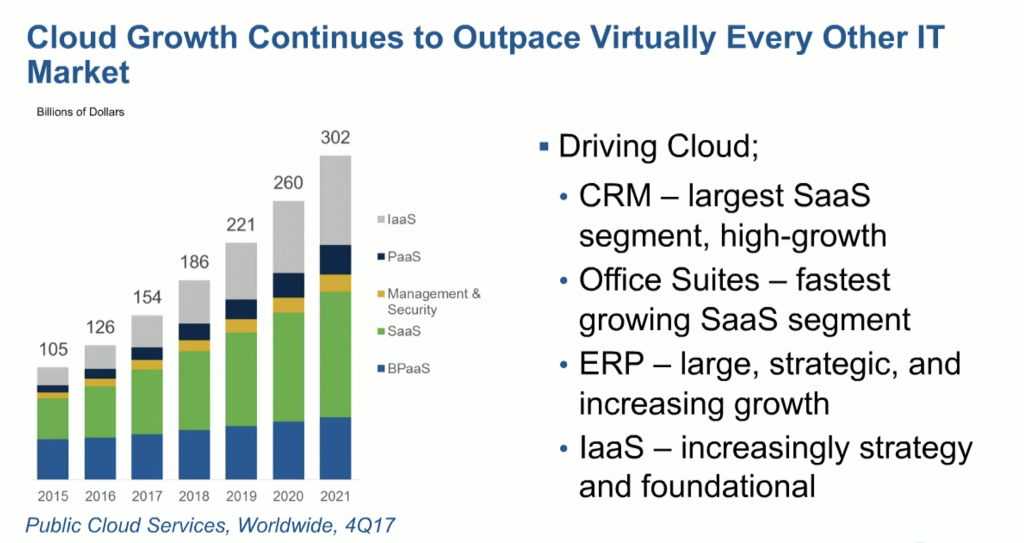 Cloud computing is the delivery of a complication of services. Examples include computing services viz. networking, storage, and software via. the "cloud". It has completely transformed the way a business sets up and manages IT resources.
With options like Amazon Web Services (AWS) and Microsoft Azure offering reliable and cost-effective alternatives to traditional IT resources, startups are capitalizing on the same today.
In fact, 83% of enterprises' workload are projected to be on the cloud by 2020.
The following are alternative techniques startups are using to save costs with cloud computing services:
Scaling is easy and cost-effective with cloud computing. The organizations' can increase and decrease storage capacity, processing power, and the number of servers depending on their requirements.
Start-ups that use cloud services under the hybrid model are able to protect themselves from losses due to cyberattacks and user errors that result in database deletion and/or corruption.
There is no need for setting up a dedicated IT department with an organization as the core business apps, network, and servers are managed and updated by the managed service providers (MSPs).
4. Paperless offices
Today's progressive startups are increasingly becoming paperless to simplify business processes and also to save money.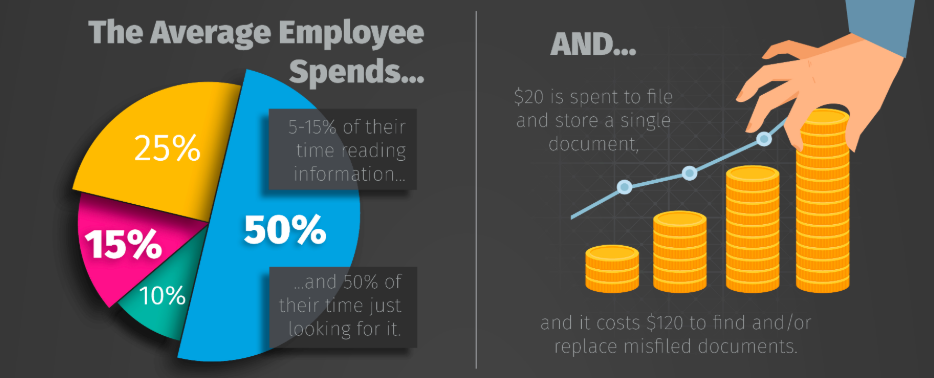 Ademero presents the true cost of using paper documents as opposed to digital documents. For instance, the average employee spends up to 15% of their time reading information but they spend a whopping 50% of their time looking for the information.
Organizations spend over $25,000 to fill one cabinet with paper documents and around $2,000 a year to maintain the same. But startups are using digital invoices, receipts, and other business documents and the direct cost on paper and ink is saved.
5. Social media advertising
Traditional advertising is incredibly expensive and outdated. A 30-second slot on television costs around $110,000, and that is just an average. It is not hard to see why most start-ups do not even consider the thought of reaching their customer via television.
It also bears the question as to whether it is still a beneficial form of advertising given that 84 percent of millennial users do not turst traditional advertising. A further "71 percent are more likely to buy from brands they 'like' on Facebook or follow on Twitter".
Social media advertising, on the other hand, is still costly, but a more affordable alternative.
Most entrepreneurs learn the fundamentals of social media advertising on their own.
No need for an advertising agency
The money normally spent on advertising consultants and professionals is saved. You no longer need to rely on an outsiders opinion to create a solid SoMe ad campaign. Young entrepreneurs are able to take that task on board on their own, or even outsource this to freelancers.
As for the campaigns themselves, the costs are generally affordable. In fact, most start-ups can launch direct Facebook advertisement campaigns with the average cost per mile (CPM) setting them back by as little as $6 to $9 per advertisement.
The rise of tools such as an online video editor, has allowed businesses to promote themselves on social media at scale, because creating video ads has become increasingly accessible and affordable.
Tap into your ecosystem influencer network
Today, influencers play a major role in social media advertising and marketing especially through platforms like seooutreachers.
These social media users have tens of thousands of followers and fans. They will be willing to introduce new startups to their audience by doing a review of their products/service (which are often provided to them for free by the start-ups themselves).
They are not just secluded to B2C marketing, but spill over into startup ecosystems as well. Find those who hold the greatest influence within your ecosystem.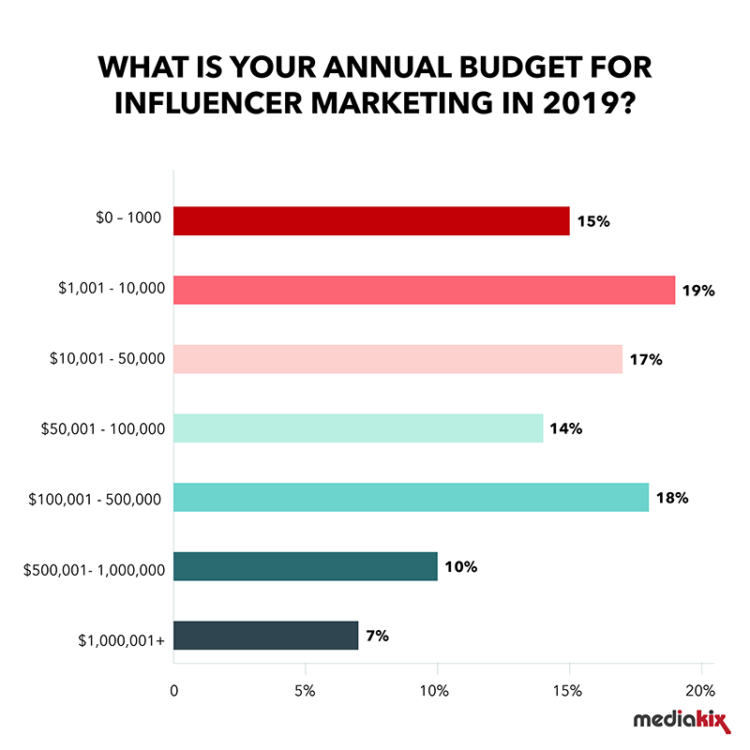 Due to the nature of how influencer marketing works, which is akin to word-of-mouth marketing, it's not easy to find accurate numbers on the return on investment (ROI).
However, what is clear is that the technique works, a statement which is supported by the fact that as many as 17% of companies spend over half of their marketing budget on influencers as explained through the image above.
6. Automation
Automation has become a new buzz word in the startup industry today. However, it's not without reason.
In fact, the technology is becoming more mature over time and startups across the globe are coming up with interesting ways to mechanize as many business processes as possible to save both time and money.
The following are a few real examples of workplace automation that show that start-ups can easily boost their businesses with the right tools.
[Related article - 9 Ways AI Can Help Your Startup]
AI-powered automation tools
BreezyHR and Mya help organizations around the world to speed up the screening process for the recruitment of candidates.
Recruiters don't have to read through the applications manually; the advanced algorithms do it at a much faster pace by focusing on select keywords.
A loyal customer base
No start-up can grow without a loyal customer base. It is established by providing top-notch customer service.
However, start-ups can't afford to hire more employees than they need.
For instance, an organization that sells software products can't survive without a development team but a customer support executive is dispensable.
More organizations are using chatbots like Polly and Niki that can interact with customers 24/7. They cost a fraction of a full-time salaried employee.
Social media marketing
Social media marketing is one of the most powerful marketing techniques that exist today.
However, it's tedious and time-consuming. Again, this is where automation tools emerge on the surface for help.
For instance, Mention is a social media add-on that automatically intimates a company whenever someone "mentions" the name of the company on any platform.
In the same way, tools like Buffer allow you to schedule social media posts and manage social media campaigns on various platforms.
Conclusion
There is no end to budding entrepreneurs who have limitless enthusiasm, passion, and creativity.
However, what most of them lack is capital.This is the reason why they have to come up with all kinds of cost-cutting measures that can maximize the viability of their business.
The ideas above are only a few of what they use today.
Do you have any great examples of bootstrapping? Leave a comment below!