The COVID-19 pandemic has not only altered every element of lifestyle, from consumer habits, to how companies engage with their clients and consumers. But this change has also increased an inclination towards Artificial Intelligence (AI) in all aspects of business, such as the usage of Applicant Tracking System (ATS) in marketing and sales software, and Candidate Relationship Management Software (CRM) in how supply chains deliver products and so on.
Automation is based on programming and is predicated on APIs and different integrations to connect one-of-a-kind structures collectively to carry out scripted obligations. Automation with AI makes it feasible for machines to imitate human responsibilities, including sample recognition, image perception, speech recognition, decision-making, and even adaptability.
As per Gartner's study in 2020, 75% of companies mentioned how they plan to continue their current AI initiatives or invest in newer ones over the next 6-9 months. Showcasing how AI is top of mind, ready to transform and boost business after the post-COVID showdown.
How to use technology to boost your business
There are numerous forms of innovation that an organization may pursue for profits. Below are six such ways in which entrepreneurs can use technology to boost their businesses.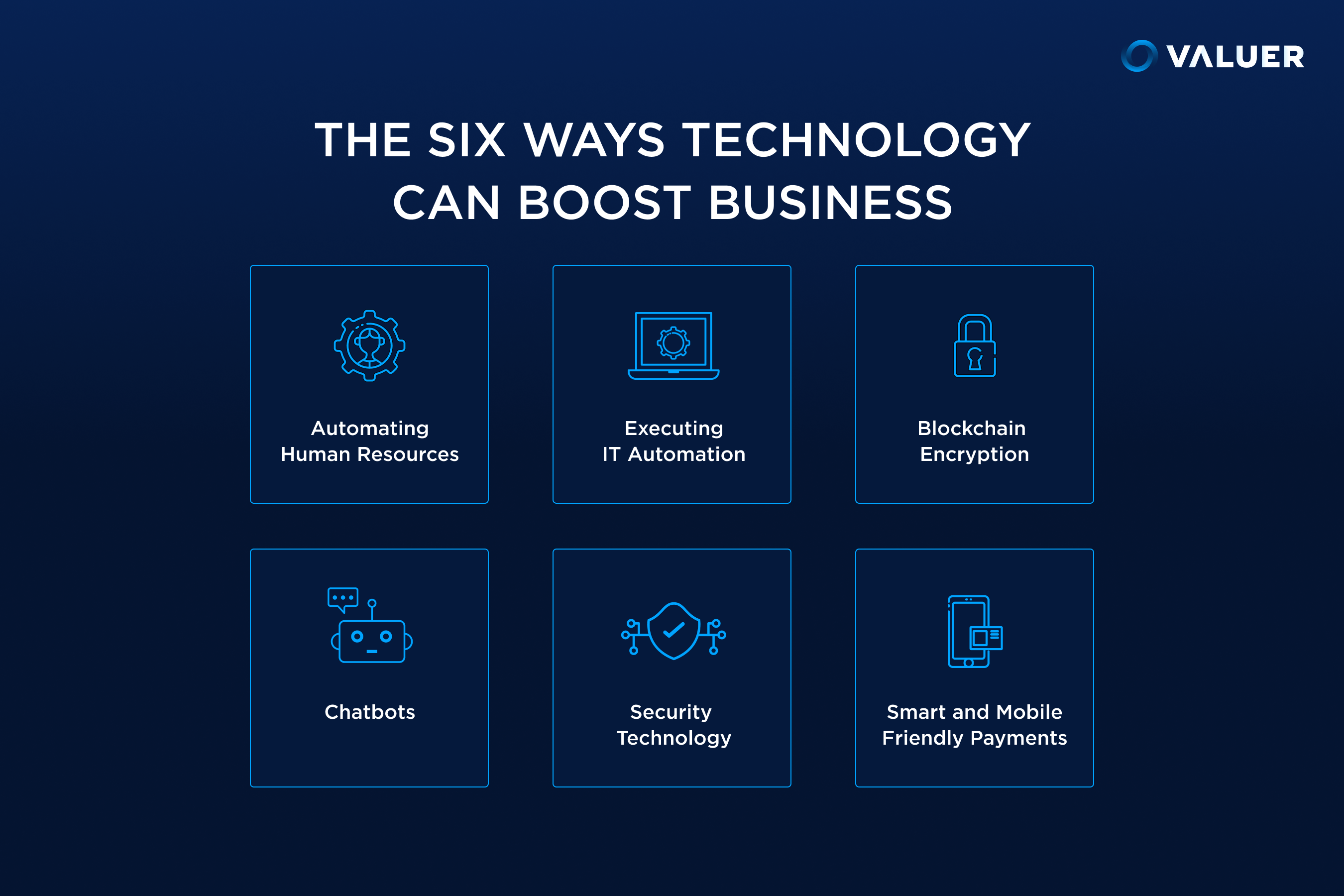 Automating human resources
It's undoubtedly hard during the pandemic for recruiters to find suitable candidates, due to the sheer number of people applying for jobs. If they find the right candidate, they can easily rely upon modern candidate onboarding software programs, which will help simplify and standardize the entire hiring procedure.
Typically, an Applicant Tracking System (ATS) can deal with the nitty-gritty of onboarding, right from scheduling interviews with brand new hires. It will put in place new training programs for new hires, candidate screening - even if you are looking to hire a salesperson, resume parsing, digitizing, and streamlining the processing of document-centric obligations, high-volume recruiting, etc.
The right ATS can even streamline the off-boarding procedure, including organizing resignation letters, updating termination policies, and communicating with internal team members. HR departments are presented with progress reports and real-time data. This decreases the cycle time, thereby lowering the capability for human error. There are also free versions and free trials for applicant tracking systems for startups to give the sales software a test drive.
By digitizing and automating routine tasks and time-consuming functions, HR employees can now pay more attention to other strategic functions that offer value to the company, especially during this pandemic. HR automation can ensure that the necessary safety and privacy controls are in place to shield susceptible statistics and help company governance and regulatory compliance requirements.
Executing IT automation
IT automation is an effective way to scale a commercial enterprise and offer enormous value savings. It also allows IT departments to focus on strategy rather than administrative work. Thanks to automation tools, IT environments can scale quickly with fewer mistakes and increase awareness of commercial enterprise needs.
There are several areas in a company where IT automation can help deliver results quicker, such as-- content management, document processing, process mapping, decision management, workflow automation, automation in customer service, etc.
Hyper-automation is another IT automation tool involving a mixture of automated procedures, which includes, now no longer restricted to, system learning, software programs, and automation gears for supply. The Global CIO Report stated that 52% of the 500 Chief Information Officers (CIOs) said how they're moving past the automation of conventional tasks and now targeting more elaborate procedures.
Moreover, it has been predicted that by 2027, companies will decrease operational costs by 30% by combining hyper-automation technology with redesigned operational plans. This will be made entirely achievable by harnessing the power of multiple technologies such as Machine Learning (ML), Robotic Process Automation (RPA), and AI. Combining RPA and AI technologies will offer more power and flexibility to automate where automation was never possible previously.
Blockchain encryption
The whole idea of blockchain encryption might seem complicated at first, but the deeper you dive into it, the faster and better you understand its core concept and benefits. A blockchain is a public electronic ledger, quite similar to that of a database that can be openly shared with distinct or marked users, creating an unchangeable array of transactions.
Each transaction is not only linked to the previous one but also time-stamped. These digital transactions in a thread are known as a block (hence the name blockchain), and it allows an open or disparate set of users to participate in the electronic ledger.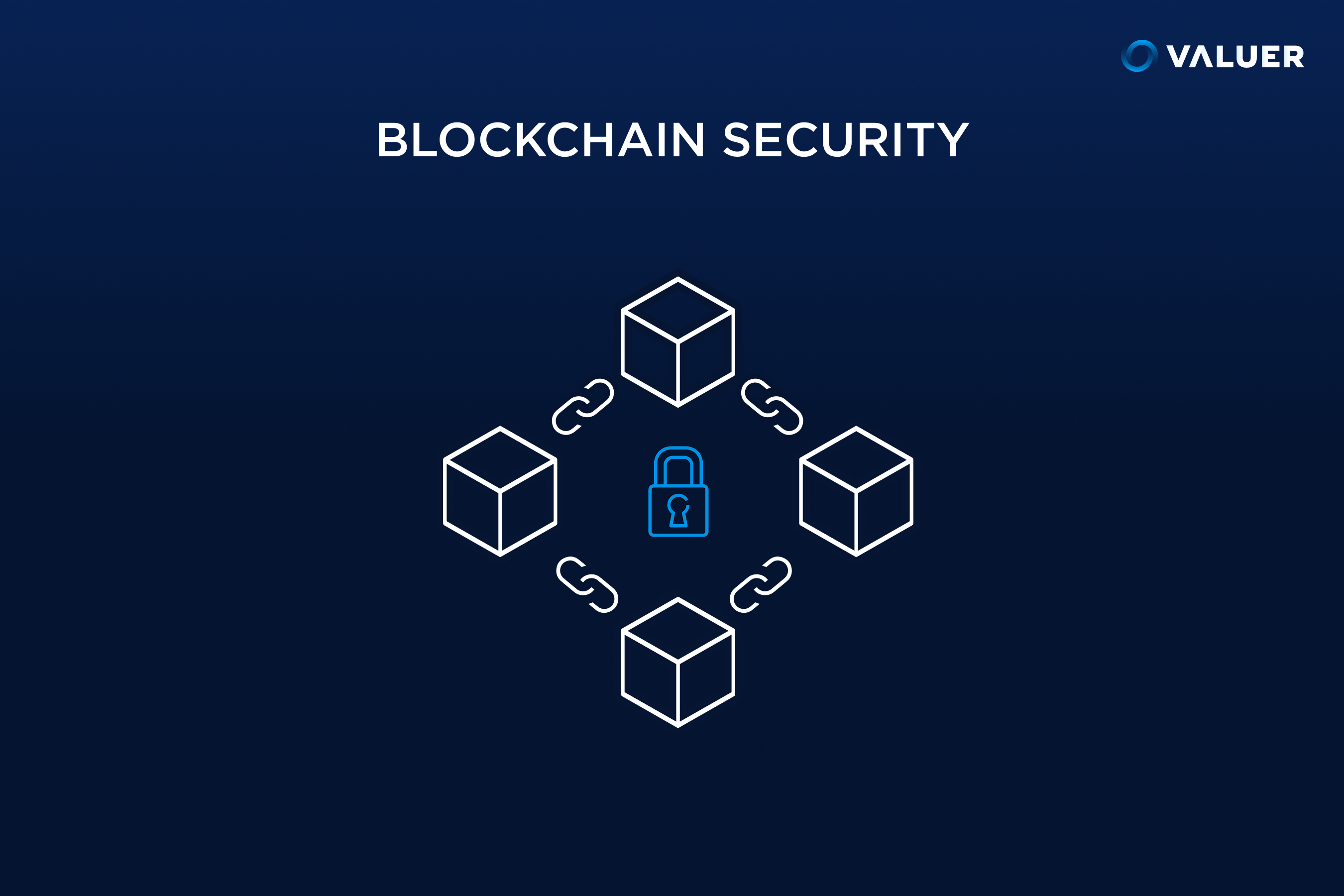 Blockchain technology is immensely secure and can only be updated with a consensus from the participants involved. Any new data entered, cannot be reversed or deleted. This way, blockchains maintain verifiable records of each transaction in the system.
It also uses decentralization and cryptographic hashing to help entire organizations with transparency. The fact that this technology is immutable makes it suitable for big companies and even government organizations. It can assist several businesses in fast-monitoring drug trials, compiling sales data, auditing, tracking and securing digital use, payments, reduced costs, improved speed, various operational efficiencies, etc.
The Finance industry was one of the first industries to use blockchain encryption for retail payments and consumer lending services, while also providing reference data. Apart from that, Accenture even released data claiming that blockchain technology could reduce infrastructure costs for eight of the world's ten largest investment banks by 30%. This translates to almost $8 billion to $12 billion in annual cost savings.
Chatbots and covid
In 2011, when Apple released Siri, it sparked a new chapter of AI-driven assistants and chatbots. The conversational age (and chatbots) has matured significantly over the last few months because of the COVID-19 pandemic.
So what are chatbots' utilities during the pandemic? Well, for one organizations have begun to count on chatbots to cope with simple client questions. Moreover, research shows how chatbots were capable of resolving almost 80% of recurring client queries.
Reports state that every year there are 265 billion customer requests and businesses spend approximately $1.3 trillion to attend to these requests. Chatbots can help a company save up to 30%. Another survey by Salesforce stated that 58% of users mentioned that chatbots had altered their customer service experience, and its usage had cut operational costs by 30%.
Security technologies
Almost all sectors, startups, SMEs, and corporations alike are now compelled to go digital. The demand for online services and the rise of ecommerce has led to an increase in cybercrimes costing companies billions of dollars. Barracuda Sentinel stated how phishing scams related to the pandemic exploded in March, and e-mail scams surged by 667%. As a result, the internet, social media platforms, and even video conferencing tools, among many, need security a whole lot more than before.
[Related Article - Everything You Need to Know About Technology Trends in 2022]
This is where the usage of security technology comes into play. As discussed above, along with blockchain encryption, business owners can quickly secure the entire system protecting it from malicious threats via behaviour analytics.
One cannot ignore the Facebook data breach issue where data was mined for behaviour analysis. Many companies have been taking up behavioural analytics to help determine patterns on their system or other network activities to detect cyber-crime threats.
If the system finds out an abnormal increase in data transmission from any user device, it could potentially indicate a cyber-security issue. Another major application of security technology in recent times is the rise of embedded hardware authentication. Michela Menting of ABI Research states:
"Hardware-based security offers better protection from manipulation and interference than its software-based counterpart because it's more difficult to alter or attack the physical device or data entry points."
Intel, for instance, has also introduced 6th generation vPro chips that have revolutionized authentication security globally.
Smart and mobile friendly payments
Online shopping has grown in the US alone from 598 billion dollars to 861 billion dollars in 2020. COVID-19 has boosted online sales for ecommerce platforms and now more than ever, businesses need to provide a variety of payment options for consumers. Moreover, online payment, or smart payments, is nothing new and has been on the cards for a long time-- something which will play out even more in the near future.
And as the interest in hygienic practices intensifies, many stores are putting in displays and urging customers to use contactless payment options over cash for speed in the checkout process and to reduce the threat of infection.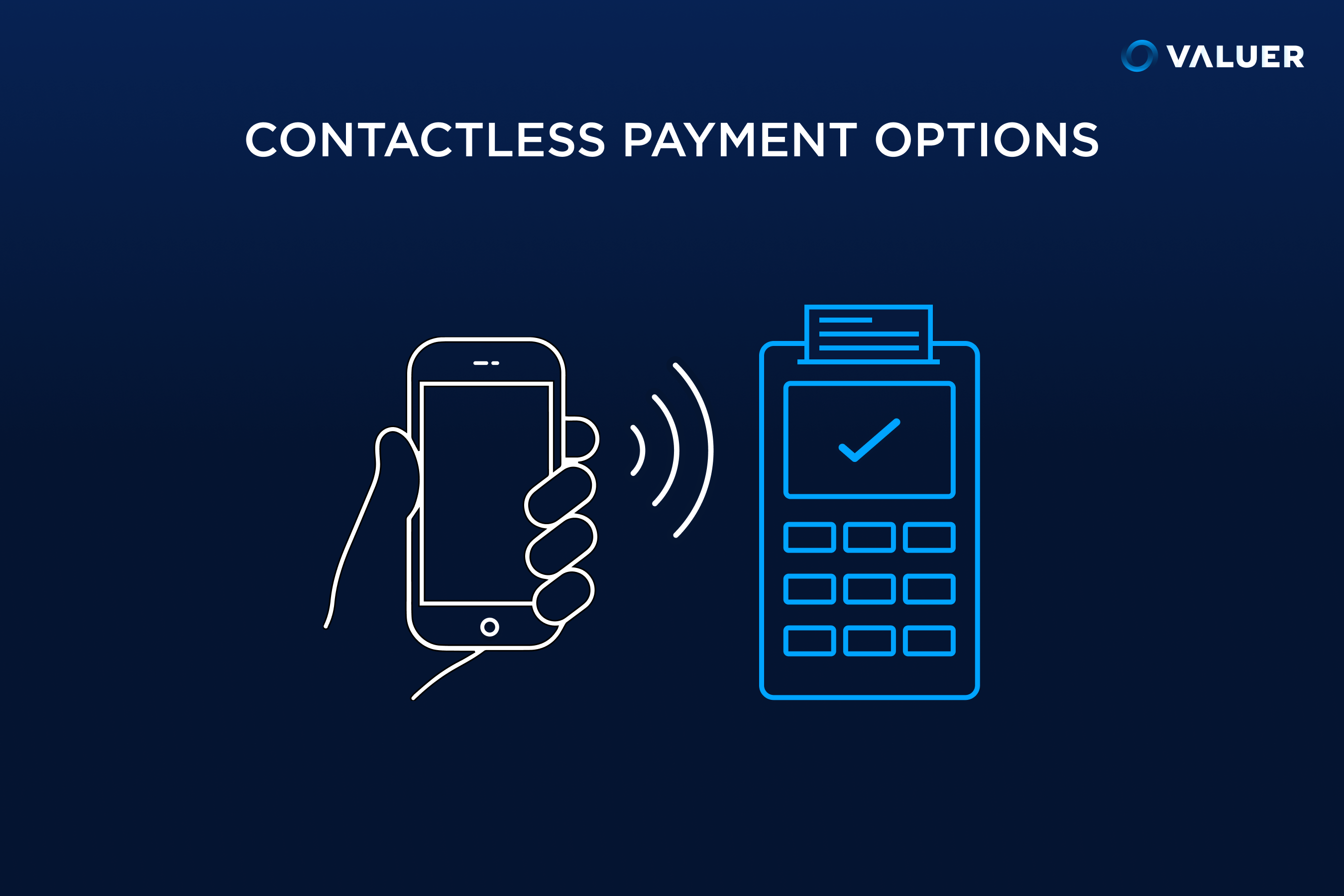 The longer the pandemic drags on, the more the consumers will stick to their online habits and the introduction of intelligent, mobile-friendly payment options is one such way to keep meeting the financial goals of an organization. Though debit cards have remained one of the most well-known and widely-used payment methods by users, e-wallets are catching up and getting on the ecommerce bandwagon.
American Express's survey back in 2019 revealed that 85% of consumers had abandoned an online purchase because the shopping experience was challenging. Thus, it's critical for a business to provide various options such as contactless payment cards, mobile wallets, credit and debit cards, etc.
AI after the pandemic
Though the pandemic has raised severe concerns towards the economy and an essential step towards enhancing everyday technology, it has also taught entrepreneurs and leaders a lesson in making critical changes in their business structure.
The future looks bright where AI is concerned. It has been affecting potentially every industry there is, there's no escaping it. There are several SMEs and startups that have already experienced the worst at the beginning of this pandemic.
The usage of AI grew by more than 270% since 2015, and emerging AI and Machine Learning data processing algorithms will help businesses make way for fresh, profitable market opportunities in the post-COVID-19 world. However, even though AI has been making lives more accessible, it's highly essential to keep in mind how to be extra cautious while implementing such technological changes to your business.
Because change can be so difficult to implement, it has become essential for any business to do its due diligence when looking to expand its new market horizons. At Valuer, we want to make that transition easy for you, whether you're a startup, SME, or corporation, we aim to find the right innovative solutions for your business's needs.
With a database over 650,000+ companies, finding new disruptive markets has never been easier. With free access to our platform you can discover insights into a wide variety of industries, technology, and innovative workflows. Join and start your disruptive journey with us.

Author Bio: Based out of Bloomington, Indiana, Eli Franklin completed her MBA from Kelley School Of Business and has since then worked as a content specialist and marketing executive for Recruit CRM. She is regularly creating specialised content for recruiters and helping Recruit CRM develop a strong marketing game.