The life of an entrepreneur is one of adventure: starting your own venture and living out your dream (with the occasional misstep into nightmare) is something many people aspire to. Pursuing these aspirations can, for many, be scary however, and for those who need an extra push, inspiration can come from many places.
Entrepreneurship in cinema
There are innumerous movies about people setting up businesses, and these not only inspire entrepreneurial spirit but can also act as a guide for what not to do when founding a startup. For those already on the startup scene, there are also a plethora of relatable narratives in movies for those times when you need support.
From movies about people stuck in a corporate office, to those about ideas that transformed the market, this list of movies is for anyone who needs encouragement on their path to market domination.
Jerry Maguire
"Show me the money!"
Summary
An Agent at an international sports management company quits due to his commitment to his beliefs and honesty. He wants to disrupt his entire industry, with a business model focusing on loyalty to the players he represents, and this is what allows him to scale the business and turn his small operation into a real competitor.
Year: 1996
Rotten Rating: 83%
Why it's entrepreneurial
Starting your own thing is scary. Every entrepreneur has left an industry that they were familiar with and gone into something with inherent fear and uncertainty. Doubling down on what you believe when the chips are down is critical to success. Jerry's personal flair brings the human element into his business showing that business is ultimately driven by people. When the price of a premium product or service is higher, customers have to like you before they buy from you, and a common cause for disruption is when the status quo stops caring about the customer.
Office Space
"Sounds like somebody's got a case of the Monday's."
Summary
A cult classic that takes the monotony of the modern office environment and gives the apathetic and unheard a voice. This movie should raise awareness to the potential future you want and give you pause. One of the best movies capturing the feeling of being lost in the corporate shuffle, and the struggle to figure out your place and what it all means. THIS IS A MUST SEE!
Year: 1999
Rotten Rating: 79%
Why it's entrepreneurial
You have to find the culture that fits you. When it doesn't exist, entrepreneurs spring into existence. This movie came out before the word 'startup' hit the public vernacular. Many people work jobs they hate to make ends meet without considering that this is a flawed logic that wins the battle but loses the war.
The office politics and processes present in the film are still present in many of today's companies. When you encourage a disingenuous sing-songy culture at work the outcome is often quiet disdain or outward resistance. What does your office culture represent? Do you feel like the structure allows you to be heard? Even on the lowest end of the scale, if you're required to do things that give you the impression you're sacrificing your character for the sake of 'company values', when is it time to ask yourself if this is what you want?
Erin Brockovich
"For the first time in my life, I got people respecting me. Please, don't ask me to give it up."
Summary
Despite a lack of credentials or resources, a young single mother takes on a large corporation following a chance meeting with a small claims lawyer. Based on a true story, this tale covers social responsibility, sustainable business models, and doing what is right. This movie shows that there is no substitute for doing the work and taking the human element into account regardless of the business model.
Year: 2000
Rotten rating: 84%
Why it's entrepreneurial
Big chances; those that change our lives only come around once in a while. We tend to lose sight of the long term when we're focused on short term gains. Erin Brockovich used her grit and perseverance to pressure a lawyer into giving her job. This is where many people 'let up' and take their foot off the gas. Just because you've been given a chance doesn't mean you can take it easy.
Anyone that has struggled with job search can relate to how difficult it is to stand out much less get into a dialogue with an employer. Later in the movie, Erin's empathy and relatability give her an edge. Often overlooked in this movie is the importance of a support network and a manager that makes an effort to help when it counts.
Joy
"We got here from hard work, patience, and humility. Don't think the world owes you anything because the world owes you nothing."
Summary
Jennifer Lawrence shines as an aspiring entrepreneur with a complicated personal life. Joy is a founder and a leader that starts and scales a company, finding a partnership along the way with an unlikely team member.
Year: 2015
Rotten rating: 59%
Why it's entrepreneurial
Proving that innovations can come from the most unlikely of places, she invents a self-rinsing mop. She must navigate legal challenges, complications with outsourced production, and a difficult staff - things any entrepreneur can relate to when going into business. Despite a rocky start eventually goes on to become a self-made millionaire. Her success inspires her to then pay it forward, investing in other small-scale inventors and entrepreneurs.
The Founder
"Persistence. Nothing in the world can take the place of persistence."
Summary
An edgy portrayal of entrepreneur Ray Kroc, the man behind international fast-food chain McDonalds. The narrative behind one of the most successful businesses in the world is not commonly known, and far from the family-family image the brand conveys. The story lays out the cut-throat business practices that map McDoanlds ascension to the top.
Year: 2017
Rotten rating: 82%
Why it's entrepreneurial
Optimizing the processes of a dated industry paired with great timing result in an amazing opportunity. Some of the concepts behind how to market a product that the market isn't ready for are still very much in use today just in terms of operational integrations with scaling a franchise. In creating new processes, managing the expectations of a broad range of customers for a new type of business is critical.
Patch Adams
"You treat a disease, you win, you lose. You treat a person, I guarantee you, you'll win, no matter what the outcome."
Summary
Robin Williams' unconventional medical student works against a stuffy and archaic understanding of how doctors are should behave. He stumbles onto the need for a better bedside manner in doctors. He's kicked out of medical school for his behavioral issues and opts to open his own clinic instead.
Year: 1998
Rotten rating: 23%
Why it's entrepreneurial
Robin Williams signature slapstick comic style is what makes this movie special, as the protagonist purports that healing the spirit of patients requires unconventional methods. Starting a new business can be tricky, especially when providing an alternative service to the conventional wisdom of the industry. The protagonist is met with many bumps on the road, but eventually finds the path to his goal, which in this case is an altruistic one, making the achievement all the more satisfying.
Risky Business
"It was great the way her mind worked. No guilt, no doubts, no fear. None of my specialties. Just the shameless pursuit of immediate gratification. What a capitalist."
Summary
When the parents of a high school senior leave town for vacation, their son brings a call girl over to his house with some friends. Things go south quickly the young man loses his mothers antique and damages his father's Porsche. The protagonist must find a way to fix everything before his parents return, while simultaneously juggling the involved process of applying to Princeton.
Year: 1983
Rotten rating: 96%
Why it's entrepreneurial
Encouraged by his father to start a small business as it will boost his chances of gaining acceptance into Princeton, the protagonist uses his entrepreneurial skills to source capital in a pinch: opening a brothel in his parent's house. His ingenuity, grit and gall allow him to achieve his goals, and this movie encapsulates what it is to be a young, aspirational entrepreneur.
New in Town
"I may be a city girl, but I know how to start a fire. Where's the button?"
Summary
A classic fish-out-of-water tale with a twist - a big city corporate consultant is sent to restructure a manufacturing plant in small-town America. Hating the town and its people at first, she slowly develops a fondness for the place, and begins to feel guilt over the impending restructuring and inevitable job losses.
Year: 2009
Rotten rating: 23%
Why it's entrepreneurial
Charming, if a little obvious, this film is a standard chick flick with a big business twist, particularly relevant at the time it was released regarding the financial crisis. Renee Zellweger's consultant finds an innovative way to save the plant (by forming a co-operative), changing the business model and launching a new product, thereby restoring power to the workers in deciding their own destiny.
Glengarry Glen Ross
"Coffee is for closers."
Summary
This film follows the lives of four salesmen over a two day period. Teaching the art of "hard selling." This was the style of selling adopted by every hardened salesperson during the 90s and 2000s. It created a blueprint for edgy bosses to operate in the high-pressure sales environment.
Year: 1992
Rotten rating: 94%
Why it's entrepreneurial
One notable scene depicts a sales teams incentive package for selling the most deals in a month. The winner gets a car, the second best gets steak knives, and the last place gets fired. The can be a metaphor the market your startup is seeking to disrupt. Coming in last place doesn't scale. Coming in second place is a much lesser award. Always seek to beat the top competitor.
Forrest Gump
"Don't ever let anybody tell you they're better than you."
Summary
The story of a man with a less than perfect life that is presented with opportunities by chance and uses his best assets to accomplish more than anyone could have predicted. Principles, ethics, and relationships carve his path as much as chance and negative experiences. This film demonstrates that there is nothing standing in the way of anyone with the right sense of momentum and drive. A MUST SEE IF YOU HAVEN'T, WHERE HAVE YOU BEEN?
Year: 1994
Rotten rating: 72%
Why it's entrepreneurial
Sometimes being the brightest and having the most resources doesn't equal success. A lot of success comes down to good timing. When Forest Gump and Lieutenant Dan survive a hurricane on their boat, they become the only shrimp boat in operation, giving them the chance to capitalize.
Providing value for others ultimately may present the opportunity to further your own ambitions. Forest consistently gives without asking for anything in return. Mostly out of naive happenstances, but what is more interesting is he does so at the right times and gives only what he can. Being a good person on top of giving to others will ultimately make you happier but will also produce greater results.
Chocolat
"I think we've got to measure goodness by what we embrace, what we create and who we include."
Summary
A single mother moves to a small French town and opens her own confectionery shop. The community is strongly influenced by their faith, and as such the pious villagers are reluctant to purchase her confections. The villagers eventually come round, and the business has profound effects on their lives. The church takes notice of the changes to their normal ways of life and tries to stop her explosive growth.
Year: 2000
Rotten rating: 62%
Why it's entrepreneurial
We all hear "no" a lot. The protagonists unconventional methods of driving customers and understanding the market effect everyone in the town. Feeling like you're benefitting your community, but receiving a backlash from places of authority, many give up. Instead, we should question the reasons for these objections. Many of the commonly held beliefs of one generation were the radical ideas of the previous. Disruption often means you're shaking up an existing social norm, and that will always put people on their heels.
Catch Me If You Can
"When you're up there hundreds of people will claim you as a friend. When you're down, you're lucky if one will buy you a cup of coffee."
Summary
The protagonist is taught the art of deception from an early age. He gets bored with the structure and predictability of his current path and pulls off his first con with ease. Realizing there is no potential end in sight, he takes bigger and bigger risks, becoming forges a pilots license, making millions by cashing fake checks from Pan American Airlines. Sadly, this is not a scalable business model and finding a way to go the legitimate route proves harder than it appears. This film is the epitome of faking it until you make it.
Year: 2002
Rotten rating: 96%
Why it's entrepreneurial
The talents that we always assumed were made for swindlers and con-men are often those that put entrepreneurs in the best positions. Finding a way to break a system or use a workaround for the benefit of a business is what makes all the difference. When you use a 'fake it till you make it' strategy, it shouldn't be a long term strategy, but thinking on your feet is a talent and when you can give those around you the impression you know what you're doing, you hold the higher ground. Ultimately if you use the ability to influence others, try to make sure it aligns with the laws of the land.
Daddy Day Care
"Any boob can run a day-care center but it takes a family to raise some kids."
Summary
When food product marketing executive Eddie Murphy is laid off, he is forced to pull his son out of private preschool. Deciding to open his own daycare business, parents are initially suspicious of men wanting to look after their children, but are convinced by the care and attention their children get.
Year: 2003
Rotten rating: 27%
Why it's entrepreneurial
Starting your own business is hard, and convincing customers to switch from tried and tested services requires patience and hard work, especially when the business model is unique. This movie highlights the theory that your customers don't care what you do, they care why you do it.
Mulan
"No matter how the wind howls, the mountain cannot bow to it."
Summary
Inspired by the legend of an ancient-Chinese girlboss, the film tells the story of a girl (Mulan) who joins the army for the sake of sparing my elderly father from conscription. Military training is extremely taxing for Mulan, but she perseveres, using her cunning and creativity to save the Middle Kingdom from an onslaught by the huns.
Year: 1998
Rotten rating: 86%
Why it's entrepreneurial
Overcoming a harsh environment (and historical misogyny), Mulan has similar traits to those required when starting a business: persistence, perseverance, and a motive beyond personal success. Mulan defeats an entire army with a single creative idea that quite literally 'snowballs'.
Cool Runnings
"Junior: Do the words 'GIVE UP' mean anything to you?!"
Derice: Not a thing.
Summary
Three top Jamaican 100m sprint runners fail to qualify for the 1988 Summer Olympics, and instead decide to form a bobsled team for the following Winter Olympics, despite never having seen snow. They enlist the help of a disgraced former Olympian to coach them in the hopes of achieving gold.
Year: 1993
Rotten rating: 77%
Why it's entrepreneurial
Failure can open you up to new opportunities that you may not have considered before. Entering a new market or industry, you will be faced with challenges you've never faced before, and overcoming them may require unconventional tactics. People will doubt you, your competition may not take you seriously, but with determination, it is possible to succeed.
Mouse Hunt
"A world without string is chaos."
Summary
This light hearted comedy detailing the fictional story of two brothers as they encounter a streak of bad luck. After inheriting a failing string factory from their recently deceased father, one of the brothers wants to sell and the other wants to continue to run the family business. The two brothers also inherit their father's house: a classic masterpiece designed by a famous architect. They agree to fix up the house but have an unlikely foe in the form of a mouse that manages to put up a larger than expected fight over the house.
Year: 1998
Rotten rating: 42%
Why it's entrepreneurial
A charming tale of what is, in essence, multiple failed extermination attempts, the film shows that something good can come out of something terrible. When all is thought to be lost, a business can still be turned around by way of innovation (albeit the innovative of a mouse). Creating a new business model, whilst honoring the heritage of the company allows the protagonists to find success in a new industry they had not previously considered.
The Disaster Artist
"Judd Apatow: It's not going to happen for you. Not in a million years!
Tommy Wiseau: But after that?"
Summary
One of the best films of the year, chronicling the production of one of the best films ever made. The Disaster Artist offers a glimpse into the life of 'colorful' director Tommy Wiseau, as he accidentally creates a masterpiece: "The Room", perhaps the best example of 'so bad it's good' cult cinema.
Year: 2017
Rotten rating: 91%
Why it's entrepreneurial
This film teaches us that even though what you achieve might not match exactly with what you dreamt of, that doesn't mean it wasn't a success. Creating something that you believe in, surrounding yourself with the right people, and perhaps most importantly in this case, listening to the advise of those more experienced than you, can go a long way towards seeing results.
Steve Jobs
"People don't know what they want until you show it to them."
Summary
Set backstage at three iconic product launches and ending in 1998 with the unveiling of the iMac, Steve Jobs takes us behind the scenes of the digital revolution to paint an intimate portrait of the brilliant man at its epicentre. This is an honest perspective of what really happened behind the scenes.
Year: 2015
Rotten rating: 86%
Why it's entrepreneurial
Just because someone is held up as a major inspiration due to their involvement in an industry doesn't mean you should copy all their traits. Steve Jobs (the film) shows the inherent flaws of one of the most influential innovators of all time. There are very few films that give both sides of the inspiration and also deliver a raw perspective of the unreasonable expectations of a narcissistic boss.
Syrup
"This leaves men confused and unable to pigeonhole you. What they are forced to do instead is… take you seriously."
Summary
Syrup is an edgy comedy that exposes the cut-throat world of advertising through the eyes of a young prodigy chasing fame, fortune, and the woman of his dreams. Fresh out of school with a degree in marketing, Scat will do anything to prove that he has what it takes to swim with the big fishes, becoming rich and wildly successful.
Year: 2013
Rotten rating: 25%
Why it's entrepreneurial
Marketing of any product can seemingly be easy when you break down the classic perspective of the video advertising sense of it. However, marketing has become a far more technical skill. Add in product market fit and a variety of channels that all require different perspectives - this movie is more of a fun watch than anything else.
The Wolf of Wall Street
"Act as if you're a wealthy man, rich already, and then you'll surely become rich. Act as if you have unmatched confidence and then people will surely have confidence in you. Act as if you have unmatched experience and then people will follow your advice. And act as if you are already a tremendous success, and as sure as I stand here today - you will become successful."
Summary
Chasing the American dream, a young and ambitious stockbroker exploits penny stocks and scales his hard selling business to a level of corruption unseen until the late 1980s. Moving through various iterations, the businesses of the protagonist become increasingly corrupt and underhanded until he is eventually caught.
Year: 2013
Rotten rating: 78%
Why it's entrepreneurial
Another outrageous story of how a seemingly crowded space was exploited and eventually corrupted by people with ambition and 'street smarts'. This movie also highlights what rapid growth looks like and how motivations can differ from person to person. The team building and culture within this environment comes off aggressive but for this organization, it worked. Leadership and playing by the rules are of course two very different things. This moving film pokes more fun at the financial world than it does to serve as a road map.
The Social Network
"If you were the inventors of Facebook. you would've invented Facebook."
Summary
The story of Mark Zuckerberg and how Facebook came to be. Taking an idea and watching it grow into something beyond the wildest dreams of any of those involved, Facebook quickly dominated the market. Disruption comes when the market is ready and this movie tells the tale of how the first to market and in the simplest form often wins the war. This movie touches countless times on how important having great talent is regardless of the endeavor.
Year: 2010
Rotten rating: 95%
Why it's entrepreneurial
Nobody understands hard decisions like startup founders. Scaling quickly and trying to get out in front of legal issues is actually more common than you think. There is no standard path for the inception of any company but all deal with similar themes. The narrative of Facebook is fascinating. What's more, there were so many other players that got cut out of the rocketship growth. Again, hard decisions.
The Pursuit of Happyness
"You got a dream... You gotta protect it. People can't do somethin' themselves, they wanna tell you you can't do it. If you want somethin', go get it. Period."
Summary
A hungry single father struggling to make ends meet by spending countless hours working tough jobs eventually lands his dream job at a brokerage firm. This film highlights the desire to make the best out of bad situations, perseverance, and making the most of your small victories.
Year: 2006
Rotten rating: 67%
Why it's entrepreneurial
There are a thousand memes based off this flick. It's the story of hard work, coming from nothing, and turning that into a career. Most people don't understand that a foot in the door is just that. When you're starting out in a new industry and trying to climb the ladder, you need to spend time gaining experience, learning about the industry, and having the experiences that make you better. There is no replacement for hard work and even with that, it's very seldom recognized.
Flash of Genius
"Whatever happened to this little thing called justice we talked about?"
Summary
When an inventor goes into the industry meant for his product, he's shut down and shortly thereafter finds himself struggling for recognition of the very product he worked so hard to invent. The story is a dark tale of redemption and going up against impossible odds for vindication and what is right.
Year: 2008
Rotten rating: 60%
Why it's entrepreneurial
This film acts as a warning to entrepreneurs in any industry. When approaching investors or organizations whose experience and resources vastly outstrip your own, be sure to seek appropriate legal advice. Innovative ideas can come from the most unusual or tragic of circumstance, but crediting inventors is as important as compensating them.
Working Girl
"You want another answer, ask another girl."
Summary
Melanie Griffith plays Tess, a Wall Street secretary with dreams of making it in the corporate world. When her boss is involved in a skiing accident she takes the opportunity to assume her identity, using her bosses position and connections to showcase her ideas to the bigwigs of big business. Navigating the misogynist corporate culture that dominated in New York in the 1980s, she is unwilling to settle for romance without finance, hoping to make it an industry typically hostile to her gender and social class.
Year: 1988
Rotten rating: 85%
Why it's entrepreneurial
Overcoming the things that society tells us will prevent us from ever making it: easier said than done. Tess has a brilliant idea that would transform the business of one of her companies clients, but no one is willing to take her seriously. Taking a risk in order to get your voice heard is what it takes for many entrepreneurs if they are to grow their business. The film also contains one of the best and most literal elevator pitches in cinemas history.
Trading Places
"Billy Ray Valentine: What if I can't do this job, Coleman? What if I'm not what they expected?
Coleman: Just be yourself, sir. Whatever happens, they can't take that away from you."
Summary
A classic tale of switching identities, a commodities broker and a street grifter swap lives due to the whims of the owners of the commodities brokerage taking part in a bet. Learning of the meddling, the broker and the grifter begin to work together, devising a plot to turn the tables on their puppet masters.
Year: 1983
Rotten rating: 86%
Why it's entrepreneurial
Trading Places highlights the expendability of employees in the corporate world. It is only when the pair begin their own venture that they truly have power over their own destinies. On the commodities trading floor, they use their knowledge of the market to win big, for themselves this time.
A twist on the nature vs nurture debate, Trading Places makes the argument that it doesn't matter where you come from, or the privileges of your birth, you can succeed in business (or at least commodities trading). Another theme - the little guy beating out big business - inspires entrepreneurial spirit in those reluctant to pursue their own paths.
Bowfinger
"Every day that FedEx truck comes through here delivering important things to important people. Someday it's going to stop here, and when that day comes, then we - and by we, I mean me - will be important."
Summary
Bobby Bowfinger has dreamt of directing a movie his whole life, and when the opportunity presents itself, Bowfinger seizes it, determined to work out the 'small details' of having no budget, no crew, no equipment, and no star later. Forced to film on a shoestring budget Bowfinger comes up with innovative solutions in order to make his vision a reality, (most notably filming the movie without the knowledge of its main star), he brings out the best in the supporting cast and crew in the process.
Year: 1999
Rotten rating: 81%
Why it's entrepreneurial
This film chronicles the increasingly outlandish lengths the director goes to get his shot. Something all entrepreneurs can relate to - starting out without a large budget, the determination and resourcefulness required to strive for what you want. Towards the end of the film, the satisfaction the characters get seeing the product of their hard work is priceless. Making the most of the hand you're dealt and making your own luck are values core to this hilarious movie that is not to be missed.
The Godfather
"Great men are not born great, they grow great."
Summary
A cult classic about mafia and one of the top movies on any list. From the scene in which a mafioso wakes up next to the head of a horse, to the instantly quotable dialogue, it is no wonder that this film has had a lasting impact on cinema, and culture in general. The story of a mafia Don stepping into the family business in the midst of the warring of the 'five families', which has turned into open warfare on the streets of New York City.
Year: 1972
Rotten rating: 98%
Why it's entrepreneurial
Navigating a harsh environment, where market players don't always play fair, and corporate investors exercise huge bargaining power, there really are some offeres that you can't refuse. The mob is obviously a niche industry to be a part of, but in a world of increasing mergers and acquisitions, perhaps corporate America isn't that far behind.
Rocky
"Life's not about how hard of a hit you can give... it's about how many you can take, and still keep moving forward."
Summary
The story of a young boxer that made his own opportunities. He comes from a rough background but rises to a champion with the help of others. The tale of being a nobody from nowhere to become 'somebody.'
Year: 1976
Rotten rating: 93%
Why it's entrepreneurial
Rocky shows that grit can make all the difference when it comes to legendary success. Working harder than anyone else around you is often what propels you to be the best in any sector.
Wall Street
"Greed is good."
Summary
The story of an ambitious young stockbroker's rise to the top via an unscrupulous and corrupting mentor. Embracing greed in the effort to 'make it' on Wall Street, the protagonist questions his humanity during the process as he descends further and further into commiting immoral acts.
Year: 1987
Rotten rating: 78%
Why it's entrepreneurial
A cautionary tale of the true price of success in corporate America, based on the script-writers experiences as the son of a stockbroker during the Great Depression. The protagonist begins to question the world around him due to the manipulations of his mentor and client, stressing the importance of choosing such figures wisely.
Rogue Trader
"I've discovered it's not actually terribly difficult to make money in the securities business."
Summary
A young trader is put in a position of power to make some incredibly risky choices that lands him in hot water. He tries to hide the mistakes he's made and puts himself in a dangerous position.
Year: 1999
Rotten rating: 30%
Why it's entrepreneurial
Doubling down on bad ideas to get out from under debt is one of the worst ways to make things right. Delivering a flawed product never pans out in the long term and screwing some to win others only wins in the short term.
Coach Carter
"Our deepest fear is not that we are inadequate. Our deepest fear is that we are powerful beyond measure."
Summary
A new coach starts on a champion high school basketball team and finds the players to be rude and disrespectful. The coach faces hostility from the players when he attempts to change their ways. He persists with his methods, enacting change and allowing the players to realise they aspire to something greater.
Year: 2005
Rotten rating: 64%
Why it's entrepreneurial
Coach Carter represents a relentless will to better others, even when they do not necessarily understand or appreciate the guidance they are being given. This mentorship mindset is truly invaluable to those starting out in business. Rookie entrepreneurs can fall foul of believing they know their market, but guidance is crucial to make up for their lack of experience.
Slumdog Millionaire
"My enemy's enemy is a friend."
Summary
At its heart a beautiful love story, Slumdog Millionaire can be viewed as a collection of short stories, each more engaging than the last as we move through the life of the protagonist. Showcasing the tenacity of the human spirit. The protagonist overcomes seemingly insurmountable odds to win big in life and love.
Year: 2008
Rotten rating: 91%
Why it's entrepreneurial
He risks everything, taking a chance in order to succeed. The film implies it was destiny, but the protagonist made his own destiny through determination. An underdog from the start, he proves that it is possible to achieve your dreams without the traditional markings that connote success. Going your own way, leaving the security of a corporate job and starting something of your own can be daunting, but slumdog millionaire inspires a 'can-do' attitude in even the most pessimistic of hearts.
A Most Violent Year
"You will never do anything as hard as staring someone straight in the eye and telling them the truth."
Summary
A fuel supplier in New York during the 1980s attempts to take the straight and narrow path despite outside forces attempting to corrupt him. He sticks to his morals but nearly at the expense of everything.
Year: 2015
Rotten rating: 89%
Why it's entrepreneurial
Stressed by the competitiveness of the industry, the protagonist needs to secure capital in order to expand and remain competitive. Failing to do so with the bank, he must find the money from several 'alternative sources', ramping up the pressure as the clock runs down to payment day. This film highlights the difficulties of keeping to the high road in an industry fraught with less scrupulous players.
Big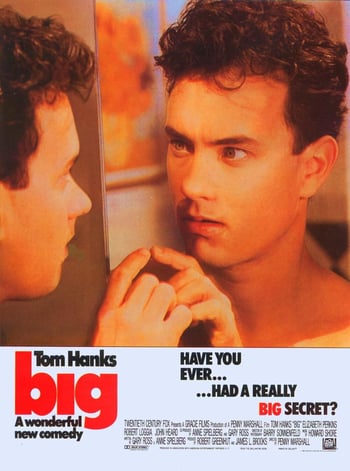 "No matter where you're from, your dreams are valid."
Summary
A 13-year-old living in New York celebrates his birthday by making a wish to be an 'adult' with a mysterious looking machine at an amusement park. Josh wakes up the next day to discover that he's turned into big person overnight, but he's still the same person mentally and emotially. He opts to try out getting a job and being an adult in New York City.
Year: 1988
Rotten rating: 97%
Why it's entrepreneurial
The real world is all that you make of it. If you take yourself too seriously or make yourself into something your not it's hard to do anything in earnest. There is a uniqueness to being a kid and thinking like one within the creative process. Give yourself a chance to let go of constraints during the creative process. Additionally, we all have unique ways of communicating and sometimes simplicity is best.
Gattaca
"Eugene suffered under a different burden - the burden of perfection"
Summary
Set in the future, a society of genetically modified babies gives rise to a super-class of people that get choice opportunities and careers in life based on genetics. Those born naturally are pushed into a lower class. Against all odds, the story covers an unlikely hero that wants to join the space program despite all odds and an entire society's belief system stacked against him.
Year: 1997
Rotten rating: 82%
Why it's entrepreneurial
There is nothing that replaces hard work. Even in the face of being told that you will not amount to anything, there is an inherent need to out-do yourself. The character in the movie uses everything at his disposal to beat the odds to out-compete those around him.
During one of the final scenes of the movie the protagonist (Vincent), plays a game of 'chicken' with his more physically fit brother (Anton), by swimming as far as they can into a lake before one of them gives up for fear of drowning. During this swim, Anton asks him:
"How are you doing this Vincent? How have you done any of this? We have to go back!"
"It's too late for that. We're closer to the other side."
"What other side? You wanna drown us both?"
"You wanna know how I did it? This is how I did it, Anton. I never saved anything for the swim back."
I, Tonya
"There's no such thing as truth. I mean it's bullshit! Everyone has their own truth. And life just does whatever the fuck it wants."
Summary
A dark comedy about the little known circumstances of Tonya Hardings rise to Olympic Athlete through some of the most unlikely places. Her mother, upbringing, and husband put her at the centre of one of the most well-known scandals in sports history. With the right structure, who knows how far she could have gone.
Year: 2018
Rotten rating: 89%
Why it's entrepreneurial
Athletics at the Olympic level: there are few more competitive markets. The movie offers a glimpse into the darker elements of professional sports, and the true cost of winning. The truth surrounding the events that take place in the movie is still unknown, but the tragedies of the protagonist's life make extremely compelling viewing. For further reading: details of Tonya's life following the controversy of the attack make an interesting case study into how our upbringing shapes us as adults.
A Beautiful Mind
"A profound dislike for merely absorbing knowledge and a strong compulsion to learn by doing is one of the most reliable signs of genius."
Summary
An early stand-out mathematian battles schizophrenia. While trying to stablize his career he gets involved with a large scale government project that pushes him to the brink of insanity.
Year: 2001
Rotten rating: 75%
Why it's entrepreneurial
Overcoming adversity to achieve greatness - easier said than done. Compounded by the fact that the protagonist suffers from incurable mental health issues, he struggles with balancing family commitments with dedication to his work: something many entrepreneurs can relate to. A gripping thriller which will, in parts, have you questioning your sanity.
Up In The Air
Summary
A corporate business travellers life on the road can be a blessing and a curse. His company is trying to reduce expenditures and downsizes its travel budget.
Year: 2009
Rotten rating: 91%
Why it's entrepreneurial
The perfect film for those questioning their life or career choices. The film tells the tale of Ryan and Natalie as they both realize that the goals they thought they were striving for, no longer fulfil them. Poignant at times, amusing at others, it showcases the value of taking a step back and looking at the bigger picture.
American Gangster
"Success. It's got enemies. You can be successful and have enemies or you can be unsuccessful and have friends."
Summary
After a leading black crime boss dies suddenly, a young upstart exploits the opening in the power structure. He works to gain his own spot in a constantly shifting underground and illegal space to build an empire of drug dealers. Tensions escalate as gangster struggles to stay on top, avoid being murdered and life imprisonment.
Year: 2007
Rotten rating: 80%
Why it's entrepreneurial
Even in the criminal underworld, there are barriers to achieving your goals. To progress to a high level within the organization, the protagonist must be enterprising, and when his resources are cut off (his drug supply dries up), he is forced to reevaluate, changing his business model to accommodate this (relying more heavily on prostitutes for example). Business acumen, with a nod and a wink.
The Post
"To make this decision, to risk her fortune, and the company that's been her entire life, well I think that's brave."
Summary
The tale of the first female publisher of a major American newspaper, The Washington Post. As the Washington Post struggles to maintain its competitive advantage in a race to catch up with The New York Times, they become the centre in of a massive cover-up of government secrets that spanned three decades and four U.S. Presidents.
Year: 2018
Rotten rating: 88%
Why it's entrepreneurial
Staying true to what you believe in is a luxury afforded to few in the business world. Competition to be first to market drives market players to make tough decisions, and here the protagonist is faced with a struggling business on the edge of going under. The choices she makes will either sink the business or make it's legacy, with no way of knowing the outcome. A tense political thriller for anyone with an interest in journalism.
The Usual Suspects
"The greatest trick the devil ever pulled was to convince the world he didn't exist."
Summary
An ingenius story about a game within a game. A con-man recounts the tale of his last heist to the police, but this, in turn, proves to be another con. The con-man is able to convince the feds a crimelord exists, in order to pull off an even greater heist.
Year: 1995
Rotten rating: 89%
Why it's entrepreneurial
Great planning is often the key to great outcomes. Sometimes the intended outcomes take a back seat to beneficial unintended consequences of trying to pivot. Making better choices even when the world around you is crumbling is the difference between winners and losers in this life.
Million Dollar Baby
"Anyone can lose one fight, anybody can lose once, you'll come back from this you'll be the champion of the world."
Summary
Clint Eastwood plays a veteran boxing trainer who has devoted his life to the ring and has precious little to show for it; his daughter never answers his letters and he has few personal connections. An amateur boxer finds him, hoping he will give her a chance and train her for the professional boxing circuit.
Year: 2004
Rotten rating: 90%
Why it's entrepreneurial
An amateur female boxer aspires to greatness. Led by a reluctant mentor she achievethe s success she was unable to reach without his guidance. Working towards goals require more than just hard work, but the right support. Million Dollar Baby's ending is simply too good to reveal, but it's a highly recommended watch for any entrepreneur.
Fargo
"There's more to life than a little money, you know. Don'tcha know that? And here ya are, and it's a beautiful day. Well. I just don't understand it."
Summary
Fargo tells the story of Jerry, a Mid-Western car dealer so desperate to escape his debts that he hires two 'funny-looking' thugs to kidnap his own wife. Intending to collect the ransom from his wealthy father-in-law, the plot spirals into chaos when a heavily pregnant local police chief begins investigating.
Year: 1996
Rotten rating: 93%
Why it's entrepreneurial
Jerry has an idea for a lucrative real-estate deal but is double-crossed by his father-in-law, forcing him to carry out the kidnapping. Jerry's predicament highlights the risks of choosing your investors flippantly, as even the best ideas require solid backing.
Around the World in 80 Days
"The chance which now seems lost may present itself at the last moment."
Summary
Set in the 19th Century, English gentleman Phileas Fogg makes a bet with his equally wealthy acquaintences: that he can circumnavigate the globe in 80 days. Setting off from London, he straddles international borders, hopping from city to city in a frenetic rush to win the bet, he is followed by a police inspector who has mistaken his identity. Putting aside the archaic attitudes and questionable language by today's standards, classic films showcasing global travel in a simpler world are always heart-warming.
Year: 1956
Rotten rating: 71%
Why it's entrepreneurial
Finding barriers at every turn, Fogg must find creative solutions to his problems if he is to win big. This mirrors the startup scene: with many entrepreneurs facing roadblocks in the initial phases of their business. The protagonists zeal for adventure is something entrepreneurs will also relate to, as starting a business is as much of a journey as takes place in the film.
The Intern
"The key is to keep moving."
Summary
An older out-dated worker wants to get back into the job market via a senior internship. By teaming up with a younger intern, he learns a lot about a younger generation, business, integrity, team value, what goes into working at a multi-generational workplace.
Year: 2015
Rotten rating: 59%
Why it's entrepreneurial
A beautiful film highlighting what the older generations can learn from the young, as much as the other way around, the film follows the lives of a group of workers at an e-commerce fashion startup. For those feeling edged out by increasing digitization, this film encourages the belief that it's never too late to learn something new.
Burnt
"Whatever it was or whoever it was in the past, it's time to get on with it. And you can't do this alone. There's strength in needing others, not weakness."
Summary
Running a restaurant like a cut-throat general will only get you so far. A chef learns that doing what he loves and also treating those around you with more respect results in a better life overall.
Year: 2015
Rotten rating: 29%
Why it's entrepreneurial
Overcoming a shaky business history can be a struggle, and the protagonist faces innumerous challenges from his past in attempting to launch a new venture. The quest for greatness can be long, and it's important to treat others as you would wish to be treated, since your competitors and allies have long memories.
Showgirls
"There's always someone younger and hungrier coming down the stairs after you."
Summary
Perhaps best viewed as satire, Showgirls presents a glimpse into what it takes to make it in the competitive dance industry on the glamorous Las Vegas strip. Nomi Malone hitchhikes to Las Vegas aspiring to dance in a dance review, but instead finds herself giving lapdances at a strip club. Capitalizing on an opportunity, she 'leverages her assets' to get herself into the chorus line of a dance show. Facing constant battles for position, the work is cut-throat, but Nomi rises to the top despite the interference of the shows star. At it's heart, Showgirls is a tale of overcoming the odds and reaching for your dreams.
Year: 1995
Rotten rating: 23%
Why it's entrepreneurial
Essentially all the main characters in Showgirls are willing to do almost anything in order to achieve their goals, and this is often the attitude required to succeed in business. Beating out competition (hightlighted in the famous push-down-the-stairs scene) is an essential part of any business. The characters all want to be at the top, but staying there is hard, and ultimately many of the players in the market won't make it. The hilarious erotic scenes are also worthy of note for their 'so bad it's good' element.
She's All That
"Sometime when you open up to people, you let the bad in with the good."
Summary
This has all the 1990's teen tropes: a group of popular, elitist highschoolers, a pretty girl in glasses considered ugly, and a vapid, superficial premise. Zack and Dean make a bet that they can't turn "nerd" Laney into a prom queen, but the lengths that Zack goes to in order to win are extremely enterprising. Spurned at first by Laney, Zack must be innovate his approach if he wants to win. He persists with attempts to sell Laney as prom queen, leveraging his own popularity to reposition her in the eyes of her classmates. Prom, of course, ends in disaster, but the entrepreneurial spirit of the protagonist is admirable.
Year: 1999
Rotten rating: 40%
Why it's entrepreneurial
Changing consumer perceptions of your product (in this case, a nerd) is difficult, and takes time, given how stubbornly entrenched memories are to be lost. Zack goes to great lengths to rebrand Laney in the eyes of his fellow students, undertaking various creative techniques to relaunch her. His persistence pays off, just not in the way he had hoped.
Boiler Room
"They say money can't buy happiness? Look at the fucking smile on my face. Ear to ear, baby."
Summary
A young, slick, and inexperienced college drop out gets a chance to become a stockbroker in a small investment firm. He quickly brings on like-minded friends to help take advantage of an uneducated industry and older industry. The film shows how loose principles and lucrative commissions can drive a ton of growth.
Year: 2000
Rotten rating: 67%
Why it's entrepreneurial
Hardcore hard-selling is an almost entirely bygone era given how many young business development representatives watch a movie like this and assume they're the next Zig Ziggler. The undertones of greed in this flick are very real but a theme that seldom gets credit here is utilizing your network. When you a like-minded team around you that is supportive and is willing to put in the time to understand a new industry, there's potential. If you pair that with small victories that continue to give you and your team hope, anything is possible.
October Sky
"You know, it won't fly unless somebody pushes the button."
Summary
A small team of bright young men want to escape their impending future as coal miners in a small rural town. They take an interest in building homemade rockets and want to show everyone (especially their families), that they're meant for more than coal mining.
Year: 1999
Rotten rating: 90%
Why it's entrepreneurial
Taking qualities from product development and a passion for a niche, the characters learn to rely on reach other and this drives them to success beyond the capabilities of any one person in their group. They persist in following their dreams despite constantly being told to stop, seeing a way out of their situation through innovation.
The Aviator
"Don't tell me i can't do it. Don't tell me it can't be done."
Summary
The story of Howard Hughes and his meteoric rise as an eccentric and brilliant entrepreneur in the aviation industry. His genius and eccentricities are ultimately part of his downfall as he loses grasp of reality.
Year: 2004
Rotten rating: 87%
Why it's entrepreneurial
Genius and crazy are divided by a very thin line at times. Developing something that might not work requires a bit of 'crazy'. Howard Hughes was one of the most eccentric entrepreneurs of the 20th century and his confidence was only exceeded by his abilities. Sometimes we need to recognize those around us that might not have emotional intelligence have the ability to do practically anything, and then give them the chance.
Romie and Michele's High School Reunion
"Michele, that's it! We can go to the reunion and just pretend to be successful. I mean, who's gonna know? They're in Tucson. We're here."
Summary
Bubblegum pink, this chick flick does exactly what it says on the box. Two friends return to their hometown for a high school reunion. Embarrassed by their lack of success, they pretend to have invented post-its. When the charade is uncovered the girls are celebrated by their class for being themselves, and ultimately find an angel investor in the process. The film ends with the protagonists opening their own boutique in California.
Year: 1997
Rotten rating: 72%
Why it's entrepreneurial
The film showcases the importance of being in the right place at the right time. For aspiring entrepreneurs, every day presents an opportunity to push your business forward, and networking will be key to this. Remember; be kind to the people you went to high school with - one day they might invest in your startup.
Cinderella Man
"My heart is for my family. My brains and my balls are for business."
Summary
The true story of an athlete who achieved his greatest success against the most daunting odds of his life is brought to the screen in this historical drama
Year: 2005
Rotten rating: 80%
Why it's entrepreneurial
A down on his luck boxer working as a manual laborer is asked to return to the ring. Upon doing so he learns that his previous failure has led him to develop an innovative technique that brings him new success. He goes on to defeat the champion using this technique, beating the odds to win big.
Shawshank Redemption
"Get busy living or get busy dying."
Summary
A banker is arrested and sentenced to life imprisonment. Finding prison to be unbearable, he tells his follow inmates it is hope that gets him through. He begins assisting the corrupt wardens with their finances in order for protection, as he plots his own escape.
Year: 1994
Rotten rating: 91%
Why it's entrepreneurial
The value of long-term goals is the true message of this film. Struggling through unbearable circumstances, the protagonist continues working away, understanding that whilst his environment is beyond his control, he will reap the rewards of his hard work eventually. Who needs a 401(k) when you've accrued millions of dollars from a corrupt prison guard?
Blow
"Sometimes you're flush and sometimes you're bust, and when you're up, it's never as good as it seems, and when you're down, you never think you'll be up again. But life goes on."
Summary
Touching at times, effortlessly cool at others: could be a summary of the better half of Johnny Depp's career, and this film is no exception. Blow recounts the tale of a young man growing up in a suburb outside of Boston, the story of his life and eventual downfall as an international drug trafficker in cahoots with Pablo Escabar.
Year: 2001
Rotten rating: 55%
Why it's entrepreneurial
Blow presents the acumen of the protagonist coming from humble beginnings as he moves up the criminal ladder, the politics of deals, and the consequences of relying on the wrong partners. Entrepreneurs should take the protagonists decisions as a laundry list of what not to do more than anything else.
The Informant!
"Paranoid is what people who are trying to take advantage of you call you to get you to drop your guard!"
Summary
Based on a true story, a young executive in the agriculture industry turns into a whistleblower as the company begins to take advantage of price fixing. He begins to embessal money and gets caught up in his own lies.
Year: 2009
Rotten rating: 80%
Why it's entrepreneurial
In business, it is rare not to be caught. Misdeeds always surface and invariably end in scandal. This was certainly the case in this biographical film with unethical business practices abound. The protagonist's descent into madness, and eventual reform also make this film incredibly compelling viewing
There Will Be Blood
"I have a competition in me... I want no one else to succeed."
Summary
An oil pioneer whose ambition turns him into one of the wealthiest men in the United States. The story follows the meteoric rise of a miner who stops at nothing to scale his business.
Year: 2007
Rotten rating: 91%
Why it's entrepreneurial
The protagonist becomes incredibly wealthy, but at what cost? From humble beginnings, he is so desperate to make something of himself that drags himself to the prospector on a broken leg in order to get a certification. As his profits and power grow, he only grows more deplorable. A cautionary tale of the pitfalls of massive success.
Remember the Titans
"Attitude reflect leadership, captain."
Summary
A white high school in southern USA is integrated with black students from a nearby school (towards the end of the period of segregated schooling). Both schools are recognized for their football programs which are now unified. The black coach is chosen to be the head coach of the integrated team, leading to conflict amogst the players.
Year: 2000
Rotten rating: 73%
Why it's entrepreneurial
What makes a good leader great? Though perhaps a vague question: certainly one measure is their ability to inspire change in others. The protagonist must ensure conflict resolution between team members if they are to come together and succeed. The guidance of the protagonists not only allows his team to work together, but to become better people in the process.
Almost Famous
"I didn't invent the rainy day, man. I just own the best umbrella."
Summary
Based on the life of the senior editor of Rolling Stone magazine, a young gifted writer gets a chance offer to write for Cream magazine and cover his favorite band. By luck, his wire up catches the eyes of Rolling Stone Magazine who tasks him with covering the band.
Year: 2000
Rotten rating: 89%
Why it's entrepreneurial
A coming-of-age drama that follows a talented young journalist as he gets an insiders peek into the lives of some of his rock music heroes. Full of charming, flawed characters (including what is perhaps Kate Hudson's only worthy performance), this film presents the trials and tribulations faced in the early career of any young reporter, making it instantly relatable.
Big Fish
"Dreams are what keep a man going."
Summary
The story of a world traveller and storyteller in the late 60s in the United States. An accomplished, professional writer wants to get a better understanding of the life of his father, as his father lies on his deathbed. While visiting his sick father, he learns more than he could imagine about his dad's past.
Year: 2003
Rotten rating: 75%
Why it's entrepreneurial
Probably one of the most beautiful films, both visually and narratively, of the 21st century so far. For entrepreneurs, it highlights the importance of story-telling and the narrative structure in connecting with people.
Walk the Line
"It ain't got nothin' to do with believin' in God, Mr. Cash. It has to do with believin' in yourself."
Summary
The story of American musician Johnny Cash and his rise from a poor country boy to a music legend. He battles many of the vices associated with the rock and roll lifestyle and tough business at the same time.
Year: 2005
Rotten rating: 83%
Why it's entrepreneurial
As is the case with many of those touched by fame, country music icon Johnny Cash battled addiction most of his career. This film chronicles the highs and lows, and his creativity in overcoming an overbearing record label. For those experiencing the ups and downs of the business cycle, this film provides a relateable experience.
American Hustle
"The art of survival is a story that never ends."
Summary
Based on story from the 1970s. Two con artists are caught by the FBI and agree to go undercover to expose a corrupt New Jersey Mayor. In order to avoid jail time and potentially getting killed by the mob, these two will need to out smart both sides of the law.
Year: 2013
Rotten rating: 93%
Why it's entrepreneurial
Navigating the business environment is complicated. It can be difficult to assess which market players represent opportunities or threats, who are your potential allies and which ones are less reliable. This slick film highlights the importance of choosing business partners carefully, with effortless cool to boot.
The Imitation Game
"Sometimes it is the people no one imagines anything of who do the things that no one can imagine."
Summary
The story of the first computer built to combat and decipher the enigma machine built by the Germans in WWII. Alan Turing manages to create a functional prototype and help the Allied forces gain an edge on the Germans. Turing is visited by police officers shortly after the war is broughtt up on a criminal charge for his participation of acts of homosexuality.
Year: 2014
Rotten rating: 90%
Why it's entrepreneurial
The protagonist's accomplishments helped to save millions of lives, but the need to conform to society destroyed his own. Ensuring the correct functioning of an innovative product is a process, and in this case, with as high stakes as the outcome of the second world war, the team faced significant pressure to perform. Despite personal struggles and rocky internal communications, they went on to successfully develop what was essentially the first computer and contribute significantly to the war effort.
Brooklyn
"You'll feel so homesick that you'll want to die, and there's nothing you can do about it apart from endure it. But you will, and it won't kill you."
Summary
A young Irish immigrant moves to Brooklyn, New York in the 1950s. She battles home sickness and her sense of identity while trying to make her way in the world. She's pressured by those she's left behind to make life changing choices.
Year: 2015
Rotten rating: 97%
Why it's entrepreneurial
The story of an immigrant who moved to New York with essentially just the clothes on her back, she struggles to find purpose in the big city. When starting out, finding the right direction can be hard, and the importance of mentorship and passing it forward is showcased beautifully in this film as the protagonist who was once the naive rookie offers guidance to others by the end of the film.
Why Him?
"It turns out her boyfriend is this internet zillionaire."
Summary
Over the holidays, an overprotective but loving dad and his family visit his daughter at Stanford, where he meets his biggest nightmare: her well-meaning but bizarre Silicon Valley billionaire boyfriend. This flick is full of silicon valley and startup references that are enough to make you wonder, "who on earth are the people working in these places?". Of course, these are sweeping generalizations, but the film has a number of amusing moments.
Year: 2016
Rotten rating: 38%
Why it's entrepreneurial
A charming film highlighting the eccentricities common amongst tech entrepreneurs. Following the trend of extremely successful tech startups for being casual and having very different attitudes towards business than the older generation.
[Related Article – 26 Interesting Stories About Successful Entrepreneurs]
The People vs. Larry Flint
"I don't wanna step on your toes but things have changed since you were actively running the company. I mean I look back at the stuff you did in the 70s and it was uh sorta racy and crazy. But the country is different now."
Summary
The true story of Hustler magazine's creator Larry Flynt and his fight against the system when censorship mongers attempt to shut him down. The film makes for a good drama with excellent performances from Harrelson and Love.
Year: 1996
Rotten rating: 89%
Why it's entrepreneurial
Launching something new will never please everyone, and you will not be without critics. Due to societal tastes, it may be that you are simply too early, advanced, and progressive for mainstream tastes. In the case shown in this film, the protagonist is faced with many social and legal barriers to staying in business, but he persists because he believes he is doing what is right
Goodfellas
"As far back as I can remember, I always wanted to be a gangster."
Summary
One of the most notable classics about mafia life depicting one crew's rise to mafia power. There are depictions of coming from nothing via any means. A must see!
Year: 1990
Rotten rating: 96%
Why it's entrepreneurial
GoodFellas demonstrates how cruel the business world can be, how vicious your competitors are, and how you should always remain aware of new entrants in the market that are ready to go toe-to-toe for a piece of your business.
War Dogs
"This isn't about being pro-war. This is about being pro-money."
Summary
Two friends in their early 20s living in Miami Beach during the Iraq War exploit little-known government contracts that allow small businesses to bid on U.S. Military contracts. Starting small, they begin raking in big money and are living the high life.
Year: 2016
Rotten rating: 60%
Why it's entrepreneurial
The two protagonists show business acumen, cleverly exploiting a government initiative in a questionable but legal process. Their activities bring them business success and rapid growth, which they struggle to manage. This eventually leads to their downfall due to the instability of the market. A cautionary tale for aspiring entrepreneurs.
The World's Fastest Indian
Summary
The true story of an older man from New Zealand who never gave up on his dreams of doing something big. Attempting to set a new land speed record is quite an accomplishment, let alone for someone in their golden years.
Year: 2005
Rotten rating: 82%
Why it's entrepreneurial
Munro set numerous land speed records at the Bonneville Salt Flats in Utah in the late 1950s and 60s after overcoming tremendous personal and financial difficulties to realise his dream. His persistence and eventual success made him a folk hero, and his story demonstrates how entrepreneurs come in all shapes and sizes. For those with the guts, it's never 'too late' to reach for something more.
Eddie the Eagle
"You're not going to give up are ya?"
Summary
Eddie the Eagle is the story of Michael Edwards, a British skier who in 1988 became the first competitor to represent Great Britain in Olympic ski jumping since 1928. The true story of a man that wanted to become an olympian at all costs. While he was late to attempt his sport, he eventually put in the work to get better so he could at the very least compete.
Year: 2016
Rotten rating: 80%
Why it's entrepreneurial
Edwards was mostly self-taught and had nurtured the dream of competing in the Olympics since he was a child. His dogged determination to improve and succeed at his sport took him from underdog to superhero almost overnight. Entrepreneurs, take notice.
Bohemian Rhapsody
"Roger Taylor: You're a legend, Freddy.
Freddie Mercury: We're all legends."
Summary
Bohemian Rhapsody is the narrative of Eddie Mercury's rise to fame and how he was able to accomplish unimaginable things with his bandmates in Queen. Freddie Mercury defies stereotypes and shatters standards to become a world-class leader.
Year: 2018
Rotten rating: 62%
Why it's entrepreneurial
The film traces the meteoric rise of the band through their iconic songs and revolutionary sound as Queen created a legacy that continues to inspire outsiders, dreamers and music lovers to this day. For those entrepreneurs who hope their startup will be the next Apple, the next Amazon, the next Google: this is the kind of explosive growth and mark on society you wish for.
Click
"Oh no I'm not dying. I'm gonna live for 200 years. Is that enough for you and me?"
Summary
An overworked architect finds himself in possession of magic remote that lets him fast forward through the parts of life he doesn't enjoy or finds unnecessary. Before he realizes it, he's missing most of life and can't control what parts he's present in.
Year: 2006
Rotten rating: 33%
Why it's entrepreneurial
Click is a comedy about workaholism, life choices and values. What do we ultimately want to do with our lives? If we are unhappy with large parts of our lives, what can we do to change our circumstances? These are the questions posed in Click. Whilst individual responses may vary, the desire to be fulfilled by our work is universal. If you are reading this from a desk in a corporate office: either quit your job, or get back to work.
The Theory of Everything
"There should be no boundaries to human endeavor. We are all different. However bad life may seem, there is always something you can do, and succeed at. While there's life, there is hope."
Summary
This is the extraordinary story of one of the world's greatest minds of a generation, the renowned astrophysicist Stephen Hawking, who falls deeply in love with fellow Cambridge student Jane Wilde. Once a healthy, active young man, Hawking received an earth-shattering diagnosis at 21 years of age.
Year: 2014
Rotten rating: 78%
Why it's entrepreneurial
The Theory of Everything is the story of a man of extraordinary vision and his struggle to achieve his goals despite the seemingly insurmountable barrier of a crippling degenerative illness. The fact that he achieved so much in his chosen field is a testament to the strength and determination of the individual to overcome the most daunting of odds in his quest to fulfil his potential.
Lord of War
"There are only two tragedies in life. One is not getting what you want, the other is getting it."
Summary
Realizing there's a darker niche that builds more wealth than anything you've ever legitimately worked for puts any person at odds. This story highlights the arms trade and how it takes more than flexible principles to become successful in a business like arms dealing.
Year: 2005
Rotten rating: 61%
Why it's entrepreneurial
There are no rules when it comes to setting goals. However, if you're expecting to reach wildly ambitious goals you need to evaluate your morals. More than one movie has been made about becoming a purely capitalist weapons dealer. The interesting thing about this movie is showing the length that someone will go to prove that he's successful. There is an interesting narrative that shows how you start and how you get better at a business you don't understand. Just be aware that once you are tied into a network of flawed humans, those are going to be the people you will consistently work with. Not anything to aspire to, just something to watch and wonder what would it be like if you didn't care about others.
Thank You For Smoking
"That's the beauty of argument, if you argue correctly, you're never wrong."
Summary
Lobbyists are a special breed and this film uncovers the thought process behind how they operate. Selling some of the most controversial goods in history (tobacco) requires a mindset that changes the dynamic of the market. In order to understand your counterparts and biggest critics, you need to outpace them on the verbiage and focus on the goal. This is a great film to help understand human interaction and your market. In a world of fake news, this shows how many will attest that 'the ends justify the means'.
Year: 2006
Rotten rating: 86%
Why it's entrepreneurial
Handling the objections of others at its core is handled beautifully in this movie. We often need to convince ourselves of our lies in order to be better at what we do. We have the best product. Our company employees the smartest people. Our industry is the greatest industry. The work we're doing in extremely important. Additionally, taking the concept of providing data behind the claims of your product is seldom explained better than throughout a movie where a lobbyist experiences all sides of trickery and manipulation.
The Devil Wears Prada
"Oh, I'm sorry. Do you have some prior commitment? Some hideous skirt convention you have to go to?"
Summary
For those that are in the fashion industry, this is the film for you. The story of a young college graduate that starts working for a notoriously mean and tough boss. Her life completely changes, she turns into a fashionista and becomes the devil's apprentice. This film exposes a tough industry and what bad bosses look like.
Year: 2005
Rotten rating: 75%
Why it's entrepreneurial
Meryl Streep's Oscar-nominated performance as a callous, thinly-veiled caricature of Anna Wintour will be all too familiar to those who have ever worked in the fashion industry. It's a classic 'Cinderella Story' with a twist - the heroine aspires to be a career woman, and instead becomes a princess (or at least a fashionista) ...and then a career woman again. She demonstrates an all-consuming drive to succeed, something many entrepreneurs need when starting out.
Invictus
"Forgiveness liberates the soul. It removes fear. That is why it is such a powerful weapon."
Summary
The story of Nelson Mandela's influence on uniting the country through the medium of competitive sport. He uses Rugby to incite a sense of nationalism and inclusivity in a country deeply divided by it's past of racial segregation.
Year: 2009
Rotten rating: 76%
Why it's entrepreneurial
The idea that communities with seemingly insurmountable differences can be brought together by finding common points of interest is both beautiful, and relevant for business leaders. The biographical film chronicles the vision of Nelson Mandela in transforming a nation deeply divided, and ultimately beating its rivals. Conflict resolution on a grand scale, and inspiring the best in those within your organization are some of the themes at play here.
Money Ball
"When you get the answer your looking for, ya hang up."
Summary
Using data to make selections for drafting the future professional baseball players starts to produce better results. It's the story of an innovative approach to doing business in an old-school industry that changes the entire process of recruitment in major league baseball. This movie uncovers the need for disruption across so many different industries and why there is always going to be a misunderstanding from those that 'know' what has worked in the past.
Year: 2011
Rotten rating: 94%
Why it's entrepreneurial
The complexities of applying data to an old-school industry gives Money Ball its flair. There are entirely new industries that have sprung up that specifically apply data analytics to processes to gain clearer insights. There will always be push back when it comes to the transition from old to new ways of running a business. Baseball has always been a sport where the collection of data proved to be a differentiator. Applying technical expertise from one sector to another creates opportunities, but convincing those at the top of its value turns out to be the hard part. This will always be the challenge with innovation of any kind.
Margin Call
"We don't sell anything to anybody unless they are going to come back for more."
Summary
Investors that uncover the beginning of what was turning into the housing crisis of 2008. This film dissects the industry and explains how the poor decisions from all players led to a massive market recession.
Year: 2011
Rotten rating: 89%
Why it's entrepreneurial
Predicting the market isn't easy. Even very experienced market players can be caught off-guard by fluctuations in the business cycle, and you have to be selective about whose information is helpful. The effect that mismanagement within corporations can have on smaller enterprises is profound, and there must be some form of social accountability for this.
[Related Article – Why Is China Investing so Much in Europe]
Limitless
"You haven't had to bribe or charm or threaten your way to a seat at that table. You don't know how to assess your competition because you haven't competed."
Summary
A wonder drug allows anyone who takes it to become more productive, think faster, and become the best possible version of themselves. This concept gives rise to the idea of 'brain drugs' and how they give someone a competitive edge. Seemingly anyone with this fantastical drug can out-compete anyone.
Year: 2011
Rotten rating: 69%
Why it's entrepreneurial
Brain drugs within the startup and tech scene continue to be a hot topic. If you can take a substance with minimal side effects to get ahead, should you do it? Think steroids but for your brain. Competing in professional sports with a synthetic edge is deeply frowned upon, should something that gives you an edge intellectually be any different? It's a fun thought piece and brings us to wonder what else we could accomplish in short periods of time if we had more focus. Despite not encouraging drug use, we all should consider what we could do if we were more focused more of the time.
Nightcrawler
"Do you know what fear stands for? False Evidence Appearing Real."
Summary
There is a thin line between being savvy and criminal behaviour. Desperately seeking success, a freelance videographer with a sketchy past tries to compete with the professionals by selling footage of crimes in progress to the local news. Winning at any cost demonstrates the type of person it takes to make it in this seedy industry.
Year: 2014
Rotten rating: 95%
Why it's entrepreneurial
Have you ever worked for a calculated psychopath? This is at its core what Nighcrawler should impart, using psychological principles and data, you can in effect manipulate those around you an capitalize on the market. This shouldn't inspire you to be cold and calculating but to recognize those character flaws and understand the intentions behind the actions of some of our leaders.
Using timing and value as chess pieces in a game when you understand the long-term mission of your company/product is incredibly important. However, understanding the outcomes of those decisions and which decisions are the right ones is what this movie should leave you with. This movie gives an amazing perspective on how having a protege can improve your business and maintaining professionalism is of the utmost importance when you're mentoring someone. There aren't too many movies that highlight the negotiations of salary and vendor fees like this one, that alone is worth a watch.
The Big Short
"We can do everything straight and still go broke."
Summary
One of the most honest depictions of the leading up to the housing crisis and the following recession of 2008. The big short highlights a brilliant data-driven stockbroker that capitalized on the drastic shift in the market.
Year: 2015
Rotten rating: 88%
Why it's entrepreneurial
There is something wrong with an industry when the guys that don't know anything are raking in money hand over fist. Exploiting a niche is one thing but making millionaires out of guys that should be personal trainers or car salesmen is quite another. There's an entire portion of the movie specifically geared towards customer research and interviewing people within your space.
Very few movies offer an understanding of what that's like and while it doesn't give you the full picture, it does help you understand why its important. Understanding what collaborators and partners get out of deal is incredibly improtant to understand why you should or shouldn't be working with certain partners.
Whiplash
"I was there to push people beyond what's expected of them. I believe that's an absolute necessity."
Summary
An ambitious and talented young jazz drummer enters an elite east coast music program with an unchallenged and aggressive leader. Within any industry, there is always an unknowable underbelly, even when it comes to the classical arts.
Year: 2014
Rotten rating: 93%
Why it's entrepreneurial
Whiplash is an example of how striving to be successful in one's chosen field can have a darker side. An aspiring jazz student is discovered by an instructor known for his terrifying teaching methods. But the student's passion to achieve perfection quickly spirals into obsession as his ruthless teacher pushes him to the brink of his sanity, eventually causing him to drop out.
Lawless
"It is not the violence that sets men apart. It is the distance that he is prepared to go. Jack, look at me. We are survivors. We control the fear. But without the fear, we are all as good as dead."
Summary
The true story of the infamous bootleggers, Bondurant Brothers. Set in the Prohibition-era in a small rural town of Virginia, these brothers and friend build an empire and avoid arrest for illegal bootlegging.
Year: 2012
Rotten rating: 67%
Why it's entrepreneurial
Scaling a small business can be a challenge, especially when dealing with complicated legal barriers that create a harsh business environment. Increasing production will not benefit the business if you are cut off from your customers, and as such the protagonists in this film do everything they can to protect their sales channels, (usually by means of a shootout).
Final thoughts
Cinema goes beyond the visual experience of simply watching a movie, and the true power of the narratives in movies is to speak to people in a way they are able to relate to. Whether you're looking for a movie to offer inspiration on how to get into the business world, or you're a startup CEO seeking an escape from the stresses of operating a business yourself, hopefully you've found the perfect fit for you.