The old adage of "you don't truly appreciate something until it's gone" has really hit home during the pandemic where product shortages were, to say the least, "abundant." Nevertheless, maybe it is just human nature to take something for granted, especially when it becomes such a major part of everyday life.

This appears to be a part of the story when it comes to the microelectronics industry. It's an industry that has a major role in our lives, even though it's on a micro-scale. Microelectronics is an industry that may not get the same kind of attention that some other major ones do, but it's an industry that plays a role in everything from IoT technologies to semiconductors and vehicles. To begin with, a major reason why there were product shortages and increased prices of various goods during the pandemic was due to a semiconductor shortage.

But on the other side, maybe this shortage made some businesses and entrepreneurs step back and take a better look at microelectronics. If we take its sub-industry of semiconductors as an example, its market is expected to grow 10% in 2022 to $600 million. And when you consider that it is a handful of companies that make up this sub-industry, getting in front of market disruption and competitors is a necessity.
In this article, we want to show you how you can get an overview of trends in the microelectronics industry using our platform's various features. We'll walk you through the search feature step-by-step, as well as cover metrics used, filters, and our "Radars" feature. Hopefully, this will inspire your own deep-dive into the microelectronics industry or become a basis to learn how to get the most out of the platform.
Building from the ground-up: the search
The first place we are going to start is with building the search. Our goal for this search is to find top ranking microelectronics companies on our platform, so we are going to use "Start a New Search" and from there we simply put the search query of "I would like to find companies that work with microelectronics."
[Related Article - How to Be One Step Ahead Of Your Competition With The Valuer Platform]
From here, you have the option to pick up to five industries and subsequent sub-industries to help further guide the AI. In this case, we choose hardware and software, opting to forego any sub-industries. However, it's important to note that this step is completely optional, as the NLP algorithms we use will understand your search query and provide results; it just adds as an extra reference point for the platform. If you want to get more information on the specific algorithms we use, you can take a look at an interview with our CTO, Christian Lawaetz.
Now, after you've set up your search query it's time to hit the search button and unpack your results. But before we get into the company profile data and results let's talk about some metrics that we use on the platform that will help you along the way.
Platform metrics
Two metrics we use on the platform are the "Match Score" and "Valuer Score." Both should be used to help guide you along on your journey into finding the top microelectronics startups and companies.
Match score
The match score is pretty straightforward as it is a percentage that depicts the degree of fit a company's profile is to your search parameters. This score is not static and is based on your search input. For instance, if you decide to search "microelectronics startups," a startup that specializes in developing semiconductors would have a lower match score potentially compared to a search query of "looking for microelectronic startups that develop semiconductor technology."
Valuer score
The Valuer score, on the other hand, is a metric we have created to provide an overall snapshot or ranking of a company. This snapshot is based on six criteria, and below we will define them to make it a bit more clear.
Valuer score criteria:
Success

- This includes funding history, age, and size to calculate the success the company has received



Growth

- Uses a combination of data, including development and funding history to forecast potential future growth.



Maturity

- Scores the current development stage, including funding and operational size to determine its level of self-sustainability.



Innovation

- This reflects how unique and original a company's approach is at addressing an issue or a market gap compared to its peers.



Sustainability

- Sustainability reflects the scale at which a company's products and services can be used to make business operations more sustainable.



Data completeness

- the total data we have on a company.
These criteria are set on a scale from 1-100, and from them, a total score is calculated. This overall score is what we refer to as the Valuer score. These scores are here to help make navigating the platform and narrowing down your search a bit easier, but we know that sometimes you will have a massive list of startups to wade through. That's when filtering results will come in handy.
Filter through your results
Making use of a filter on the results page can become incredibly useful, especially if you are trying to narrow down your results. What we choose in the video is to filter by innovation. However, you can use criteria to filter as well. Here, you have the option to filter by overall Valuer score or use a particular Valuer score criteria for your filter.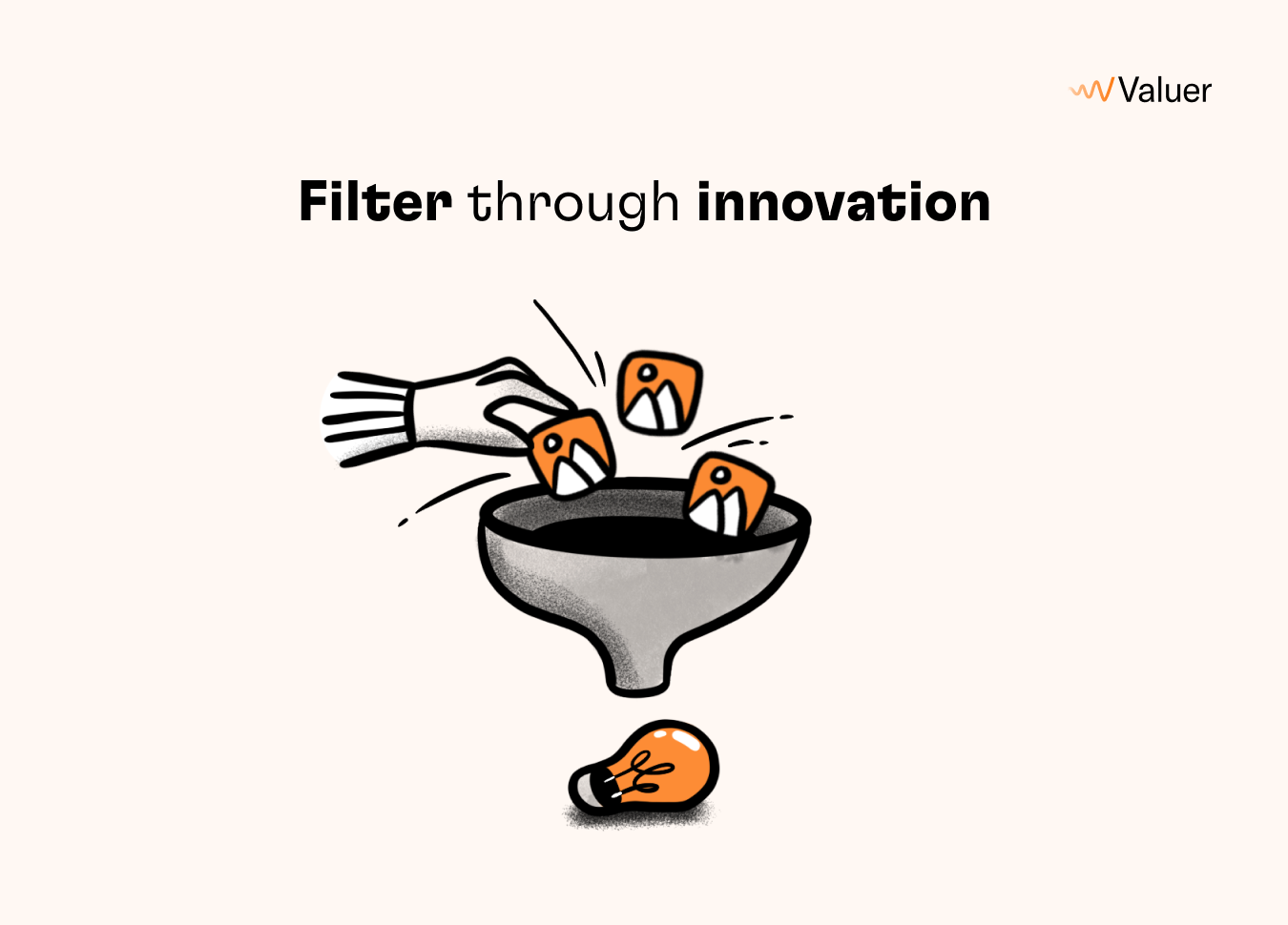 There is also a more traditional filter, where you can filter by industry/sub-industry, inception year, team size, investment stage, etc. You can use these filter features in tandem or separately, whichever you prefer.
Now, let's add to Radars
The final feature we're going to take a look at with this search is Radars. If you're wondering what the "Radars" feature is, it is a list you create where you can save company profiles as you search and constantly add to it periodically. This is done so you can have all the companies you're interested in all in one spot.
For instance, in this video, we made a radar of the top microelectronic companies. It works a lot like adding songs to a playlist, where once you create a radar, you go back to your search and add the profiles to that newly created radar.
One thing to note when creating a radar, is that you will also have the option to order a bespoke report based on the companies and the particular area of interest you want to explore further. Once a bespoke report is requested, our research team will compile a detailed report and deliver the report back to you within a month.
Microelectronics in action round-up
Now that you have seen the platform in action, hopefully, you'll feel a bit more confident in approaching searches on our platform. You can take this article and video as a guide to help structure your future searches, but by no means is this the only way you can structure a search.
There are other features to use in addition to the search feature– look-alikes, explore industries/technologies, etc. that can make your journey on the platform more robust. You can try our 14-day free trial now and familiarize yourself with the platform and see if it is the right fit for you.