We are taking massive steps towards creating the go-to hub for innovation and at the same time, have been hard at work developing a fresh new look to tie it all together. Our revitalized platform aims to engage users through its accessible and streamlined nature, creating a one-stop-shop sort of speak for business innovation, growth, and opportunity exploration.
Where we are and where we're headed
Since 2017, we have grown, with multiple offices popping up internationally, and are maintaining this growth well into 2021. With an IPO held in February, we are now looking towards big ideas coupled with a big ambition to situate ourselves as the next big innovation, discovery, and sourcing platform. We are looking to be the best option for innovative change and one that helps to bridge corporations and/or any investor with startups, innovation, and technologies.
What keeps us moving forward is our healthy backbone and forward-looking technology stack. The platform is built on a vast and ever-growing database with information on 500K+ startups and businesses, adding +1000 each day. From there, we place innovation in your hands (don't worry, we'll walk you through it) by providing an AI to help you discover anything from innovative startups to new market opportunities and everything in between, clustering and parsing more than 21+ million data points.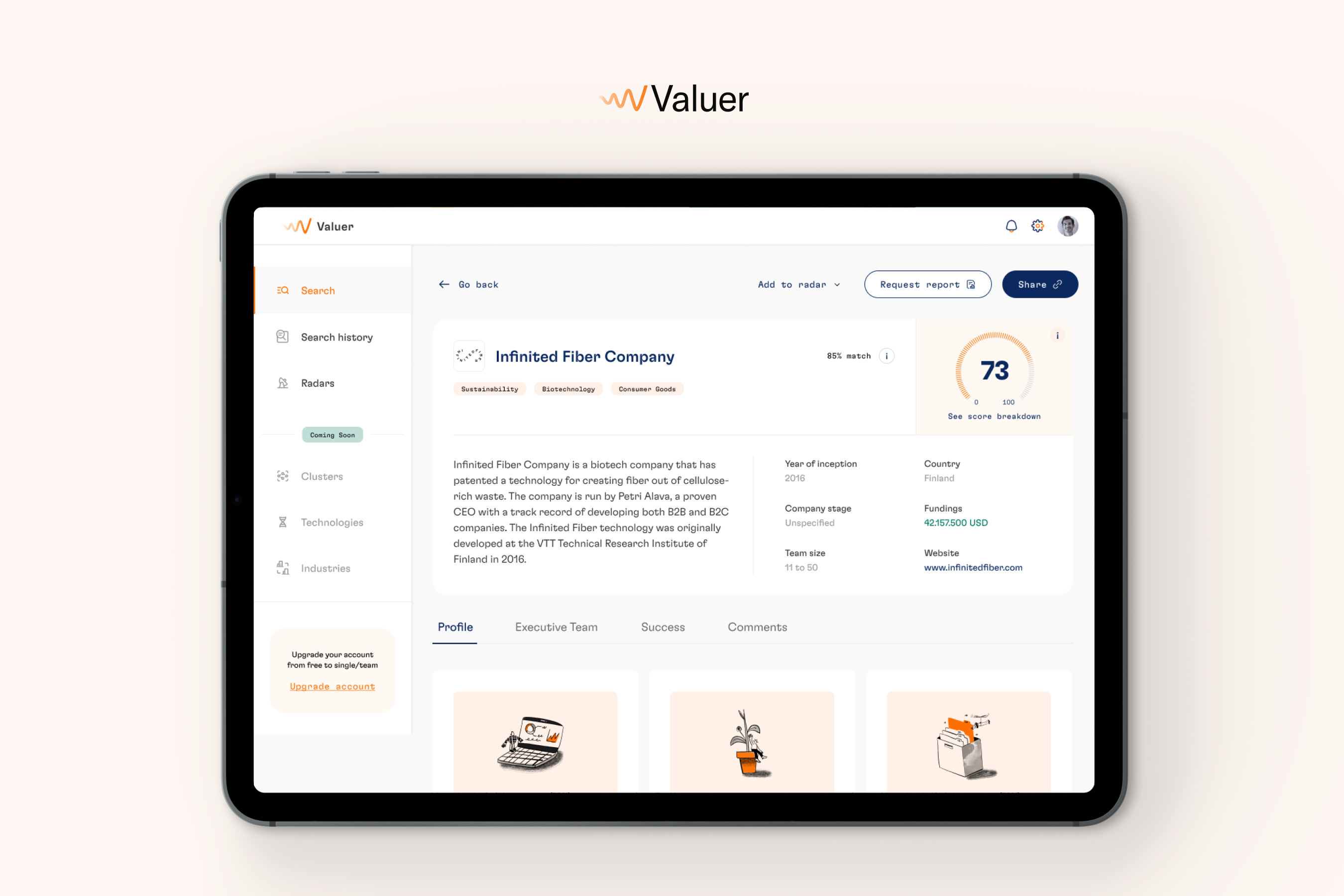 The revamped platform also hosts a slew of new features like look-a-like searches, cluster and industries' overview, API integration, training, search by sustainability goals, and more. Some of which are already live and others will be shipped very soon. Add to that an exciting and very promising road map of new features, we're placing ourselves in a position to lead the future ways of working as a business.
"We are transforming the way organizations access future business opportunities. The "yellow pages" approach is obsolete and no one really wants to sit for hours and hours plotting search strings into old school hierarchical databases and stay in an endless loop of what you already know of. With Valuer, you'll find all the new stuff which you don't know of. Valuer is all about being 3 steps ahead of the game instead of 2 steps behind."

Dennis Poulsen, CEO at Valuer
A small "behind the scenes" on our new logo and identity
Let's begin with the Alpha, as we call it, which is the wave that forms the core of our new logo. Alpha waves are in the middle of the brain waves spectrum. These occur when you're relaxed, not too focused. When in an alpha state of mind your brain starts connecting the known and unknown dots, fueling creativity and problem-solving. There's a reason why hot showers spark thoughts and why Archimedes and other great thinkers after him, sought for the shower to think.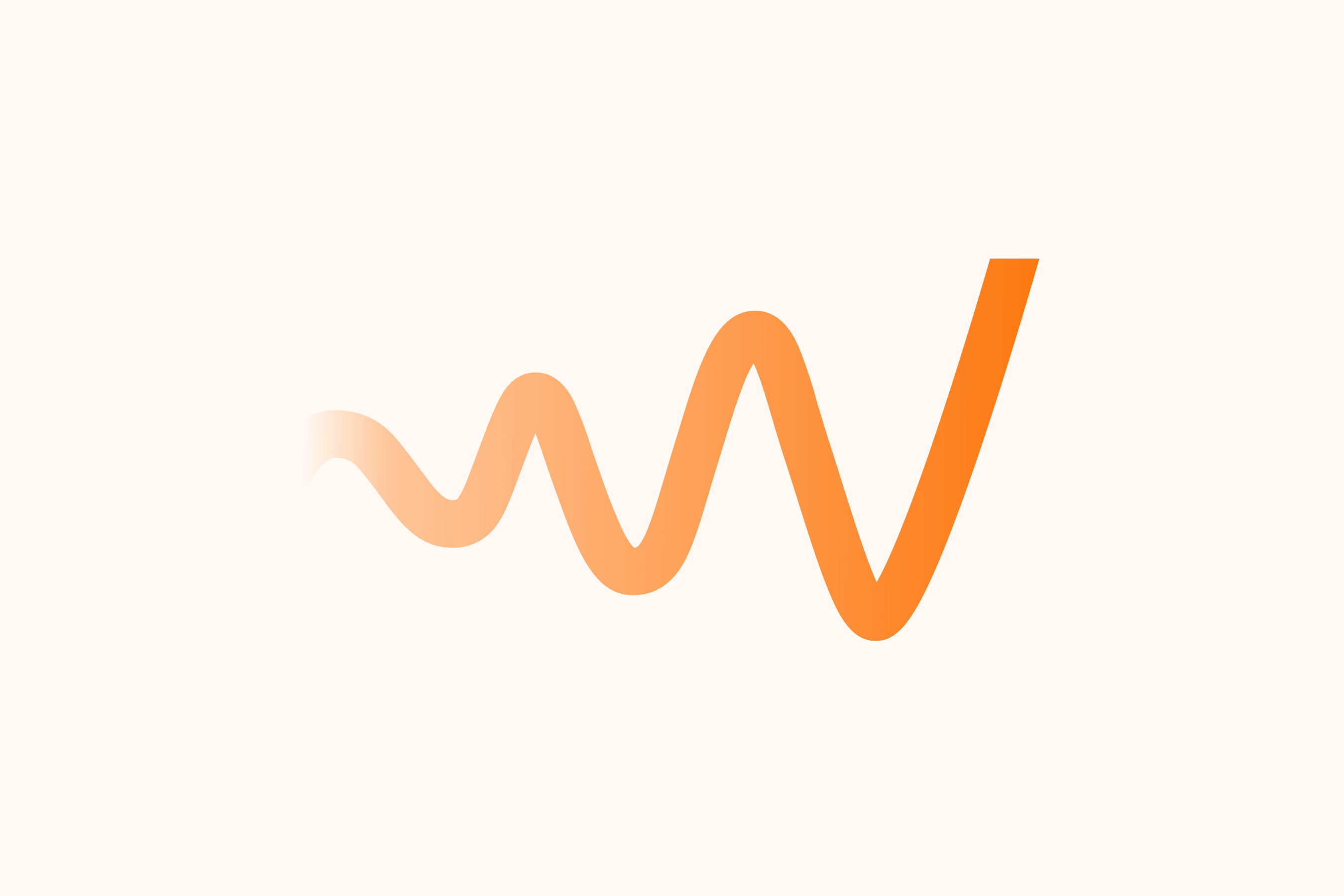 The alpha state of mind very much reflects what we do best - finding and connecting the unknown unknowns. The most difficult part of innovation. And as such, creativity is the root of innovation and innovation is the root of Valuer.
To us, the Alpha seemingly is the perfect representation of us as a company. Looking further into the concept, we discovered that certain sections of a typical alpha wave fluctuate and creates a V, and this V flows into an exponential curve, representing both exponential growth, what we aim to equip our clients and users with, as well as exponential learning, which is at the core of our AI.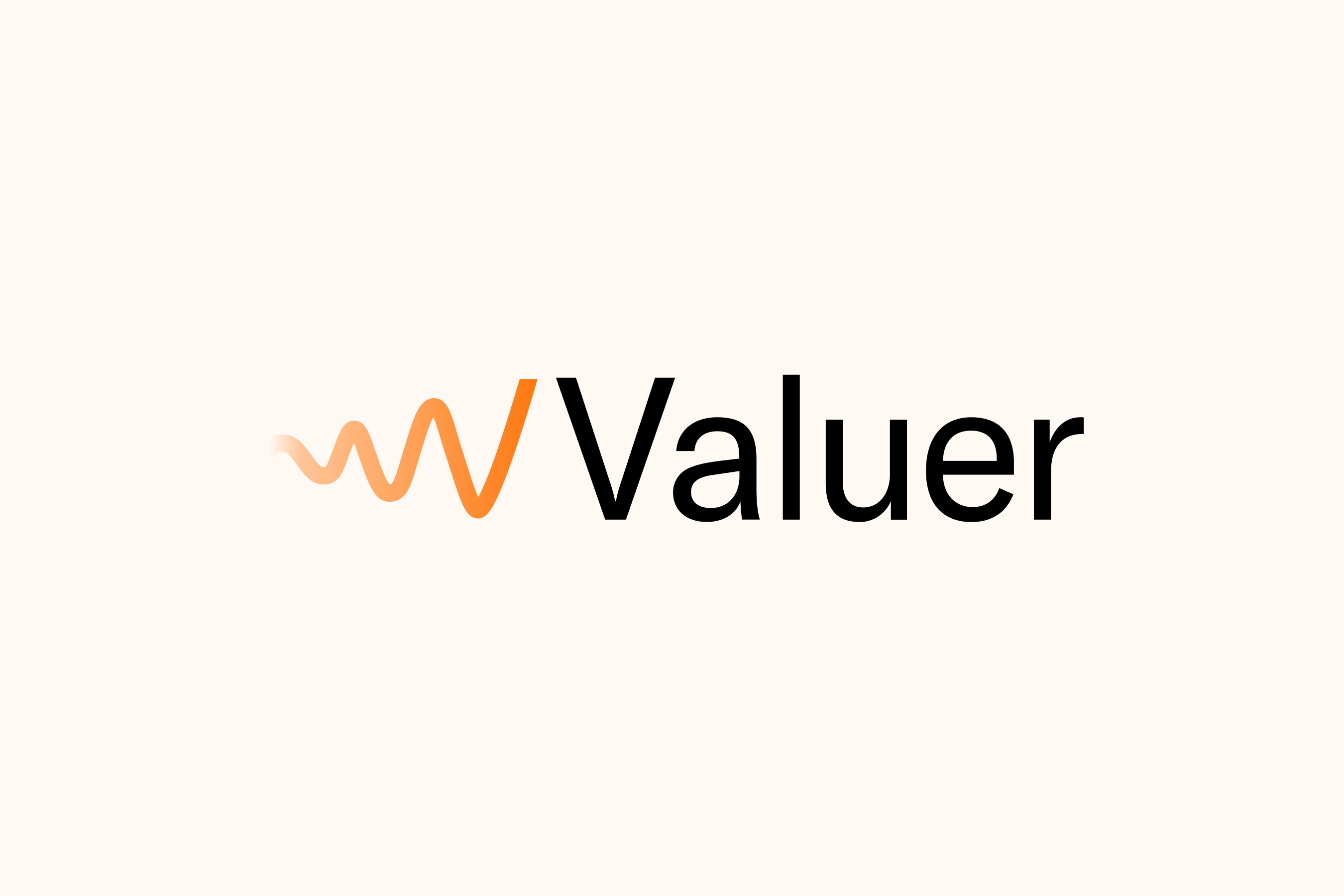 The new color palette is significant as well, with the inviting hazy orange as the backbone of the color palette. But don't just take our word for it, let the science speak for itself. Studies have shown that orange light exposure elicits improved results in overall task execution, as it creates a feeling of stability and relaxation in people. Precisely how we want our platform's users to feel.
"With the new CVI, we've sought to create an identity that could unfold across our entire suite of current and coming digital products - and form a strong foundation for the things to come. Likewise, we're now opening our platform up and inviting users in, at a larger scale than before, so we have aimed to form a more conversational and playful brand that can grow into various design and conversational systems. I am super proud of the team and how well the new identity suits us. - and look very much forward to see it unfold going forward. After all, we're creating the brand together with our customers, and with this new look, we're off to a good start."

Henrik Jensen, CMO at Valuer
Want to try out our platform by yourself?