In this article, you'll find pitch deck secrets, pitch examples, pitch deck examples, and pitch deck templates.
A pitch deck is by far the most essential tool for fundraising, and a kickass pitch deck can land you funding to develop your product.
Pitching to investors for funding can be incredibly daunting. And if you're worried about the common questions like; what is the formula for creating a convincing pitch deck, and how do you land that dream meeting in the first place?
Worry not, as Valuer has created the ultimate pitch deck guide, answering those burning questions.
With a step by step guide, this article will explain the pitching process from who you'll be investing to, example templates, tips and tricks, and even a downloadable checklist to make sure you're hitting the important points.
What is a pitch deck?
Let's say you landed a meeting with a VC or angel investor, you're attending a startup competition or Demo Day. This is your chance to "wow" people by putting together a persuasive investor deck design that will raise your company money.
But wait...what is a pitch deck? A pitch deck is a short presentation, normally in a powerpoint format. It's used to provide an overview of your business strategy and model. Mostly, it's done face-to-face but there are instances where it's presented online.
The pitch deck checklist
Now it's finally time for you to get your hands dirty.
Here is a checklist for a pitch deck template that comes from David Cowan at Bessemer Venture Partners which covers 12 essential points.

Include your small business logo with a tagline and complete contact information. While your logo is a visual representation of your brand, a tagline is an audible representation. Both of them grab attention and are meant to be remembered. You should also consider using a logo maker and make your job easier.
"What's your story? What gets you emotional when you think about what you do? Whatever it is, that's your positioning. Your startup or small business logo and tagline should communicate precisely that feeling. Also, get a great firm working on your side."
–Jordan Fliegel, founder of Coachup
Checklist: Logo; Company Name; Tagline; Contact Information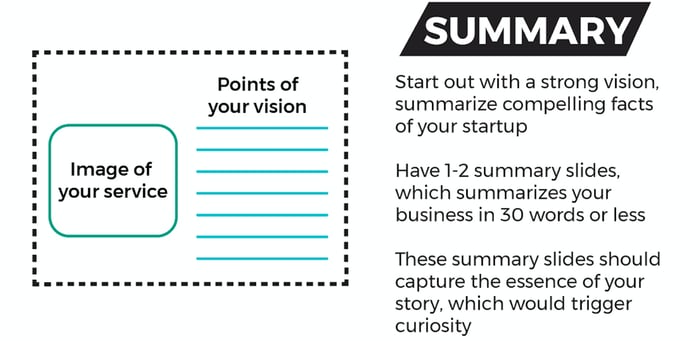 Start out with a strong company vision, summarize compelling facts of your startup. This is basically the elevator pitch that you add to your deck. Investors see a lot of presentations and most of them decide early on if they will invest.
Have a couple of business summary slides that can win over an investor right at the beginning. These summary slides should capture the essence of your story.
Questions:
- What is your company vision?
- What is your mission?
- What are some compelling facts about your startup?
- What drives you to achieve your startup vision?
Checklist: Your service; Vision; Mission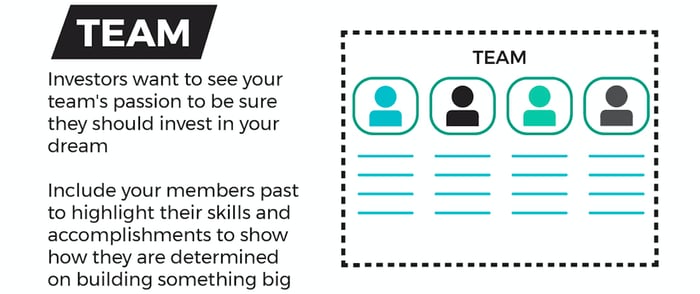 Don't just add your team members pictures with their names and titles. Investors want to see your business team's passion. Think about why your team beats everyone else's and is the best set of experts to invest in.
Mention your members past, highlighting their skills and accomplishments, to show how they are determined to build something big.
Questions:
- Who's on your business team, and what about their background sets them apart from competition?
- How did you meet the co-founders, and what examples prove your ability to work well together?
- Something about advisors?
Checklist: Picture; Name; Title; Background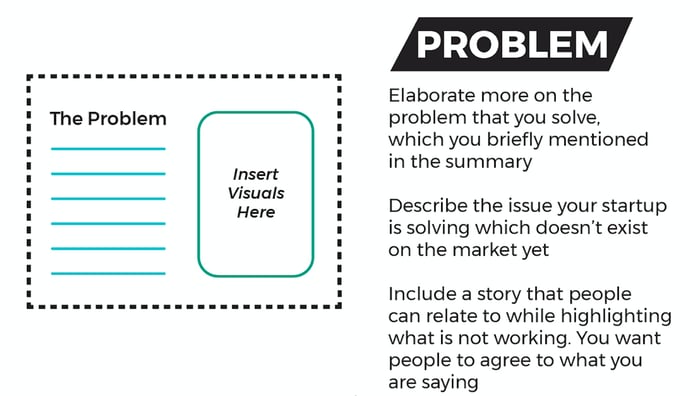 Describe the problem that you're solving, and how your product/service doesn't exist on the market. When creating a pitch deck, include a story that people can relate to while highlighting what is not working. Put a big emphasis on the pain that you alleviate or the value of what you're providing.
Questions:
- What's the problem?
- What proof do you have that this problem exists? What evidence do you have?
- What does this problem solve?
Checklist: Problem; Value

How are you fixing the problem you just described? Why should people buy what you have to offer? What makes it a necessity? Here you have a chance to show your product. You can include a demo visual or even a video, but keep in mind some investors are there to see what YOU have to say about your product and don't want to defer to a polished professional presentation.
Questions:
- How are you fixing the problem you just described?
- What are some alternative solutions that people are using, and why is it not working?
- Why should people buy what you have to offer?
- What makes it a necessity?
Checklist: Value proposition; Demo (video, link, pictures)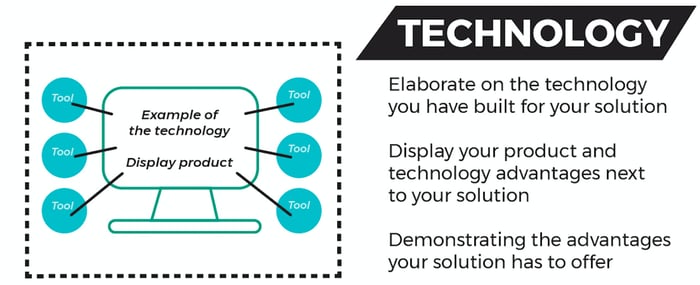 Elaborate on the technology you have built for your solution. How is your technology better than your competitors? What makes your technology better?
Questions:
- How does your technology/product work?
- How is your technology better than your competitors?
Checklist: Advantages; Capabilities; Uniqueness

Here you get the chance to elaborate more on the problem that you are solving. Explain exactly who your potential customers are. How will you acquire and retain those customers? Here is the chance to present absolutely all the information you have on your target audience and market to impress the investors. Every detail counts.
Questions:
- How will the product reach the customer?
- What are the main channels of focus, and how are you sure that those channels are the most effective given your resources?
- How will you acquire and retain customers?
Checklist: Customer segment; Channels; Strategy


Show your long-term company vision to the investors. Showcase your business growth strategies and a model that explains how you are planning on making revenue. No one will invest in a business for the short run, show the business growth potential but be humble. It's ok to keep this slide "data-light" as long as your visions are realistic.
Questions:
- How many paying users/customers do you have, and how much are you growing by monthly?
- What revenue do you generate monthly/annually?
- Are you making a profit?
- What partnerships do you have in place?
Checklist: Pricing model

Provide a complete view of the competitive landscape, where you focus on your advantages and unique selling points. Don't deny you have competition, use it to your advantage. This shows that you're realistic and gives investors confidence that you're aware of what is happening in this landscape.
Questions:
- How do you position yourself against your competition in the market?
- What is the defense of your market against your competitors?
- What are your advantages and USPs?
Checklist: Competitors; USP's

In this slide give an overview of your status and what you have achieved so far. Add milestones of your team, brand, marketing, and sales for the next year.
Questions:
- What achievements have you made thus far?
-What are some milestones within your team/brand/marketing/sales?
Checklist: Achievements; Milestones

Here you could either remake the summary slide or create a larger vision of what your startup could achieve if all business plans are realized.
Checklist: Short summary; Vision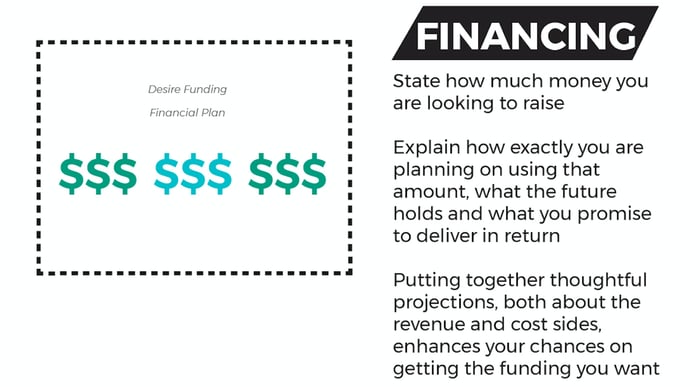 The last and most crucial slide should clearly state how much money you are looking to raise. Never skip this slide, you don't want the investors to ask you the questions.
Explain how exactly you are planning on using that amount, what the future holds and what you promise to deliver in return. Putting together thoughtful projections both about the revenue and cost enhances your chances to get the funding you want.
Checklist: Desired funding; Financial plan
Who are you pitching to?
In the startup ecosystem, you'll be pitching to different groups. Whether it's your mother, your mother's mother, that person you met at that dodgy bar one night, or a venture capital (VC) firm, the funding can come from a lot of places.
- Venture capitalists
- Angel investors
- Accelerators
- Incubators
- Peer to peer lenders
- Banks
[Related Article - Why Having a Corporate Sponsor is Necessary in 2018]
Creating your kickass pitch deck
Create a fascinating 10-20 slide story about your idea. Keep the slides simple, visual, and minimal. Details are important but don't overwhelm the investors with data. There are tons of killer business presentation templates out there that can help you out.
There are also platforms offering free and paid services that can help you to create the perfect pitch deck. Here's a list of paid and free resources that have pitch deck templates to satisfy all your needs.
Envato - paid platform with thousands of resources, and new pitch deck templates uploaded on the regular.
Peetch - a website dedicated to pitch deck examples.
Perfect Pitch Deck - a paid service that will design and review your pitch deck. They offer a free audit too.
Slidecamp - a paid in-house designed presentations. They've been used by Ted, Nasa, Unilever and many more.
Slidebean - a paid platform that allows you to track activity on slides. A free trial is offered.
Sketchdeck - a costly service that will bring back great results. They will create a professional presentation, ebooks, and illustrations within 48 hours. Definitely worth checking out.
Canva - free tool for templates and more.
Haiku Deck - this service offers a free trial, and it's easy to use with lots of variety.
Prezi - a free tool with templates that are customizable.
powerpointify - offers a bunch of free pitch deck templates.
Xtensio - free templates for all your pitching needs.
Visme - a free tool that offers a variety of pitch deck templates



Top paid pitch deck templates
Ultimate Powerpoint

About: A beautifully crafted and professional powerpoint.

Slides: 390+

Cost: $15

Investor Pitch Deck

About: Aesthetically pleasing, and makes any concept look great.

Slides: 67,000+

Cost: $15

Startup X - Pitch Deck

About: Simple and easy to edit with lots of animations

Slides: 480

Cost: $15

Professional Keynote

About: An elegant layout with plenty of visuals

Slides: 600+

Cost: Free with envato membership

Powerpoint Template

About: Professional layout with lots of color themes.

Slides: 650+

Cost: $20
Top free pitch deck templates
Powerpointify Pitch Deck

About: A high-quality powerpoint with a professional design.

Slides: 20+

Cost: Free

Xtensio Pitch Deck

About: A simple powerpoint with room for a personal touch
Slides: 10
Cost: Free

Canva Pitch Deck

About: A fun and customisable template with a bold style.

Slides: 10

Cost: Free

Canva - Pitch Template

About: Light and easy to edit slides with lots of choice and room for a personal touch.

Slides: 10

Cost: Free
Pitch deck design tips
Pitch deck images
A picture is worth a thousand words.
That's just as true in a presentation too.
If you're able to convey your message with a single photo, go for it.
A clear and professional photo can make your message more powerful, especially if it's clear, professional, and not overloaded.
Best to keep it to one picture, and not an abundance of text.
Canva provides a great example of how to seamlessly integrate a professional and clear photograph into a slide, adding more depth.
Pitch deck coloring
Every presentation should avoid too many colors.
Keep it consistent, and it's helpful to follow your startup's style guide.
If you don't have one, Adobe has an inspirational combination of color schemes.

The best font for reading in a Pitch deck
This is a no brainer. Use your company font to keep it consistent. The best font for reading should be clear and easy on the eyes, nothing too fancy, and most of all, don't go overboard with text.
Pitch deck topic
Keep it to one topic per slide, don't overburden investors with too much information at once.
Pitch deck visuals
Keep your slides consistent with the same icons, fonts, headers, and colors.
Lastly, if you can visualize a concept, do it.
[Related article -The Startup Pitches That Won Incredible Awards]
Professional Presentation tips for a pitch deck
Now that you've chosen the best presentation template that suits your needs, it's time to think about the contents of your pitch.
It's hard to not sound like a robot when presenting, that being said, there are some presentation tips and rules to consider.
Clarity
How long is your attention span?
On average, an adults attention span is 8 seconds...so best to keep your presentation clear and concise to avoid sending investors to sleep.
Simplicity
KISS, keep it simple stupid!
Focus on your core message.
Avoid paragraphs of texts, no more than 15 words per slide.
10-20-30 rule: 10 slides, 20 minutes, 30 point font– a rule by Guy Kawasaki, a chief evangelist of Canva.
If you take a look at Facebook, Airbnb, YouTube and Foursquare's original pitch decks, one thing they all have in common is that they're all under 20 slides.
Passion
Take this opportunity to show how passionate you are about your subject.
Tell a story about your business.
Practice
practice makes perfect! Own the room, showing that you're confident will reflect well.
And a little bit extra...
Attention span
On average, investors spend just over 3 minutes and 30 seconds on a deck. And the slides that get most of the attention are the financials, the team, and the competition.
Bullets
Say no to an overload of bullet points, they won't help you tell your story. The fewer bullets and words, the better!
Conclusion
Creating the perfect pitch deck is an iterative process and takes time. Sometimes you only get one chance to impress the right person.
The best way to get better at pitching your product to key future investors is to get a bulletproof pitch worked out. The more you present it and the more you practice, the easier it gets.
Pitching in front an investor can be frightening, but as long as you have a fire in your belly, it will show to the investor. Be creative, show personality and passion. That will land you the funding.
Who is Valuer?
Valuer is an AI-driven platform that helps connect corporations with startups in order to build better relationships and help with funding. Our vast database and platform can provide in depth business insights into any solution you need. Because innovation starts with collaboration. Visit Valuer to learn more about us and how we can help jumpstart your innovative overhaul.