Investors are one of the most crucial and important parts of developing your business.
Pick the right one, and you're setting yourself up for a great relationship. But pick the wrong one, and you're in for a hell of a tumultuous journey.
Sometimes you need a couple of thousand dollars from your friends and family, or a substantial sum from a venture capitalist.
But have you considered the best option, the one most likely to bring you success in the future?
In this post, you will find all the important information on the types of investors, followed by the basic rules of how to get in touch with them.
What are the important steps to help you achieve your goal? Find out with a step-by-step checklist to help you keep track of your investment journey.
1. The different types of investors
Generally, there are multiple kinds of investors that startups choose from. It can be overwhelming when weighing your options. But take the time to analyze each opportunity from every angle to determine what route is the most logical for your business.
Angel

Angel investors commonly have an income that exceeds $200,000 with a net worth of over $1 million. They usually rock in the post-seed stage.
Typically, they are wealthy entrepreneurs that help startups struggling to find financing. There are also different types of angels.
Some buy stock or take a loan, others give advice or offer mentorship, and some seek a considerably high return on a high-risk investment.
You can also have a single angel investor, a group from an investor pool or through crowdfunding.
Because they're investing their own funds, they focus more heavily on factors like trustworthiness when compared to a venture capitalist.
Personal

Your close network such as your friends, family, and close business connections are those that fit under a personal network.
It's usual for these types of investors to join early on in the investment process. Be careful with this investment as you're putting your friends and family's personal finances at risk.
Peer-to-peer

Peer-to-peer is made up of a group that offers to fund small business owners. But it can also range from one person to many. It does not use official banks or financial institutions as the middle man and so the risk associated with this method of funding it a lot higher.
Although it has the advantage of offering lower interest rates as compared to banks.
Bank

Banks offer business loans. Although, it is more common for already established or up and running businesses to receive a business loan.
This is because you will need to provide a revenue stream. It will be easier when a relationship is already formed as a bank will know if you're trusted.
If you go down this route you'll be confronted with the different types of loans that you can take. It will differ from country to country.
Venture Capital (VC)

Venture capital comes into play when a startup begins to show significant signs of revenue.
They will invest large sums of money into a startup, with the revenue stream often coming from management fees and carried interest.
Although some VC's invest in early-stage startups, depending on the industry that the startup is present.
Government grants

It is a good idea to check whether you are eligible to receive local or national grants, that can support your business from the start.
The grants provided by your government are not considered as something you need to pay back. Local governments in many countries are supportive of new businesses.

For example, in Denmark, small-to-medium sized businesses are entitled to funding from the MarkedsModningsfonden (The Market Development Fund). In 2016, 56.4 million DKK (€7.5 million) was allocated to businesses from this fund to support growth and employment.
Similar programs to this are run all throughout Europe. Contact your local government and find out how you can get entrepreneurial support.
Crowdfunding

With crowdfunding, you have a way to collect funds from a network of people. Any person can donate a certain amount of money in exchange for equity, or the product itself.
Using a digital platform to crowdsource money will engage a lot more people. The capital raised can be sufficient to set up a startup or a small business.
There are plenty of websites where you are able to collect funds. Read our full article on this topic to get a good idea of how exactly crowdfunding works.
2. Understand your company needs
If you are looking for investors you need to understand what your company represents, the purpose of the product or service you provide and what you would like to achieve after receiving the investment.
You will get bombarded with questions left, right, and center, so it is best to understand exactly what you are looking for before you venture down this path.
Ask yourself questions:
- What do you what to achieve?
- Why do you need investment?
- What risks can you expect with investment?
- Is this investment realistic?
- Do you need a long, medium or short term investment?
- How will this investment tie in with investments you already have?
- What is the cost of buying, selling or holding the investment?
- What amount do you need for your development?
- How will you make money for your investors?
3. Pick the investor that best fits your needs
Analyzing and finding the best option is very demanding, and takes time. This is one of the most important steps in your investment journey that sets the foundation of your business.
Decide on the most relevant option for your project. Discovering what is possible to accomplish can later determine the success of the goal.
The right stage
Search for the investor that fits your funding stage or round. For example: If the company is in an early stage of development or even the idea stage, think first about personal, angel or governmental investment.
They are the closest possibilities and are a great opportunity for newly established companies to gain momentum.
Additionally, government grants are usually not considered to be repayable.
Moreover, an angel investor is able to invest in your company in exchange for equity. They are a good alternative when you are looking for investment in the early stages of your company growth.
Crowdfunding, on the other hand, is a non-traditional and alternative means of raising funds. You can gain the money you need for your company and build a community in the process.
Oculus Rift is an example of a company that started out as a side project and found their success on a Kickstarter campaign, one of the leading crowdfunding platforms.
With an initial goal of $240,000, they ended up surpassing their goal by 10 times the amount at $2.4 million. Later, they were acquired by Facebook for $2 billion with a mixture of cash and stock.
Diversify your portfolio
Just as you want a diversified investment portfolio, you also want to have a diversified set of investors who each have a wide array of investments themselves. This way, you're making sure that you have a higher reach and influence from your investors with different backgrounds.
The venture round
It is not common to receive venture capital funding as an early stage company. While they are willing to accept risk with their portfolios, they are mostly looking for large returns.
Those who have gone down this path know the struggle of this option as it is an incredibly complex, long and an arduous process that can sometimes take months to complete.
4. Where to find an investor
It can often seem as though investors are everywhere when you are not looking for them, but nowhere to be found when you begin your search.
The process is like a game of cat and mouse, and it becomes frustrating at times. But alas! There are always opportunities to meet them.
Events
There are plenty of events in the startup investment community. Yes, tickets can be quite costly but it is a small price to pay for the knowledge that you can acquire and the networking opportunities.
[Related Article - The Startup Competitions You Can't Afford to Miss in 2019]
Professional networking sites
Thanks to social media you can find and foster better relationships with potential investors.
They can see how you are doing as a company online, and follow the progress and any potential developments.
You can join groups on Facebook or Linkedin, and find contacts that will help you in the future.
There are a lot of professional sites which focus on connecting founders with investors.
There are differentiations when it comes to industry, specialization, and country but Meetup and Funders Network are popular.
AngelList, Twitter, and Linkedin are great places to find investors. It is a good place to gain important contacts which help in reaching potential investors. Additionally, creating profiles on websites like AngelList help you to reach a larger pool.
Alternately, personal or company blogs will increase your visibility online and increase your reach among the startup community and beyond.
In-person networking
Far more effective than an email. So much so that around 75% of business executives prefer in-person networking.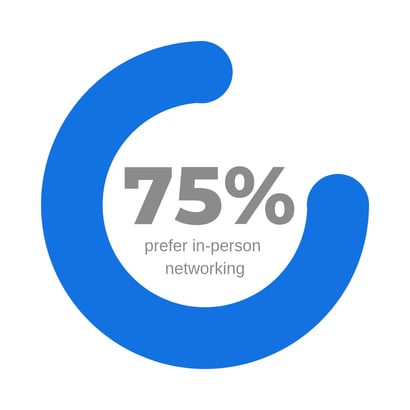 If you're a strong networker take advantage of your industry network. Ask your contacts for their advice and recommendations.
The industry that you're operating in is undoubtedly the best place to start looking for contacts. It's where you'll find the most relevant investors.
Your university network
Your university network of alumni, or that of other universities, is a great place to find contacts who can put you in touch with funders, or investors themselves.
The best entrepreneurial business schools have a strong network of past alumni working in the investment world. Contact these institutions or your own alumni network.
[Related article - The 45 Best Schools for Entrepreneurship in Europe]
Startup platforms
Another great opportunity to find an investor is to connect with a startup platform, which provides a possibility to contact investors.
It can lead to connection based on mentoring and maybe even funding.
Friends and family
The closest and theoretically the easiest form of funding. They already believe in your project and are able to help you.
However, you need to remember to keep it professional. They need to understand that there is a possibility of them losing their investment.
5. Contacting the investor
When deciding on the type of investment, researching potential investors is the first step before contacting them.
It is good to understand if the funder is interested in this type of company you have and the product you are selling or serving.
Getting in touch with investors
You'll quickly learn that in order to get in touch with investors, you're going to have to network and put yourself out of your comfort zone.
Emails will only take you so far. How much of an impression does an email actually make?
But meeting people in person, that'll be far more memorable and you will also get a feel for whether or not the relationship will actually work.
At the end of the day, the most difficult part of the entire process will be the connection between you and a potential investor. It's what matters most after all.
Below, some of the practices adopted by startups for finding the perfect investor have been mentioned.
Find a middleman
If you're new to the term 'middleman', it's a common route taken by startups to help with introductions to investors.
It's an alternative way of getting in touch with funders, and they are often the person an investor will listen to. But who are these people?
They can either be:
- Friends from your network who are connected to investors
- Entrepreneurs who an investor has funded or is currently backing
- Investors, who your desired funders have worked together with
- Experts from your field, such as senior executives at big firms or your advisors
- Angel groups that you can apply to online (AngelList, Open Angel Forum, Gust, Angel Investment Network)
- Lawyers or accountants
Getting an introduction through a middleman is a test your startup needs to pass. If you can't persuade middlemen, how on earth can you convince an investor?
It's smarter and more beneficial for you to contact people, who know some funders, rather than having to start from scratch.
Make sure the middlemen know the investor. After all, if the middlemen are not trustworthy, it will reflect badly on you.
If you can't get a single introduction, head back to the board to figure out how to get investors interested in your startup. It can be a long process, but nobody said it was going to be easy.
Online
As mentioned above, there are angel groups that you can apply online, helping to increase your chances of being noticed by investors.
Of course, it is no replacement for good old in-person networking. But, it's a good first step to start with research.
By listing yourself on these platforms, you can find out about potential investors, and vice versa.
The most useful part of these tools is the ability to comb through hundreds of thousands of startups in any given field and find their investors.
Through these online databases, you're able to figure out who might fit the bill before even meeting an investor.
Chances are, the investors in your area will potentially have a common connection. Go to LinkedIn to see if there are any contacts, who could set an introduction.
Once you have compiled a list of investors who you are interested in contacting or getting to know, you can contact them via email with an elevator pitch and your executive summary.
Find a unique way to grab the attention of an investor. There are a variety of tools out there that can help you find nearly anyone's email address like FindThatLead or hunter.io.
6. Make a presentation, but don't oversell yourself!
Each and every investor has a different type of grant application.
The way they will remember you and your demonstration will determine if they will invest in your ideas and projects.
You can check out our post about how to make a great pitch deck, which can help you to give the best ever presentation and convince funders to invest in your idea.
[Related article – They Raised How Much? Secrets About Great Pitch Decks]
When you get your foot in the door, don't oversell your idea. As good as your idea may be, it'll be much harder to impress investors after securing funding if you aren't completely honest.
Be humble, and be authentic.
It's the execution of the idea that matters.
7. Finding the right match
As with any partnership, finding the right match is the key to any successful business venture.
Finding the investor is only half the battle. Actually forming a good relationship is where it can get tricky.
It's always exciting getting attention for your business. But take a moment to step back and reflect upon the person who is, in most cases, going to take equity of your company.
They will be alongside you for the ups and downs of your business, and they'll also be there when you're making key decisions.
It is, of course, impossible to avoid a negative partnership, and sometimes you just don't know beforehand if it is going to work out.
But, once again, try to be aware from the beginning of who you're getting into business with.
Tips on how to recognize if you found the right investor:
- The investor understands your company needs
- They understand that progress is slow in the beginning
- They give you guidance and become a mentor
- They create a positive atmosphere around your company and projects
- They have experience and contacts that can help you with development
- They have a diversified portfolio and have a good track record
- Trying to be a part of your business and not take over
-They are financially sound
Conclusion
Finding investors is a long and drawn out process. But with good research, preparation, and analysis, everything is possible.
Make sure that you thoroughly understand your company needs. That way, you will be able to pick the investor that best fits your needs.
Make yourself visible both online, offline and within your professional and alumni network. And utilize the online tools available to you.
The search is half the battle. Actually finding the right match requires skill and rigorous research into the investor.
You may pass a few hiccups along the way, but it is all part of the process.