In the world of startups, innovation and uniqueness are crucial requirements to stand out from the crowd and disrupt the industries they're targeting. In addition to this, showcasing agility and dedication to their vision while maintaining a focused team and organized workflow often ensures the companies' success in the market. But in order to get to these stages of success, startups need to continue innovating and scaling up.
However, not every startup is destined to scale, and often they cannot surpass the various challenges that come their way. According to CB Insights, more than 70% of upstart tech companies fail, with one of the main reasons being the inability to find a viable revenue model. The COVID-19 pandemic has not helped this number at all, as many startups were hit hard by the pandemic lockdowns and shifting consumer behaviors.
The seed stages of VC funding are the crucial building blocks for startups looking to scale up and where venture capital firms (VCs) come into the picture, raising capital from sources like institutional investors, family offices, and high net worth individuals, so they can, in turn, invest into a given startup. Usually, startups are the ones that seek out VCs, pitching their visions and plans in order to gain the funding that will help them grow rapidly. On the other hand, VCs make these investments based on a particular strategy, that can vary from the startup's stage to where it is currently operating.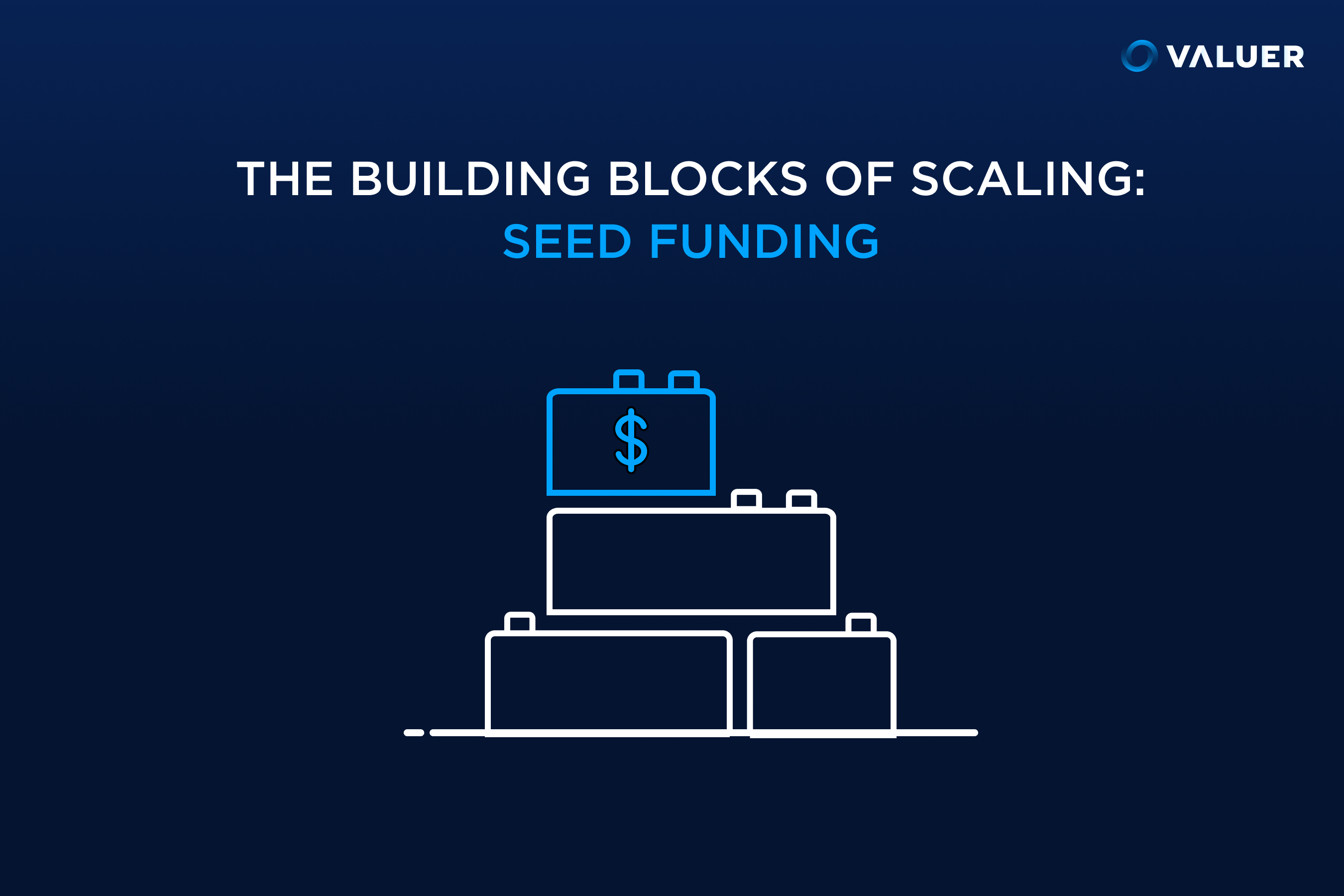 However, on the upside 2020 was a great year for VCs, as global VC funding grew at 15% year-over-year (YOY), reaching more than $259.6 billion, according to a report by PwC (PeterwaterhouseCoopers) and CB Insights. The impacts of COVID-19 fueled most of this growth, especially the digital shift that many different industries had to undergo due to the pandemic.
[Related Article - How to Create a Successful Startup Partnership]
To ensure this yearly growth trend follows the same trajectory in the coming years as well, VCs need to incorporate more meaningful relationships with the startups they invest in. But first, let's tackle the age-old question – should startups seek out VC funding immediately or try to grow organically first?
Organic growth vs seed round funding
Organic growth is the dream that every startup aims to achieve. You've probably seen multiple stories of companies that declined VC funding and went on to become successful. Zoho is one of the most notable examples of them, with many experts being surprised by their move not to take any capital funding. Zoho's CEO Vembu said this on the matter:
"I have just come to believe that VCs necessarily have different priorities and different motivations than people who create and operate businesses."
And this is often true, as shown in an academic article from Harvard Business School Assistant Professor Rory M. McDonald and a few of his colleagues. By being a hit-driven business, VCs can sometimes become a liability to startups, with some partnerships holding them down and making them less productive. Often enough they can end up funding startups that compete with each other, with the latter one having the upper hand due to the knowledge the VCs obtained from the former one.
However, not every company has the capabilities or potential to scale organically. For these startups, Series A and Series B funding ensures their company's growth. The large capital infusion, increasing the operational size and enabling the addition of necessary talent to get the job done. With that, startups can achieve a faster go-to-market time, often beating other startups in their niche.
Credibility is another crucial benefit of raising venture capital. that startups achieve. As VCs show that they see the startup's potential to succeed, it builds instant credibility with the startup's stakeholders. Media recognition further propels this, showcasing that a reputable investor believes in the idea the startup promotes. And often enough, they'll also gain additional benefits that will fuel this growth even further, either in the form of business expertise or strategic direction, just to name a few.
But not every relationship between a startup and a VC is all flowers and butterflies. Often enough, there is a multitude of reasons that cause conflict between the two. This can be conflicts of interest, unfavorable attributions, inefficient collaborations, or VC-CEO mismatches. As a result, VCs always enter into new ventures with extra caution, carefully evaluating the opportunity and acting only if favorable.
However, that is not enough, as maintaining the collaboration afterward has often proven to be the more difficult part of the investment process. So, in order to ensure a healthy and mutually beneficial relationship, VCs need to incorporate new models and principles in their collaborations with startups.
Three ways to proper teamwork between VC firms and startups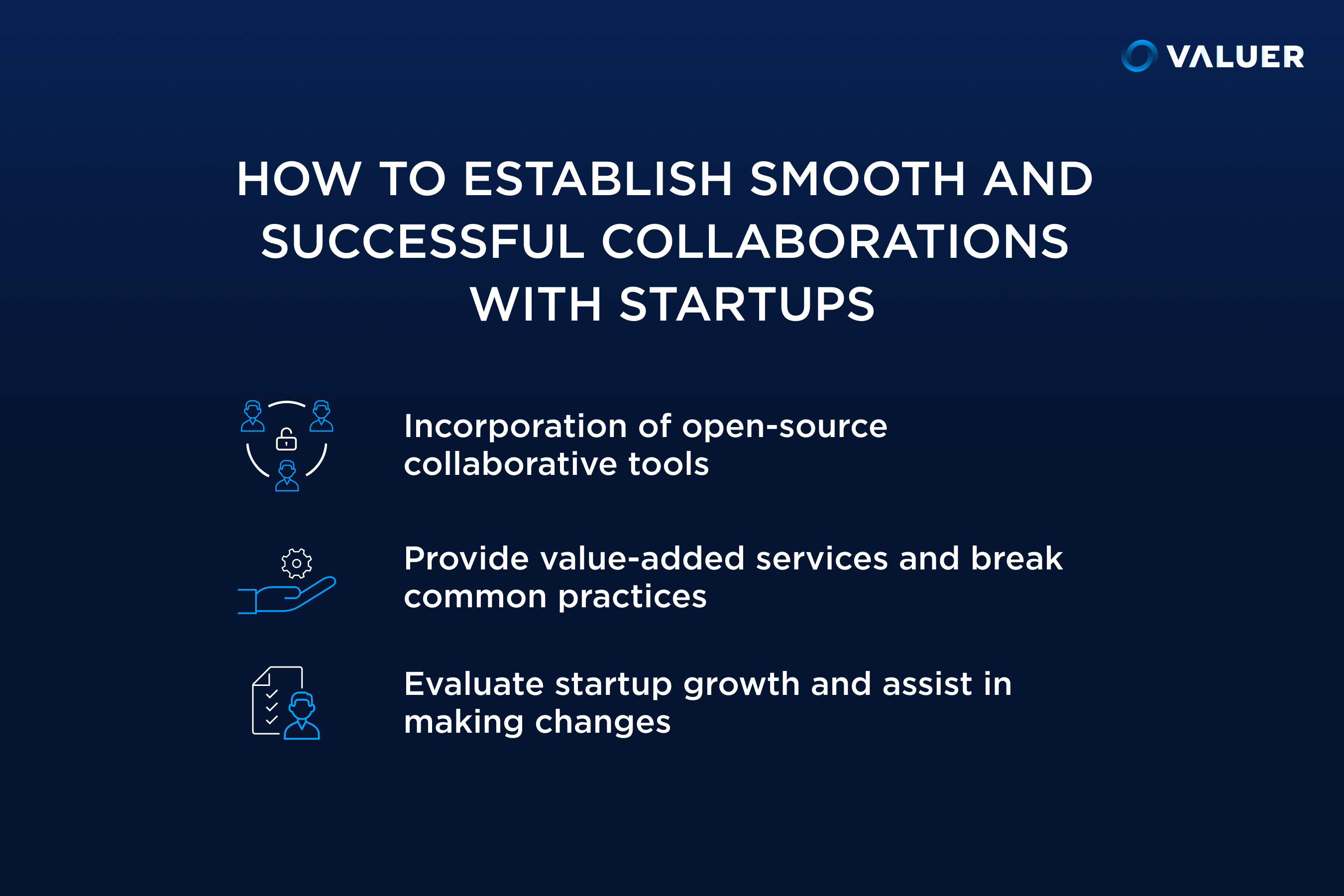 Incorporation of open-source collaborative tools
One of the many unpredictable things the Covid-19 pandemic brought to the world is the ability for many companies to switch towards remote working. In fact, nearly 40% of employees in developed economies have reported working from home for most or all of the time during the pandemic, according to a report by the European Commission.
This is in stark contrast to models in recent years, such as the "bicycle test," that required startups to be in close proximity to the VC firm. Even the "one office" model, for example, required startups to be housed in a single office in order to achieve "adequate collaboration." However, these models can jeopardize the overall relationship between VCs and startups, and considering the COVID-19 pandemic and social distant guidelines, these models are not optimal.
Yet, it is essential for startups and venture capitalists to work as close as possible in order to succeed, but that must be done so in the way that makes the most sense for both sides. One way is for VCs to incorporate the use of real-time open source collaborative tools and dashboards with the startups. These offer visibility, accountability, and transparency in all of the major processes startups are embarking on. Consequently, it will help businesses guide their teams by validating ideas, testing key assumptions, and executing their plans.
Instant insight into the everyday operations and the health of the startups is crucial for VCs if they are to follow their set path and act accordingly where needed. In fact, both sides can reap the benefits of these tools. Every team from the lowest organizational structures all the way up to the board of directors will have access to the step-by-step process of the overall strategy.
Gone will be the days where executive teams would spend days building board decks that become outdated the moment they present them. With VCs and other investors possessing the information on the company's current progress and status, teams will be faster as well, as they will always be aligned with the latest strategies, metrics, and actions.
Provide value-added services and break common practices
It is a common myth among novel entrepreneurs and startup aficionados that VCs are only providing seed round funding to prospecting startups. Some are even viewing them as a glorified version of a commercial banker. To be frank, they're not completely wrong. Most of the traditional groups of VC investors act like bank financiers, providing value in a traditional approach. This includes carefully scrutinizing early-stage startups, generating leads, developing a comprehensive due diligence process, and finally investing a specified amount of capital at the right structure and valuation.
Fortunately, this trend is slowly shifting, as VCs understand the various needs and demands of startups beyond funding. But where should they focus their efforts?
In-house expertise is one of the best ways they can support a company in their portfolio and boost startup growth. Often startups go with smaller funding amounts in exchange for better value-added services. Even though in general, startup teams are quite enthusiastic and well-rounded, they often lack the talent that a more mature organization would have.
Building a proper and talented team must become a focal point for value-added VCs. This can be in the form of team building, operations, customer development, or skill-building, among others. VCs can provide these value-added services either directly from their own staff or through third-party providers.
Another area where startups are often falling behind is networking. A new business, no matter how good their company portfolio or products are, does not possess the leverage compared to a more mature and established business. This perfectly corresponds with the VCs brand, as often this could become a crucial building block for the startup's path of success.
Therefore, VCs need to tap further into their network and their leverage as a brand in order to strengthen their portfolio companies. This can be concluded mostly by connecting them with other people in their network, either as potential customers, executives that can solve certain problems, or higher-level executives that could be utilized in their next seed funding rounds.
Evaluate startup growth and assist in making changes
We know that tracking the progress of companies is essential for a healthy portfolio. It's what brings VCs revenue, after all. But often enough this process is one-sided, with startups usually left stranded when they're moving in the wrong direction. The most common ways startups start down the wrong path, besides funding issues, are they either misread market demands, get outcompeted, have pricing issues, or a combination of the three.
Overvaluation is another serious problem when scaling up, often ending up as a behavioral trap that leads the business into failing investor demands and scaling targets. This instant moment of glamorous recognition can provoke them to make unstructured decisions, with the most prominent one being investment in trending and over-hyped technologies.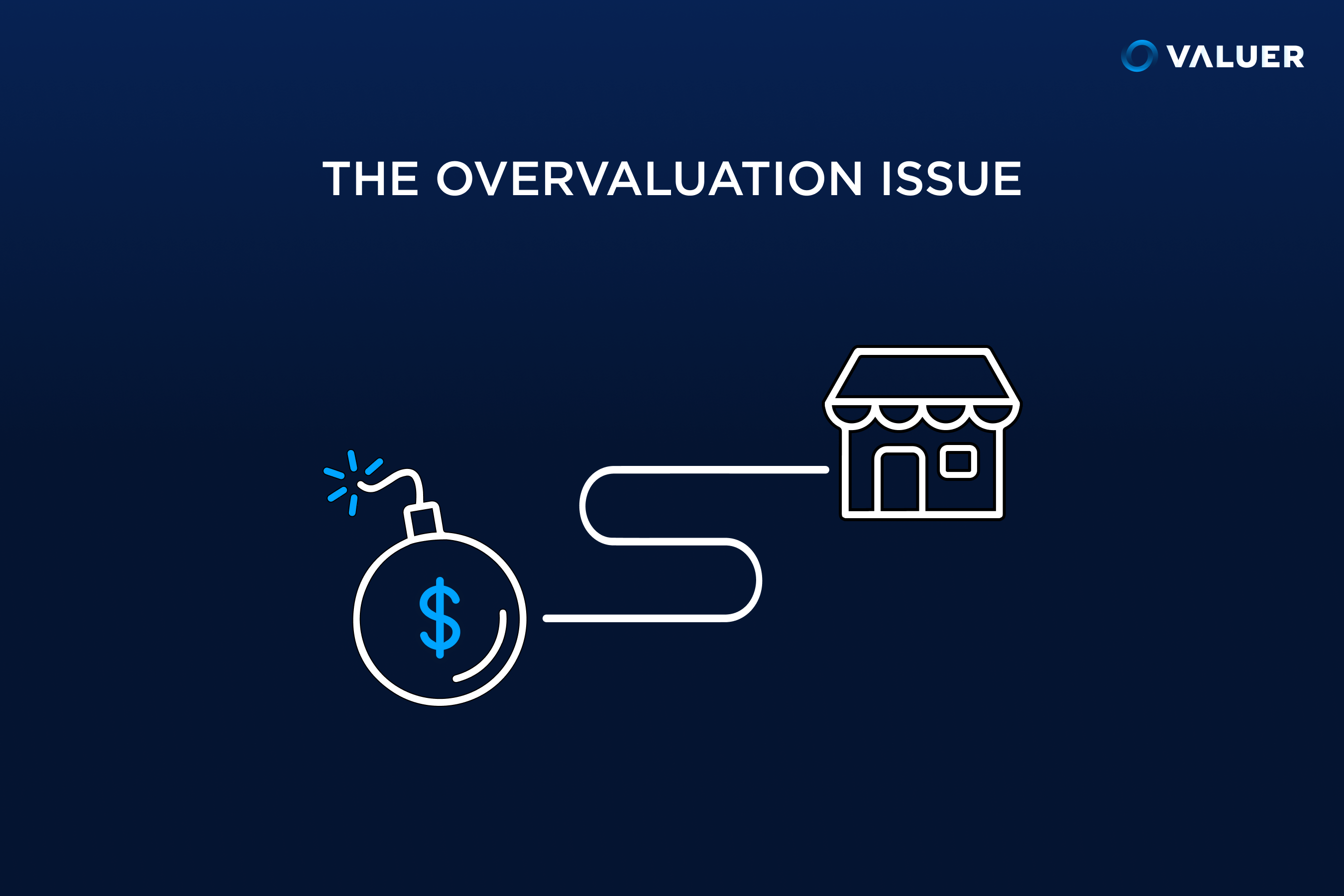 One such example is Global Crossing, which invested billions in fiber-optic telecommunications cables during the dot-com bubble in the early 2000s. As soon as the market crashed, it was revealed that they've only used little of their capacity without any recorded profitable year. Eventually, the company claimed bankruptcy in 2002, with the fiber-optic assets being sold off for a small fraction of the cost.
Examples like this one highlight why VC firms are crucial in resetting the course for startups, helping them get back on track. Starting from the assessment and evaluation, communication with the entrepreneurs is essential in helping them recognize potential weak spots or worrying hurdles that might come along the way. These can be areas like customer behavior, market penetration pace, competitors, general public response, which require frequent discussion between both entities.
Combating these emerging challenges in a joint effort fosters the relationship between the VCs and startups. As a result, companies are showcased on the business landscape as strong contenders, leading to the potential of becoming a trustworthy entity ready to disrupt markets. On the other hand, VCs strengthen their brand and impact on portfolio companies, all while keeping their investments safe. By combating these emerging challenges together with the startups, VCs can nurture and improve their relationship with them, benefiting both sides of the collaborative spectrum.
VC collaboration essential for scaling
Due to its nature, the complex and dynamic business landscape demands proper navigation by startups and helpful collaboration from VC firms as a guiding hand. Because everything can change in the blink of an eye, as we all saw with the global pandemic.
Therefore, staying ahead of the curve and spotting innovation in the sea of new companies is essential for their survival. However, the tipping point is the collaboration between the two, oftentimes deciding the startup's survival and the VC's credibility. So, keeping healthy communication, incorporating real-time collaboration tools, and providing value-adding services often returns more credibility and success to their collaborations.
Valuer.ai specializes in connecting businesses through innovation by aiding entrepreneurs in spotting the right landscape for new business models. With the use of matchmaking AI algorithms, we have developed a platform that connects corporations, accelerators, and investors with new technologies.
Depending on the requests from the corporations or investors, Valuer utilizes a vast amount of data and AI technologies that screen compatible entities which match the client's specific needs. As it leverages information accumulated from qualitative research, our platform provides business entities with a carefully curated list of new business models that complement the requested profile.
With this tool, we help in the discovery of the innovation economy that disrupts the business landscape and reshapes the future we live in.