Revolutionary 5G technology is just around the corner. This will completely transform the way we go about our daily lives and particularly interesting when you consider it has only been ten years since 4G was introduced. Integral technologies, such as Smartphones, IoT (Internet of Things), cloud storage, app-based platforms, and the digital economy have also only been around for the last decade or so.
Clearly, there have been drastic changes in the fast-paced telecommunications industry. This article will explain the different aspects of the telecom industry, how it will be impacted by the rollout of 5G technologies and why it's essential for European telecoms to adapt to this changing digital ecosystem.
[Related Article - Best Telecommunication Startups in Europe]
What is telecom and the telecommunication industry?
In short, telecommunication is the exchange of information by electronic means over a considerable distance. This definition is broad because the telecommunications industry spans several fields including fixed and mobile telephone connectivity, television, radio, and the Internet.
And while the industry is diverse, it is incredibly saturated. In Europe, revenues are shrinking due to declining ARPUs (average revenue per user) and very tight market share spreads. Because of this, companies operating within this sector have become incredibly agile. This includes dramatically changing a company's core operating model to keep relevant in the changing digital landscape.
For example, TDC in Denmark revolutionized its business model, creating cross-functional teams of experts aiming to design, build, test, and improve digital customer journeys at speed by any means necessary. Due to the fast-changing nature of this industry, many telecoms are also shifting towards digitalization and the pursuit of adjacent business (financial services, IT, cloud services, and media are just some examples).
The biggest transformation to the telecom sector will be the introduction of 5G. This is a particularly hyped technology that will impact everything from the energy sector to the speed at which you stream video from your device.
What Frequency is 5G?
So, what is 5G's frequency? 5G (fifth-generation mobile technology) in technical terms is a set of ground rules that define the workings of a cellular network such as radio signals, frequencies, and data exchange. The current priority is creating more 5G networks and improving the existing ones. This will not only connect people, but also machines, devices, and objects.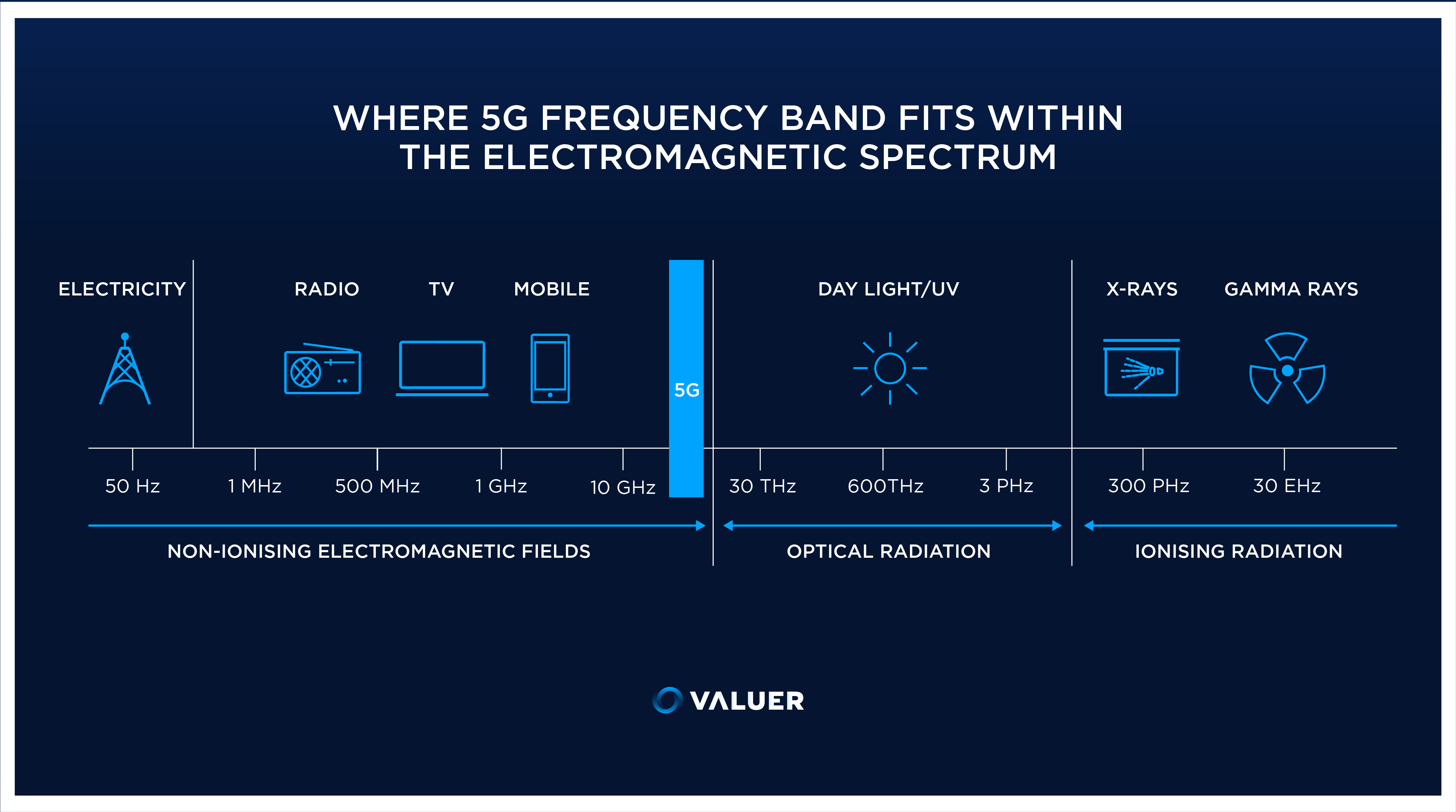 How does this happen? By increasing the millimeter-wave bandwidth frequency up to 100GHz. This will bring increased speeds, larger capacity, and lower latency. The industries most impacted by 5G will be gaming, security, sports, healthcare, media, transportation, and AI. Inception is slow, but it is expected that Enhanced Mobile Broadband (eMBB) and Fixed Wireless Access (FWA) will become the driving forces for the increase in 5G connection in the first few years.
What are the benefits of 5G Iot and cloud infrastructure?
5G will be 10 times faster than 4G. This will improve gaming, streaming, downloading of content, VR/AR, and mobile gaming. With speeds imposed to reach more than one gigabyte per second (Gbps), we could easily download a movie in seconds. It will also allow for faster data transfer in drone usage and security cameras.
As most of our lives are online, it is crucial for mobile networks to adapt to the increasing number of users. It is predicted that the number of mobile connections will reach nine billion by 2020, an increase of 200 percent from 2009. This includes users in both urban and rural areas. 5G is touted to lessen this telecommunications divide, by providing service to less populated areas as well as those in harsher terrain such as ski resorts.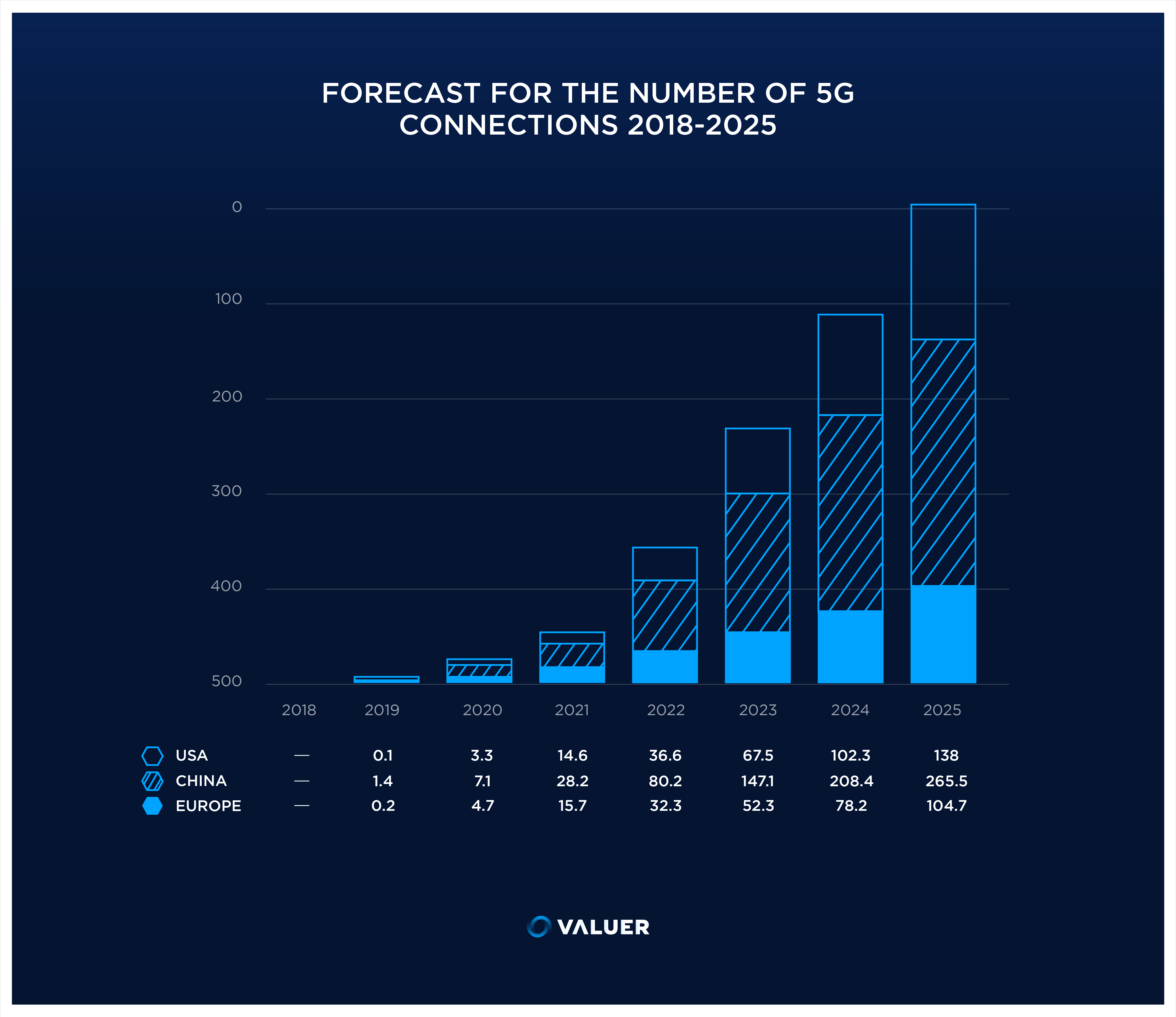 Businesses that adapt to the changes brought by 5G broadband technology will reap many rewards. Employees will appreciate the increased data speed and efficiency for daily working habits like remote working and file sharing, among others.
However, the biggest benefit will be the inclusion of cutting-edge innovations like artificial intelligence (AI) and automation. These devices will notice increased performance powered by 5G platforms and allow long-distance communication between devices.
For example, the mobility and transportation sectors are set to improve through 5G IoT and cloud infrastructure. Intelligent vehicle networks using 5G are currently being tested in Shanghai while South Korean mobile operator KT are testing 5G capabilities to develop a platform for disaster and safety management using drone and AI technologies.
Finally, the telecommunication companies that provide these mobile networks will benefit from 5G too. This will enable them to expand and provide other digital services. AR and VR are examples here as they will benefit greatly from the increased performance and efficiency. Vodafone has already experimented with 5G VR/AR technologies such as holographic telephone calls.
Adaptation and reform amongst telecom operators
Clearly, adaptation and reform will need to take place in the telecom industry with the rollout of 5G. Big telecom companies globally need to innovate and European telecoms will need to follow suit. According to Forbes, three of the top 10 telecom companies are in Europe. This indicates Europe is still competing with the more significant players such as China, Japan, and the USA.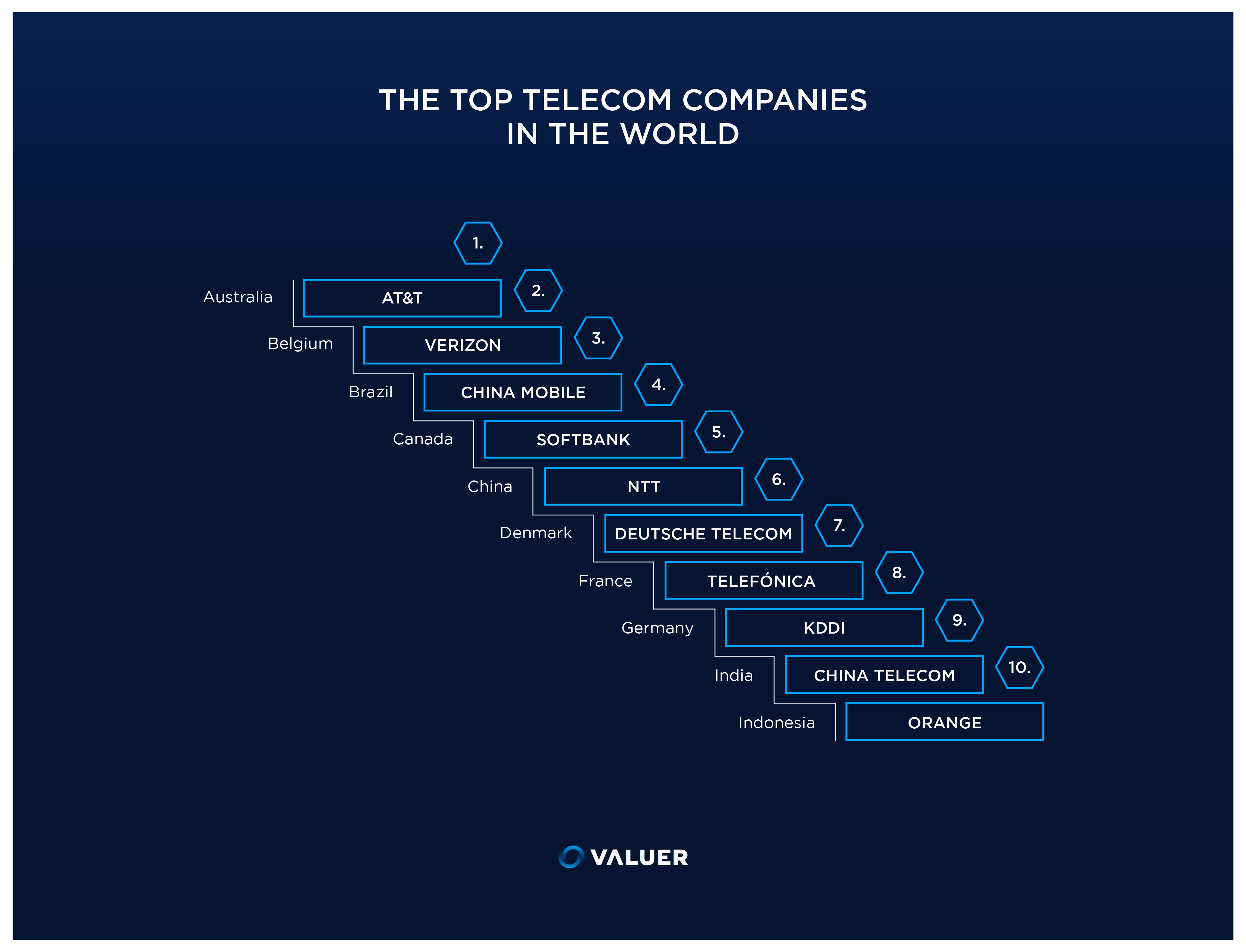 Europeans are more connected than ever. Data plans offer free 4G networks globally and data roaming within the EU has been regulated to allow consumers to travel across borders without the need for expensive data roaming packages. But, this has not necessarily equaled the same financial success.
Whilst telecom operators in Europe have provided low prices and efficient networks, efficiency alone is not a strong enough reason to warrant continuing investment in an industry currently in the midst of a global 5G digital transformation.
So what does this mean for the telecom industry? It means telecom companies are fragile and in need of constant reform. Traditional and narrow-minded businesses must adapt to the changing digital environment in order to survive the 5G rollout. And how can they do this? Through digitalization, acquisitions, and partnerships with companies and startups.
Digitalization and the importance of partnerships
Digitalization offers telecom companies the opportunity to "rebuild their market positions, reimagine their business systems, and create innovative offerings for customers". As the ETNO states, telecom operators that will reap the biggest rewards are those that transform from being a connectivity provider to a digital services provider.
This transformation is taking place as we speak. We're already seeing large telecom operators transform their business models to provide digital services for their customers. One example is Swedish telecom Telia, partnering with HBO Nordic to provide streaming access for their customers. Big businesses are looking to grow their portfolios with similar acquisitions, furthering their reach and customer base.
Partnering with and fostering startup growth can also allow for top telecom companies to pursue adjacent businesses. "Telecom companies provide the fundamental building blocks for access, interconnectivity, and applications" and startups can help them further their technological exploration to enable the ongoing digital revolution.
Vodafone: A top corporate for innovating with startups
Take Vodafone. They are a great example of a corporation expanding its portfolio by working with vertical businesses through meaningful partnerships. For two consecutive years, they have been awarded by the European Commission as one of Europe's top corporations for innovation with startups.
e.go and Vodafone x Ericsson
One example shows Vodafone working with Ericsson, in order to create private networks for businesses using a part of their network spectrum. Together, they have implemented a private network for e.GO, a company founded in 2015 that specializes in manufacturing electric cars. They have implemented mobile network slicing by dedicating a piece of network for e.GO's ''Industry 4.0' factory to ensure that critical manufacturing processes are never interrupted by the network.
ABB and Vodafone
ABB, the Swiss-Swedish multinational geared towards robotics and automation technologies, wanted to leverage analytics and automation to improve its plant productivity. Through a collaboration between several companies, including ABB, Ericsson, and Vodafone, the YuMi robot was developed. This technology encompasses 5G-powered 3D vision devices and leading-edge analytics for an augmented collaboration using ultra-low latency. This will lead to "a new era of automation, where people and robots work side-by-side on the same tasks".
Xpllore at the Digital Innovation Hub (DIH),
Vodafone has also played a large role in fostering the growth of telecom-focused startups, creating the Digital Innovation Hub (DIH) in Salford, Manchester. This hub aims to be "an incubator… where entrepreneurs, professionals, and local startup founders can congregate, acquire new skills and experiment with the latest emerging technologies including "IoT, high-speed fiber and 5G".
One of these startups is Xpllore, which is currently focusing on building a game-streaming platform to allow mixed and virtual reality developers to sell their business. Chris Guerin, Xpllore's founder and CEO states the introduction of 5G will "give us the bandwidth we need to stream VR apps from our cloud services to the headset with very little latency".
Other European telecoms are following Vodafone's lead. Deutsches Telecom (T-Mobile) has created a tech incubator Hubraum, focusing on 5G, IoT, and AI. Orange has established Orange Digital Ventures, aiming to "finance entrepreneurs from around the world whose ambition is to imagine, design and develop tomorrow's services".
These collaborations spark economic growth and revamp a lagging telecom sector in need of refreshment. Startups in Europe have become a dominant force allowing for Europe to be a respected competitor in the telecom industry. The underlying message here is simple: companies with an outdated view of investment opportunities will face a dim future.
The Telecom market in Europe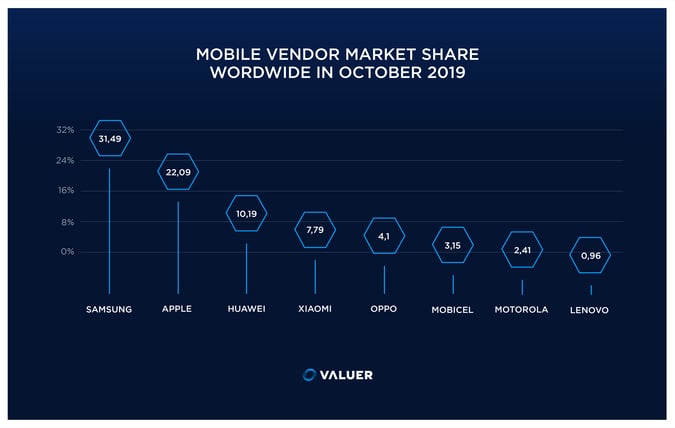 The Asia Pacific region is currently the world leader in telecommunications followed by North America. Europe holds a secure third place. Currently, there are four major players in 5G: China, South Korea, the USA, and the EU. In China, this research and investment is largely funded by the government, whilst in the US and South Korea, this comes from the telecommunications industry often in collaboration with local and federal governments. The EU is more complicated.
Network coverage in the EU is high, reaching almost 97% broadband coverage and producing speeds higher than the global average. The European Commission regulates the telecommunication market structure and spectrum. This means there are extensive networks and operators spanning the EU 27, all having to work together. Other regions such as the US have less regulation.
The Commission regulates the telecom industry through the 'Telecoms Regulatory Framework for Electronic Communications' and will be furthered by the upcoming 'European Electronic Communications Code' regarding 5G in December 2020.
The EU has prioritized 5G implementation in its new "Shaping Europe's Digital Future" action plan. Synthesizing 5G broadband technology standards is one of the five priority areas. Margrethe Vestager, the current EU Competition Commissioner states "we can do great things with 5G", it will be a "major enabler for future digital services in core areas of citizens' lives".
This bodes well for the future of 5G and if your a Venture Capitalist or corporation it's an exciting time to get into the new market landscapes that are unfolding with 5G broadband technologies. Of course, betting on the right horse is no easy task, but that's exactly where Valuer can help. Our AI algorithm can help you select the right innovative startup to bet on, leading you down the right path on the innovation economy road.
What is also going in 5G's favor is that the EU wants 5G implementation to be a key approach to compete on the global telecommunications market, even arranging agreements with China, Brazil, Japan, and South Korea about 5G cooperation on basic functionalities and technologies. This digital future action plan has also put tech startups and SMEs at the forefront of the agenda, aiming to help these businesses startup, scale up, and innovate alongside and in partnership with larger companies in the 5G race.
EU investment in 5G
Whilst the EU is emphasizing the importance of telecom growth, European citizens are actually using and spending less on telecommunications services compared to the USA, Japan, and Australia. This means there is also less investment. According to EY, this is due to the fragmented market structures, uncertain demand scenarios, and ongoing regulatory complexities of the EU.
Some European telecom leaders believe that EU regulation is hindering the ability for operators to invest in 5G networks by banning industry mergers. These mergers, however, are occurring in other global regions.
For example, the US has recently allowed for a merger between T-Mobile and Sprint. They are currently the third and fourth-largest mobile carriers in the US behind AT&T and Verizon. This merger is said to bring about the acceleration of T-Mobile's development of 5G technologies.
So if your a Venture Capitalist or corporation it's an exciting time to get into the new market landscapes that are unfolding with 5G broadband technologies. Of course, betting on the right horse is no easy task, but that's exactly where Valuer can help. Our AI algorithm can help you select the right innovative startup to bet on, leading you down the right path on the innovation economy road.
Finnish telecommunications company Nokia is a large player in the infrastructure market, producing equipment such as antennas and routers. However, Nokia primarily exports these to the US, China, and Japan to build into 5G infrastructure, selling this back to the EU in the form of a full product. This is an indication that "Europe is helping to develop tech innovations somewhere else rather than creating the necessary environment to cultivate them here".
The future?
Wireless and mobile technologies have become standard for the average user. Looking at the rapid growth and the continuous usage of mobile devices and 5G's rollout, it's a clear indication that with innovation and evolution, the telecom industry will continue to be a prominent player in the general market.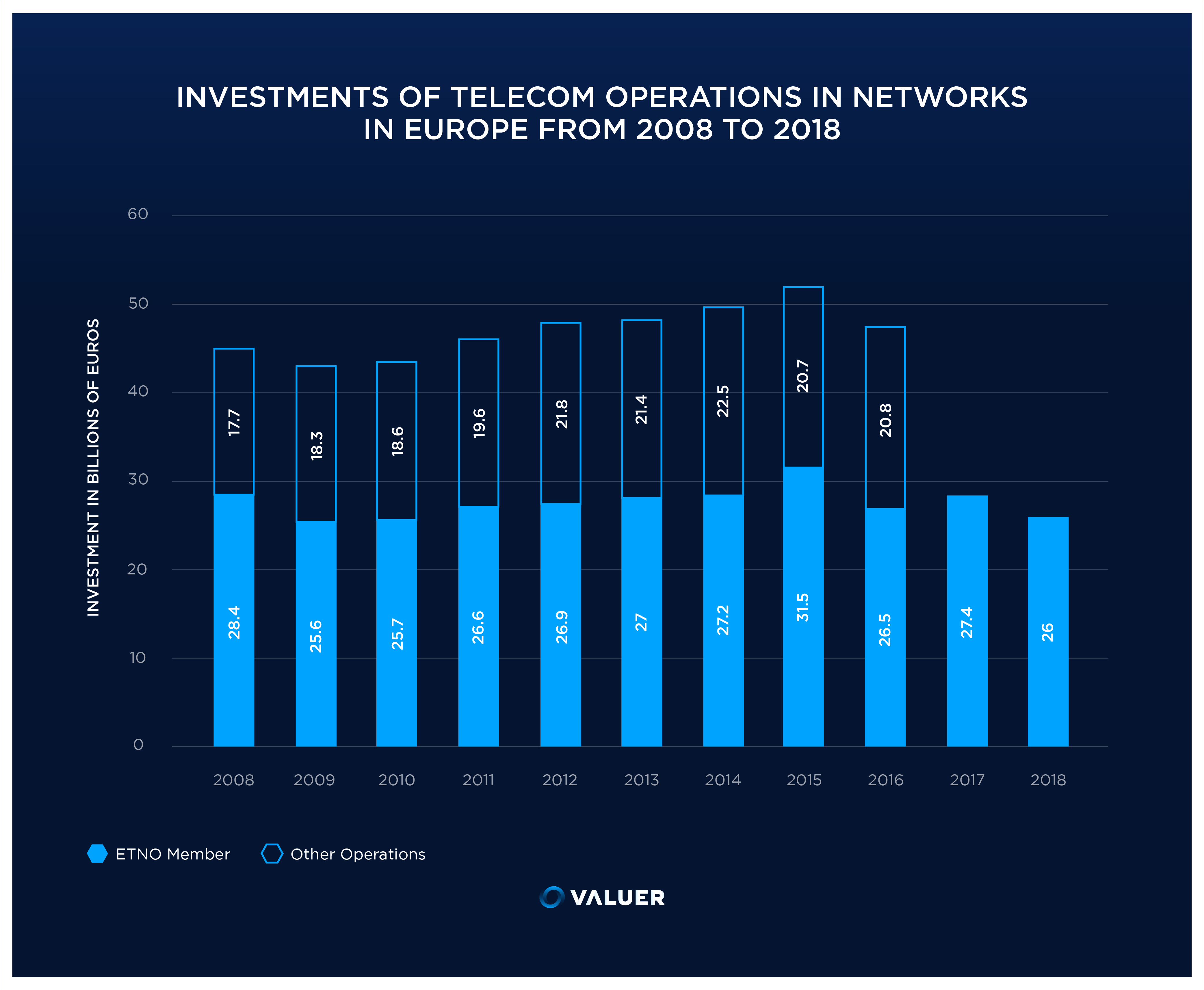 Telecommunications seem to be thriving in the European market, however, compared to China and the US they are still lagging behind. Startups around Europe are constantly emerging and can bridge this gap, with the potential to allow Europe to compete with China and the US on a larger scale.
Investment in startups specializing in digital technology has become integral to the rollout of 5G within Europe, that's if the region wants to be at the forefront of this digital revolution. The good news is that startups are on the rise, for example, in 2020 the UK has shown a 16% increase in new tech startups. The future looks bright for the telecom industry globally with innovation driving growth at every corner.