Often we see companies that are trying to innovate to keep up with trends or competition. Sometimes they don't know the reason why they are doing it or the problems they are addressing.
This will absolutely lead to failure and a waste of money and time. Even if the company has an idea of what they are trying to change, it can still be extremely hard to predict whether the innovation process will succeed.
Experts are arguing over the most efficient operation for modern innovative thinking within large companies, and all of them have a different perception of what corporate innovation actually means. There is no real answer to what defines successful innovative thinking. Many companies succeed in corporate innovation, and many fail; and those who succeed have completely different approaches from one another.
In this article, you'll discover everything you need to know about modern innovation within a company.

Home-grown solutions
Nowadays, large companies understand that innovative thinking is crucial due to the velocity of technological change in the market and the shortening of the product lifecycle. Experts perceive the acquiring of startups to be the best option when implementing certain types of innovation within a company. But this choice can be expensive and not always cost effective.
As a result, larger corporations create their own internal startup, rather than acquiring an external one. This is one viable option for corporate innovation as there are many advantages this can bring.
According to Ted Scholten, the top advantage is the resources a big company can provide for a startup. They are already in possession of capital support, intellectual property, office space and strategic support.
Additionally, they have a pool of skilled staff at hand that are aware of how the company works, follow their values and stay true to the core business. Triin Linamagi, from Rainmaking Collab, explained that by giving employees the support and tools to drive innovation and creativity will help to improve the cultural change in a corporate, helps to retain talent and implement a more agile innovation strategy.
For this method to be successful it is highly important for the startup to set clear objectives and have a specific budget from the start. As Karyn Gallant from Forbes states, big companies tend to avoid spending large amounts of money on innovation and avoid taking risks, as innovation isn't always successful.
He characterizes startups as having the freedom to take action and risks in order to succeed. Even if success doesn't come from the start, the knowledge acquired helps to further improve until prosperity hits. Thus, the company should offer a free hand to the startup, and avoid restrictions.
Corporate Venture capital
Some larger corporations choose to outsource their corporate innovation process, which occurs when there is a desire for growth. They are investing money in bringing external startups into the company to make sure that the innovation is done right, hence the name corporate venture capital.
This is because startups tend to have a team formed already with top entrepreneurial talent, who possess the necessary knowledge, access to up-to-date technologies, new resources, networks and are ready to take risks.
When a Corporate Venture Capital (CVC) invests in a startup, they can aim for two different goals: strategic or financial, according to PWC. In order to achieve both kinds of goals, there are some practices they can follow. A common mistake that leads to failure is not having a strategy.
Hence, it is crucial to have clearly defined objectives when the startup is brought in, to make sure that they are heading the right way. Also, the correct innovation management should be in place, which (in some cases) already exists in the startup or provided by the investing company, along with marketing expertise.
This kind of business collaboration brings mutual benefits for both parties. While the benefits for the company are pretty clear, startups can benefit from working with experts in the field, brand recognition, a wide network and a stable budget gained from the corporate venture capital.
Triin Linamagi

, from

Rainmaking Collab

in London, states in an interview that corporates need to limit the amount of red-tape that is involved in making decisions when in comes to collaborating with startups. For startups it's important to get access to large sets of data but also get access to the decision makers in corporations and validate their value proposition.
She also talks about external innovation and corporate venture capital as being an important factor for corporate innovation, as well as having access to innovative ideas, and people from the outside, in order to get some fresh out of the box innovative thinking: "By collaborating corporates and startups can achieve much more together than they otherwise would on their own".
[Related article - The Complete Guide to Partnerships for Startups & Corporations]
Business Accelerators
Business accelerators are becoming a big part of the startup ecosystem. It's a great opportunity for early-stage startups to grow through education and mentorship. It is an intense process during a fixed period of time, where startups are participating in different workshops, pitching sessions and mentorship programs in order to scale their business or bring it to the market.
In an interview with Vlad Suteu, Managing Partner at Digital Transformers, he mentions that business accelerators are great and they bring advantages like engaging with specialists from the industry and being able to benchmark themselves against other companies. Moreover, Brad Feld, co-founder of TechStars, also agrees that "learning-by-doing is vital".
One of the most important factors when enrolling in an accelerator is being able to seek and receive funding from investors. It is common for many accelerator programs to have special sessions where startups can present their ideas in front of real investors, who it would be hard to get in touch with otherwise.
[Related article - The Ultimate Incubator and Coworking Space List]
Innovation labs
The concept of an "innovation lab" has emerged in the past few years and it is something that companies are looking into when deciding to innovate and broadcast to the world. Often referred to as a "Corporate Garage", there are entire offices geared specifically towards innovation under the umbrella of corporate innovation.
What is an innovation lab?
An innovation lab is a physical environment inside a company where innovation programs and activities are created for people within a company. They can meet and work on innovative thinking and ideas, bringing something new to the table, with new networks, technologies, and knowledge.
Many innovation labs are open spaces for the public, where customers can visit and take a look at the company's "cool" innovative ideas, prototypes, and get a good overview of a companies innovative thinking.
In an interview with Forbes, Scott Kirsner, editor, and co-founder of Innovation Leader, gives an example of an innovation lab: Visa's innovation center is showing demos regarding the future of payment and they are also involving the customers in the co-creation of innovative ideas for the future.
In the same interview, Kirsner states that he believes the best innovation labs "are trying to do some kind of exploratory work in service of the overall strategy", meaning that companies should focus on improving their processes and strategies.

There is no standard framework to follow that will guarantee you a successful innovation process. But there are some processes that have been proven to show effective results. In the following part two different models will be presented. The "Create-Test-Scale" and "LASIC Principles" are among the ones corporates use when working with startups for innovating.
In his book "The Corporate Startup", Dan Toma explains that in order to make progress and be successful, corporates "need to innovate like startups", and talks about principles and practices that have shown positive results in the past.
These principles and practices for corporate innovation can be implemented by large companies in order to have a higher chance of success in their innovation process. In the forthcoming section, Dan Toma's principles and practices on successful corporate innovation are explained: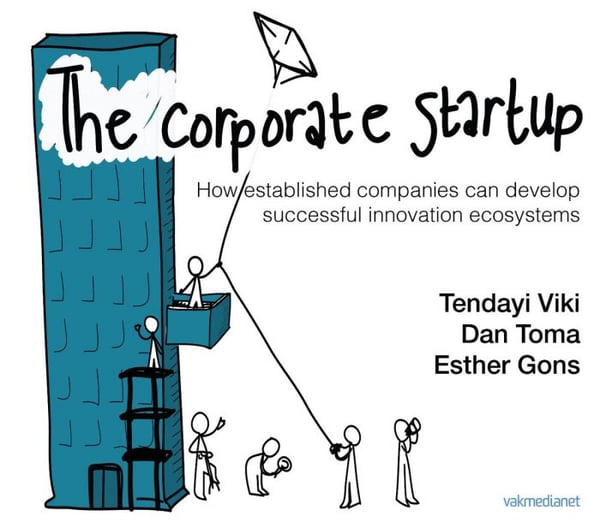 Create-test-scale
The first step of corporate innovation is to create the atmosphere of a startup, bringing creative people to the table. It is fundamental that this formation is completely separate from the corporate's daily activities.
There should be no interference with the core business. Keeping them shielded from the company stops bureaucracy and negativity within a large organization tainting potential growth and keeps innovative thinking fresh. The concept of throwing things at a wall and seeing if they stick helps you see the potential ideas that will work for your company.
Establish guidelines for your startup to be successful and give your team clear goals and targets to reach within a set period of time (create). These small projects and startups can be measured without heavy expense and ideas can be proven and others can be shelved (test). When good ideas are working and hitting their targets, provide more resources for them to grow quickly and scale (scale).
Advantages
You form an ecosystem where multi talented people across departments can give their input. Innovative thinking and creativity can flourish, and people are given the freedom to test ideas. Think of it like a sandbox where children are allowed to play, discover, and make a mess without consequences. The ideas that are considered worth trying are launched and the others are "preserved" for later, as a backup plan in case the company has to pivot along the way.
The create-test-scale principle allows the company to develop new ideas into products that can be proven successful, with a profitable business model. The success can be measured after the product is brought to the market, and you can easily create a customer profile.
The principles
The principles of 'create-test-scale' do not guarantee that your corporate innovation process will be proven successful. These steps are simply a guide a company can follow for a head start. There are three main principles:
- Innovation Strategy: Innovation Thesis & Innovation Portfolio
- Innovation Management: Innovation Framework & Innovation Accounting
- Innovation Practice: Create-test-scale
Most companies tend to focus only on the last principle, which leads the company to rapidly fail due to lack of preparation. Before launching your innovative idea, you need to carefully plan and organize every step. Each principle is interconnected and responds to data from one other. Follow the order mentioned above, and the innovative thinking process will go more smoothly.
The skills of your team play an essential role in the overall corporate innovation process. They are the core, so make sure you allocate the time to finding the right people to join your team. It is recommended to mix up the people in terms of backgrounds, skills, knowledge, and networks in order to have a bigger grasp on success and a diverse innovative thinking process.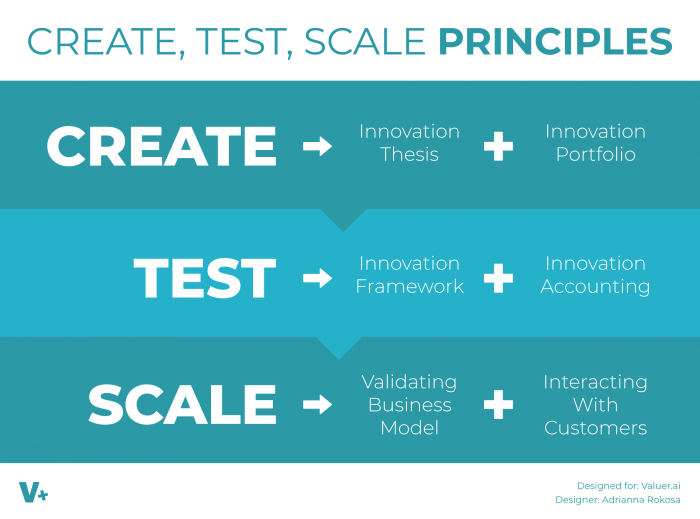 Innovation Strategy
Innovation Thesis
It defines the company's view on the future plan and strategic corporate innovation objectives with clear borders and limitations. This is the starting point where you need to gather all the information necessary that is linked to your innovation process, for example, researching your market and competitors. This step will also draw the lines and set specific rules, goals, and objectives that need to be followed by the team throughout the entire innovation process.
Innovation Portfolio
It is important to build up a portfolio with products from the whole spectrum of innovation, with different business models for products that are in different life stages (early stage products and mature products). This portfolio will help with the follow up of the thesis. A great tool that you can use for building the portfolio is Ansoff's Innovation Ambition Matrix. It suggests that you take an existing product or a product that is in the development stage and brainstorm new markets or innovations for the product.
Innovation management
Innovation Framework
You must put the innovation thesis and portfolio into practice according to a well-established framework. The framework acts as a clear guide for innovation management within the business. In case the company needs to pivot, the framework will help to make sure the core will not derail off tracks. Moreover, the innovation management framework keeps the team together and assures that all your team members are on the same page with the evolution of the innovation process.
Innovation Accounting
After setting the innovation management framework, you must decide on how to measure if the innovation is successful by setting up an accounting system. It has to be completely different from the core business, as you will be measuring new developments for a new product. Track your process with KPI's and make sure to revise them periodically and make the necessary changes in the case of pivoting.
Innovation practice
Innovation practice is validating the business model and interacting with the customers. You can't take the product to scale until it has a validated business model. You can acquire potential customers during the innovation practice step when talking to customers and validating the idea.
In an interview with Bo Tolstrup Christensen from Danske Bank, he spoke of the success of MobilePay. "We have tried to put a formula on how to create the unicorn product but it has failed as it is difficult to pinpoint what exactly is the recipe for the successful product". They called it a moonshot and started defining mega-trends and allocated budgets and people, giving them time and space to work on the product. He finishes by telling us that "If it succeeded - scale it, and if doesn't - close it".
Making your product visible to the world is all about how you decide to market it. There are many different ways and tools that you can use in order to get your product out there. Try as many methods as you can and see which ones are actually working and bringing you customers. Don't hesitate in trying to reach out to other markets as well, as you never know where your potential customers might be. Don't limit yourself.
The LASIC principles
Corporate innovation can also be done internally. This derives from the need for optimization, changing the strategy and the way processes are being managed. In this case, a team of creative and solution-oriented people is integrated into the team to innovate side by side.
Corporations pair internal teams with existing startups as an addition to a large project. They take great startups and work to integrate their tools, processes, and features to build new solutions. There's a binding of the new and the old in the hopes that lightning will strike with an infusion of new thoughts, perspectives, and technology.
What are the LASIC principles?
The LASIC principles are the industry's way of defining the five most important factors that a company should hold in order to become disruptive. It's an acronym that stands for: low margin, asset-light, scalable, innovative, and compliance easy (LASIC).
This methodology attempts to take existing models of running a business, where the startups come in as consultants with specific goals in mind. Applying the mindset of "lean methodologies" to improve a fixed structure. Consider how consultants shape and improve an older business model with new technology, this is how the LASIC model works.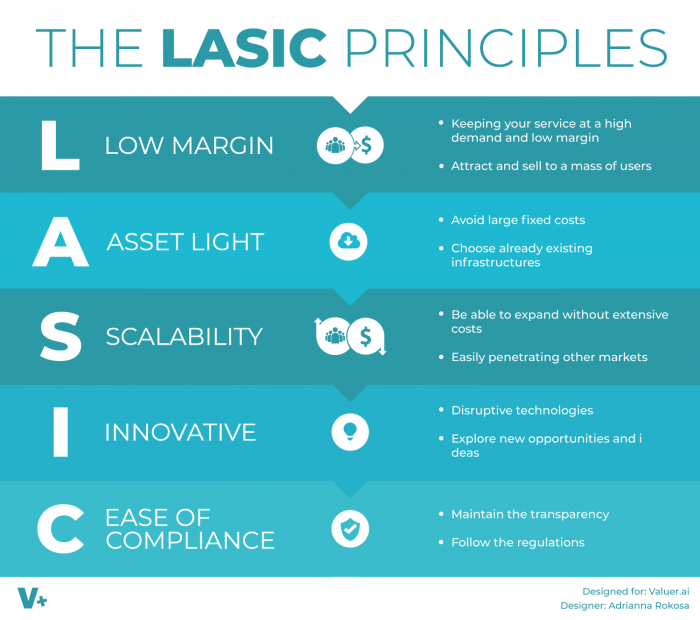 Low margin
It is one of the most important principles. It considers that in the fast-moving environment of free Internet access and easy information access, consumers and users are not willing to pay to the service provider.
This means that in order to become profitable, the service needs to receive a lot of attention and a critical mass of users. Only after that period, the monetization is possible by bringing advertisers on board or applying a subscription fee. In order to win the users, the service needs to sustain a high demand and low margin.
Asset light
These are the kind of businesses that don't invest a lot of capital into large fixed costs on assets. A simple example is a company that decides to use a cloud for storage, instead of buying expensive servers. Achieving sustainability is the main advantage in the long run for using an asset-light business model.
It is easily achievable in the times of SaaS (Software as a Service), PaaS (Product as a Service) and IaaS (Infrastructure as a Service). These three categories are part of cloud computing services and they are managed entirely by a cloud vendor. The main advantage here is that the customer has to pay only for the service provided, a service that can be scalable anytime.
Scalability
In LASIC, scalability comes back to the first point of low margin. In order to keep it profitable, a company has to offer their product for a low fee and for a broad audience. Scalability is also tightly connected to the asset-light principle, as it happens more easily when there are no physical assets involved.
Innovative
Technological innovations are constantly emerging and customers tend to go in the same direction that the wind of innovation is taking them. In order to keep your customers attracted, you need to adapt to their needs and wants, which means you will need to make sure your company keeps up with the technological changes.
Constant changes are hard to implement in a company and can bring a lot of difficulties along. Don't try to implement everything at once, because that might not work out the way you think. Innovation requires innovative thinking. Select only the technologies which will work best with your product.
Ease of compliance
This is the point where companies need to put extra care and involvement. High compliance regimes create difficulties in innovation, where consumer protection and transparency are the first priority. It means that if you want your innovation process to work smoothly, you will need to be extremely careful when it comes to all new compliance regimes issued due to the rapid technology changes. Your consumers are the far most important. Make sure you build everything around them and you protect their needs, wants and their rights.

Comes from the top
Every organization has a hierarchy leading the company and keeping it on the ground. The idea of corporate innovation surfaces from the need for change and growth. Ideally, the people that drive the innovation are part of the C-level executives team. They are usually in charge of making sure that the company's strategic goals are being met, as well as hiring competent and skilled people in order to reach their goal. Essentially, they are the ones expressing the urge for innovation, being capable of understanding the impact of the results.
[Related article - 66 Mistakes Every Startup CEO Makes]
Designate a new leader
Corporate innovation is not easy and brings a lot of challenges. It is fundamental for the C-level executives not to lose focus on their original goal. Therefore, managing both current strategies and the innovation process can be a recipe for disaster. The corporate innovation process usually takes time and in order to be proven successful, it needs full focus and dedication. The next step is appointing a Chief Innovation Officer (CIO) who is solely in charge of the innovation strategy, to make sure everything is heading in the right direction and to make sure all runs accordingly. If the company is heading towards disruption, you can assign more people to this task.
Source the right startups and people
Choosing the right team to work on the company's corporate innovation strategy is the bottom line. You must put extra care into finding the people who have the necessary skills, knowledge, motivation, and alignment for the main goal. There are many ways a company can recruit a team. The most leading option is outsourcing and acquiring startups.
Many big companies are afraid of choosing the wrong team for their innovation process which can lead to money loss, therefore they choose third-party companies to do the job for them. Valuer is an example of a company that does the matchmaking between corporates and startups. Thus, it helps reduce the time it takes to find the ideal investments and source the right one for innovation.
Create budgets & give resources
The traditional rigid budgeting does not go hand in hand with the innovation process. When innovating, you need to be prepared to make quick changes and keep up with the rapid technological developments. Often experimentation can be expensive, as trying new ideas and shifting focus can cost a lot of money. But it is extremely important that the innovation team has access to a flexible budget, in order to have space for pivoting and changes in order for the project to succeed, and not to feel constrained about following a dead-end idea just because it was costly.
Culture
When you have an innovation team, everything comes down to them. They are the foundation of the whole process. The best innovations come from the best teams. The problems that we are facing nowadays are far too complex for one person to solve. Creating a culture in which everyone feels comfortable is essential and leads to innovative thinking.
During the innovation process, create an environment where creativity can flourish. Encourage the expressing of ideas, and thinking outside of the box, and allow the testing of ideas while developing a portfolio. This will minimize the risk of going to the market with an idea that doesn't work. It is a well-known fact that "metrics fuel motivation" by giving the team recognition for their efforts.
Don't be an idea killer
Innovation is all about ideas, and there is no such thing as a bad idea. In the innovative thinking process, it is crucial to let all ideas run their course, and test them before killing them. It might take a considerably long time to get the right product-market fit and attract customers, as many of your ventures are newer.
As mentioned before, create a portfolio as a place to keep your ideas, and you'll be able to come back to it if something goes wrong. It is better to have options to choose from rather than introducing a product that will fail and lose a lot of money. Use discretion before killing projects and partnerships.

Departments stealing resources
Creating an innovation lab in a big company can have its challenges. Other departments might feel that all the priority is shifting to the innovation lab, leaving them in the shadow of the new venture. In this case, you have to set clear boundaries from the start. You need to give the innovation lab a specific budget and access to resources, so that other departments will not become interconnect with them, avoiding conflicts.
When creating an innovation lab, it is important that all managers are on board with the decision, as this will help avoid negative influences. Innovating in a big company is not a one person decision. During the process, all board members should be up to date with the progress and should have the right to pitch in and make decisions.
Transparency
Transparency is a keyword in an innovation lab. Ideas can come from everywhere, therefore the entire company can have access to the innovation strategy and contribute to the process. We see many companies lacking effective communication internally, thus employees don't understand what is happening on the larger scale, or what the future plan of the company is. An effective company needs to connect all the dots and perceive the company as a bigger team, rather than separate departments that are working independently of one another.
Bo Tolstrup Christensen, head of new ventures at MobilePay, mentions that companies need to team up with both new and long working employees to combine experience and new, wild ideas. He believes that the combination with fresh minds and experienced people is the key to a great team working on a moonshot, which makes the right balance.
Defining success upfront
Innovation is a process, and every process requires a strategy. Success is achieved when you follow that strategy and it shows positive results. Having an environment where open-minded people have the freedom of creativity and expression might give the impression that your employees want to be there and are happy to be there. You need to define clear ground rules from the very start. Everyone needs to have a clear set of goals in mind and follow them rigorously.
The goal might shift during the corporate innovation process as new ideas might come up or disruptive technologies are making their way in. Consider pivoting every time it's needed and make sure your team always has the right mindset and are easily adaptable to changes. Changing the goal during the innovation process is not associated with doing something wrong. Being able to pivot in the right direction shows that you are evolving by learning from mistakes.
Celebrating wins & positive outcomes
Recognition of the work done is part of the culture created and it is essential. You need to acknowledge other's efforts and praise them in order to boost the motivation. Without it, people tend to lose interest and shift from the main goal, which finally leads to failure. Team building workshops can also help in strengthening bonds between co-workers, building trust and confidence.
Don't get greedy
Many startups are avoiding collaborations with corporates due to the high demands that the companies have. Many startups are seeing this collaboration as more of a buyout of their ideas and work. Corporates sometimes ask for high percentages of ownership, which startups are not always willing to give. But this partnership has more value for both parties and it needs to be encouraged more often.
With this said, corporates should lower their demands in terms of ownership and give the most reasonable terms to those that they want to work. Furthermore, startups get a considerable amount of value by collaborating with corporates: they have the opportunity to work and learn from experts in the field, accumulate experience and have the chance to make themselves visible to the outside world.
---
Nowadays, innovative thinking and corporate innovation has become a necessity, rather than an option. When you decide to innovate, make sure beforehand that you and your team are totally ready for the change. Take into consideration every step that you need to make in order to achieve a successful innovation and don't be afraid to fail. Failure brings lessons.
"Coming together is a beginning, staying together is progress, and working together is success." is what Henry Ford teaches us. If you think that you are not able to do this alone, don't hesitate to reach out to other people and create fruitful partnerships.
Hopefully, this post will work as a guide in choosing the right path for your company, whether you are a startup or a corporate. There are many types of partnerships, so make sure you choose one that fits your business best. Keep in mind that collaboration is key.