Corporations are recognizing the long-lasting effect startups will have on the economy. With the increase of emerging innovations that transform markets like insurance and financial services, corporations are eager to partner with startups to evaluate their concepts and strategies on a broader scale.
To have this impact, startups have to survive at least a few years. Unfortunately, most startups don't. To be one of the few that pass this mark, startups need to increase their chances of long-term success. As corporations provide a stable revenue stream, the partnership between startups and corporations is a logical step.
However, these partnerships are difficult as startups can radically change the flow of large corporations. In fact, Innovation Leader claims that only 45% of corporations engage with new business models, meaning that many companies miss out on innovation opportunities.
On the other hand, startups are skeptical about partnerships with large organizations as well. Large businesses that move and innovate slowly represent a nightmare for agile and dynamic startups that have the ability to transform quickly, whenever necessary. Luckily, this is a misconception that is baseless in most cases.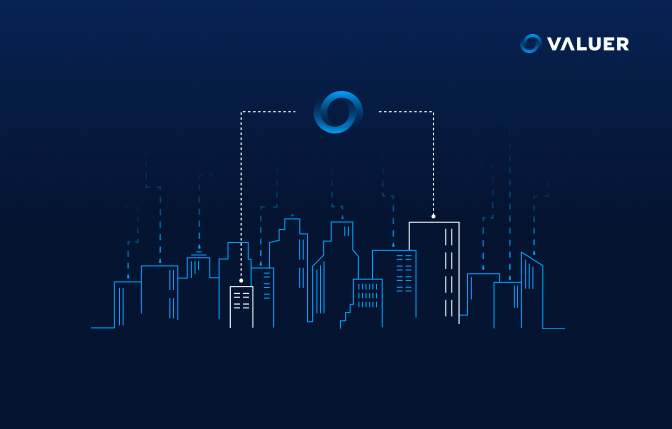 Why should organizations partner with startups?
Startups like Airbnb or Shopify have shown large corporations that ideas that start small can change the world. Once a startup releases a revolutionary product or service, businesses must respond quickly to offer something competitive. Otherwise, they'll start losing their business share.
Many large corporations have lost their market positions due to new technology applications. While some large corporations invest in or acquire startups, a popular way to boost corporate innovation involves partnerships with small, fast-growing startups. Otherwise, their answers to the startups' new technologies don't guarantee success.
In theory, the results of this action should be a win-win situation.
The beneficial aspect of these partnerships is evident. The large companies have it all—money, funding, and network connectivity that an entrepreneur needs to gain exposure. At the same time, entrepreneurs have the ability to operate with individuals from their market's leading businesses. This seems like the ideal fit as you get the best of both worlds.
On one side, companies are getting external businesses to help them evolve. On the other hand, entrepreneurs can get the funding they need to develop and expand their business.
Large organizations have the resources and credibility that startups need, whereas startups have innovation and agility desired by corporates. For IT corporations, the goal could be the adoption of new technology platforms. Simultaneously, for corporations from the non-IT sector, the motivation could be more efficient digitalization boosted by an innovative startup.
However, finding a random new business model to partner with your organization doesn't automatically mean the relationship will be successful. Many things need to align to make it work, like the values and goals of both sides. If not, organization managers are likely to kill startup projects in their earliest phases, so startups risk confirming their concerns regarding the corporates' lack of creativity and dynamics.
Significant organizational discrepancies also mean the collaboration between these diverse companies isn't smooth. Differences in population, hierarchy, and resources make it challenging for employees of big organizations to communicate with individuals from startups. Moreover, lack of proper KPI structures also make it difficult for large companies to feel the need to take on such a risky project. For example, proper incentivization structures within large organizations will make it more likely for corporate internal stakeholder to take on projects that could fail.
Once a startup-organization relationship gets well-established, the benefits come to the surface. Startups become stable and start growing thanks to the revenue from their partners, while corporations can go to market at speed with already existing technology. This is more cost-effective than creating the technology internally.
How to make partnerships with startups run smoothly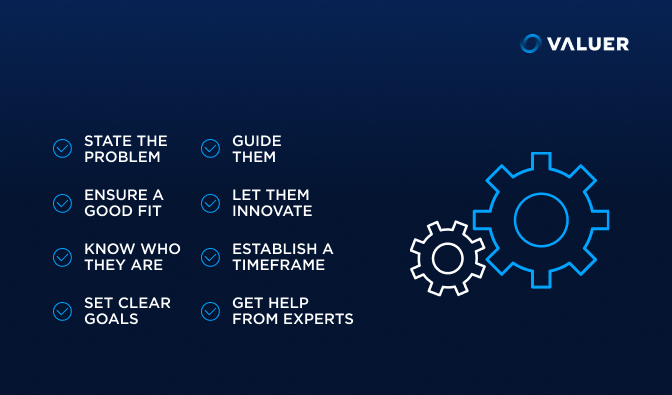 Stating the problem clearly
Organizations could kick off easily by putting out a straightforward list of problems. This would list the priorities and motives for the partnership. If you're still unsure of the specific outcome you want, stating that you are interested in the technology a startup is developing can bring more productive results.
The startup representatives will focus more on their technology and highlight it in their pitch to you. This way, you're enabling them to give a more targeted and customized presentation.
The best option, however, is to state a specific problem. This allows startups to think about how their product can solve your particular business problem. A particular domain gives a clear direction for the discussion both sides will have.
[Related article - How to Create a Successful Startup Partnership]
They can dive into details and genuinely discover whether the startup fits the needs of the corporation. Furthermore, in this way, the startup will receive useful feedback on their solution's advantages and disadvantages.
Make sure the startup is a real fit
Organizations must determine whether the new technology will be a good fit for their projects before making a partnership agreement. Before kicking off with a pilot, they require guidance and support from their most crucial business units and the company's management.
When the corporate's digital transformation department wants to work with a specific startup and utilize their technology, but has no approval from the business side that would be responsible for executing the project, there shouldn't be cooperation from any of the parties.
To execute a successful pilot that is profitable for all sides, startups require strong support from inside the enterprise. A fruitful collaboration will happen if the startup suits the corporate culture.
Find out who you are investing in
Investing in another company is an important decision to make. Many startups present themselves with shiny pitch decks, where everything is perfect, and the revenue is exponentially growing, but eventually fail to deliver. As an experienced entity in the industry, you should be able to recognize when the startup is making empty promises.
Before deciding to invest, meet the startup face-to-face several times. Talk about things their pitch presentation doesn't include. Make sure you get in-depth familiarity with their technology to decide whether it's really worth it.
Set clear and measurable goals
Clear goals and plans are vital to a successful post-pilot relationship. Without plans and objectives for a long-term commitment, startups and corporations can't maintain a relationship of trust and transparency.
Depending on how long the relationship lasts, the project should have different types of goals. For example, you should have goals you expect to achieve in two years, one year, and quarterly. This will give you the chance to measure and adapt your goals to the on-going circumstances. It's always better to have smaller and more precise goals defined.
Guide startups through regulatory obstacles
Young and dynamic startups aren't accustomed to struggling with the regulatory tape to which major organizations have devoted whole divisions. Be sure that you lead and help them through the industry's regulatory problems, so they won't get frustrated and leave.
You might even have to change your policies. Although this might not look like a significant problem, to startups, this can be the reason why they back out.
Startups don't like bureaucracy and complex procedures. They have open communication among everyone in their community, and your rules and regulations might crush their enthusiasm.
Eventually, you, as an organization, could benefit from this and become more flexible. This isn't a simple process, but adopting new ways of dealing with things means preparing for the future.
Give startups a real chance to innovate
Innovation is hard to nurture in any established organization. Simply, going through bureaucracies and rules doesn't allow immediate action. In this process, however, companies need to support entrepreneurs by opening the door to all the required assets, resources, and connections they possess.
Startups should collaborate with the company's digital transformation or innovation department daily. They should gain access to all the connections this department has to develop their ideas within the organization. This means that the company decision-makers should prioritize the startup team members without setting up any obstacles.
Strong communication is key
The most effective partnerships are the product of a culture full of communication, transparency, and firm support. To stay on track together, corporate teams and founders need to be open about their strengths and weaknesses.
While obstacles will always arise, companies and entrepreneurs should interact with each other freely and proactively, recognizing the potential problems that might disrupt their pilot project.
Moreover, just as communicating advantages and limitations is crucial, it is equally vital to communicate the principles that are essential to both the startup and the organization. This way, all parties will be aware of what they are doing, which isn't simple when you're working together on a significant innovation.
What happens after the pilot?
Before starting the pilot, the corporate and the startup must define the steps that follow in every possible scenario. This means setting KPIs and other metrics relevant to the project. These KPIs will be crucial to deciding whether the project has succeeded or not.
Moreover, it's essential to establish a budget and a timeframe. This way, you will have definite conclusions after the project ends. You won't have the chance to get lost in a free interpretation of the final results.
The corporation has to decide how to move further with the solution of the startup. This way, they don't leave the startup in a state of suspension, respecting their time and their future. Although following a detailed plan after the pilot project could be hard, establishing some basic rules on how to carry on with the project will contribute to a more natural innovation process for both the startup and the organization.
Get help from experts
According to the Global Entrepreneurship Monitor, there are over 100 million new businesses launched every year. Moreover, the SBA estimates that over 600,000 new businesses are open every year in the US only. With these numbers, finding a startup partner manually with a team of several people is almost impossible.

Valuer.ai has a large network of startup scouts who are engaged under a crowdsourcing model which detect the most innovative startups all over the world. We use an AI-based approach to match startups with corporations that would be the best fit. With hundreds of matches made, we've provided startup partners for companies like Grundfos, Orsted, and Nilfisk.
Moving into the future
The world is moving towards the unknown at an unprecedented rate. This is why large organizations can learn a lot from young and innovative startups that embrace change instead of fearing it.
Partnering with startups has never made more sense. However, this can only be successful when both parties deliver value to the project.
Following these tips can result in an active process that will produce successful partnerships and innovative products. Corporates are competing for the minds of the most innovative startups, and those who create an efficient partnership process will win the battle.
Corporate executives will anticipate and detect emerging industry trends by working with their possible disruptors. At the same time, startups will aim to build closer alliances for better business opportunities.
Valuer.ai can make this a smooth process by transforming vulnerabilities into potential business advantages. When this is achieved, the opportunities for development and innovations are endless.
When collaboration is consensual, both sides will benefit from success. Ultimately, partnerships between corporates and startups will be the drivers of the future.