*Updated September 2022
Artificial intelligence (AI) is a strategically important sector for Europe, and it will continue to be a driver of economic development.
In this article, you will discover the intricacies of AI tech, a comparison of the European ecosystem against two AI superpowers: China and the US, and the best startups in Europe developing AI tech and making an impact in entrepreneurship circles. Also, we will cover the pros and cons of artificial intelligence, the difference in AI vs. Machine Learning, and the benefits of artificial intelligence.
How does artificial intelligence work? Machine learning, deep learning, and neural networks
On the surface, AI is what makes self-driving cars and Siri and Alexa possible. However, if you take a closer look, you'll uncover the intricacies that make AI tech possible, and those intricacies are machine learning and deep learning techniques.
Introduction to machine learning
With machine learning, you can teach a computer how to do a particular task by feeding it data. Eventually, the machine learning model will process that information and learn from it, growing more accurate with time.
[Related Article - AI, NLP, & Data Science. What Do We Use, and Why Should You Care?]
Deep learning, on the other hand, is different. The two are technically the same and work in similar ways, but deep learning possesses a different capacity and is a subset of machine learning. It uses 'Artificial Neural Networks' to make decisions without the interference of a human.
Instead of training a computer with data sets, as you would with machine learning, the computer is fed instructions, and an expected endpoint is defined. From the instructions provided, the computer will find the optimal way to reach that 'endpoint.'
There are many machine learning techniques. One of the most popular techniques for training a model is through a neural network. A neural network is technically a digital model of the brain that performs specific tasks.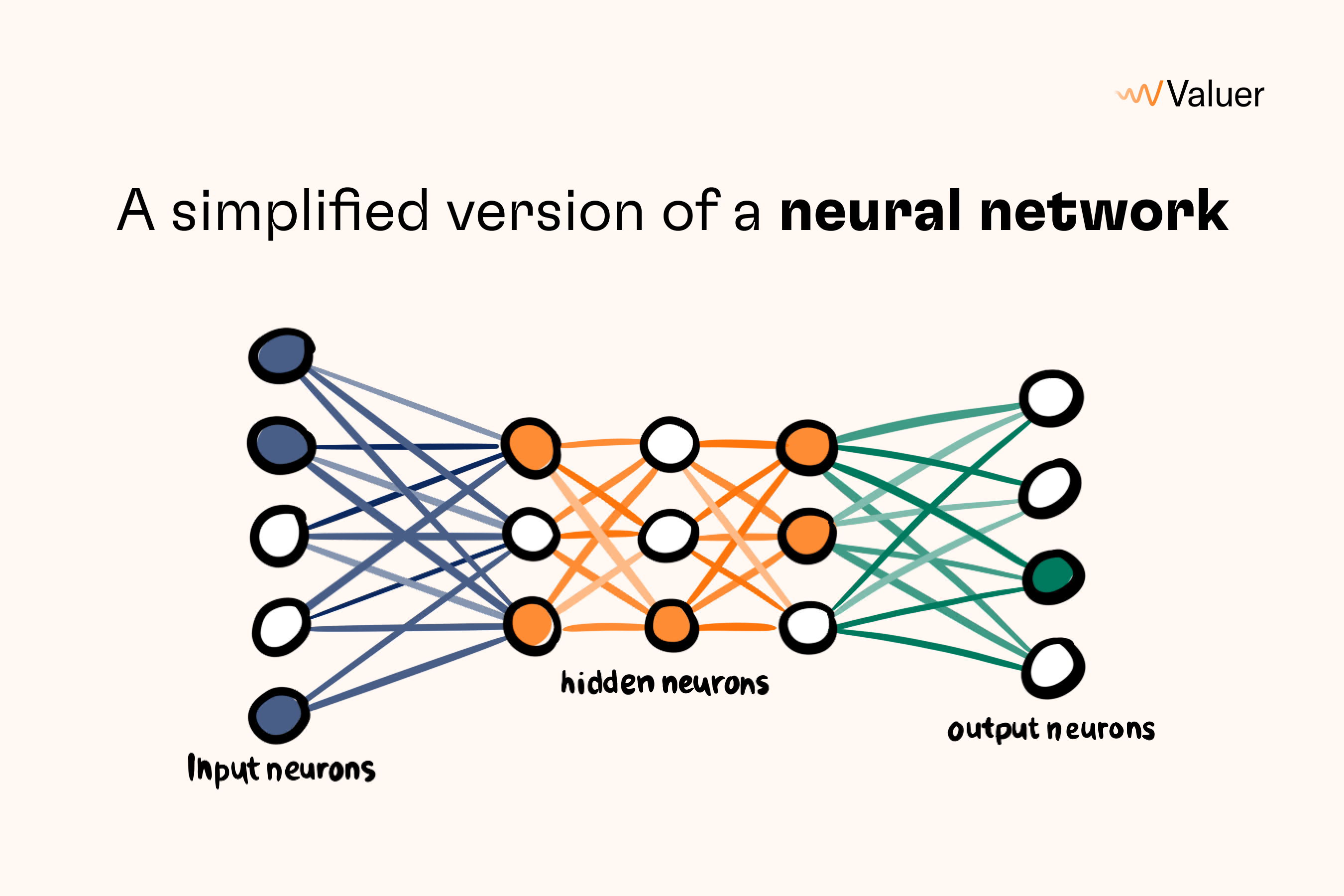 The more developed a neural network, the more powerful it is, and the better it will become at taking in information and processing it. Just like the human brain, it will retain this information and learn.
Neural networks can be combined to create multiple networks. This means instead of being able to perform one task at a time, a computer is able to perform multiple tasks at the same time.
For example, this is how a Tesla is able to control its speed, detect humans, and steer the wheel all at once. Without deep learning and multiple neural networks, this would not be possible. This case really highlights the benefits of artificial intelligence.
AI industries
There are three main factors driving innovation in AI tech:
The progress of machine learning algorithms

The huge increase in computing capacity

The troves of data that are constantly being produced and used to train machine learning models.
Some 60 years ago, AI was a theory reserved for academics and test labs. But today, it has become commercial. That being said, it's far from the point of surpassing human-level intelligence. Experts guess this could happen mid-to-late 21st century.
However, we're already interacting on a daily basis with AI tech. Voice recognition, self-driving cars, search engine precision, data analytics, and most important of all, your Netflix recommendations are just some examples of the integration and applications of artificial intelligence in our everyday lives.
Which are the top AI industries?
The top AI industries vary in size, with data analytics companies dominating the scene. This, in part, is attributed to the gaps left by large companies like Google Analytics. Cybersecurity and cloud computing are also on the rise in AI startups.

Startups lie on the cutting edge of innovation, experimenting with commercial uses for new technologies. In this sense, the increasing number of AI startups is hardly surprising.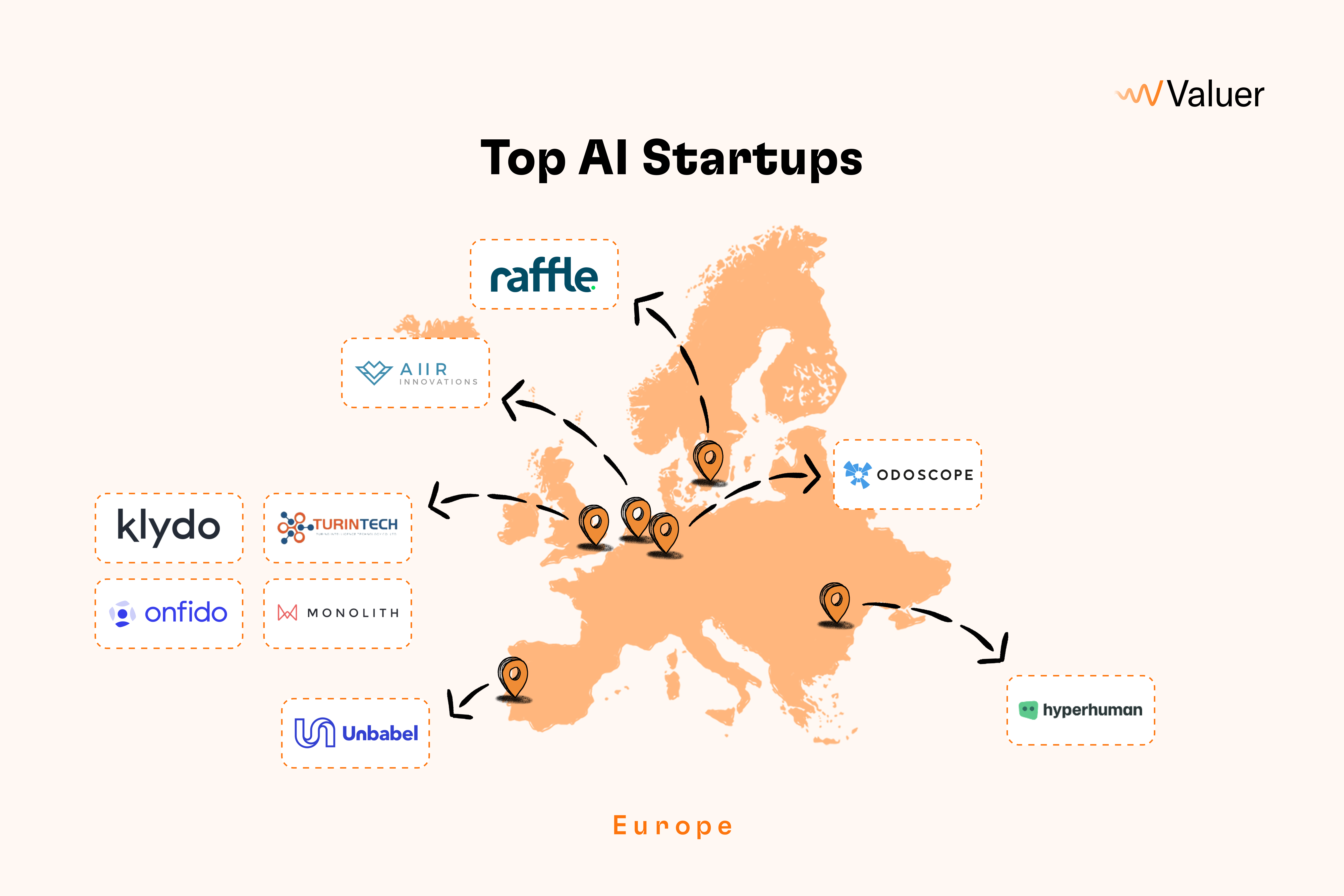 These artificial intelligence startups are filling in the gaps by creating new and innovative AI tech. Capital is plenty available for them as data analytics and automation become more crucial to businesses. The startups we're about to share with you are some of the best in Europe. We made a versatile selection to give you a good idea of all the different things you can do with AI today.
The best startups in Europe developing AI

---
Paris, France | incepto-medical.com
Incepto Medical is a Paris-based startup founded in 2018 by Antoine Jomier. The year 2020 was marked by increased private investments in medical AI tech, and Incepto Medical is one such company that has designed AI for the healthcare industry.

This startup has designed an AI platform that helps radiologists interpret medical imaging with greater accuracy and speed. With the use of deep learning algorithms, the platform's AI helps detect anomalies and lets professionals know which results are less favorable and need more of their attention.

Incepto Medical offers several applications that work with different types of imaging. This includes lung CTs, chest X-rays, regular X-rays, brain MRIs, cranial scans, mammograms, etc. Meaning individual medical imaging practices can reach out and get the software they need.
---
London, The United Kingdom | monolithai.com
Monolith AI, perhaps named after the extraterrestrial-made machines from Arthur Clarke's Space Odyssey series - which have their own take on AGI - was founded in 2016 by Richard Ahlfeld. The startup is headquartered in London, UK. Though young, the company has worked with giants like Siemens and Honda.

Monolith uses intuitive AI software to help engineers and R&D teams with product development. Engineers can make decisions with fewer prototypes, simulations, and tests because AI allows them to better understand and optimize their products with the help of forecasts.

According to the company's estimates, Monolith AI can help developers reduce testing and design iterations by 70% and reduce simulations by 90%. Monolith also has the capability to work with 3D data. No coding is required to use the advanced ML models and get data visualization.
---
Copenhagen, Denmark | raffle.ai
Copenhagen-based Raffle was founded in 2018 by Ole Winther and Suzanne Lauritzen. This startup uses AI to leverage corporate data and provide employees with the right information in a quick and easy way, making Raffle an Artificial Intelligence as a Service (AIaaS) provider.

Basically, Raffle's AI improves the accuracy and relevance of results to employee search queries. This accelerates the process of digitization, improves employee efficiency, shortens the length of onboarding, and reduces the need for customer support calls. Overall, this next-gen search engine boosts the satisfaction of both employees and customers.

Additionally, managers can use Raffle's insights to learn more about customer and employee needs and behavior. The AI software offers a broad range of integrations.

Aiir Innovations
---
Amsterdam, The Netherlands | aiir.nl
Over in the neighboring Netherlands - which isn't saying much because Europe is small enough - is Amsterdam-based Aiir Innovations. The AI-powered startup was founded in 2016 by Bart Vredebregt, Cassandra Loor, Fritjof Büttner, Jan van Gemert, Miriam Huijser, and Steve Nowee.

Aiir Innovations uses advanced, AI-powered software to increase the speed, efficiency, safety, and accuracy of aircraft engine inspections. The software connects to either live-fed or pre-recorded borescope footage. The AI then detects any potential defects, marks them, and delivers the results to a human inspector as a supplement to their own inspection.

The Aiir Innovations software provides users with a full report of the inspection that can be shared with other teams within the company. This can further help optimize workflow and collaboration between departments.

TurinTech
---
London, The United Kingdom | turintech.ai
Fan Wu, Leslie Kanthan, Lingbo Li, and Michail Basios co-founded TurinTech in 2018. The deep tech startup is headquartered in London, UK, and focuses on AI optimization across various industries.

TurinTech's scalable AI helps companies to improve models and codes with the use of multi-objective optimization. This can help businesses build faster-running AI more quickly. Plus, according to the company, multi-objective optimization reduces the carbon footprint of AI by 50%, which means it's also more sustainable.

Some functionalities beyond model and code optimization that are offered by the AI include code-free data ingestion, dataset visualization that includes custom features based on the type of data, and model selection and tuning.

Klydo
---
London, The United Kingdom | klydo.ai
Klydo was founded by Nick Schweitzer and Wai-chuen Cheung in 2015. The startup is headquartered in London. Klydo uses AI to provide product development or R&D teams with valuable insights. This includes rich user experience feedback with the use of advanced ML algorithms.

Basically, the AI and ML sift through user feedback like online reviews of apps or products and then provides details on the users' paint points and spots trends. In a way, this gives R&D teams both quantitative and qualitative data - what don't people like and what volume of users feel that way. In the end, Klydo's reports provide teams with actionable insights on how to move forward, improving the product and customer satisfaction.

Onfido
---
London, The United Kingdom | onfido.com
Onfido is a London-based startup founded in 2012 by Eamon Jubbawy, Husayn Kassai, and Ruhul Amin. This startup uses AI to help businesses confirm the identity of their clients in the virtual marketplace.

The way it works is that the AI tech matches a person's photo ID to their facial biometrics provided in a separate photo of themselves. This helps to speed up KYC and AML verifications and reduces manual effort on the part of human employees. In a nutshell, businesses can onboard more clients in a shorter period of time with the help of Onfido.

The tech is secure and private, so clients needn't worry about what happens to their data. Currently, Onfido has clients in multiple industries, including banking and fintech. The team behind the startup believes that one day, this tech could even be a part of voting processes.

Unbabel
---
Lisbon, Portugal | unbabel.com
Unbabel is an AI startup that helps businesses scale up and go global with their customer support. Unbabel is headquartered in Lisbon, Portugal, and was founded in 2013 by Bruno Prezado, Hugo Silva, João Graça, Sofia Pessanha, and Vasco Pedro.

Unbabel can be integrated with any digital channel for customer support. It combines AI with refinement from human agents to generate high-quality translations during support chats. In the end, Unbabel can offer companies fast and relatively accurate communication with their clients across the globe. The technology can be very useful for businesses that are looking to reach an international audience, as the AI offers translation from and into any language.

Odoscope
---
Cologne, Germany | odoscope.com
Odoscope is a Cologne-based startup that was founded in 2015 by Ralph Hünermann. The AI-powered platform provides online shops with detailed, real-time analysis of different kinds of product data and customer data. Essentially, the purpose of using Odoscope is to improve conversion rates.

The software uses prescriptive real-time analysis of vast amounts of information. It gathers internal and some external data on products - like stock and pricing - and customers - like behavior and socio-demographics. Based on this data, companies can improve the sort of recommendations they make to different target groups rather than treating all customers the same and thus increase sales.
The AI allows for personalization both for Odoscope's clients and those clients' own customers. Odoscope provides case studies of success stories on their website that show the efficiency of the software for different companies.

Hyperhuman
---
Bucharest, Romania | hyperhuman.cc
Hyperhuman is a relatively young startup that was founded in December 2020 by Bogdan Predusca, Dan Nica, and David Teodorescu. It's based in Romania's Bucharest. The startup has created an AI-powered platform that helps health and fitness professionals create and distribute video content online.
Fitness trainers, physiotherapists, and coaches already have their work cut out for them without having to learn video editing to provide users with training videos. Hyperhuman allows these professionals to quickly and easily create videos without having any tech, coding, or editing skills.

The platform also allows trainers to distribute the content across all digital channels and in any format. Once a video is created, they can share it anywhere without having to make any conversions themselves.
AI in the EU market potential
The United States and China are the leading countries in AI tech development when it comes to funding deals. The European Union, the third-largest economic power, is lagging behind.

That is not to say that they are not making advances. Quite the opposite. In fact, EU leaders have recognized the importance of AI. In 2020, the new European Commission made developments in AI a top strategic priority in the upcoming 5-year term. The same goes for the UK - although they're currently lagging behind, there are plans to make AI a priority in the next 10 years, hoping to rival the US and China by the end of that term.

However, as of yet, European countries are unable to translate their AI startups into the global market, with the exception of a few companies like Spotify.
International acquisition
In the not-so-distant past, many of the artificial intelligence startups in Europe had been acquired by international companies. Though governments are making strides to change this, the trend isn't over just yet. While Europe has the potential to become the largest AI market in terms of size and market value, there is one crucial factor holding them back - cross-border purchasing.

China and the United States have the advantage - they are not held back by national borders or currencies like Europe. Each country holds different policies in regard to data. This makes purchasing digital services between European countries far less common.

And from sector to sector, the adoption is dispersed too. Generally, some sectors are further ahead, for example, financial services, media, and tech. Public sectors, fragmented sectors, and asset-heavy sectors are lagging behind. According to the McKinsey institute's 2021 global survey on the state of AI, the highest increase in AI adoption was by businesses in emerging economies, such as China, North Africa, and the Middle East. From 45% in 2020, 57% of respondents in 2021 reported AI adoption in their workflow.

However, while European countries can't compete alone in the global marketplace, several of them - including Switzerland, the Netherlands, Sweden, Finland, Germany, Ireland, the UK, France, Denmark, and Austria are in the top 15 countries in 2021 in terms of AI talent and investment based on GlobalData's index.
The AI market will only continue to grow. In fact, there are estimates that its price will increase by 20.1% between 2021 and 2029. And for the EU to fully tap into its potential, there are a few steps to take.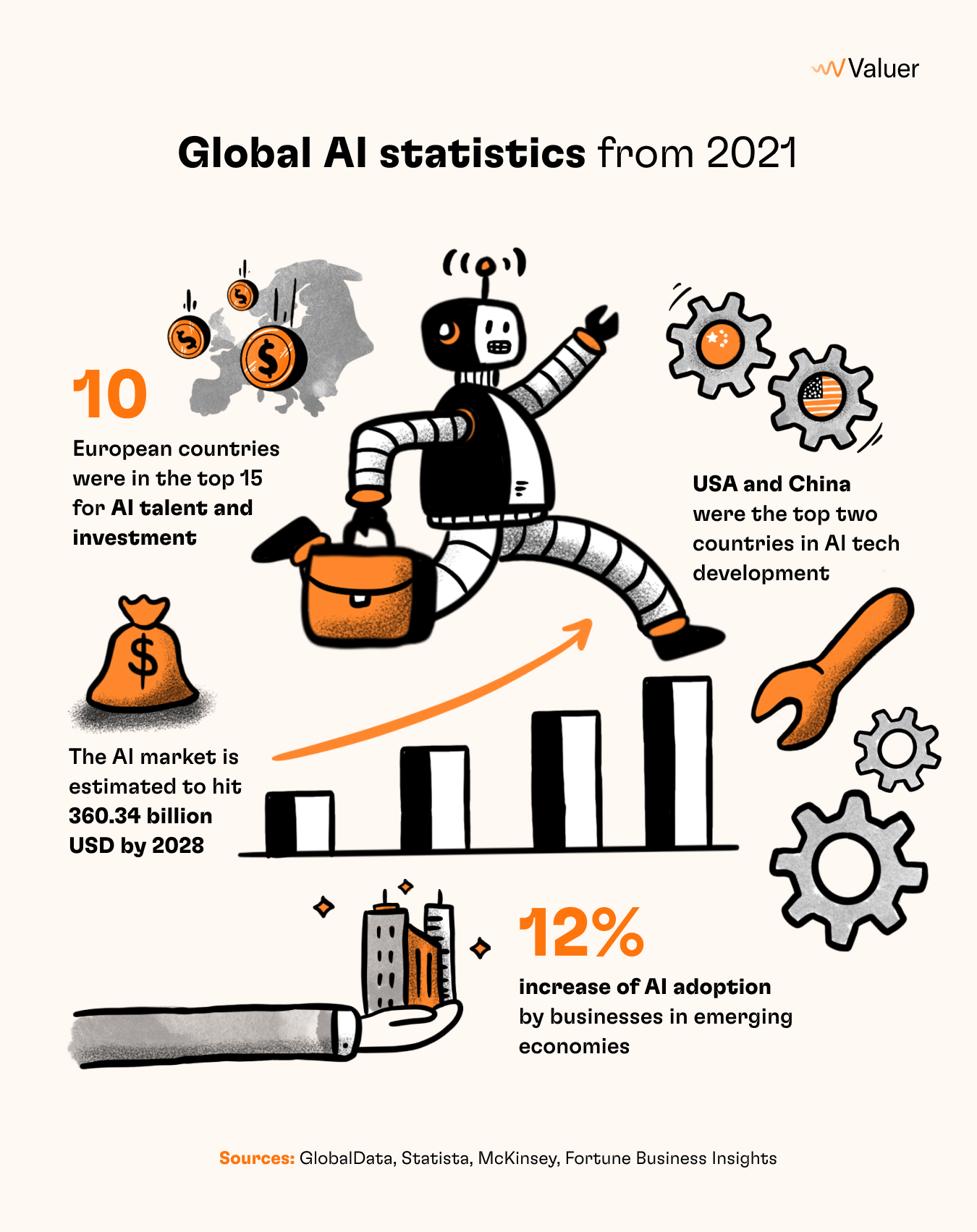 - Set targets
Governments need to set realistic targets for public sectors and therefore set an example for other sectors. The European Commission's decision to prioritize AI has been an important step in the process.
- A Digital Single Market
Creating a Single Market for digital companies will make it easier for companies to scale across European borders (introduced in 2015). Steps have already been taken, for example, the abolishment of mobile roaming charges in the EU in July 2017 and GDPR in May 2018. The Coordinated Plan on artificial intelligence from 2021 is another milestone in removing fragmentation between member states and addressing global challenges together.
It's an important part of the EU's plan to become a global competitor as a more unified entity. On the other hand, EU states have yet to agree on geoblocking (portability of online content across borders), the free flow of non-personal data within EU borders, and what regulations would surround the establishment of a European High Computing Joint Undertaking.
- Investing
Investment in more experimental AI will help boost the ecosystem. For example, support for early-stage companies regarding access to capital and incentives. World leaders, such as Merkel and Macron, have also stressed the importance of measures that support investment in AI tech.
- Support education
Better relationships between businesses and universities to ensure the continued growth of talent in the EU. This is also covered in the Commission's proposal, which includes a Digital Education Action Plan that would support the use and development of technology in education.
- Support grass-root initiatives
R&D differs from nation to nation, and especially between countries. Initiatives like CLAIRE and ELLIS look to solve this issue by seeking European research networks. These initiatives, along with other nations' action plans, intend to prioritize investment in AI startups. This will be imperative as the EU could restrict Chinese investments in critical European technologies.

It's an opportunity for companies to seriously enhance their performance capabilities and have a competitive edge. It will massively increase productivity within workplaces, improve data analysis, and could provide entirely new solutions and possibilities for companies.
Investment in AI
In 2019, Europe housed around 1,600 early-stage AI software companies, a number that increases when you consider middle-stage startups. The United Kingdom remains the dominating force in Europe, with London taking the lead as the home to 61% of all AI startups in the country, followed by Germany (Berlin), France (Paris), and Spain (Madrid). The UK, France, and Germany have made investments in AI a top priority, and it is likely that other European countries will follow suit.
The European Commission, AI-focused legislation, and investments
A few years ago, the European Commission (EC) proposed legislation to open up data held by public sectors like transport and healthcare. This was a strategic move to bolster investment in AI tech.

With a growing sector, the EC has noticed the need for support to increase the growth of these early-stage companies. In 2018, they pledged an increase in annual investment in AI by 70% to €1.5 billion under the program Horizon 2020 (for innovation and research).

However, in 2021 the EU fell short by some €10 billion in annual investments falling behind in the global race for AI and blockchain development. Now, the US and China account for 80% of total equity investments in these two technologies for the year, as the EU only accounts for 7%, with investments totaling around €1.75 billion per year.
On the other hand, as various index reports have shown, Europe has a talented workforce and a good amount of research done in the AI field. The EU27 and UK combined have 1,727 SMEs (small and medium enterprises) in total, which is more than China's 1,418. It's still less than the US's 2,995, but not all European countries are included in that 1,727.
Moreover, the IDC's (International Data Corporation) guide for worldwide AI spending estimates European spending on AI systems to grow from $17.3 billion in 2021 to over $50 billion by 2025. This implies a compound annual growth rate of 26.7% during that period. While this is more on AI adoption by businesses than investment in startups, the two go hand-in-hand. If interest in a particular technology increases, so will investments in its development.

The recent proposals of the Commission are likely to prevent the EU from losing a competitive edge, and avoid brain drain, as some of the top academics in computer science have been educated in Europe, but many have left for jobs abroad. There's also the likelihood of restrictions in foreign countries purchasing local startups, as we discussed above regarding China.
AI, is it the end of us? Pros and cons of artificial intelligence
There are two types of artificial intelligence that are worth mentioning - narrow and general. We've created Artificial Narrow Intelligence (ANI). And it's programmed to handle a specific task, and extremely well.
Alpha Go Zero: a sneak peek of what is to come
One example of ANI is AlphaGo Zero. This deep learning algorithm was created to play the game Go. Go is the oldest (3,000+ years old) and most studied game in human history and stands as a great example of how far we've come with AI.

AlphaGo, the first version of this algorithm, was originally trained with classic machine learning approaches of supervised and reinforced learning using human data sets. In English, that means the algorithm was taught to Go by humans.

The second version, AlphaGo Zero, was trained differently. They removed all human interference from the process and instead fed the algorithm the rules of the game.
AlphaGo Zero played only against itself and beat the human-taught algorithm in the ancient game 100-0 in just 40 days. It also created entirely new moves unknown to humans. Now, keep in mind this is only narrow intelligence, and it has already surpassed human-level intelligence, even if only in one area.

Then there's Artificial General Intelligence. We're not there yet. But this hypothetical intelligence would be capable of surpassing human-level intelligence and an ability to think freely and flexibly across different areas. Think Hal from the 2001 Space Odyssey but ideally much less homicidal.
It is this form of AI that some people are creating a fuss over. This fear of AI is partially the reason why policymakers and the public have shied away from AGI tech.
Why is this bad? And what are the dangers of artificial intelligence?
The fear creates a barrier that's stopping us from adopting this new technology wave. AI tech, throughout history, has proven to substantially increase the productivity of nations, thus creating jobs. But instead, we all too often associate this technology with a malevolent robot that is coming to take our jobs, or in Hal's case, our lives.

Instead, the real threat comes from the misuse of this technology. Take China and America as an example. Warfare funding, monitoring of citizens, and lack of data privacy are just the start. But it's not just them. There are also techies on the other side that are further complicating the so-called "post-truth" era by introducing deepfakes using AI.

There's a long-standing debate on the dangers of AI, some which are quite far-fetched and fatalistic. For now, we can say that the matter is complex as AI involves so many different sectors. Autonomous weaponry is one extreme example. Social manipulation and privacy are another. Does Cambridge Analytica ring any bells or China's social grading system?
Still, AI tech will - and already has to a certain extent - make our lives more convenient and efficient in less malevolent sectors than war and governmental monitoring.

But the EU is taking the necessary steps to ensure that they are paving the way for a responsible and exemplary path, minus a few hiccups along the way. GDPR is the first of many policy changes put in place to ensure the safety and correct handling of data.
---
Best AI startups in Europe wrap-up
AI is completely transforming the way that we work and the future of various industries. Machine learning and AI are helping companies to streamline processes in retail, transport, finance, and many other sectors. Processes that were otherwise tedious and repetitive for humans are now being replaced by AI tech, allowing us to use our time in the most optimal way. In a nutshell, there are a lot of reasons to be optimistic about AI.
Maybe Europe will never become a dominant player in AI, but it could become a driver of change. The current dominating markets are far from perfect, and AI is often used to monitor its citizens, like in the case of China, or track and ignore the privacy of their data like in the US. And both China and the US are investing significantly in autonomous weaponry.

If European countries, specifically the European Union, followed clear ethical guidelines in the development of AI, they could take this opportunity to shape their market into a role model for a transparent ecosystem that benefits its citizens.