Pricing & plans
Choose a plan that's right for you
?
Amount of users / subscription
1
3
7
Custom
?
Create a radar and monitor your favourite companies, technologies and clusters
1
3
10
Custom
?
Use credits to buy and unlock bespoke research.
3
8
20
Custom
Company Specific Research (e.g. business model, product/service model) - 1 credit
Technology Research Paper - 1 credit
Purchase additional credits (100 EUR / credit)
?
If you run out of credits, you can top up your credits
?
Our AI will comb through the database and generate a list based on your specific criteria
?
Search for a specific company and get a list of others similar to the ones you're searching for, just by using a name or description
?
Get your industry overview and uncover how companies and sub-industries intersect within any industry you're curious about
?
Get deeper insights into various technological fields and applications
?
Share results, research papers and more with your colleagues
?
Various levels of support for every need
Custom
Access to tips & tricks
?
We will regularly post news, updates and tricks on how to get the most out of our product
Ticketing support
?
Ask a question and we'll answer as soon as we can
24/7 support
?
If you need us to answer immediately
Dedicated Account Manager
?
If you prefer having someone close to you and your business at all times
?
Whether you're a one-man band or an army, we can cover for you
-
Some
Unlimited
Unlimited
?
A library of resources and services you have access to
Some
Some
Most
Unlimited
Free "generic" SDG and industry research papers
?
Once in a while we publish research papers. He're you can see them
E-books and forecasts
?
Once in a while we publish ebooks, industry forecasts and more. Access here.
coming soon
Start-up match facilitation
?
If you want us to faciliate introductions, let's do that
Book industry experts and meetings
?
We have a variety of industry, technology and cluster experts. Book meetings to learn more.
Partner access and facilitation (e.g. consultancies, venture builders etc)
?
If you need help to build, buy or try a technology, company, we've teamed up with the industry's finest to help you do that
coming soon
?
You have a specific set of data you want our platform to include? We can built that bot for your and include in your data stream.
-
-
-
?
You are likely a larger enterprise and require Single-Sign-On to allow users on the platform. We cover that.
-
-
-
?
You want to be able to audit who does what when? We can handle that for you.
-
-
-
?
End-points that can work with your systems.
-
-
-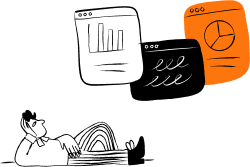 FAQ