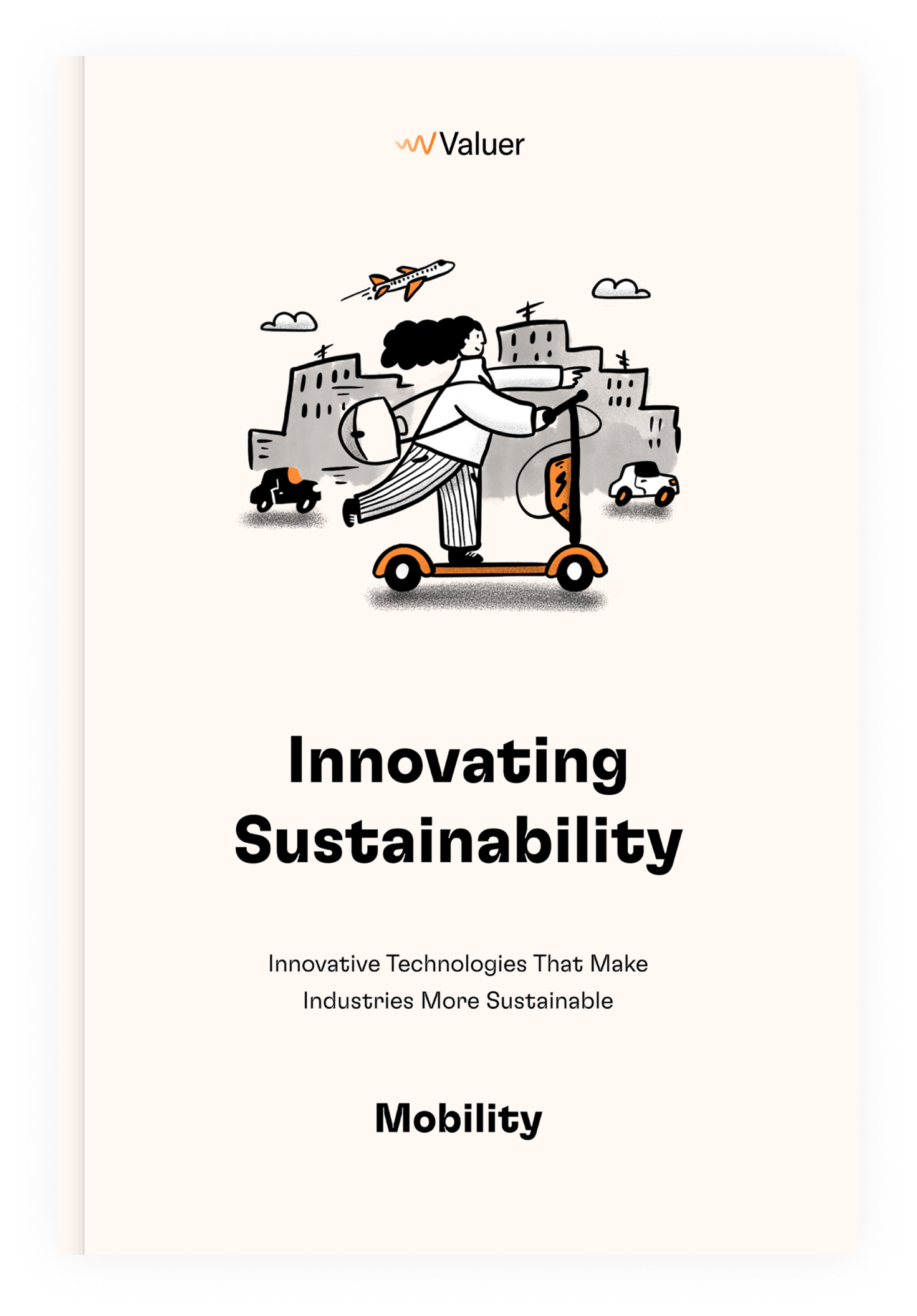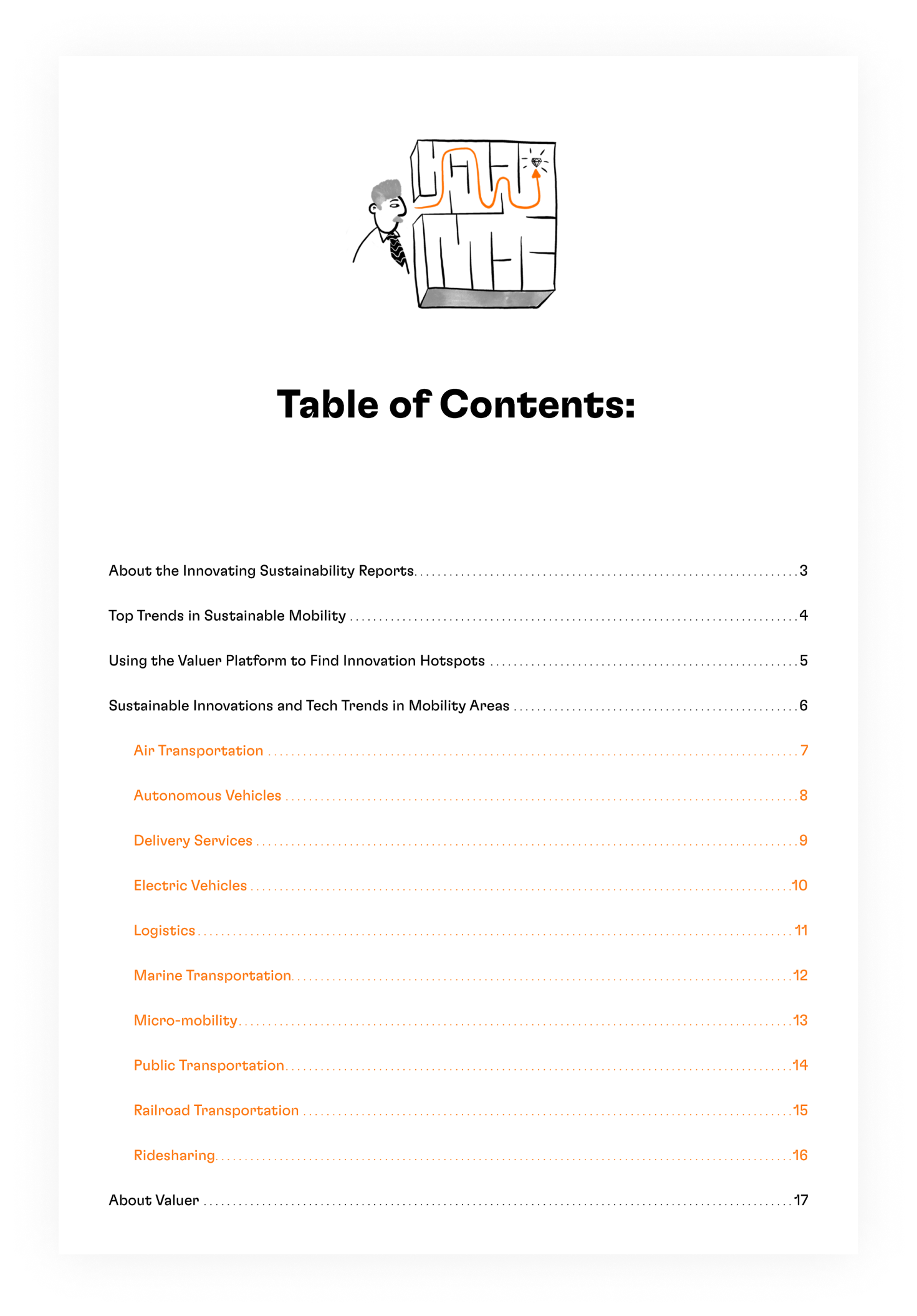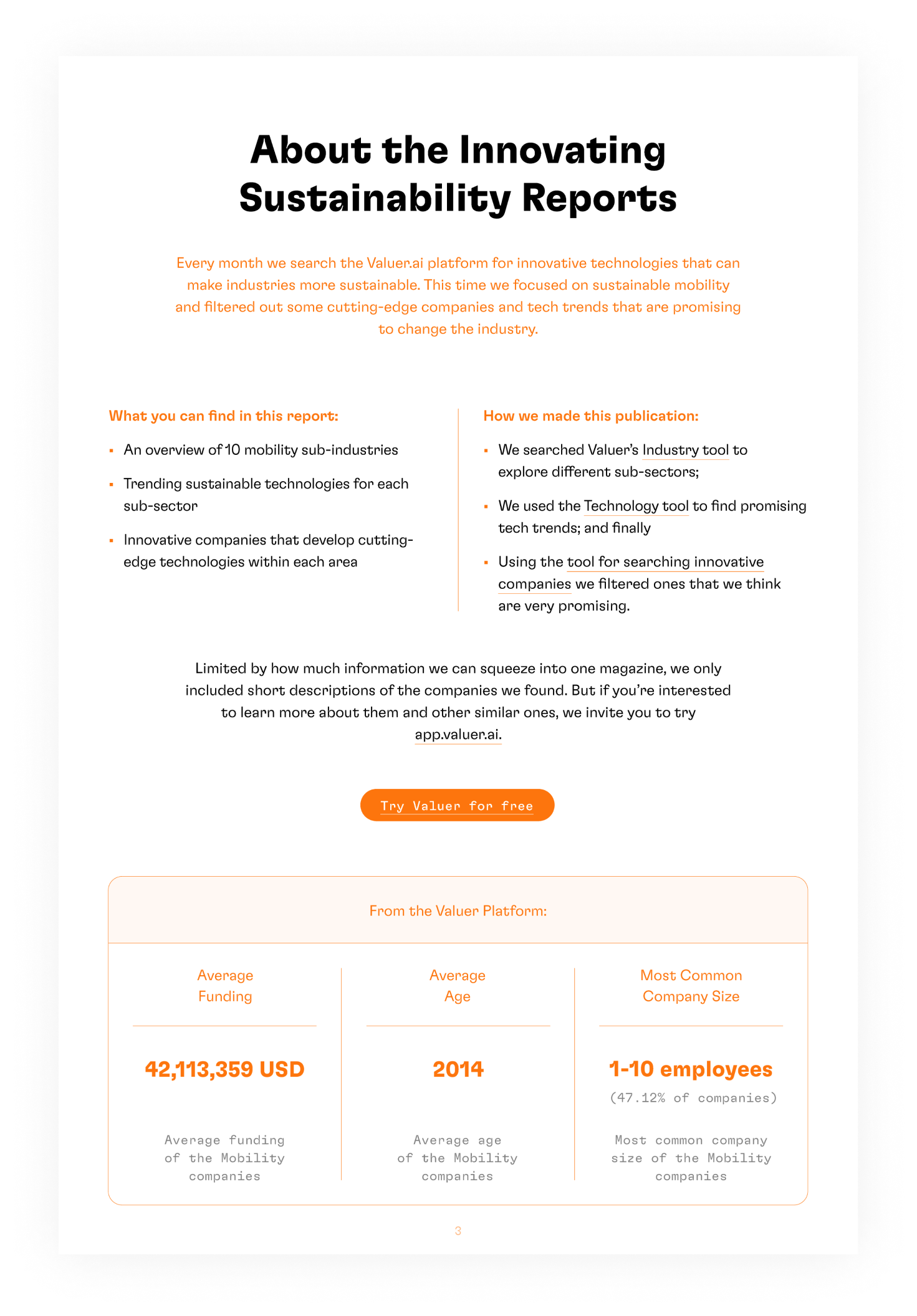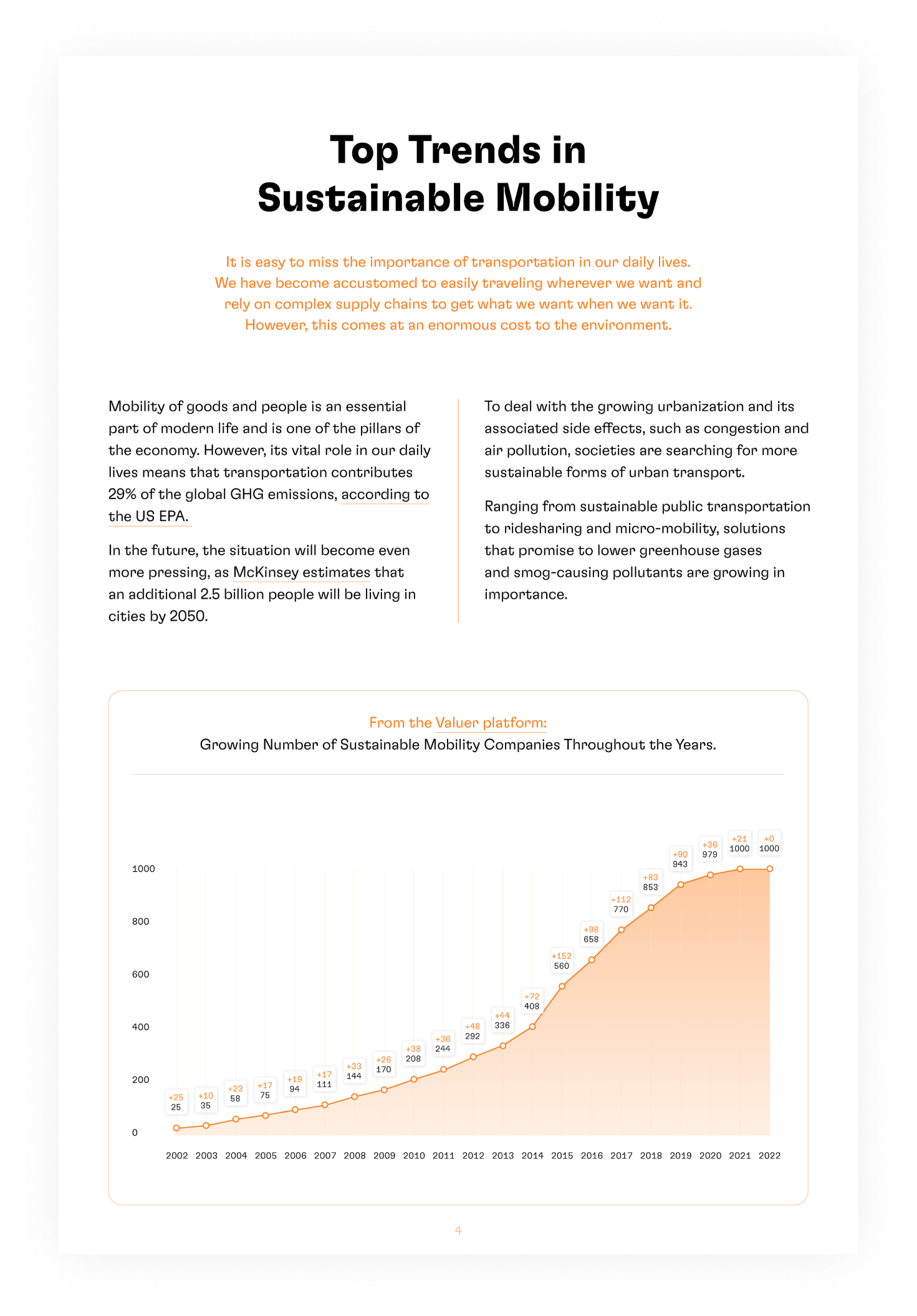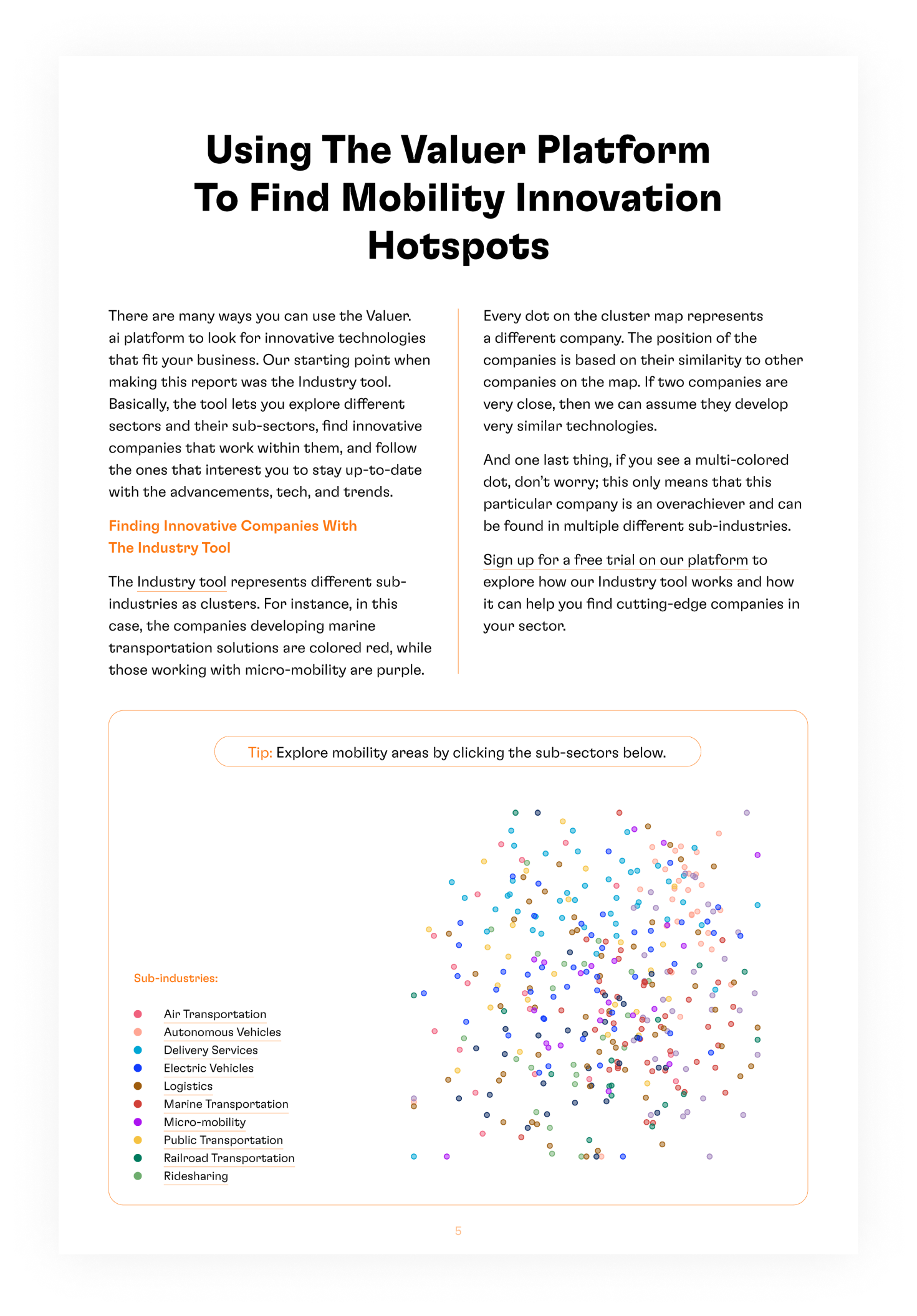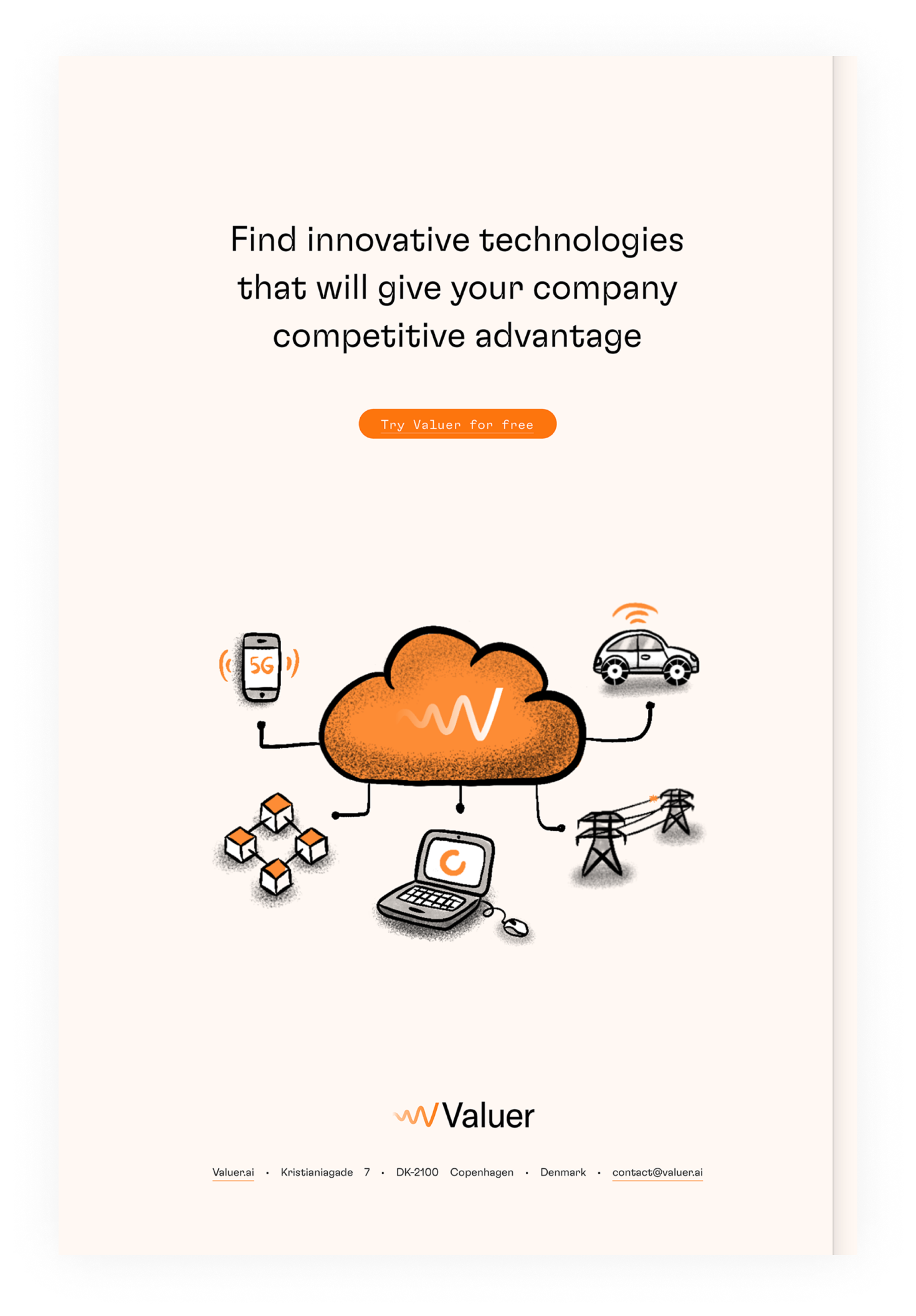 Innovating Sustainability - Mobility
Estimates predict that urban population will grow by an additional 2.5 billion by 2050. The strain on infrastructure and the ramifications of this large population jump in the coming future poses a serious need for robust urbanization solutions. Innovative and sustainable technologies and solutions in mobility are set to ease some of these massive burdens and help to cut emissions within the new urban landscape.
3
Using the platform to find innovation hotspots
4
Sustainable innovations and tech trends in Mobility
5
Technologies and companies
The quest for sustainability can unearth vast organizational and technological innovations across virtually every industrial sector. That quest has already begun to take shape and is constantly evolving and transforming the competitive landscape. Companies are redesigning their products, adopting new technologies, and changing their processes and business models.
Valuer's Innovating Sustainability report is a series of publications that highlight important market trends, opportunities, and challenges. By equating sustainability with innovation enterprises will be able to lay the groundwork to come out on top on the competitive stage.
Aligning business
Startups are invaluable sources of innovation and knowledge, which is why many large corporations are actively seeking new partnerships. New business models, including startups, bring forth new opportunities in identifying and commercializing innovations, solving important business problems, and bringing novel ideas into their business.
This report highlights how mobility trends are shifting towards alternative practices and innovative technologies that will transform the industry. People around the world are becoming increasingly concerned about the future health of the planet and bringing about a growing momentum towards making clean, affordable, and reliable solutions from both a political and investment priority.
How Valuer applies its technology
Valuer's data-driven platform provides an end-to-end innovation pipeline to help corporations, accelerators, VCs, and businesses alike discover disruptive technology, market opportunities, and innovation.
Valuer's extensive database of companies, powered by machine learning algorithms, can match customers at the different stages of the innovation workflow. The platform also provides extensive insights into a select industry, allowing you to explore and discover new technologies, market opportunities, and innovative business models.