Growth and data security are among the most significant aspects of running a modern business, regardless of its size, industry, and geo-location. These are simply responsibilities that every business owner must tackle with top-tier solutions and treat them as top priorities. Modern business models demand staying up to date with the latest trends, in terms of both running a successful business that generates high revenue and taking proper care of data protection.
Luckily, the latest cloud-based and cloud-native technologies have changed the business landscape in such a way that companies are now en-masse migrating to cloud infrastructures that offer high scalability and room for easy growth. However, this new lay of the land also involves certain data security risks. This is why being able to scale up your success, as well as protect your and your clients' data, should be at the top of the priority list of any person running a serious company.
To improve the performance of your workflow and stay ahead of the curve (and direct competition), deploying business growth and data security solutions is a must. Especially now, when information has become the main lifeblood of the current business landscape.
With that said, let's take a closer look at some handy solutions you can implement in order to achieve great results, tackle in-house management bottlenecks, and secure your most valuable data.
[Related Article - How can Companies Protect Customer Data?]
Customer relationship management (CRM) tools
You likely run a company that deals with some kind of customer. Whether they are online shoppers, users, regular clients, or other businesses that you cater to, the interaction between them and your company is among the most valuable aspects of running a successful business. The quality of your communication with the clients can often be directly proportional to the quality of your service, and - ultimately - your overall ROI.
However, this can be a rather tricky and convoluted task permeated with various gaps and bottlenecks. Managing these interactions and communications, as well as gaining actionable insights into potential improvements, is exactly what CRM systems and salesforce CRM tools offer their users. When implemented in an effective manner, a salesforce CRM tool enables you to streamline and monitor customer interactions.
It provides you with an improved way of managing and accessing customer data, controlling leads/conversions/sales pipelines, optimizing financial opportunities, gleaning analytics-based and performance data, etc. These systems tend to be quite user-friendly, easily integrated, and fairly affordable, which can be a must especially among younger companies that seek cost-friendly solutions.
E-learning and virtual training platforms
Your employees, their happiness, and their own progress are just as important as your clients' satisfaction. They are both two sides of the same coin, which places employee training at the very top of your priority list. If you want your business to grow, the very people who make that company what it is must do the same.
Keeping your team members' skillset top-tier and making sure all of them are as tech-savvy as possible is the secret to a successful company and a healthy modern workforce. However, this can be an unattainable and quite hefty process for many, specifically in terms of resources and budget relocations.
Staff training is typically a big investment and not all businesses have the resources to implement the same methods. This is exactly where virtual training platforms and online learning platforms and tools come into play.
E-learning software for employee training is a profoundly useful solution for those with limited budgets. The impact of e-learning platforms are numerous: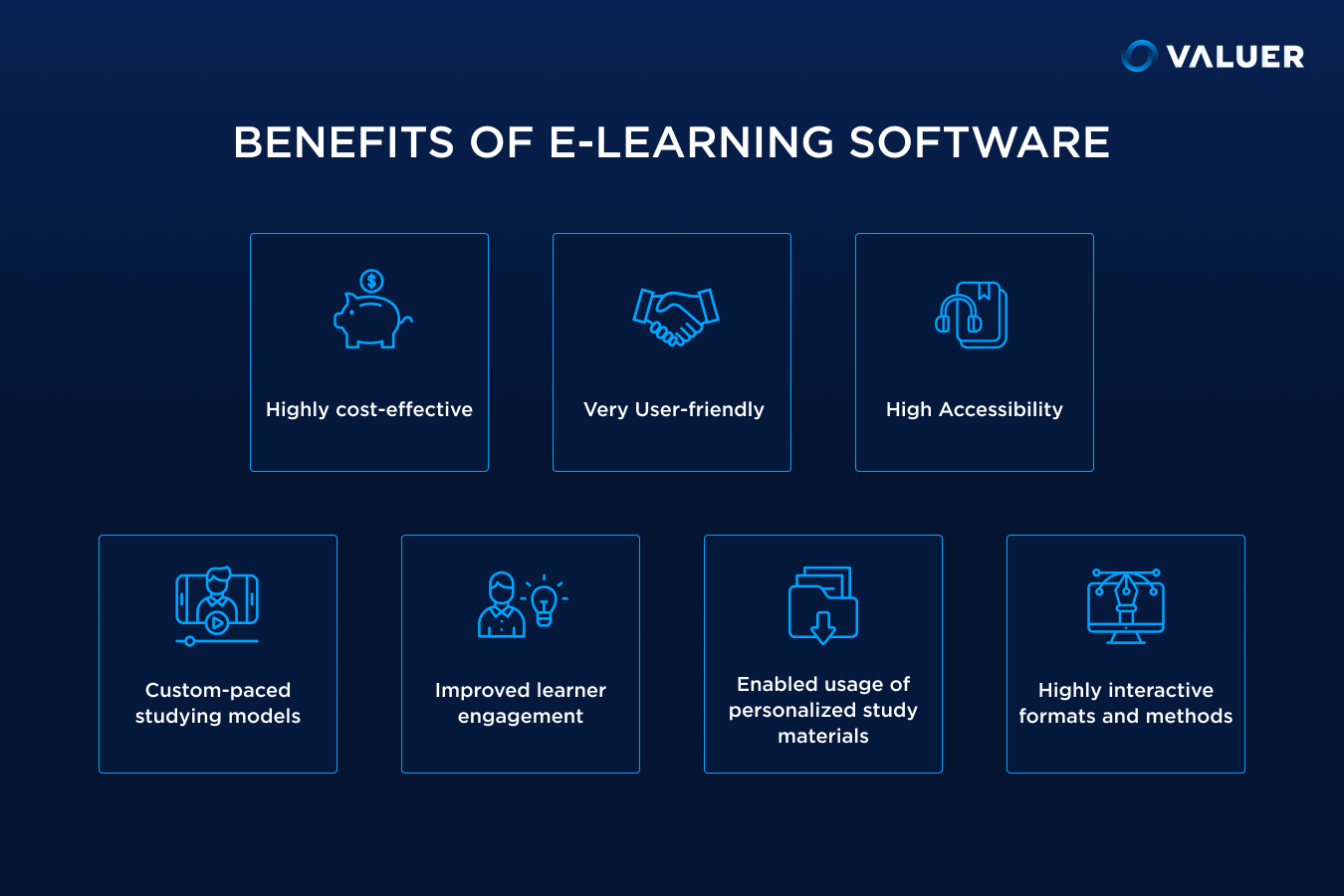 All these advantages account for an extremely effective learning environment that most businesses can benefit from.
Network, infrastructure, and cyber security technologies
Implementing a robust cyber security system is paramount. You need to think about security on two separate levels:
1. The protection of networks and your very infrastructure.
2.The protection of data in a more granular manner.
The complexity and sturdiness of your data security technologies impact both - how attractive your business is to hack into and how penetrable your cyber security systems actually are. Hackers tend to seek the paths of least resistance, and the more time and effort they need to spend on breaching a company's architecture, the less likely they are to actually do so.
When you take into account that 9 out of 10 businesses that experience critical data loss fail to recover during the following 12 months, the gravity of having a suboptimal network and data security systems becomes quite evident. Having proper network security, including data and infrastructure encryption, as well as other communication channels, mobile devices, backups, and email protection, should be among your highest concerns.
Email archiving solutions
It is no secret that most businesses use emailing platforms as one of their main communication channels. Emails tend to hold various types of information and are often the main point of entry with cyber breaches. They need to be optimized in terms of storage, management, protection, and archiving, which is where the deployment of email archiving solutions comes into play.
So what is Email Archiving Solutions? It mainly helps your IT department manage and structure this ocean of information properly, as well as provide a myriad of other benefits:
Storage Cost Optimization - Email archiving can help your company reduce the use of servers, storage space, and assist in the optimization of monthly resources minimizing overhead.
Compliance Automation - This arduous and time-consuming process can eat up a lot of your resources and lower the productivity of your IT department. Switching to an efficient email archiving solution takes care of these issues, obviates manual work in terms of compliance to a necessary regulatory framework, and leaves more room for innovation.
Data Recovery - Critical data losses happen all the time and these disaster events are always a potential risk. Utilizing email archiving allows you to have peace of mind as all the information, docs, files, and metadata are safely and optimally archived. But more importantly - they can be easily accessed and restored when needed.

If the events of 2020 taught us anything, it is that a vast majority of us can work remotely without any major hiccups or workflow bottlenecks. Now, this type of working environment requires a lot of conference calls and online meetings, which means that you need a reliable web-based teleconferencing SaaS tool that would enable your team meetings, as well as your meetings with clients, to be smooth and uninterrupted.
Wondering what are the best free online teleconference options? Here's a handy article listing some of the most widely used platforms (other than Zoom) that should help you find the best teleconference service for your needs.
Inventory management system software
Inventory management is quite relevant and beneficial for any company that seeks a way to sort, store, and keep track of both physical and digital inventory, as well as all the ingredients it involves. The organizations that deploy effective and optimized pieces of inventory management system softwares are capable of automating their inventory routines, as well as making sure they have all the pieces of their inventory puzzle with the right content available and accessible on time.
Implementing a scalable inventory management system across your infrastructures (including back offices, accounting, and other similar operations) allows for a more secure and effective implementation process. This enables your team and employees to eliminate human error from their everyday workflows, improve innovation and productivity, make better and more data-driven decisions, provide services to clients, as well as minimize labor costs.
The strong and adaptive mindset
Ok, this doesn't technically count as "technology", but it is certainly just as critical. No modern technology can be utilized in optimally beneficial ways unless those who are installing and deploying it are avid enough (in terms of both skills and mindset) to fit the task. Those who run companies in a proactive and revenue-friendly way do one thing similarly - work on their employees' capacity to keep up with system innovations and help them absorb and overcome scenarios in which shock and disruption are an inevitable constant.
Much like how systems can (and should) be tested regularly, top-tier CEOs review the portfolios and preparedness of their employees as well. This is done in order to uncover knowledge gaps and determine which assets may be susceptible to risky behavior in terms of the safety of sensitive data, for example. This is where a strong, agile, and adaptive mindset comes into play as all the assets across various departments and functions should be sufficiently empowered to make educated decisions that would correct any potentially risky situations.
This, however, calls for strong and inclusive leadership, along with an environment in which all teams and units are capable of sharing information with equal responsibility, instead of simply securing it to extremely limited accessibility in terms of decision-makers.

Business growth, data security - along with credibility and prosperity - are all closely intertwined in a rather complex ecosystem of mutually dependent concepts and those who are looking for ways to run a business long-term must not underestimate either of them. Security, however, should perhaps be seen as the prerequisite and preventative measure for ensuring revenue, growth, credibility, and prosperity. Investing in security means securing the foundation of future growth.
However, reshaping your business model is no easy task, I mean Rome wasn't built in a day, but they also did not have access to powerful AI-driven algorithms either. Luckily, we do. At Valuer, we want to help expand your business into new avenues that were previously off your radar.
If you need help to reshape and invest in data security or workflow issues, we got that covered. Our powerful algorithm can help map out new and innovative areas and ideas for your company. The innovative marketplace can feel like a dark and lonely place, but we are here offering that helping hand, so let's grow together.

Guest Author: Damian Alderson is a business consultant and a freelance blogger from New York. He writes about the latest tech solutions and marketing insights. Follow him on Twitter for more articles.