The current trajectory
Surviving as a company is getting harder and harder. The lifespan of corporations keeps dropping. According to Innosight, The total 33 year lifespan among S&P 500 firms in 1964 shrank to 24 years by 2016. Moreover, their report predicts that by 2027, the average tenure will decline to just 12 years. Value has been redefined in the past several years through innovation, which has transformed companies in many ways. You can find Valuer's review of the 100 most innovative large corporations of 2019.
Through today's fast-paced economy, companies need to remain competitive to thrive. To win the competition and stay relevant for the modern customer, corporations and companies need to innovate. Only organisations that put the focus on technology innovation can survive.
The world's most innovative companies and corporations made it to the Boston Consulting Group's (BCG) list of the top 50 most innovative companies for 2020.
To create this list, BCG considered four dimensions:
-Global "Mindshare": Votes from innovation executives.
-Industry Peer Review: Votes from industry executives.
-Industry Disruption: A diversity index (Herfindahl-Hirschman) that measures votes across industries
-Value Creation: Total share return with share buybacks from January 2017 through December 2019 included.
-According to the survey, only one-quarter of companies are not 'walking the walk' on innovative strategy.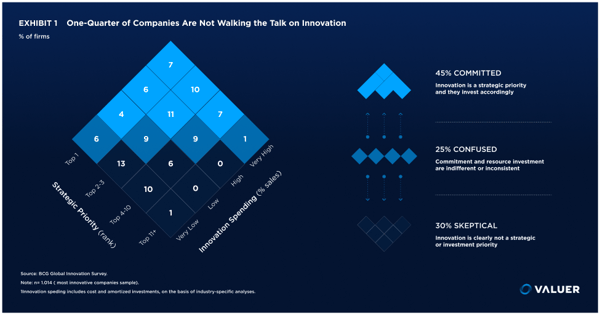 In this article, we look at ten most interesting and innovative corporations from this list: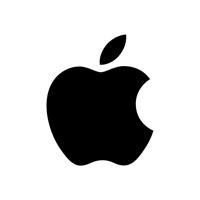 Founded 44 years ago, Apple is the world's most valuable company and one of the most innovative corporations out there. The tech giant built its position on a legacy of inventions that transformed people's daily lives. From the leading position in the personal computer revolution in the past century to the recent boom of smartphones, Apple has created some of the bestselling tech devices. What's more, they've opened up doors to new markets and innovations and have become the symbol of modern lifestyles.
This March, the organization returned from its low-point pandemic position. This year, its shares are up over 44%. According to the last data, the world has over 1.5 billion active Apple devices.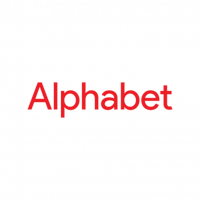 Established in 2015, Alphabet was created by Google co-founders Larry Page and Sergey Brin to support Google's web-based properties. Moreover, the company encompasses various innovations, like driverless cars, and high-speed Internet. Larry Page refers to Alphabet as a "collection of companies," where the largest is Google. He explains that the company's model is to have a strong CEO for each company, with him and Brin advising them when necessary.
Alphabet effectively divides profitable Google companies like YouTube and Google Search, from their riskier, creative ventures. When it comes to the costs Google devotes to these new ventures, this model keeps shareholders content. Some of Alphabet's primary focuses include Google X, Calico, Nest, Fiber, etc.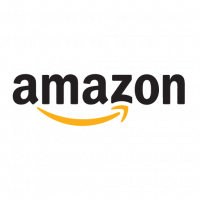 Amazon is one of the companies that have changed the world. Amazon has evolved a list of guidelines and cultural practices through experimentation, booms, and collapses to keep its growth engine running.
Their best practices include engaging consumers, eliminating rivals one by one, flattening out business markets, and transforming industry after industry. The innovative corporation has done this with several sectors, like book publishing, e-commerce, personal devices, cloud infrastructure, healthcare apps, and many more.
The company, which started from a Seattle garage in 1994, drives its innovations from the top, cherishes ideas as valuable assets, embraces failures, and invests in students who have aspirations to become innovators.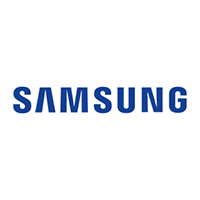 Samsung is a leader in TVs, screen technology, chip design, batteries, smartphones, and many other areas. With its Galaxy series, this innovative corporation has created a rich technological heritage and influenced the mobile experience for hundreds of millions of users worldwide.
It's clear that the company strives to patent its innovations. Ever since its beginnings when it competed against Toshiba in household machines, Samsung went after patents in areas that seemed impossible. The technology giant has always been focusing its research strategies on pursuing fresh patentable innovations on its rivals' territory.
One of the most critical decisions that led the company to success was to design in-house instead of hiring outside designers. This created an army of brilliant designers who pursued innovation through three tools—empathy, visualization, and experimentation.
An example worth mentioning was the company's announcement from 2016 when they reported that they wanted to shift towards a startup-oriented culture. After loud criticisms for its rigid working culture, Samsung decided to create a more open working environment, allowing employees to have a better work-life balance.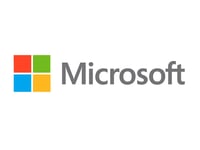 One of the most innovative corporations in the world is in part thanks to the leadership of CEO Satya Nadella. Microsoft has transformed on many levels to become much more than the company that revolutionized the PC use in the past. Microsoft listened to the market and started adapting. Instead of revolving only around Windows, the company began developing sophisticated apps for iOS and Android. Further, they invested in AI and promoted bots as a part of modern programming practices.
Some of Nadella's critical principles of leadership has been his insistence on simplicity and open design. This made Microsoft's products accessible to the one billion individuals around the globe who would require extra support just because they are capable differently. For example, they designed the Xbox Adaptive Controller for users with limited mobility capabilities.
Another excellent example of Microsoft's innovation is its capability to develop its hardware to promote its software. The company's AR headset called HoloLens can take you on a journey through Windows 10.
[Related Article: How to Build an Innovation Department]
JD.com, or as some say, China's Amazon, started as a brick-and-mortar store back in 1998. However, now, the company has ambitions to become the world's largest e-commerce marketplace. JD's CEO, chairman, and founder, Richard Liu, is confident that his company will be fully-led by AI and robots one day without the need for human intervention.
And, this is not the company's only aspiration. The race between JD and other giant online retailers such as Amazon and Alibaba lies in creating the e-commerce infrastructure of the future. To win this game, JD leverages technologies such as AI, big data, and robotics.
The company has partnered with Fung Retailing to build an AI-powered research center that will leverage technology to create an end-to-end e-commerce solution that will cover the entire supply chain process.
Next, JD cooperates with Zebra Technologies and Digital China through a lab that develops e-commerce logistics and IoT-based solutions that will be incorporated into JD's processes.
The company already has automated warehouses, robots working in over 500 warehouses, drones that deliver products in China, and payment controlled through facial recognition.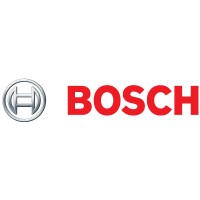 When you mention Bosch, the first thing that probably comes to mind is perhaps high-quality home appliances. Or, maybe you think of a large number of household tool brands. However, Bosch's primary market initially was automotive parts manufacturing. The company continues its path in this direction, with innovation in the automotive industry being one of its most significant focus fields.
134 years after being founded, this innovative corporation now has over 400,000 employees and has generated sales of 77.7 billion euros in 2019. However, this success doesn't stop the company from looking into the future and pursue a position at the forefront of global innovations. For example, at CES 2019, Bosch presented a driverless electric concept shuttle with integrated services. The company claims that this mobility type will soon be present on the streets worldwide, as a silent mobility experience that integrates with its environment.
Besides mobility, the company also invests in AI, machine learning, IoT, deep learning, augmented reality, and virtual reality.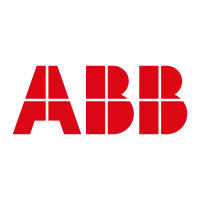 ABB is a multinational Swiss-Swedish corporation with headquarters in Zurich, Switzerland, and Stockholm, Sweden. The company operates mainly in robotics, power, heavy electrical appliances, and automation technology. ABB has been in the global Fortune 500 list for 24 years and was ranked 342st in the Fortune Global 500 list.
ABB has its research and development center founded in 2005 in China, one of the seven research centers with global leadership that operates in insulation materials, small-piece production robots, hybrid HVDC technology, and sustainable energy integration. The company has also been cooperating with many universities, investing over RMB 10 million in projects with Zhejiang University, Hong Kong University of Science and Technology, Xi'an Jiaotong University and South China University of Technology.
Thanks to its extensive research operations, the company has introduced various innovations. The list includes an autonomous marine shipping technology, the first pipe temperature measurement sensor that suits intrusive system output without fracturing the pipe structure, conveyor belt systems for miners, high-tech power transformers, etc.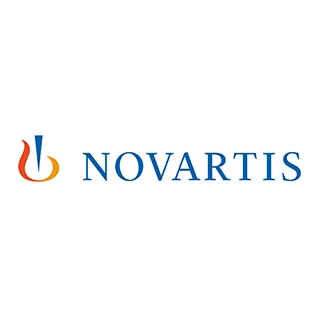 The Swiss international pharmaceutical company Novartis is one of the largest global pharmaceutical companies, both by revenues and market capitalization. CEO Dr. Vasant Narasimhan is leading the $47.7 billion company towards a significant strategic transformation where sophisticated therapy platforms and data science are spotlighted.
According to Narasimhan, Novartis started the transformation process to become a company fully-focused on medicine, powered by digital technologies. Although they are still working with traditional platforms, such as small and large molecule drugs, the new model also includes new areas like gene and cell therapies. Their goal is to go even further and improve their performance based on data science and digital technologies.
The first level of the transformation was reserved to transform the company's existing operations. This meant incorporating predictive analytics into, for example, supply chain management, and AI-based recommendations for their sales representatives. The second level is leveraging analytics to get valuable insights about patients, treatments, and technologies. Finally, the third level will be for implementing AI to unleash new science for the human body. For instance, they want to understand how the cells in the human body work or how cancers develop, making this one of the most innovative corporations in pharmaceuticals out there.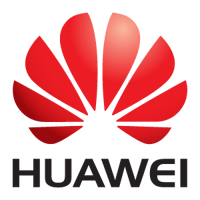 Huawei is among the most innovative companies in the world in 2020, ranking 6th in Boston Consulting Group's latest list. The position was a jump of 42 spots compared to the same listing in 2019.
Huawei was traditionally best known for supplying routers and base stations in China. However, the company stunned the world in the summer of 2016 when it revealed its plans to surpass Apple and Samsung and become the leading smartphone seller during the following period.
Since then, things have changed a lot for this innovative corporation. Despite the negative publicity the company had last year, it seems like they are back even more robust. Huawei keeps spending back in R&D over 10% of its annual revenue. The corporation's R&D investment totaled CNY 131,659 million in 2019, reflecting 15.3% of its overall revenue. During the past decade, Huawei has invested 4 billion USD, paving its path as a world pioneer in next-generation technologies.
While deepening and encouraging innovative developments in 5G technology, the organization, along with global operators, has formed 5G collaborative research centers. Huawei is transitioning from an Innovation 1.0 model to Innovation 2.0, powered by emerging innovations and an enhanced future outlook.
In the past decade, Huawei's ambitious technical innovations have allowed the relatively newer organization to perform at the same level as Apple, Google, Amazon, Microsoft, and Samsung. Moreover, the company has defeated Facebook, Alibaba, IBM, and Sony in some sectors.
Locations of the innovative companies on World map
Innovative corporations adapt to stay relevant
It's no secret that technology has disrupted the way most industries work. The businesses that can thrive through this highly-competitive era will accept innovation and look way beyond the present. Embracing innovation means looking into the future and preparing for it.
Valuer utilizes a data-driven process that facilitates easier and comprehensive company decision making. By having a greater understanding of the latest trends and technologies gaining traction in the industry, and possibly forming partnerships, will ultimately strengthen your companies' positioning in the competitive marketplace.