In our fast-paced communities, big companies fail every day. Of the top companies listed in S&P 500 (1957 edition), only around 15% of them have survived. This, in part, is a result of the lack of demand and revenue, but it's definitely not the only case. Innovation has become a fundamental part of a corporation's survival and a startups' establishment.
Are you a corporation or startup wondering what your chances of survival are? CreditHQ, the company that gives financial insights to small business, created the Survival Calculator to predict enterprises' life expectancy rate for a period of up to 5 years, based on the industry that a company is operating.

Let's not forget that what boosted some of the largest companies is innovation, and after using it they became a disruptive company. In the case of Airbnb, by creating a completely new industry, based on shared economy accommodation, the overall hospitality industry and more specifically hotels got threatened, and they are no longer the most desirable option.
Netflix, on the other side, has been closing countless amount of video stores around the world, because they conquered even the smallest screen at our homes, making it possible for everyone to watch whatever they want, whenever they want. What these companies and many more have achieved by focusing on innovation, is bringing convenience and benefits to our lives.
But it's not all about innovating, it's also about maintenance after implementation. Doing so allows one to measure success by paying attention to several factors and the underlying elements following them. McKinsey's "The Eight Essentials of Innovation Performance" is a great tool for both testing if your company is ready for innovation, and if the innovation has been successful after implementation.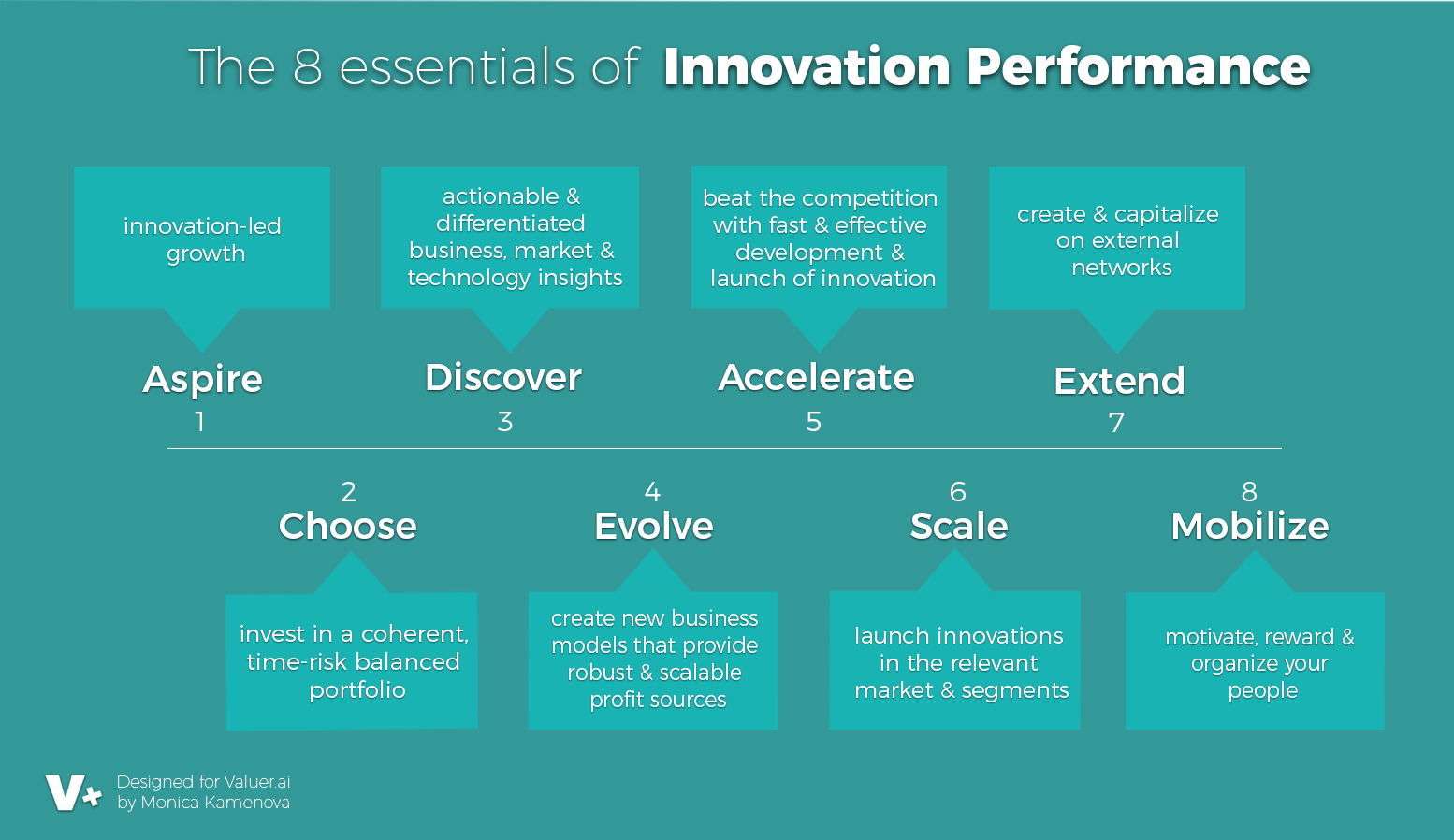 Innovation is essential for fast growth, and it is not easy for large corporations. There are, however, many ways to simplify the process, a typical example is by using an aggregator to do all the work for you, finding the startups that are innovating in your industry, connecting the two. The constant experimentation of new things and ideas is key to long-term success otherwise your competition will get there before you. Timing is everything, and change is the only constant.

Being on top with endless resources makes one forget that customers are always waiting for something new, and it is often the reason why they switch to rivals. And sometimes innovation doesn't always work out. Kodak tried to go digital, a failure even the current CEO Jeff Clarke couldn't remove them from. But while innovation doesn't always succeed, you will always learn a valuable lesson from failure. The best companies are those who have failed time and time again, and have taken a risk.
More often companies are afraid to experiment because it may be "a waste of money", too much of a gamble, or they are afraid to veer from their original business model which brought them success in the first place. But let's admit, they're built on the focus of bringing profit and serving customer demands efficiently. The first step large companies should take is to accept changes and innovate.
[Related Article - 50 examples of Corporations That Failed to Innovate]


The number one worldwide producer of business mobiles has left its days of owning half of the US smartphone market behind them. Trying to keep up with trends was one of the biggest mistakes the company made. BlackBerry neglected its primary segment, the business customer, even though they were the ones boosting the revenue stream. Instead of following what the customers wanted, they chose the "safe" path. They chose to follow the same path as their competitors, because they assumed it was what customers wanted – better security and longer battery.
After a series of failed projects, the company decided to make a change. Instead of focusing on business products, they shifted to a stronger focus on software and services. Throughout these changes, the company collaborated with many corporations, such as Porsche Design for a newly designed device, and Jaguar Land Rover, the car manufacturer who designed software. Blackberry also tried to differentiate by developing their own smartphone operating system, instead of using Android, which finished in providing a narrower variety of applications to its customers, instead of impressing them.
None of those, however, helped the company get back to the top position on the mobile market that they once dominated.

Since the change of CEO in March 2017 with Jeff Gennette, there has been a significant improvement on the department store chain. While there may not have been a serious increase in the sales and revenue there have been more in-store improvements.
"The stores have a better look and feel. And people have to go to the stores to recognize what Gennette has done. It's not in the numbers. It's not in the four walls of the spreadsheet. It's about good-looking merchandise."

- Jim Cramer from "Squawk on the Street"
Gennette explains in his "Growth 50" strategy that the company needs to focus their efforts on the finances and other in-store initiatives to improve the state of the company. But the growth strategy hasn't quite worked out as expected. For instance, the announcement of their new hijab line backfired. Customers took to social media to voice their concerns, stating that it felt like a mockery of Iranian women, who are risking their life removing the hijab as a statement of freedom.
The company is struggling to keep up with their competitors, and are yet to find the right path. If Macy's wants to keep their stores open, they should stop following the steps of Sears, which recently filed for bankruptcy. Instead, they should start innovating from the ground up so that the dropping sales can start to steadily increase.

Subway is less about blowing away the customer, and more about giving them the freedom of creating the sandwich that they want. From the outside, it sounds like there's not a lot of room for innovation, but there is still a possibility. Take, for example, Gamification. Starbucks successfully introduced a rewards system that collects points with every purchase, giving customers benefits at a later point. Innovation through services or partnerships is another option. McDonald's has innovated time and time again with their all-day breakfast menu, and Burger King adding Froot Loops and Lucky Charms milkshakes to their menus.
Subway closed more than 900 stores globally in 2017 as a result of bad publicity around Subway's spokesperson, Jared Fogle, who was sentenced for molesting children. And there are predictions that the number of store closures will rise by the end of 2018. Even if Subway doesn't want to change what they offer, there's still the option to start doing it in a more innovative way, which can be a game-changer for the company.
[Download our free ebook - 50 Corporations That Failed to Innovate]

They've been around since 1837, and they have spent most of that time on the top of the luxury jewellery brand ladder. But such a large company cannot expect this reign to last for long. In the beginning, it was about offering the perfect gift from a beloved, but the demand has changed. Women can afford to spoil themselves and they are independent, and if they do treat themselves, what are the chances that it will be in a blue Tiffany box?
There has, however, been a rise in sales after the new CEO Alessandro Bogliolo took the lead in late 2017. This year, Tiffany launched its new collection "Tiffany Paper Flowers" bringing the idea that deluxe isn't always formal, but can also be daily. The line was an attempt to stay modern, which became a success and reflected in a 15 percent sales increase according to Bogliolo. Switching from luxurious fine jewellery to every day pieces may have a good influence on sales, but it can also affect the quality that made the brand so popular, that being exclusivity and value.
This momentum of success didn't last long, as the stock price (TIF) of the company decreased since the launch. And the new strategic spending on e-commerce and merchandising may not be enough for the company's stable survival if not supported by innovation.

Besides the features, such as profile verification, the possibility of adding emojis to your account, or a wider range of characters to tweet, there's not a lot of an innovation going on. With competition like Facebook and Instagram, who are adding new elements to their platforms on a regular basis (from sharing one's daily story to adding a 3D picture), it is really hard to shine brighter. It is nothing impossible, new users are still joining the network, but annual numbers are not significantly rising.
The lower the interest gets from the unengaged audience, the faster the social media channel will lose popularity, leading to more than just a cutting in staff, decrease in stock value, and unsuccessful sales attempts. With the lack of innovation and failing to attract new users on the same scale as their competitors, they may come to an end. It won't be due to bankruptcy but because they took the Myspace way.

Uber has faced an uphill battle since their inception. Yes, they are a disruptive company. And yes, they were also incredibly innovative. But as with any industry, the landscape changes at a rapid pace. They have struggled, mostly because of security reasons and country legislation banning the app *cough, Denmark*. And as crazy at it may sound, they are begging to struggle with innovation.
The company based on a shared economy, providing cheaper and more convenient rides than taxis, has become one of the most outstanding examples of disruptive innovation and how to become a fast-growing unicorn. But having such a successful business model do not necessarily mean that there are no disadvantages. The biggest, in this case, is companies trying to steal the concept. Instead of making a clone of the company, they're trying to do the exact opposite of the notorious transport unicorn.
Ichiro Kawanabe, the CEO of Nihon Kotsu Co., a giant of the transportation industry for taxi and limousines, shares that they are rather using Uber as an example of what not to do, instead of copying them. Being realistic, the entrepreneur shares:
"We can't do it straight away but in three to five years we'd like to surpass what Uber offers…"

- Ichiro Kawanabe, CEO Nihon Kotsu Co.
The competition for Uber's spot on the top is widespread, and companies are attacking from every angle. Today, an innovative idea is not enough, what is needed is a continued effort in innovation, and building upon what you already have.

Abercrombie & Fitch has been on a downward spiral for quite some time. It is not due to a lack of quality, or the company having a reputation for being a bad workplace, but rather that they are stuck in the past. Customers no longer find sexually charged adverts appealing, nor the heavily branded clothing or the "night club" feel as you walk into any one of their stores. And that's just one of the factors leading to the drop in sales since 2011.
The demand for the typical American teenager look doesn't have the draw that it once had. And in an attempt to get back on track, they attempted to sell "fast-fashion" clothing, resembling items from labels like H&M and Forever21, but at a higher price. For many years the company has tried to catch up with trends by following similar brands, but not seeing what the world wants with a clear eye.
"In my opinion as someone who worked there for 4 years in design and marketing, I think it comes down to their culture which is frankly out of touch with the world in 2018."

- Finn McKenty, former Marketing Production Coordinator at Abercrombie & Fitch
The simplest word-of-mouth marketing among the youngsters could have been a sales booster, and the numerous fashion social media influencers make it simple for the brand to approach the target segment. The time to innovate came years ago. WoM marketing and influencers, which have already proved successful for others, like Nike and its Nike Air Vapormax influencer marketing, would have been a solution for the company to finally take the focus away of Mike Jeffries' past actions and speeches.
"We hire good-looking people in our stores. Because good-looking people attract other good-looking people, and we want to market to cool, good-looking people. We don't market to anyone other than that."

- Mike Jeffries, former CEO of Abercrombie & Fitch

They are a giant, and they're on par with Apple and Samsung. But in a game this big, innovation differentiates companies and sets them apart from competitors! Unfortunately, Microsoft did innovate but it was either too much or they just skipped a step and didn't prepare the user for what they provided. They have been playing catching up, presenting new products too complicated for the loyal customers, starting with the Windows 8 interface, and their Lumia smartphone.
The various products and services that Microsoft has produced, such as Microsoft Office or their user interface, Windows, will stop the company from failing. But it's their hardware products that are a cause for concern. If they do not start producing innovative and dynamic devices that set them apart from their competitors, they may just lose a large portion of their market share.

For decades now, the brand has been associated with sexy female undergarments. The company made its innovative attempt that led them to raise huge awareness by using and focusing on two means - the annual Victoria's Secret fashion show and the feminine and world-famous angels. They definitely succeeded in making sure they were not forgotten, but with time, trends change. Like with Abercrombie & Fitch, the sexy and skinny models no longer have the same appeal as functionality does.
By only adding younger models to this mix, they won't stay on top for long. Sales are dropping and major investors are insisting that the company should close stores and focus on their performance instead. Working on the performance or not, consumers won't be convinced to return to the luxurious lingerie unless they see something different that is worth trying. One lesson to learn from Victorias Secret? They may have been an innovator in the past, but to continue as a leader, you need to continue to adapt to the market and innovate continuously.

Remember crocs? The fabulously fashionable shoes that seem to last a lifetime. Back in their hay day, you'd seen them everywhere. And while some would be questioning the fashion choices of those who wore them, others admired the business-savvy company. But the company relied on this temporary trend and were happy for the enormous quantities sold but didn't take it any further when they could have.
It's not enough that the stock price of the company has dropped more than it has increased in the last years, but the company is planning on closing 158 stores by the end of 2018, which the president Andrew Rees doesn't accept as a failure but explains as "removing unnecessary complexity from our business". Another part of their strategy is cutting operational costs and tightening the range of products they offer. The future doesn't seem so bright for the athletic brand, but there are plenty of innovative possibilities.
Have a look at the

interactive map

They didn't just make everyone knows who they are, but they gained enormous success and now they rule the world.
Innovation is admittedly a hard step to take, and every company that has been in the battle for implementing it knows that. As for the startups, they create ideas where nobody had thought to look before. They fill the gaps left by larger corporates and create bustling companies in the meantime. For the larger corporation, are they ready to innovate, take risks and face the outcome?
By being innovative, Amazon became the most valuable brand. Apple, on the other side, is the one with the highest brand awareness, and both of them have affected our lives to a high extent. Asos and Zalando have transformed the way we shop for clothes, with numerous deals and free shipping. And it goes to show that innovation is a part of every industry, no matter if it is technology or clothing. It is not about who does it best, it us about who brings the innovation first.