The Chief Innovation Officer title has grown 500% between 2006 and 2015, according to ZipRecruiter's job title analysis.
But a quick scan of a business contact database shows barely 2,000 contacts who hold that title today, so in spite of rapid growth, the job and its subsequent responsibilities are still being defined.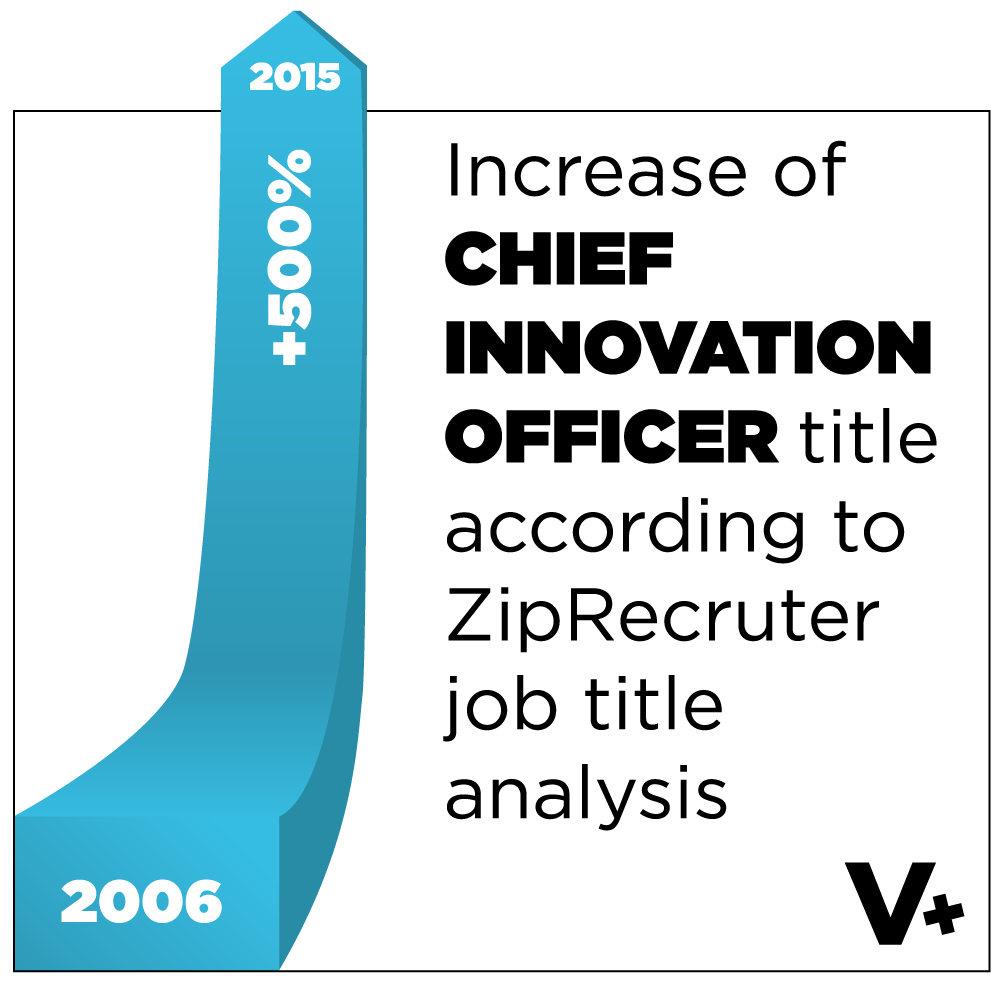 Oftentimes, CIOs are hired to lead teams and build out innovation departments. But the KPIs and expectations for this department are still in development.
- Should a CIO measure success based on the number of patents filed each year or the top-line revenue growth from new product launches?
- Should a CIO be responsible for training the staff in innovation and which skills should they focus on?
- What about all the incremental improvements that an innovation department manages for the existing suite of products or the growth from new markets for old products?
- Is that the measure of innovation success?
No matter how you think of a Chief Innovation Officer, there are a few things that any CIO will do to help make their organization more innovative and contribute to company goals.
[Related article - Corporate Innovation: Expert Roundtable #3]
Provide a vision and strategy for innovation
A CIO who is really great at their job is going to be able to align business strategy and innovation strategy – embedding innovation in a company's DNA. This strategy should create a roadmap for the future of the company as it relates to new products, company culture, and more.
One fantastic example of aligning the business and innovation strategy can be seen at HP Labs. HP Labs is the central research center for the company which is head by their senior VP of research, Prith Banerjee. Think of him as HP's CIO.
With seven locations around the globe and give main business units, each with their own research function, it is A LOT to handle. Banerjee oversees these five units ensuring the infusion and correct transfer of information on innovation.
It involves having an astounding level of openness towards external parties like global academic institutions and customers. They invite customers from time to time through what they call "customer co-innovation". All the while, they still hold immense respect from their technical talent.
Train the workforce in innovation
This sort of professional development serves several purposes. It helps create a shared language and expectation that everyone is responsible for innovation. This, in turn, helps build an innovation culture.
It also levels up the skills and satisfaction of the entire workforce who feels both empowered and valued as the company invests more in them. Think of it working like the domino effect.
Google is an example of a corporation introducing this thinking to its workforce. They use a G2G training method, otherwise known as Googler-to-Googler.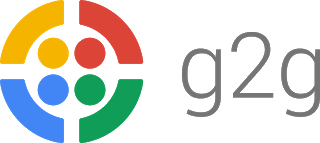 The G2G program enables employees to gain first-hand knowledge department-wide, Googler-to-Googler, one employee to another.
This humble approach to employee training values learning and promotes a strong culture of innovation, shared continuous learning and adaptation.
This program is not mandatory for employees and gives them the freedom and trust to take their growth into their own hands.
It is a strong approach towards infusing an innovation culture across a company, ensuring that knowledge is not withheld. Instead, it is happily shared and spread across all facets of the organization.
Collect ideas
Collect ideas like there is no tomorrow. These ideas can come from anywhere. The wider the variety of sources, the more unique the ideas and the perspective to be.
The best source for information is, of course, the new trends that employees have noticed. They know the company better than anyone else. Why not utilize them for this exact purpose? They may be able to shed light on the companies to acquire in order to keep pace with the market.
There is one obstacle to overcome here. While gathering ideas is important, it is not enough. The hardest part is the responsibility of making sure that these ideas come into fruition.
People always have ideas, and it is too easy to get caught up in the daily life of an office. Don't let that good idea slip away and never see the light of day.
The United Way uses crowdsourcing to gather ideas from two sources. Their network of global employees, as well as from the public in the communities that they serve. They do this for two reasons:
- The ideas that come from the crowd help the United Way build their programs as well as helping them to maximize their impact and efficacy.
- Engaging their employees and citizens improves the relationship between the United Way and the crowds that they're speaking to.
Connect ideas
Ideas increase in value when they become networked with other ideas and grow into larger concepts and projects.
Those concepts need to be connected to experts, leaders, and team members with the time and authority to test and learn about the potential of any given hypothesis.
Ideas also need to be connected with budgets to be able to test a theory and turn it into something more.
But, of course, the marketing team isn't the typical place to find new product ideas – so the ideas need to be connected across departments, connected to resources, and connected to decision makers that can launch them properly.
Communicate
Innovation departments are hubs for information, concepts that have been tested and failed with the lessons learned from that experiment.
Chief innovation officers should continuously research, look for trends, and communicate signals they see in the marketplace to the relevant decisions makers.
They should be looking for great ideas from other parts of the organization and socializing their success so they can be adopted everywhere.
But this can often be difficult when working in a multinational organization where relationships are a challenge to build.
Perhaps the most complex, communication in regards to innovation covers many facets of an organization.
Innovation often entails drastic changes and it can be difficult to adapt without a strong leader and innovation team to relay information and communicate company-wide.
The internationally renowned architecture firm, Benoy, adapted their internal communication strategy to align with their global needs.
They understood that to manage internal communication globally and to maintain an effective two-way flow of information, they needed to focus on the people that mattered.
They created brand champions or known within the company as "firestarters" whose purpose was to bring people within the organization together. They created an atmosphere of collaboration where new ideas were celebrated.
It is this kind of thinking that creates change and fosters the right mindset for innovation and collaboration across departments and externally. CIO's recognize team members who have made an impact and shine light on their success.
The takeaway
A chief innovation officer's role is still somewhat undefined because of how new the title is on the business scene.
But what we do know is that to become a successful CIO, one must become a master of influence. They must possess the ability to unite ideas across departments, sometimes internationally.
To be able to pull off the kind of collaboration and connectivity across borders and business units takes a special kind of person who understands the dynamics of a complex innovation business model.
And it is a role that is continuing to develop at a rapid pace as businesses begin to understand the importance of open innovation.
Author Bio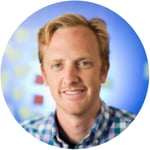 Rob Hoehn is the co-founder and CEO of IdeaScale: the largest idea management platform in the world with more than 35,000 communities and 4.5 million users.
Prior to IdeaScale, Hoehn was VP of Client Services at QuestionPro, an insight technology company, where he helped launch the company in its early stages. He also speaks regularly about climate change and lives with his wife, two kids, and husky in Berkeley, CA.