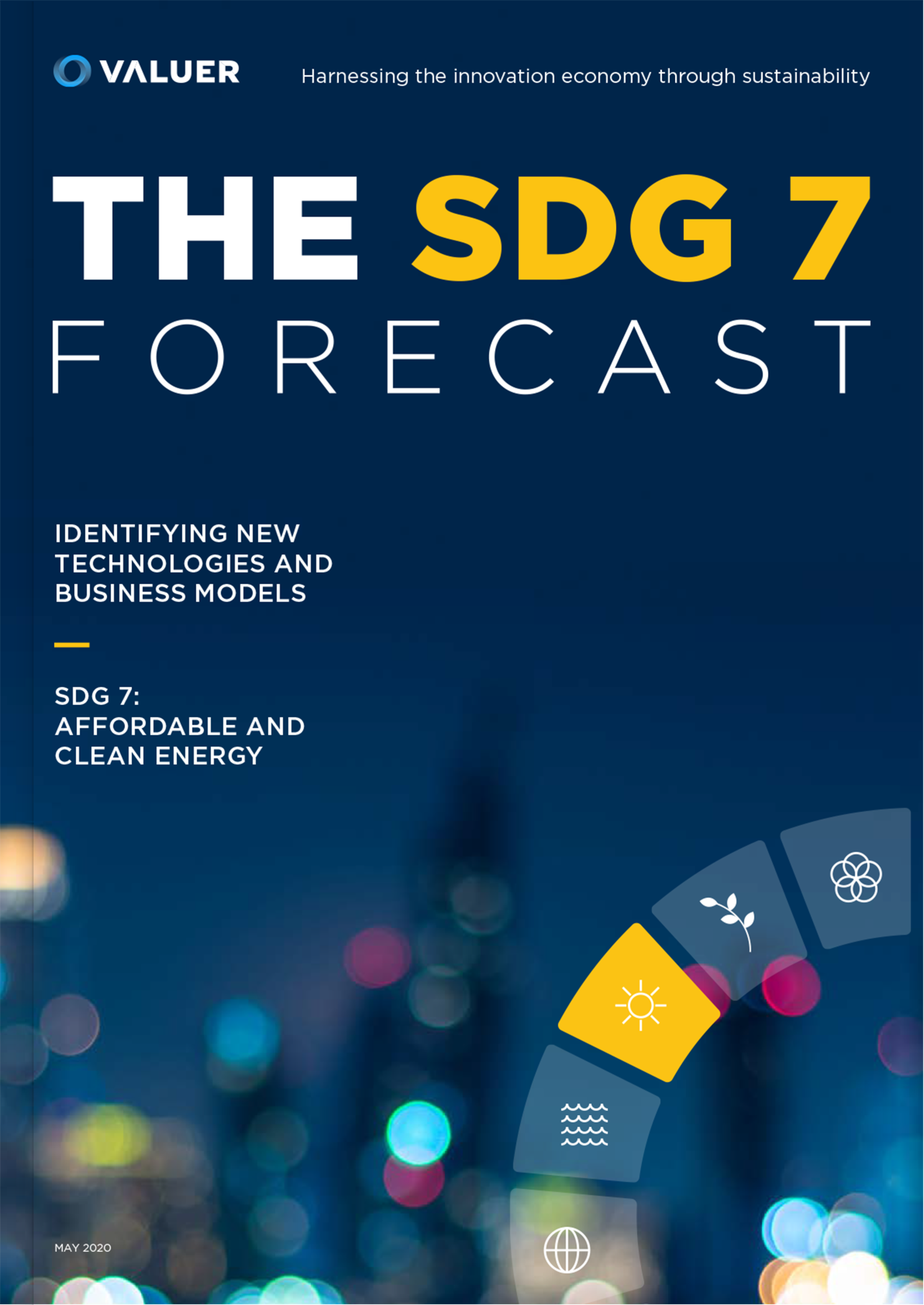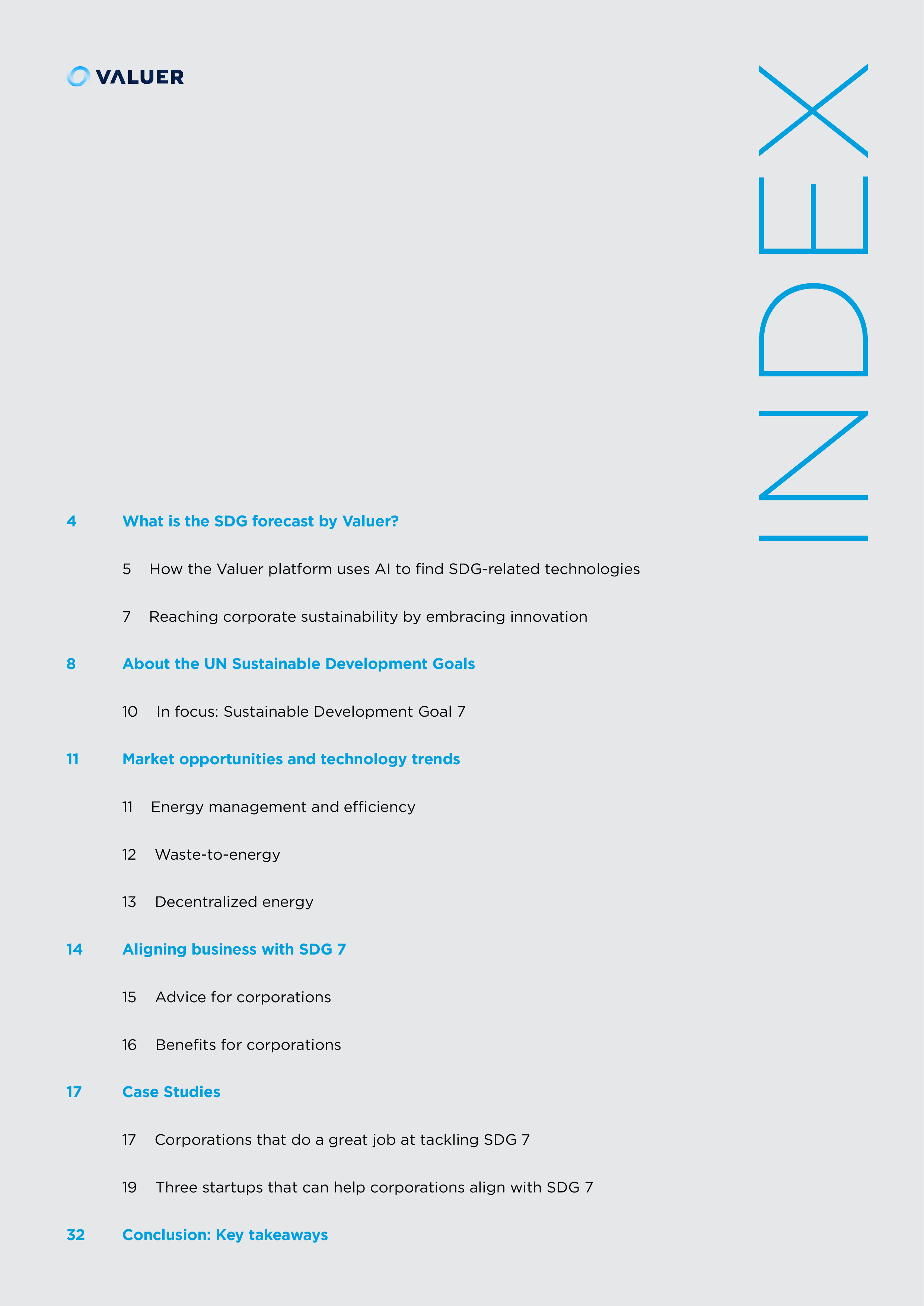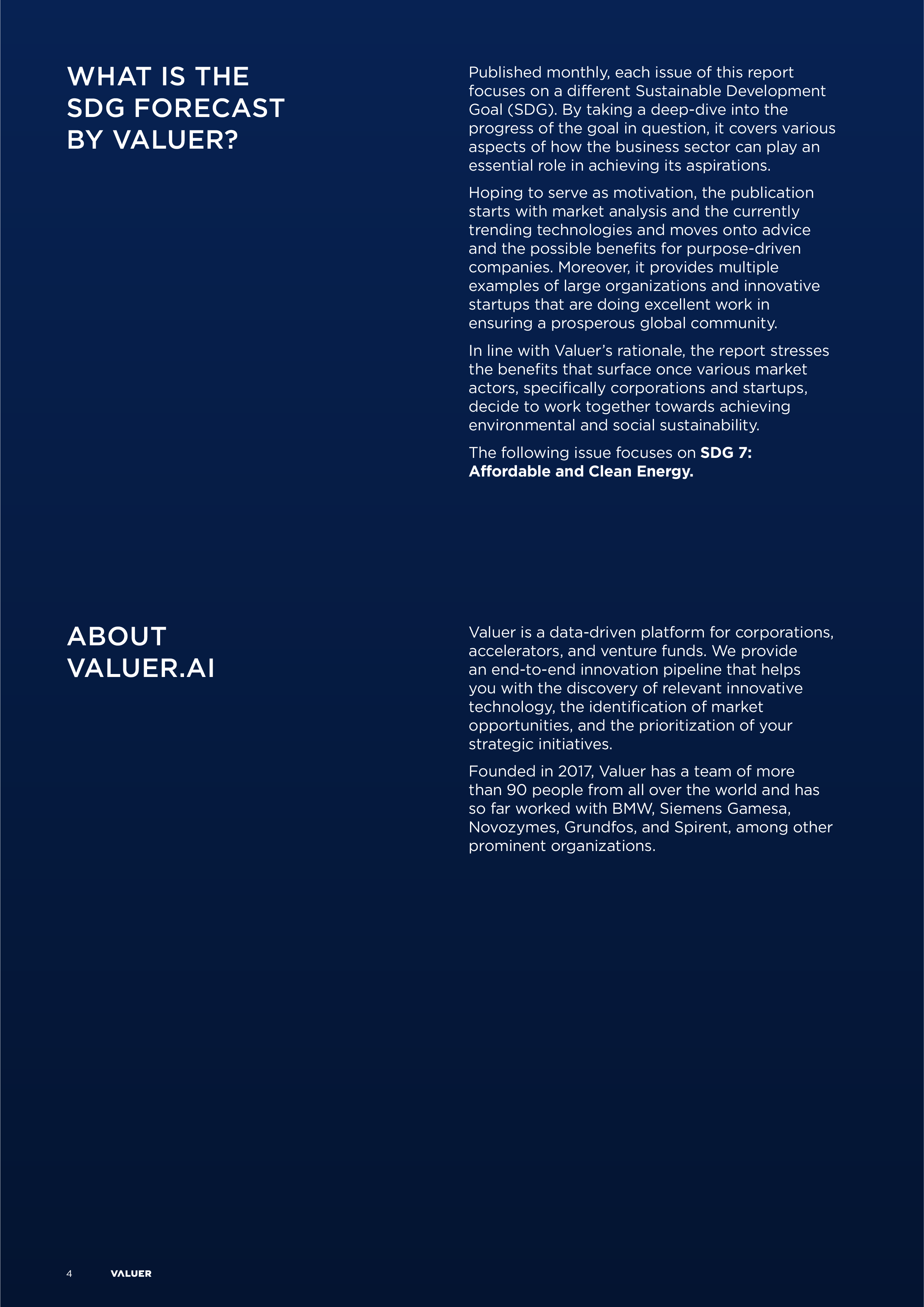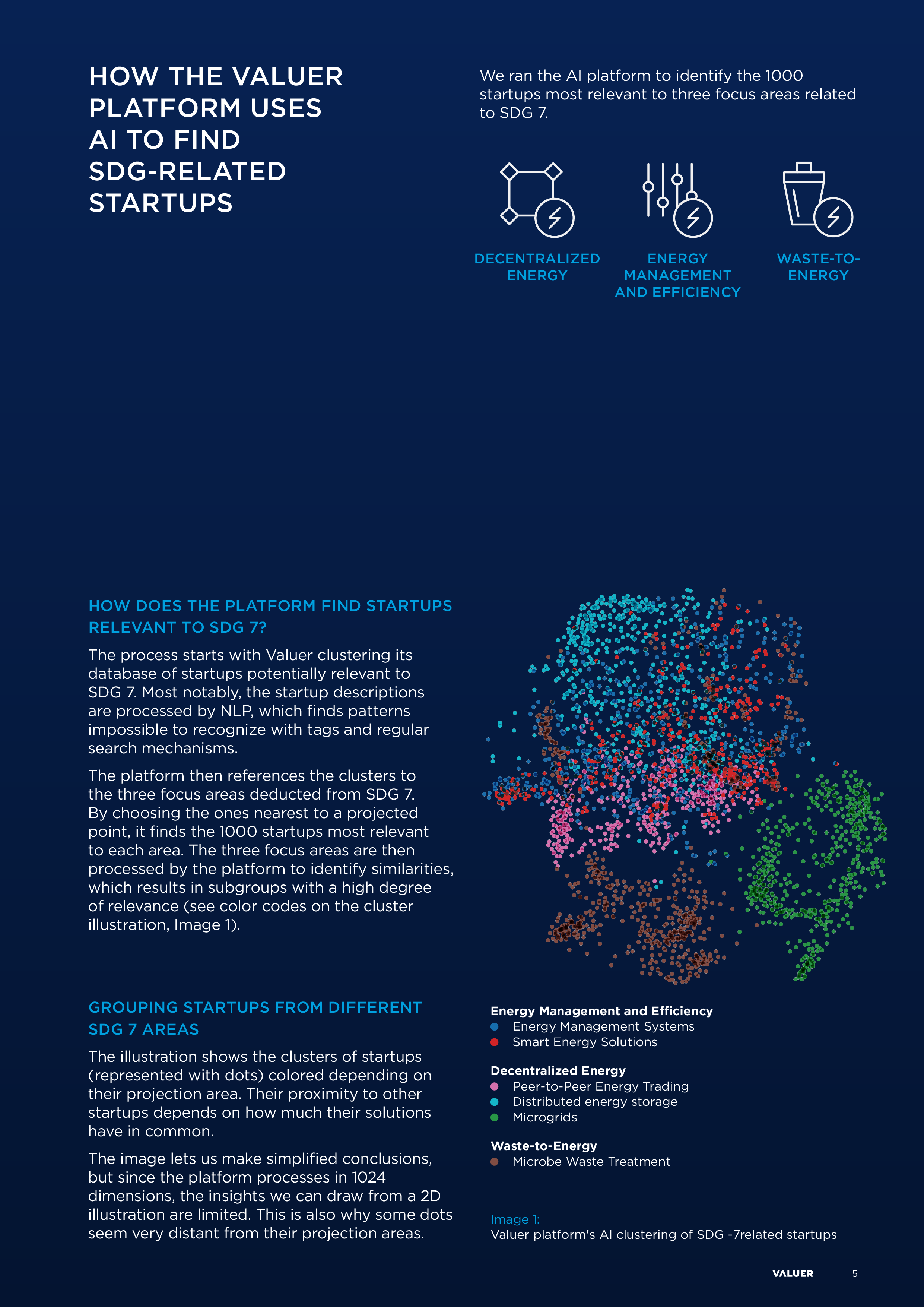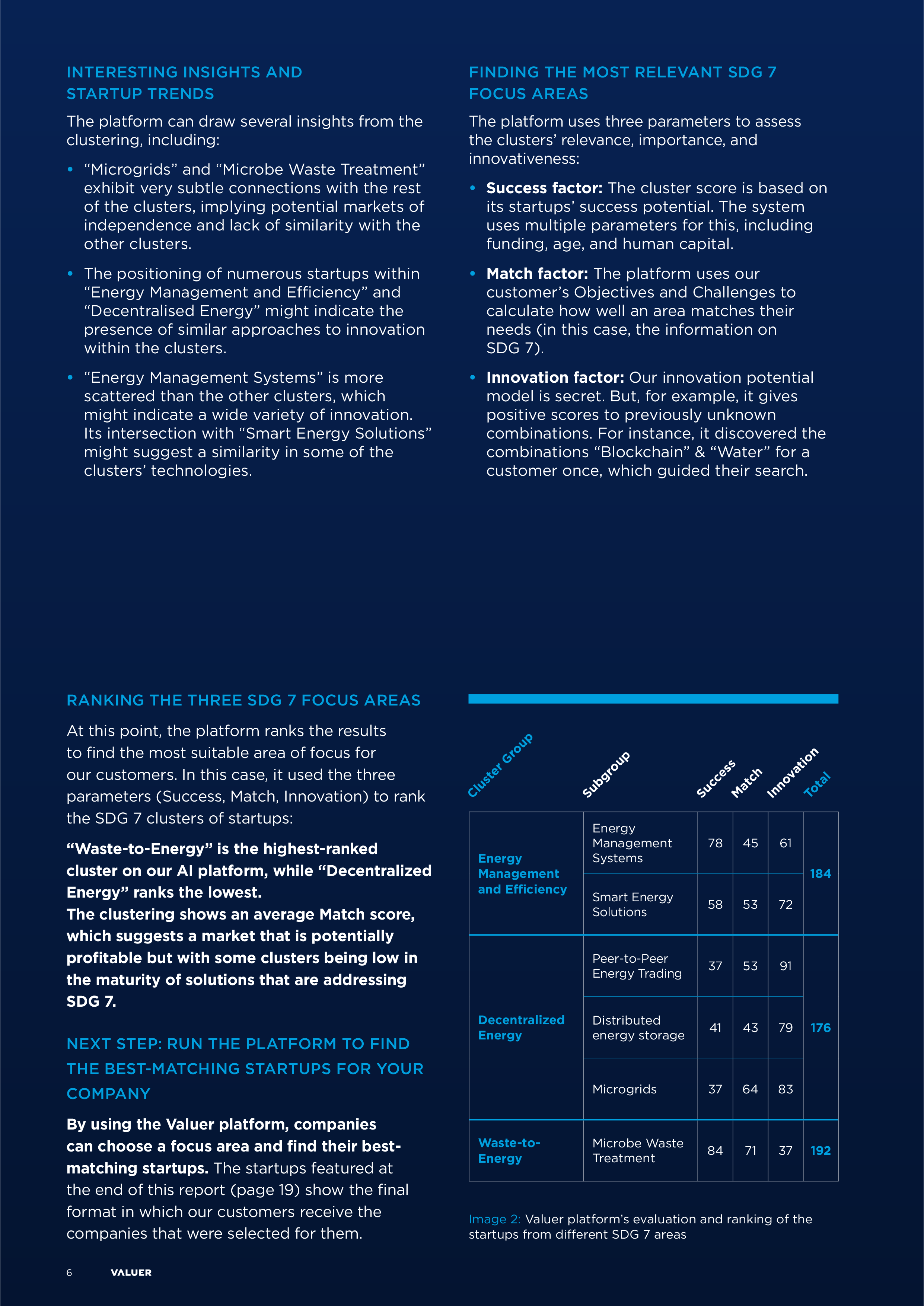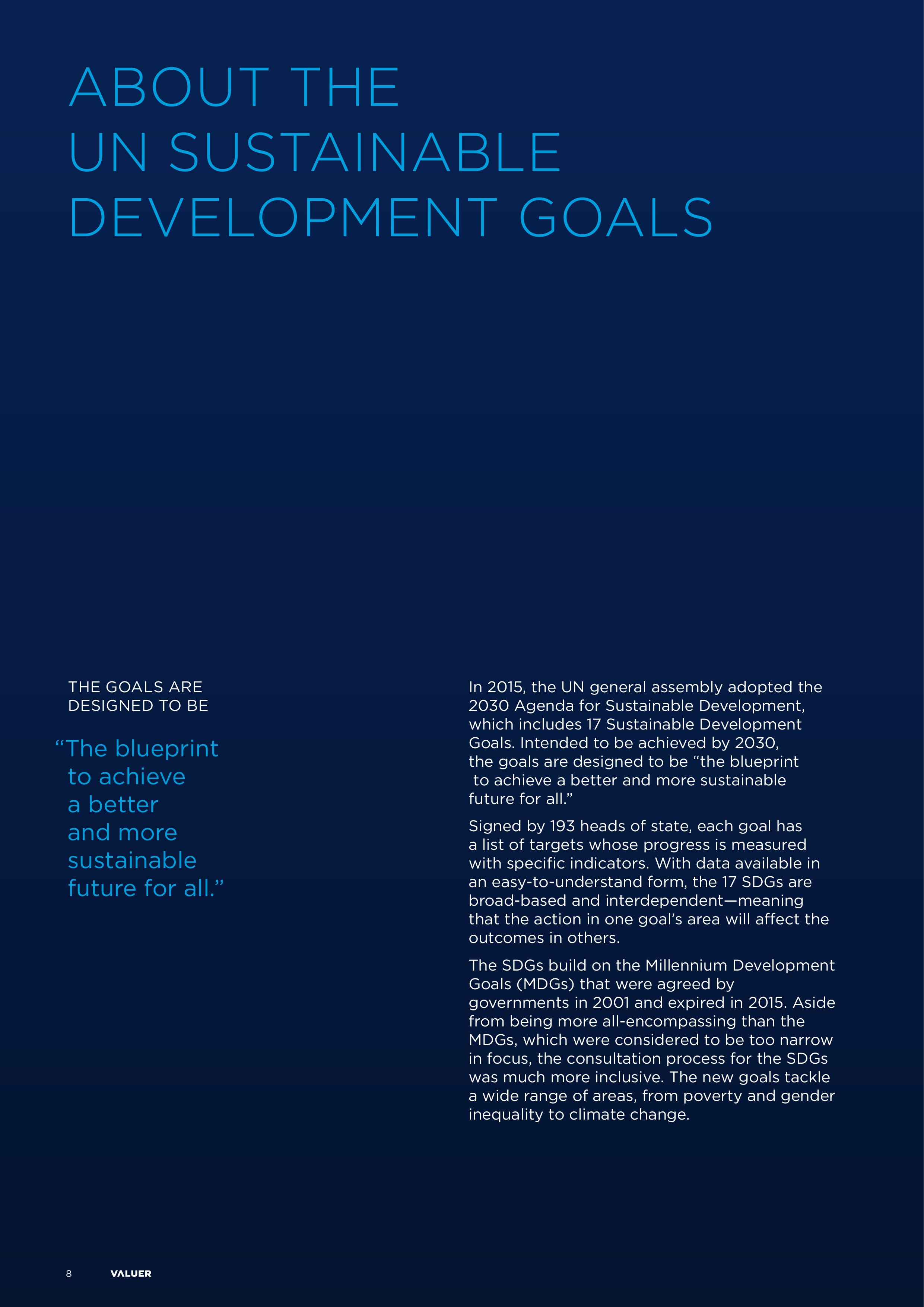 The SDG 7 Forecast
This report lists advice for corporations about energy consumption and efficiency. Large corporations have many options to reduce the amount of energy being used to decrease their carbon footprint. Making these changes comes with benefits like lowering energy cost, reduced legal and business risks and more.
1
What is the SDG forecast by Valuer?
2
About the UN sustainable development goals
3
Market projections and technology trends
4
Aligning businesses with SDG 7
6
Conclusion: key takeaways
Identifying New Business Models and Technologies within SDG 7
Energy is a crucial part of sustainability life, however nearly 13% of the world population today does not have adequate access to modern electricity. Technological breakthroughs can be extremely beneficial in achieving SDG 7 and promoting affordable and sustainable energy worldwide.
At a glance
The objective of the seventh sustainable development goal is to promote and support the use of affordable and sustainable energy. Targets within this goal relate to the increased access to reliable and modern electricity, the development of renewable energy resources to tackle climate change and the efficient use of available energy resources.
Aligning Business With SDG 7 by Collaborating With Startups
Valuer created this report on how to align your business with SDG 7 to help businesses educate themselves on the importance of sustainability in their work. The contents of this report were put together to cover a broad spectrum of questions, from the benefits and challenges of embracing clean energy, to current technology trends and opportunities, and market analysis.
The process behind finding startups most relevant to the three focus groups of SDG7 is also explained in detail. This report acts as motivation for sustainable change and gives examples of corporations and startups that align their business procedures with SDG 7.
Furthermore, readers will get a glimpse of what to expect in the future and the importance of implementing technology innovation to stay relevant and reach opportunities. Read the full report to get all the information on why you should align your business with SDG 7 and understand how startups can innovate your business.
How Valuer applies its technology
In this edition of our report, find out how Valuer's online platform uses AI to help large companies find SDG-related startups and technologies that match their unique needs. Lead innovation thinkers from across various industries express how our technology worked for their business.