*Updated December 2022
Numerous people have started venturing the value of Big Data in recent years, leveraging information from both companies and customers. The most significant benefits from this data are data-driven decisions that bring better outcomes than decisions based solely on intuition.
Data-driven organizations have the ability to maximize the benefits of their data. Such organizations' data systems provide potent mechanisms for transforming data into practice, and behavior back into statistics. It is challenging to become data-driven and learn to turn data into better decisions.
Although having large amounts of data to support your business decisions looks good, it is much trickier to figure out how to implement it in real-life examples.
What does being a data-driven corporate business mean?
Becoming a data-driven organization means more than gathering data and sometimes looking at it. Businesses need to address all of the steps to be entirely data-driven by evaluating applicable data and allowing the insights that the data carry to guide the company's path.
Any employee must regularly capture, review, and learn from the data. Information can be exchanged and utilized for purposes of preparation and analysis, as well as internal tracking toward targets and priorities of the business.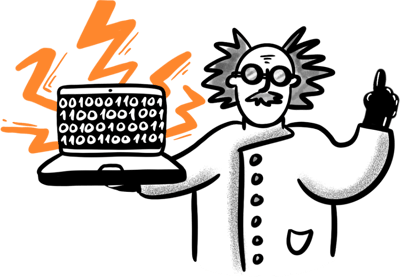 Many large organizations have understood the importance of data. A Bain survey of 334 executives confirms this, discovering that more than two-thirds of their companies are heavily investing in data analytics.
And, they are right to do this. According to McKinsey, companies that are data-driven have a 23 times bigger chance to acquire customers. Moreover, they are six times more likely to retain them, and 19 times more likely to achieve profitable results. Data can be useful in all company operations, including decision-making, daily business planning, and customer engagement.
What is data-driven innovation?
The term data-driven innovation (DDI) refers to the process of creating innovative products as a result of data analytics. Data is captured in numerous databases, internal business databases, and public datasets such as government, fee-based, or other accessible datasets. Realizing that information is what brings modern technology to life in the 21st-century and opens the way for efficient use of current data.
With the growth and advancement of data collection technology, the economic and social value of data-driven innovation continues to expand. A McKinsey study from 2013 discovered that access to open data could add $3 trillion in value to the global economy on an annual basis.
DDI offers tremendous opportunities for economic and social change, with various impacts in multiple industries. A report by the OECD describes data-driven innovation as a result of utilizing different technologies to capture relevant data, and then analyze it to provide relevant information. The report names several benefits of DDI:
- Enhancing research and development (data-driven R&D)
- Developing new products (goods and services) by using data either as a product (data products) or as a significant component of a product (data-intensive products)
- Optimizing production or delivery processes (data-driven processes)
- Improving marketing by providing targeted advertisements and personalized recommendations (data-driven marketing)
- Developing new organizational and management approaches or significantly improving existing practices (data-driven organization)
The innovation lies in the product of the data collection process. The product has to be innovative for the corporate business, the industry, or globally.
Another OECD study from 2014 discovered that data-driven innovation could improve an organization's productivity between 5% and 10%. The research also suggests that the growth of productivity is different across various economic sectors, concluding that DDI may result in higher productivity in some of them.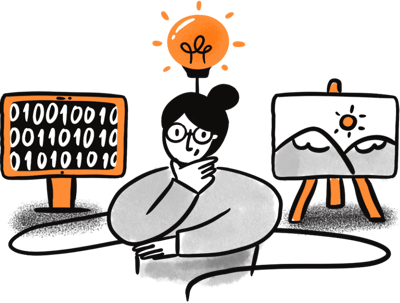 How to become a data-driven organization?
Define a Strategy
Use data to set a course and strategy for your organization. The crucial decision-makers of the company require exposure to the best data available. Past policy actions in a feedback system should be reviewed and re-evaluated. The leadership team should incorporate the requirement that data will be used to measure every judgment and reduce risk possibilities.
Everyone should have access to data
Allow regular use of data by everyone at your organization. Although the analytics team operates the data stack, each employee should get the chance to use appropriate data in their current workflows. All units in the company should share the same data sources and strive for the same common objectives.
Use data to measure goals
Data should determine and analyze goals. Data shouldn't be a goal. It should be a way to achieve the goal. Get a good vision of the end objectives, how each strategy helps along the way, and the data that guides each move. Offer numbers beyond their underlying meaning and give them context so that they can be effectively analyzed to address questions when required.
Collect only necessary information and remain GDPR compliant
Data storage requires many resources. That's why you should choose the data you need and focus only on it. Don't collect unnecessary data that will only waste your time and money.
Most companies make one huge mistake—they collect too much data. This is a common issue as we're overwhelmed with data daily. That's why you should have a testing phase and determine which types of data you need and which ones you don't need. This will help you create a streamlined and straightforward data collection and analysis process in the future.
Moreover, you should be extremely careful with GDP regulations. If your organization operates within the EU, you're probably aware of this. This means that consumers can only give you the data they want without allowing you to collect their information without permission. The GDPR has the purpose of protecting users by limiting the amount of data companies can receive from them.
[Related Article: Accelerating New Growth with Data Driven Innovation]
Create a data-driven culture
Big data is the digital technology's new currency, and its full potential is yet to be realised. By encouraging your employees into a data-centered mindset, you can significantly enhance the performance of each part of your business, from project management to marketing. Forrester also confirms this, predicting that companies that can execute data-centered solutions to their success can eventually gain an estimated $1.8 trillion in global sales.
To achieve a data-driven culture, corporates have to use the right tools and sources. Many companies are adopting machine learning-based tools to extract data in the most intelligent possible way. For example, SurveySwap is used by property managers in order to exchange information and data.
Next, they should think beyond traditional data sources. Targeting more different digital channels and devices can bring more feedback. This means collecting more insightful data that can help build future innovations.
To be able to read all this data, employees have to be data-literate. Each application programming interface, or API, is distinctive, and staff members have to become aware of these complexities to create more coherent and consistent strategies that illustrate the shared data.
Then, businesses should use data in an actionable way. It should align with the corporate goals and objectives. Moreover, it should improve internal processes, not make them more difficult.
Finally, all this data means nothing if you don't make decisions based on it. The decision-making process should reflect data insights and result in strategic decisions backed by valuable information.
Why is it important to be data-driven?
The obvious answer is that data-based decision-making is far more reliable than instinct-based decisions, judgments, or feelings that can be partial. With data, you will quickly identify trends over time, backing practical actions, becoming aware of issues, and identifying potential innovations.
Data will also provide employees with a clear baseline for matching their behaviors to company results, uncovering potential possibilities for change. Performance evaluations will also focus on tangible results, so executives will see how the entire company is performing and where the enterprise's advantages and downsides reside.
One of the most significant opportunities data-driven companies get is to create data-driven innovations. Innovations based on data can make organizations more efficient in three ways:
- better management of business processes,
- increased customer engagement
- more innovative products and services.
The first point refers to the extended possibilities of increasing productivity and cutting costs. Next, increased customer engagement leads to discovering new selling opportunities and more loyal customers. Creating more innovative products and services should find new sources of income while improving customer experience.
The Valuer Innovation Workflow is a new type of innovation that doesn't fit into existing innovation categories. This is a data-driven innovation platform that leverages AI and team collaboration workflows to predict innovation opportunities with the most significant potential for your company's particular needs. Our enterprise solutions cover market opportunities detection and response, crafting strategic initiatives, identifying potential startup partnerships, and scaling them.
Our platform represents a next-generation model of open innovation that can bring a data-driven mindset into your corporation. This means that we make startups both users and co-creators, resulting in innovative ideas for your organization that can transform into new products that disrupt markets.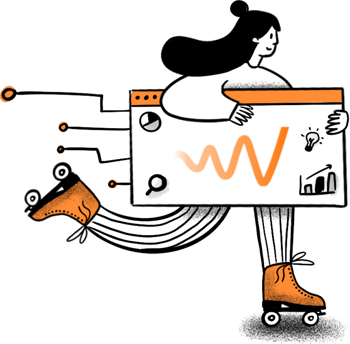 What companies use data-driven innovation?
Many companies have built innovative products or features around their insights.
Spotify is one of the best examples. One of the most popular music streaming apps used data for a campaign at the end of 2017 to show the users their listening habits. The campaign ads were built around insights such as how often someone played a particular song, or how many people have streamed a specific podcast.
The results were ads with killer copy, such as "Be as loving as the person who put 48 Ed Sheeran songs in their "I Love Gingers" playlist." Thanks to this campaign, Spotify tripled its revenue in Q1 of 2018, while in Q2, Spotify got a spot on the New York Stock Exchange.
American fashion retailer Nordstrom is another example of data-driven digital innovation. They decided to spend 30% of their capital on technology, developing store wi-fi that can track in-store customer behavior and adding interactive screens in fitting rooms where customers can see Instagram pictures and check reviews for the products they like.
Moreover, the company introduced its loyalty program that helps them collect customer behavior data. This data is then used by their product design teams together with social media reactions for the creation of better, customer-centric products.
HERE Technologies is a transportation tech company that allows people to harness the power of location. They use location data in their HD Live Map, giving autonomous vehicles layered and location-specific data.
The map highlights the borders of the lane and detects the environment of the vehicle. It can also monitor the space around corners so that the human eye cannot perceive, thanks to data from intelligent sensors. And a continuous flow of insights from roaming vehicle fleets is helping the map warn drivers about lane closures that are miles away.
The future of data-driven companies
Data-driven innovations are going to be the turning points of many industries in the future. With this in mind, every organization should prepare for a data strategy that will extract valuable insights. When combined with advanced technology, data can be crucial to building robust, customer-centric solutions that will delight and retain customers.
Data will bring you an understanding of customer behavior. What is more, data can help you dive deep into the market you're targeting, allowing you to identify trends and prepare for the future of innovations coming our way.
Data-driven organizations can potentially be the most successful players on the market, regardless of their operations industry. A data-driven, evidence-based approach at all enterprise levels contributes to higher productivity, rapid expansion, and creative innovations, delivering unique competitive features.
However, a data-driven mindset can't be achieved in just a few days. It's a long process that takes time, resources, and, most importantly, people ready to change their mindset.
The process has no endpoint. Yet as you start on this path to becoming a data-driven business, the rewards should materialize quickly — faster decisions with more integrity, a facts-based approach rather than intuition, and a community that places data at the core of any action.