EdTech trends in the digital era
The global education technology (EdTech) market is a rapidly growing industry which comprises a wide range of business possibilities - from early-stage startups, to middle-market companies all the way up to publicly traded companies.
If you haven't read our last article of EdTech, be sure to check it out by following the link below:
If we consider the three main education categories - K-12, post-secondary, and corporate/professional training - each of these categories carry their own distinct characteristics within the EdTech market. In other words, each level of education carries their own unique possibilities in terms of what technology is applicable, which allows for different end users, buyers, and funding mechanisms.
In emerging markets, the digital transformation of education is gaining a lot of traction. Investors and stakeholders from a range of industries can benefit if they seize new opportunities for collaboration. If we look beyond the reasoning of transitioning to a more, digital learning environment due to the pandemic, there are a variety of other factors that will shape the future and speed of the digital transformation in education.
[Related Article - How the EdTech Industry is Transforming the Learning Environment]
Jan-Peter aus dem Moore and Stefano Martinotti, partners at McKinsey, sums up 5 factors that will shape the future of digital education:
1. Common accreditation standards for digital curricula and credentials
2. Transparency around outcomes
3. Data privacy regulations and IP rights
4. Building and strengthening digital capabilities at all levels
5. Efficient setup and deployment of secure IT infrastructure
The graph below shows the number of deals and funding total (in US dollars) in US educational technology companies from 2015-2019: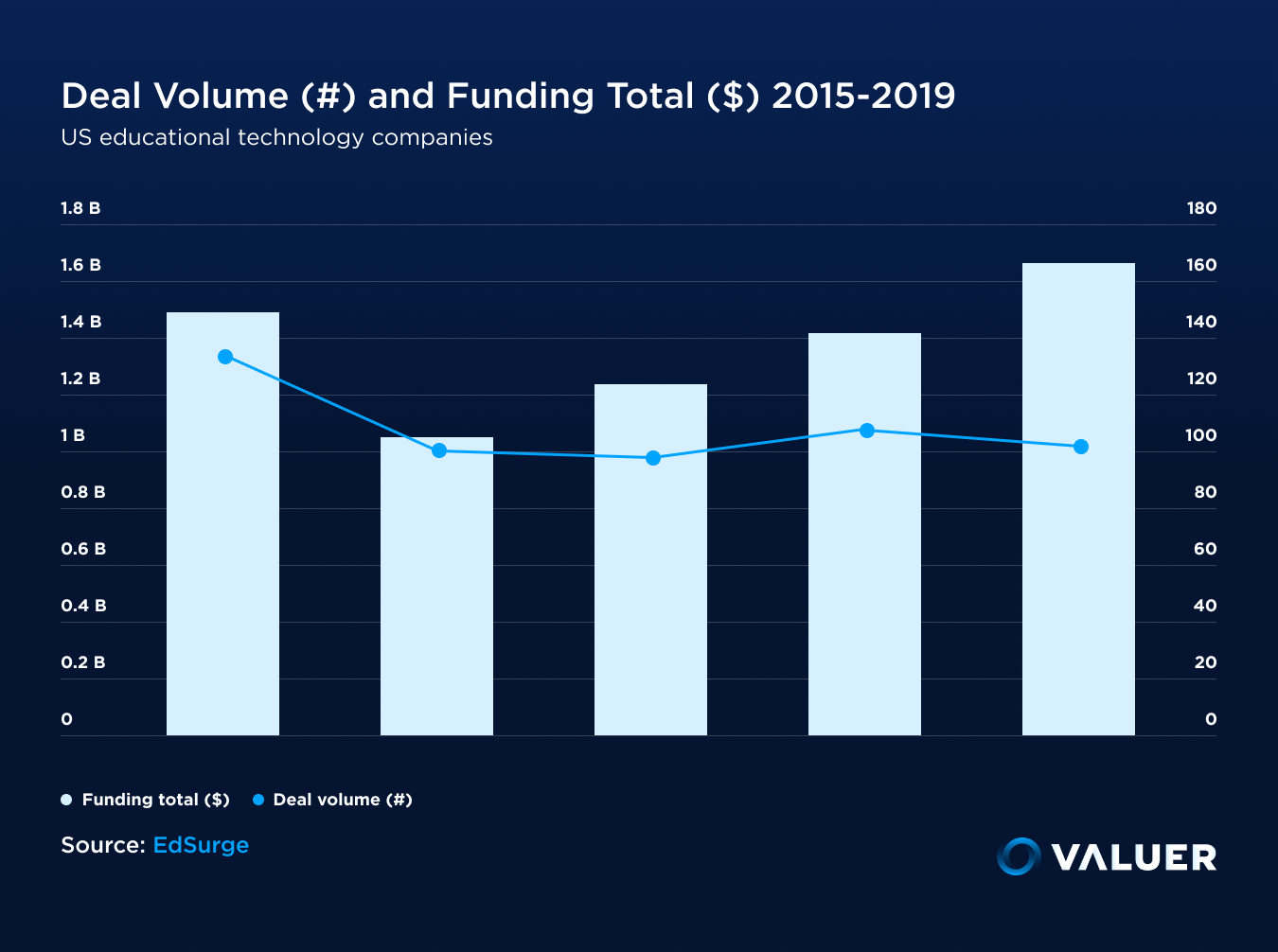 Financial expert, Steven Southwick from Toptal, states there are two main topics that will have a huge impact on EdTech trends in 2020: online learning and emerging technologies.
Online learning will continue to grow
Through the last decade, and even more so now that ever, there has been a major shift towards online learning. This is evident from early-stage VC-backed players seeking to disrupt higher education and corporate learning.
Companies are investing heavily in online learning across a variety of sectors where some are focused on offering introductory-level college/university courses for a fraction of the price as a traditional education, whereas others are focused on providing training videos for healthcare professionals and major companies.
Here are some major players seeking to disrupt aspects of higher education and corporate learning: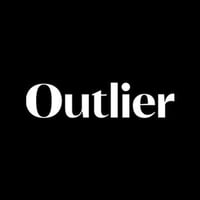 Outlier is a startup that allows students to take online courses for college credit. Co-founder and creative director of the popular online education platform Masterclass, Aaron Rasmussen, stated that his goal is to address the rising cost of higher education by offering an affordable alternative. The company has recently raised $11.7 million in Series A funding to a total of $16 million.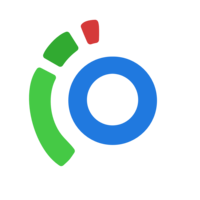 Currently at over 1.8 million subscribers on YouTube, Osmosis is a leading medical & health education platform that provides medical information to both current and future clinicians and caregivers. Their YouTube channel mainly focuses on general consumer health and medical concepts whereas their Osmosis.org learning platform features more in-depth videos for health professionals and students. The company has recently raised $4 million in new funding.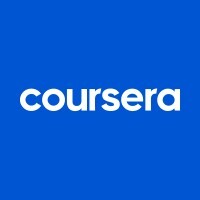 Partnering with more than 200 leading universities and companies, Coursera offers a wide range of learning opportunities to individuals and organizations worldwide. With more than 70 million users around the world building new skills and confidence, Coursera provides a flexible, affordable and job-relevant online learning platform. Earlier in 2020, Coursera raised $130 million in Series F round of financing bringing the company's cash balance to more than $300 million.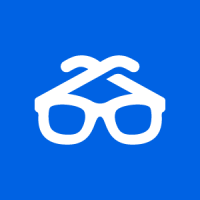 Using data and analytics, Degreed drives businesses forward by giving employees the skill and development using their upskilling platform. A corporate education platform for employees, its platform offers curated educational content which includes courses, videos, podcasts and opportunities for employees to earn certificates and credentials. In 2020, Degreed raised $32 million in a Series C extension totaling $182 million in venture funding to date.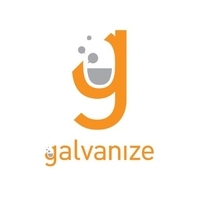 Galvanize is a technology ecosystem for learners, entrepreneurs, startups, and established companies. The company offers startup office space and coding and data science boot camp programs aimed at preparing the next generation of students to keep up with the demand for technical positions amidst the technological revolution. In early 2020, K12 Inc, one of the largest education management organizations (EMO), acquired Galvanize in a $165 million deal.
Emerging technologies making their way into education
Despite initial pushback from the education establishment, it was not long before they realized the value of today's innovations which use cutting-edge and emerging technologies to enhance the learning experience. Just to mention a few; virtual reality (VR), augmented reality (AR), artificial intelligence (AI), machine learning, robotics and even blockchain are all making their way into the products of learning tools that provide so much potential.
If you are an educator, or someone who is involved in one's learning process, following the technological trends in education is essential. It is up to you to figure out which technology is best suited for the type of teaching and training.
Check out eLearning Industry's article to learn more about the Top 10 Educational Technology Trends in 2020-2021.
Below are two examples of companies that are harnessing the tools of emerging technology for teaching: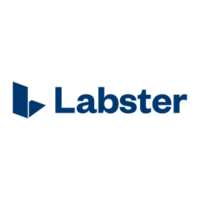 Labster is a technology company that develops fully interactive advanced lab simulations for students e-Learning. These interactive simulations are powered by VR for students that wish to explore and conduct lab experiments in a wide range of life science disciplines. Back in 2018, a reported 200,000 students were using the software after a successful quadrupling of annual growth. In 2020, Labster brought in another $9 million with a combined total $40 million to-date.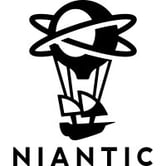 Niantic Labs, the company behind the popular AR game Pokemon Go, was originally formed as an internal startup within Google and later became an independent entity. Being leaders in AR, the company is focused on building a state of the art planet-scale augmented reality platform for current and future generations. Furthermore, the company announced back in 2019, that they are working to expand the horizons of education by continuing to invest in AR education applications. Their last round of funding scored the company $245 million in a Series C fundraising round.
Where these EdTech companies are located
What the future holds for EdTech
The list of companies highlighted in this article are just a fraction of the number of EdTech companies that are making a presence on the world stage. In the months and years ahead we will see the industry diversifying even further, creating a large runway of opportunity across the business lifecycle. Beyond online learning, immersive technology and AR, advancements in artificial intelligence, robotics and blockchain technology will present themselves in a wide range of EdTech applications.
Valuer, with its data-driven platform allows corporates to capture these opportunities by capitalizing on emerging markets that are rapidly evolving in an era of digital globalization. In other words, the Valuer AI platform is able to identify unique business models and startups that provide value to your companies' unique innovation strategy.
As long as businesses and industry leaders are focused on putting the student at the center of attention, the best companies, investors and impactors within the industry will come out on top. Exploring ways on how to reduce costs, deliver quality education for both children and adults, and to deliver impactful results will prove to be the long-term winners as the EdTech market continues to evolve.
The digital transformation in education is gaining traction with new solutions emerging across a wide range of industries that are proving to show enormous potential for societal benefits and economic growth. The combination of hyperscaling online learning to reach massive amounts of people with emerging technologies, provides an opportunity for 'digital lifeline learning journeys'.