*Updated December 2022
In this article, we dive deep into what Big Data processing really is and the innovative technology solutions happening in data processing. Also included below is a list of innovative Big Data startups in Europe, as well as an analysis of the market.
What is Big Data?
Depending on the source, the definition of big data is varied.
The common definition comes from Gartner, who, in 2001, defined big data as "high-volume, high-velocity and/or high-variety information assets that demand cost-effective, innovative forms of information processing that enable enhanced insight, decision making, and process automation."
In simpler terms, it is the gathering of large unstructured data sets. That could be the newsfeed of your LinkedIn, the news articles that you click on, or the videos you watch. It is the data processing from connected technology that is too complex and large for traditional data processing applications.
The data is then analyzed to identify insights from data processed, spot trends, and discover patterns using computational methods. This structuring improves our understanding of customer wants and needs, providing valuable insights.
Our ability to work with the unlabeled and unstructured mess that is Big Data dramatically shifted in 2012 when, for the first time, humans discovered how to work with deep learning neural networks.
Prior to this date, deep learning was considered an impossible task that, in theory, made sense but, in practice, was useless. It wasn't until it was used in a study of the world's largest data set of images that its potential was realized.
This threw AI solutions into the forefront and made it possible to work with Big Data technology (in this case, machine learning would not work as it is in need of structured data and supervision).
[Related article - The Best AI Startups in Europe]
Every click, scroll, movie watched, item purchased - its data is stored somewhere. Even by reading this article, you are leaving a digital trail behind you. And it is ALL unstructured.
With the rise of the internet, the amount of unstructured and semi-structured data has made it extremely difficult for data processing, let alone trying and gain valuable insights from it.
Healthcare is just one sector greatly benefitting from this. For example, according to Google, they created an algorithm that can detect with 99 percent accuracy metastatic breast cancer.
Our relationship with data is not entirely positive
Unsurprisingly not all Big Data processing is used for the common good, consequently breeding resistance to the use of our data. And our lack of trust does not come as a surprise.
Take the Cambridge Analytica scandal, where over 87 million Facebook users' personal data was used without consent. One such example was the use of this information to support voters that were considered "persuadable" to vote to leave the EU.
Did that help the situation? Absolutely not. If anything, it made us more skeptical than ever. The friction is noticeable, and we are not used to our data being handled, even if the new intelligence and data is used to create better experiences and service from customers.
"Companies need to treat data like a valuable asset or raw material,"

- Ray Eitel-Porter, managing director at Accenture Analytics
There is much to learn, and we have only scratched the surface of these innovative technology solutions. Our reluctance is not helped by the fact that we are yet to fully understand what to do with these masses of data.
And it has given rise to a whole new breed of startups.
The best big data startups
Notable big data company that provides innovative technology solutions to help operate unstructured text data. Natural Language Understanding (NLU) solutions are offered based on brain-inspired Semantic Folding technology.
Founded: 2011
The company specializes in software development and consulting on scalable and Big Data processing systems. Among their offered services the following can be found: software development, technology consulting, MongoDB, managed services, corporate training, and CTO as a service.
Founded: 2012

Opinum specializes in environmental and energy data administration. They have developed a platform, Opisense, which makes it possible to save time and resources used by consumers.
Founded: 2014

A data platform for businesses that makes maps accessible even when offline. The goal is to create advanced technologies that are not complicated to use, showing the gains of GIS globally.
Founded: 2008

An analytics data platform that helps companies automate data processing and handling. The goal is to save time for companies so that they put their customers first.
Founded: 2016
An educational software used to learn a language with a "smart algorithm that tracks the progress and mistakes of users".
Founded: 2013
Beemray integrates location data, product automation, and customer experience, all in real-time. They collect digital touch points, create segments that are behaviorally based, discover broad UI for customers and make the audience litigable.
Founded: 2014

The company's mission is to make it easier for businesses and people to operate with fraud detection and claim automation.
Founded: 2014

Armed with an innovative technology solution, Leverton helps to manage corporate documentation. They generate relevant insights from disorganized data found in legal and corporate documents.
Founded: 2012

A helpful tool for retail businesses who want to secure their data. A management app in order to control their everyday transactions, including shifts, suppliers, and customers.
Founded: 2013

Used for video ads based on biometric data of users and an affecting insight from the aimed audience. This tool is helpful for advertisers and all types of businesses.
Founded: 2014

Based on business data analytics, perfect for your business optimization. Their platform applies AI in order to get valuable insights to bring decision support to the whole management team.
Founded: 2013

Operating in the AI industry, this company is based on Natural Language Interaction. Based on their AI, users of Askdata ask questions using Natural Language and receive data in an easy and understandable way.
Founded: 2014

A software lab that proposes data visualization software through visual interfaces.
Founded: 2013

This is a great tool for organizing your company. Here you can get in touch with all your customers, projects, and ideas in the same place.
Founded: 2013

An innovative tech company that aids in the development of software. The GitLab platform offers a single application for the entire Development Operations lifecycle, meaning that all can contribute to the development of software.
Founded: 2014

Mindfulness and experience is the main concept of the company, which helps you communicate with all your business partners using idea management software.
Founded: 2015

A management tool based on online media monitoring helps find trendy and innovative ideas for your business. It gives you the opportunity to connect with your target market in a simpler way.
Founded: 2011

Wizdee are enthusiasts in democratizing access to data. Using everyday language to seek data from numerous sources.
Founded: 2012

TPS Engage aims to make Digital out-of-home (DOOH) more innovative and user-friendly. They provide hourly-based deals, offering a platform suitable for a wide range of advertisers and networks.
Founded: 2013

Retail Rocket has the goal of offering consumer-based online shopping support services to thousands of stores. They offer website and email personalization.
Founded: 2013

Price2Spy is a price monitoring tool. It is useful for corporations to monitor their competitor's pricing strategies. There is no need to set up or acquire software, they take care of everything.
Founded: 2010

YesElf provides easy-to-follow steps of tools and software used by departments to simplify the onboarding process. No need for personal training, they use AI to analyze the user.
Founded: 2011

Event Registry is a real-time data processing tool that uses AI to find information on global events mentioned in articles and blogs.
Founded: 2017

How to control your finances? Users of Fintonic self manage their expenses and income with a platform that is mobile-centric. Currently, it is available in Spain and Chile.
Founded: 2012
A technical tool for health care companies. Health systems from different countries can together find a solution to improve their service in different sectors. Ivbar has developed a platform called ERA Vision that is able to manage healthcare depending on the value of the treated person.
Founded: 2012

WealthArc is a FinTech SaaS platform designed for external asset management companies. The solution leverages the latest technologies to enhance client experience, increase efficiency, and win new clients. At its core, WealthArc uses innovative banking APIs to provide seamless, real-time integration with custodian banks. Powered by technological advancements, such as cloud computing, artificial intelligence, and big data processing, WealthArc helps wealth managers in harnessing that technology and taking full advantage of automation, data integration and digital processes.
Founded: 2015

Use this consumer insights platform to get to know your customers. They have developed an AI engine platform that characterizes the users based on their common interest or differences and in this case advertisers get valuable insights from data and a better understanding of the consumers.
Founded: 2014

Through this sourcing tool you can search for any vacancies and find the perfect employee for your company. This platform can be used by HR agents and people that are seeking a job.
Founded: 2016

This enterprise-wide platform improves the cyber security of your business data. The platform is a risk-based aspect of your exposures, dangers but also your assets.
Founded: 2014
Where does Big Data come from?
We're rapidly increasing the sources of where our data comes from. In part, it is attributed to the impact of IoT.
For example, we're gathering data from the clothing we wear, from the purchases we make in-store to the extensive digital trails we leave behind on a daily basis, and somehow, this information needs to be connected.
Even if you haven't told them, Google has a complex ad profile on almost everyone. They know where you live, how old you are, where you travel, who you contact, the searches you make, the online purchases you make through a Google platform, and your live location. The list goes on.
It's time you learned about the Significant Locations list https://t.co/YdSS1wVs43

— Medium (@Medium) March 3, 2019
What are we doing with this data?
The storage required to handle this amount of data is so large that it is hosted and processed on the cloud. The cloud computing (the access to computing services over the internet) industry greatly benefits from this newly formed business.
One thing remains the same across industries. They want actionable and valuable insights from data. But how do you make sense of this data and ensure that you are guaranteed to receive accurate results?
One example shows how big data can be used to predict accurate human behavior. The National Academy of Sciences, in collaboration with Cambridge University, discovered that the "private traits and attributes" of humans could be predicted with high accuracy "from digital records".
Using Facebook likes, a personality test, and a data set of 58,000 volunteers, the study was able to determine sexual orientation, religious beliefs, sex, age, and ethnicity.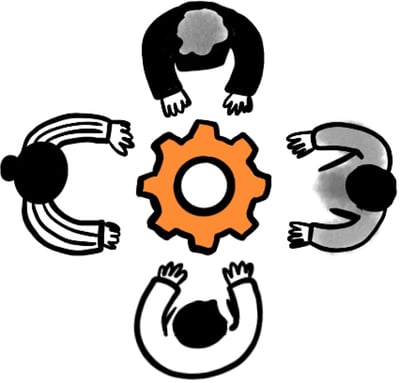 While there are obvious constraints across the board in regard to data security and budget constraints, there are positives coming from big data (for example, personalized medicine).
What is the global market like?
Big Data processing is affecting a number of industries. For one, it will provide a 360 view of the customer within organizations through a variety of internal and external sources used internally to help departments operate more effectively and efficiently.
It is also useful in fraud prevention, for example, it can determine potentially fraudulent activity within sectors like banking.
Monitoring social media, whether we like it or not, has become a place for finding real insight into customers. It's where we go to voice their opinions, and companies are beginning to create tools for analyzing and monitoring social activity in real time.
A report from the NewVantage Partners 2018 Big Data Executive Survey found that "97.2% of executives report that their companies are investing in building or launching big data and AI initiatives". The industry is also expected to grow exponentially.
And medicine, transportation, banking, retail, and construction will continue to become defined by the huge and ever-expanding entity that is Big Data.
Companies that use big data
Because of the constant development of the computer learning industry, it is now possible to do something with the masses of data. And it will continue to affect many industries and aspects of our lives as well as the companies that use big data.
From deep learning models that can detect cancer at the same level as trained professionals and self-driving cars to algorithms that can mimic your voice.
The possibilities of data processing are immense. And they come with concerns. The dominant AI players are dependent on the ongoing collection of user data. They are in need of this data to build their machine learning models.
And there is a lack of transparency over the data that is being used to train decision-making algorithms. Are they relevant, and do they lead to accurate predictions? With regulations like the GDPR, Europeans hold the right to access data held on them and amend the information, but do we?
There will always be a margin of error in data sets. Sometimes this can lead to skewed results. Take Google as an example. In 2018, researchers at Cornell University determined that by setting your gender to female, you'd be less likely to see job ads for high-paying jobs.
The House of Commons is looking to control the issues of algorithmic bias, working to maintain the AI market to ensure that the control of data is not monopolized by large organizations.
In the future, we can expect to see more personal interactions and deeper learning. We will also see a trend where companies and governments will look to find more efficient and fairer methods of gaining valuable insights from data.