*Updated August 2022
In a fast-changing digital era, small businesses grow fast. They disrupt the markets before market leaders have time to react. Once large companies miss a chance, it can be too late to get back their market position.
That's why, in the constant chase for innovation, big companies are starting to see startups not as a threat, but as an opportunity for business collaboration. According to recent studies, 75% of startups consider partnerships with corporates to be very important.
Why do corporations work together with startups?
Airbnb and Uber have shown that startups with new business concepts are industry disruptors and threatening to large companies. When a startup is launching a new product or service, corporations have to act fast and offer something similar. If not, they will risk losing their position in the market.
In recent years, this has happened to large corporations who have missed their chance to innovate and failed. In other words, corporations can either team up and work together with startup disruptors, or waste their time and money competing with the hope that the startup will fail.
The positive side of corporate partnerships with startups are obvious. The big companies have it all - resources, capital and network connections that a startup would like to have access to. Startup founders also get the chance to work alongside people from leading companies in their market. Keeping in mind that 9 out of 10 startups fail, the ones that get access to resources of their partner have the best chance of success.
Seems like the perfect match, as both parties can bring something to the table. On the one hand, corporations are receiving partners that help them to innovate, and on the other hand, startups find all kinds of support they need for their business to mature and grow.
How to form a business partnership?
Startups and corporations can cooperate and partner in different ways, depending on the desired type of business partnership. The best partnerships are not short-term project-based cooperations, but long-term business collaborations. This grants the opportunity for both companies to engage and work on weaknesses using the strengths of the other.
There are 4 models in which corporations are engaging with startups:
- Corporate venture funds with entities such as SAP, Qualcomm, IBM Watson, M12 (former Microsoft Ventures), Google Venture, Intel Capital acting as some of the active venture funds;
- Corporate accelerator featuring services and efforts from Microsoft Accelerator for Azure, PayPal, Oracle, Citrix and Cisco Accelerator exemplifying a few well-known startup accelerators conceived by their respective multinational corporations (MNCs);
- Platform evangelism (Google cloud platform, Bluemix, AWS, IBM, Oracle, Rackspace, Salesforce, etc.);
- Ecosystem collaboration - engagement in this category falls under hackathons, startup competitions, conferences, meetups, thought leadership, etc.
Win-win business collaboration
Nonetheless, lots of startups and corporations find it difficult to collaborate and work productively with one another. There are plenty of barriers to go through to build a successful and long-lasting business partnership between corporations and startups.
For example, a different company culture, working methods, communication styles, the speed of execution, the tasks and above all the company's expectations.
The process through which the relationship (or ultimate business partnership) is developed between corporations and startups is vast, varied, and evolving, uniquely adapting in each instance. While there is no single foolproof or dependable path for success, there are many possible partnership opportunities.
Here is an overview of the process corporations and startups go through to achieve a successful and long-lasting partnership. In other words, it is a visual description of potential solutions for a typical partnership: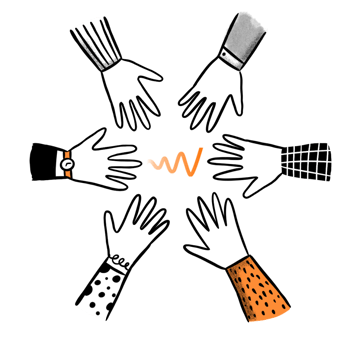 The business partnership process
Once it is clear what problem should be solved and how it might be done and executed, the next step is to set the expectations for the businesses. This makes it easier for startups and corporations to progress towards a potential business partnership proposal.
Corporate leaders have to predict future market and technology trends, analyze, and identify opportunities to partner with potential disruptors. On the other hand, startups have to strive to establish stronger partnerships for future growth.
Successful business partnerships are vital and necessary for both sides. However, it requires focus, analysis, and commitment from each side - along with determination, organization and a clear set of expectations.
Together with Valuer.ai, the discovery on each side of this equation will get easier. Focusing on turning weaknesses into new market opportunities and strengths is what it's all about. The possibilities to grow and innovate on both sides are limitless.
When the collaboration is mutual, both parties will ultimately benefit from each other's success. There is no doubt that corporate and startup partnerships are going to drive the new era of the digital revolution.