*Updated December 2022
The world is in need of a new and sustainable economic model, a circular economy. The quest for goods coincides with the growing problem of plastic waste in our oceans, rampant air pollution, and uncontrolled wastewater disposal.
According to a report by the European Union, the EU alone produces more than 2.5 billion tons of waste every year. In order to tackle this challenge, the EU is working on updating its legislation on waste management to promote a shift to a more sustainable model known as the circular economy.
Transitioning to a circular economy
Transitioning to a circular economy is to change the traditional make-use-dispose economic model allowing us to keep resources in use for longer. This model allows producers to take out the greatest value from resources whilst in use, while also recovering and regenerating products and materials at the end of each lifecycle.
By adopting this process, the end-of-life concept can be replaced with restoration. This enables a shift towards the use of renewable energy, reducing the use of toxic chemicals that stand in the way of reusing products and poison the biosphere.
The circular economy concept aims for the elimination of waste through the superior design of materials, products, systems, and business models.
The potential benefits of adopting such measures are enormous, with the Ellen McArthur foundation stating that applying circular economy principles could unlock up to EUR 1.8 trillion of value for Europe's economy as well as providing significant social and environmental benefits.
However, manufacturers are hesitant to adopt these changes in production as they believe that they can impact profit margins from new product sales.
This slow reaction by manufacturers presents an opportunity for entrepreneurial companies with innovative business models to fill the market gap and create new socially responsible business opportunities.
Where does Europe stand?
A 2018 study by the CEPS Task Force on the Role of Business in Circular Economy Markets, Processes and Enabling Policies argues that circular business models represent a significant investment opportunity in many European countries in the current European context defined by slow investment and low growth.
Moreover, according to a report by ING, the growing market of the circular economy is estimated to generate up to 4% growth over the next decade.
Another study carried out by SYSTEMIQ et al. points out that the growth potential associated with innovative circular models is high claiming that by 2030, the next round of investment in the circular economy will lead to GDP growth of about 7%.
However, the study also suggests that circular business models remain underinvested estimating that in Europe alone, to seize the opportunities of a circular economy as much as €320 billion should be channeled by 2025 in three circular sectors alone:
mobility and transport
the food industry
the built environment
EU policy and investments
Aiming to capitalize on these market opportunities and kickstart the transition towards a fully climate-neutral and circular economy, the EU has drawn plans for the European Green Deal which plans to mobilize at least EUR one trillion over 10 years.
The plan also intends to create a framework that will facilitate and stimulate the public and private investments required for the transformation towards an inclusive, climate-neutral, green, and competitive economy.
The essential goal of the plan is to empower investors by putting sustainable finance at the heart of the financial system. The aim of this is to promote sustainable investment by public authorities by encouraging green budgeting and procurement, and by designing ways to facilitate procedures to approve State Aid for "Just Transition" regions.
Additionally, the Commission will support public authorities and project promoters in planning, designing and executing sustainable projects.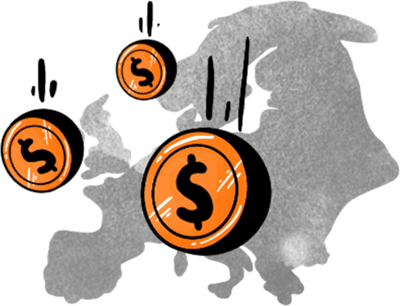 The just transition mechanism
A crucial part of this plan is the Just Transition Mechanism (JTM). The JTM was designed to ensure that during the transition towards a climate-neutral economy, affected regions get adequate support.
The JTM will help achieve this by providing the most affected regions with the support of at least €100 billion over the period 2021-2027, intended to mitigate the socio-economic fallout of the transition.
This will enable workers and communities which rely on the fossil fuel value chain to better adapt to the coming change. The EU plans for the JTM to exist as a separate tool in addition to the substantial contribution of the EU's budget through all instruments directly relevant to the transition.
Regulations are standing between companies and the circular economy
The number of companies interested in the circular economy is growing. Every year, more companies are deciding to replace throwing materials away on landfills with using them over and over again.
However, the concept of the circular economy is still abstract to most organizations. Organizations struggle to understand how the circular economy works and how they can benefit.
An ING report states that the perception of businesses remains focused on cost-saving aspects instead of creating value. However, the circular economy is not limited to the reduction of waste and the recycling of products. It is about reusing materials to reduce resource spending, leading to a smaller risk in supply chains and reduced climate pollution.
Only a small percentage have advanced strategies that include a circular economy as an answer to consumer trends. And the small number of businesses are transforming with the circular economy do face their own challenges.
A report by Technopolis for the European Commission has detected six most common regulatory barriers companies are facing:
Undefined terms regarding circular economy and gaps in legislation
Unclear targets mentioned in the legislation, like in the Waste Framework Directive
The defined hard numerical limits in the legislation
Not or partially implemented legislation, especially in the Waste Framework Directive and Exports and Shipment regulation
Differences in the national implementations of legislations
Contradictory legislations due to the values they stand for, like hygiene rules vs. food waste
More than ever, changes in legislation are more than necessary. Legislation for product design should include the entire product lifecycle. This gives products the possibility to increase environmental performance, aligning with the circular economy paradigm. Reduced emissions of gas, soil, and groundwater and reduced resource consumption are only some of the results circular economy products should bring us.
The Danish Business Authority is creating better conditions for circular economy innovators
Recognizing the potential of the circular economy, many public organizations have embarked on a journey to help circular economy startups grow and contribute to a better future. The Danish Business Authority is one of these organizations, with the goal to make running a business in Denmark as easy as possible.
According to the organizations, business conditions should be easy and attractive. "Easy" in that businesses don't struggle with administrative hiccups and that all the communication is done digitally. "Attractive" in that business conditions are flexible to change once problems arise.
With these goals, the DBA is focusing on contributing to sustainable economic development in the following years. That's why the organization is working towards the creation of the best conditions where startups can develop new circular business models.
One of the actions the DBA initiated was a Horizon scan that highlights the newest trends in circular business models. This scan aimed to discover circular economy startups that have the potential to create sustainable future solutions. Moreover, it had the objective to detect the pain points that businesses are facing in terms of regulatory compliance.
In collaboration with the DBA, Valuer performed the Horizon scanning methodology based on a machine learning algorithm, selecting the innovators with the largest potential in the circular economy. From a selected 35 cases, Valuer narrowed the list to 15 startups that serve as an inspiration for other companies as they embark on the circular transition journey. They come from various industries, including food, packaging, textiles, construction, etc.
An example of an innovator with potential includes Ecovative Design. This startup uses mushrooms as an alternative to plastic packaging. The startup produces biodegradable materials from mushrooms' mycelium foundry, later used to produce footwear and leather alternatives, as well as composite materials and packaging.
Another impressive startup located is Norwegian AirBnb for clothing, FJONG. FJONG is a wardrobe sharing platform that allows users to rent clothes and bring the sharing economy into the fashion world.
Why corporate-startup partnerships are important in achieving the circular economy
One way of solving regulation-related challenges is to join forces with other organizations and overcome problems together. Partnerships between corporates and startups are very valuable in this field, as they can both benefit from the position of their partners. Corporates have financial stability and experience, while startups drive innovation.
Companies like Honda, GM, Unilever, Dell, and Procter & Gamble have already recognized the business benefits of going circular. Reduced costs, improved reputation, and attracting talents are only some of them. Moreover, circular economy also opens doors to new markets and enables better product differentiation.
However, they are dependent on too many factors from both inside and outside their companies, and here's where startups should step in. Although they might not be economically stable, they are recognized as initiators of innovative business models, market disruptors, and industry transformers. Their limited resources can't keep them out of strategic partnerships with large players that can truly advance the adoption of sustainability.
Great examples are leading the way
The possibilities for capturing value through adopting the circular economy method are endless, and startups are working tirelessly to capture their cut of the pie.

re:newcell a Swedish startup that produces Circulose—a new material made of recycled cotton and viscose, partnered up with fashion giant H&M. The startup wants to create a loop where clothing materials are re-used instead of thrown in a landfill. This aligns with H&M's goals, considering that their brand Weekday was the first brand to test denim fiber produced by Infinited Fiber Company.

Another example is the collaboration between fiber producer Spinnova and Norwegian outdoor clothing company Bergans. The two companies created a fully-circular subscription-based model that produces fiber from used products that are made of fully natural materials. Spinnova's fiber made of FSC-certified wood and waste streams is a perfect match for Bergans's sustainability model.
Further examples include Looptworks, a company launched in 2009, which aims to repurpose abandoned materials into "meaningful, long-lasting and limited edition products." To this end, the company has partnered with Southwest Airlines, and later with Alaska Airlines to upcycle the seat leather into soccer balls, bags, and other products.
Dutch company DyeCoo has invented an innovative cloth dyeing process that doesn't require the use of water or chemicals, excluding the dyes. This new method has enormous potential to impact the textile industry which uses vast quantities of water and chemicals and produces huge amounts of toxic waste. The value of this method has been recognized, and the company has so far partnered with major brands such as Nike and IKEA.

And last, Saperatec is a startup that has created a patented solution that enables the separation and recycling of flexible packaging that contains aluminum foil. The company is backed by Henkel, and the two companies have already been involved in technical collaboration for over two years, aiming to develop and enhance a range of customized recyclable adhesive solutions.
The list of startups finding new and innovative ways to give waste a second life is endless, and so is the list of corporations teaming up with such companies to transform their value chain and conform to new stringent environmental and social requirements.
However, even though the number of corporate-startup partnerships is growing by the day, the fact of the matter is that the rate at which circular economy principles are adopted is too slow, and the barriers that companies face are too high.
The future of circular economy
According to the UN, the global population is expected to reach 8.5 billion by 2030. In this reality, natural resources won't be enough to satisfy the needs of all the people who will be living on Earth. That's why the circular economy is necessary.
It will reshape our future and make our lives more sustainable. Living in a circular economy world means having systems that function in a loop, constantly restoring and reusing assets. In this world, we have less waste, and more innovations and advancements.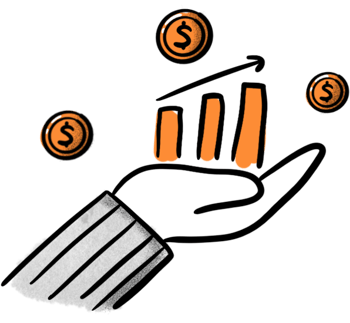 The world is, in fact, moving towards a sustainable future. However, the advancements aren't happening fast enough. Despite all the efforts, one truckload full of plastics gets dumped into the ocean every minute. Moreover, an amount of $500 billion gets lost every year due to clothing being barely worn and rarely recycled.
These facts are alarming. That's why we need more concrete actions that will bring results more efficiently. Luckily, entrepreneurs have started reacting. For example, Helsinki-based startup Sulapac produces straws made of raw and biodegradable materials, while the German company Grover encourages renting tech devices instead of buying new ones. There are many examples like these, waiting to be recognized and boosted by large and powerful corporations.
The EU also has a plan. Its Action Plan for the Circular Economy includes an entire set of measurable actions that cover the product lifecycle from production, consumption, to the use of waste. The organization has set some very important goals to achieve in the following period:
Recycling 35% of municipal waste by 2035;
Reducing landfill to up to 10% of municipal waste by 2035;
Recycling 70% of packaging waste by 2030;
Complete separation of household waste by the end of 2025, etc.
Moreover, the EU has set recycling targets for specific packaging materials, minimum requirements for production responsibilities, and prevention objectives in order to achieve the EU commitments to the UN SDGs.
Conclusion
The future is bright, and businesses are starting to take action. Joint action between stakeholders is the best way to achieve a sustainable future and advance circular economy, making the world a better place for all its inhabitants. Understanding this is crucial to the way of creating a better and more sustainable future.