*Updated December 2022
The SDG Forecast by Valuer is a series of in-depth reports that aim to help companies engage with the UN Sustainable Development Goals in a way that's both good for the planet and for business.
By stressing the importance of technology and industry innovation for corporate sustainability, each report focuses on one SDG and features startup data from the Valuer platform, relevant market analysis, trending technologies, innovative startups, and much more.
The report focuses on SDG 11, a goal that aims to make urban areas liveable, accessible, and sustainable. According to numbers published by UN-Habitat, cities take up only 3% of Earth's surface area, yet they account for 75% of global primary energy consumption and more than 70% of greenhouse gas emissions.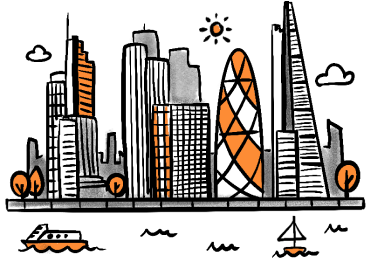 Aside from our analysis of smart mobility, waste management, and the sustainable construction market, the report explores the technologies of three successful startups relevant to SDG 11 (Tier IV, Autofleet, and Cireco).
Organizations that do a great job addressing SDG 11
The full version of the SDG Forecast report includes six case studies: three SDG 11-related startups and their technologies explained in detail and three corporations that do a great job at tackling the UN goal.
To provide more inspiration, this blog post lists additional NGOs, governments, corporations, and startups that work toward achieving the goal.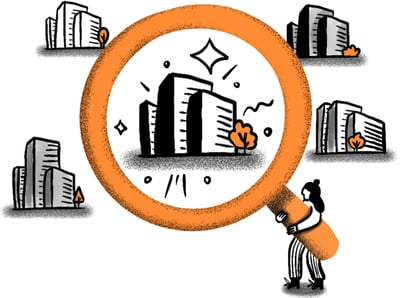 Sustainable startups focusing on Smart Mobility
Tel-Aviv, Israel
Optibus offers a platform that plans transportation on a large scale to reduce costs and improve efficiency. To plan the movement of vehicles and drivers, Optibus developed its SaaS platform based on AI technology, advanced optimization algorithms, and cloud computing. Founded in 2011, the startup established itself around over 1,000 cities.
Hamburg, Germany

Autofleet is a Vehicle as a Service platform for optimizing fleet performance. Their service offers two solutions - Ride as a Service and Vehicle as a Service. The startup's vision is to serve the demand for transportation in an optimized and automated way. The product is catered towards anyone in need of a vehicle and gives underused vehicles a new purpose.
Bristol, United Kingdom
FiveAI uses AI technology to develop software for self-driving vehicles in Europe. With its innovative technology, the startup wants to create "the foundation for tomorrow's self-driving revolution". FiveAI is one of the few companies that are working towards an automated mobility solution. The startup's goal is to create a development platform and self-driving stack.
Michigan, USA
Mcity, founded in 2015, is a research center for autonomous vehicles that provides studies and testing in a real-world environment. With over 65 industry partners and funds of more than 16 million dollars, MCity creates the best environment for development projects and innovative academics. Its goal is to create an advanced, safe, and sustainable solution to transportation to benefit society.
Utrecht, The Netherlands

GO Sharing offers shared electric transport with e-mopeds, e-bikes, and e-cars. Currently, its vehicles are available in several cities in The Netherlands, Belgium, Turkey, and Italy. According to the company, t
Michigan, USA
Karamba develops cybersecurity solutions for autonomous vehicles, based on its own patented technology targeting the ECUs. When implemented in the automobile industry, Karamba security system gets connected to the software of the vehicle during manufacturing. That enables high safety which automatically detects an attack and helps to prevent it from happening. The innovative systems also offer a solution to industrial controllers, enterprise systems, and IoT devices.
Herzliya, Israel
Otonomo provides a connected-cars platform for transforming automotive data according to the needs of diverse app requirements. The startup offers many cases in which its platform can be used, ranging from smart cities to innovative insurance, fleet management, and many more. Otonomo's vision is to help create more efficiency in cities in order to make them more environmentally friendly.
Guanzhou, China
WeRide is an autonomous driving company developing highly-automated L4 self-driving technologies. The company's aim is to deliver the safest autonomous-driving experience possible, to make it accessible and beneficial to everyone. Founded in 2017, WeRide has already grown to a team of over 300 employees all over the world, of which 70 percent are R&D employees to grow its technologies and innovation even further.
Shinpei Kato, Japan
TierIV is a Japanese company offering open-source software for the development of autonomous vehicles. In 2017, TierIV was the first to drive its driverless vehicle on a public road. Since then, the startup has teamed up with Apex.AI to create the Autoware Foundation and brought "Milee" to life, its first intelligent automated vehicle.
Burlingame, USA
Phantom AI provides a vehicle stack that is software based to enable OEMs and Tier 1 suppliers to fully personalize their experience. The three products offered are PhantomVision, PhantomFusion, and PhantomDrive, each created to innovate the autonomous driving experience. Founded by the developers of ADAS, the startup is full of powerful knowledge to make innovation happen.
Utrecht, The Netherlands
SnappCar provides a platform to share private cars, matching users' needs by finding the best match in the desired area. By making the process of sharing cars easy, providing insurance and dealing with the payment systems, SnappCar's aim is to reduce the number of cars in Europe.
Mountain View, USA
Waymo's aim is to create a safer driving experience and to decrease the number of traffic accidents. By implementing Waymo Driver, the startup wants to erase the 94% of crashes in the USA that are caused by human error or choice. Waymo wants to make driving accessible and safe for everybody.
Startups focusing on Waste Management
Copenhagen, Denmark
Nordsense develops waste management solutions to provide "greener, cleaner and smarter" waste collection. By implementing their system, costs are being reduced and emission is decreased by 50 percent. Nordsense offers smart containers, fleet management, and intelligent routing. San Francisco, Copenhagen, Netanya, and West London already partnered with the innovative startup to become more environmentally friendly.
Northampton, The United Kingdom
Olleco is an English startup that converts used oil and waste food into renewable energy and biofuels. Its mantra is: "Supply, Collect, Convert." Genuine contributor to the circular economy, Olleco has often been awarded including The Guardian Sustainable Business Awards in 2015, as the Winner of Waste Innovation.
Paris, France
A French-based startup, Phenix provides logistic solutions to reduce waste from unsold items and food. Starting from the postulate that "one-third of what we produce is produced for nothing", Phenix prides itself to give a second life to waste and connects those who have too much with those who do not have enough.
Prague, Czech Republic
MIWA offers a technological innovation for retail precycling with the aim to eliminate disposable packaging. Aware that only 30% of plastic packaging wastes are recycled in the EU, MIWA - for MInimum WAste - has developed reusable capsules to make waste-free shopping the "new normal". As you buy food, you no longer buy packaging, and all the information on the products is then transferred to your app.
Oslo, Norway
Quantafuel developed a patented technology that converts mixed plastic waste, including non-recyclable plastic waste, into advanced low-carbon synthetic fuel and chemicals. By reducing plastic waste, local pollution, and the emission of greenhouse gases, the Norwegian startup has many environmental advantages. Its long-term purpose is to "end wasteful and unsustainable handling of our planet's resources."
Brantford, Canada
GreenMantra Technologies is a waste up-cycling company that converts plastic to specialty chemicals. With the mission to be "a catalyst for sustainable impact", the startup strives to be innovative and is putting this mindset to work for the environment. GreenMantra Technologies is also committed to reducing reliance on fossil fuels.
São Paulo, Brazil
eureciclo (formerly New Hope Ecotech) is a technology startup based in Brazil that connects manufacturers with waste packaging recyclers, offering them mutual interest. Complying with the new Brazilian waste policy, eureciclo is encouraging sustainability in the recycling chain and offers solutions for the recycling sectors, including companies, institutions, and recyclers. Always on track, eureciclo strives to be an avant-gardist using innovative software solutions.
London, The United Kingdom
Winnow developed cutting-edge technology to reduce food waste. The startup prides itself on providing effective solutions to thousands of chefs worldwide, allowing them to cut their food costs by between 2 and 8%. Winnow uses AI technology to make kitchens more sustainable and automate food waste capture.
[Related Article -The Valuer Top 10: Waste Management Startups List]
Startups focusing on sustainable construction
Kannonkoski, Finland
Betolar converts industrial waste streams into low-carbon, geopolymer-based construction materials. The startup strives to accelerate the transition toward sustainable construction and a circular economy, with 95% of reused materials in the products and 90% less CO² emissions compared to conventional concrete. The benefits are numerous in the sustainability sphere, including the environment, economics, and social.
Helsinki, Finland
One Click LCA delivers easy-to-use, efficient, and automated software solutions for sustainable buildings. The startup offers tools for all construction projects, including buildings and renovation, infrastructure, construction product EPDs, and corporate GHG reporting. One Click CLA wants to "make life-cycle metrics calculations as easy as possible".
Bogoe, Denmark
Ucomposites is a Danish company that manufactures advanced specialized composites and glass fiber technology products. The startup is aware that the production of virgin glass fiber is very energy-demanding. That is why Ucomposites takes a technological angle on recycling to make it possible to develop the "same quality as the virgin alternatives." Aligning with UN Global Compact Sustainable Development Goals (SDGs), Ucomposites is contributing to reaching SDG11.
Nokia, Finland

Cireco is a construction project management company that operates based on the principles of the circular economy. Responding to the growing demand for circular economy solutions on the market, the startup takes part in even more regional development projects, such as the reuse and longevity of construction projects.
Milpitas, USA
View is an American startup that creates smart windows using electrochromism technology. Its vision is built on three pillars: improve health and productivity, increase value and save energy. To make cities and human settlements inclusive, safe, resilient, and sustainable, View advocates for natural light and views and improves people's health and wellness while simultaneously saving energy.
San Francisco, USA
UrbanFootprint developed software that enhances urban planning for sustainable cities. By delivering insights to governments, companies, and academic institutions in urban planning and many other fields, UrbanFootprint strives to help cities and businesses reach SDG11. Its cloud-based Urban Intelligence software helps customers to explore urban markets, analyze the impacts of future scenarios, and gives access to maps reporting.
Sustainable companies
Stockholm, Sweden
Skanska is a Swedish construction company founded in 1887, in Malmö. They are "one of the world's leading project development and construction groups." Skanska's ambition is to use its construction activity for the benefit of a better society.
The company's strategy largely focuses on sustainability with an agenda consisting of five focus areas: Health and Safety, Ethics, Green, Community Investment, and Diversity and Inclusion.
To make cities inclusive, safe, resilient, and sustainable, and champion SDG11, the company is engaged in several activities, including two of its focus areas: Green and Community Investment. Confirmed by external certifications, Skanska's constructions achieve a high sustainability standard and improve communities "through holistic design solutions."
Involved in numerous operations, the company has designed and built the "first rail transit project certified under Envision", a sustainability rating system for civil infrastructures, increasingly used in the USA. In the future, it will also cooperate with startups, belonging to the Innogy Innovation Hub, to make a better future.
Munich, Germany
With its worldwide presence and largest industrial manufacturer in Europe, Siemens' values are followed by sustainability. A sustainable approach is the only way to profitable and long-term growth for the manufacturer.
The corporation's products provide many different solutions. Its city performance tools were used to reduce 80% of San Francisco's greenhouse gas emissions to make urban development more sustainable. Siemens also developed an AI-driven city air management system through local sensors that record air pollution.
The company sets itself the target of being carbon neutral and has decreased its CO2 emissions by 41% since the launch of the program. By following a more sustainable path, the company expects to save twenty million euros every year from 2020 onwards. Being so transparent with its targets to a more sustainable future, Siemens is inspiring businesses to innovate and embrace the SDGs set by the UN.
Copenhagen, Denmark
Rambøll is an engineering consultancy company based in Copenhagen and specializes in diverse fields and markets such as "Buildings, Transport, Water, Environment & Health, Energy and Management Consulting". Rambøll's ambition is to create sustainable societies and help "drive a sustainable transition towards a more resource efficient future", thanks to a multidisciplinary approach.
As far as SDG11 is concerned, Rambøll has collaborated with partners to assist the Danish Parliament's 2030 Network in developing supplementary indicators for SDG11. In 2018, the society contributed directly and positively to the SDGs with 55% of total revenue.
Rambøll has created a baseline and digital dashboard helping Danish municipalities to measure and reach the UN's SDGs. The baseline was presented in early 2019: "each of the 98 Danish municipalities can now see how they are doing on the global goal 11 which focuses on Sustainable Cities and Communities."
Sustainable governments
The Israeli Government is well aware that SDG11 is a goal of major importance while, "according to demographic predictions, by 2030 11 million will live in Israel, and by 2048 15 million people". As one of the densest and most urbanized countries in the world, with almost 93% of its population living in cities, Israel faces crucial challenges.
The Israeli Government is committed to taking part in the UN's 2030 Agenda and improving and tracking SDG11 to "strengthen the sustainability, resilience and inclusiveness of cities and regions throughout the country."
In addition to setting up KPIs and action plans to reach SDG11, the Israeli Government created a new target, 11.8 entitled "Urban Renewal", as a pivotal aspect of sustainable urbanism in Israel.
That sub-target is illustrated by ambitious projects such as the "Kiryat Moshe" project in the city of Rehovot, "to promote urban renewal and regeneration in neighborhoods", reflecting the willingness of the country to reach its SDG11 goals.
If the implementation of the SDGs is a topic of major importance in the international context, it also is in terms of the Russian Federation's agenda of socio-economic development.
Russia's 2024 development agenda has put great focus on SDG11 and the development of urban areas. They have led several projects such as the "Housing and Urban Areas" program, implemented in 2018. This project encompasses milestones such as providing "affordable housing for middle-income households including opening up opportunities for purchasing (building) of housing."
The Russian Federation has a lower global index score in the Sustainable Development Report Dashboards 2019 than countries like Denmark, France, and the People's Republic of China (PRC).
The Government of the Czech Republic has created the Czech Republic 2030 program. The contents of the program are divided into six key areas: People and Society, Economy, Resilient Ecosystems, Regions and Municipalities, Global Development and Good Governance. The broad spectrum of Czech Republic 2030 covers all the sustainable development goals of the UN.
To improve the nation's cities and communities, the government set out to make urban planning more effective and to invest in smaller companies. Part of their solution for fast-growing cities is to re-urbanize existing areas and revitalize brownfields.
The Czech Republic and its program is a great example of implementing sustainable choices in a country and shows how to improve the environment, citizens' lives, and the economy.
Sustainable NGOs
London, United Kingdom
C40 cities is a network of over 96 member cities, more than 700 million citizens, and one-quarter of the global community. They are committed to addressing climate change. Leading the way toward a healthier and more sustainable future, C40 city mayors are committed "to delivering on the most ambitious goals of the Paris Agreement at the local level."
One of these major goals is to make cities inclusive, safe, resilient, and sustainable, as the eleventh United Nations Sustainable Development Goal. By collaborating with startups and incubators such as the Los Angeles Cleantech Incubator (LACI), sharing knowledge, and driving "meaningful, measurable and sustainable action on climate change", C40 cities stand for sustainable cities and communities.
The UN reminds us that cities and metropolitan areas account for 70% of global carbon emissions and that rapid urbanization worsens air pollution. That is where C40 cities' action plans come in: "80 C40 cities and 34 non-C40 cities are committed to developing 1.5°C aligned, resilient and inclusive climate action plans and 12 C40 cities have already completed the plans".
Bonn, Germany
ICLEI is a non-governmental organization founded in Germany, with the aim to support and push sustainable urban development. By taking this approach, ICLEI aims to spread solid regulations in the interest of local and regional governments and help to implement them.
The NGO created "five interconnected pathways" to act as a guideline for their work. The pathways are the "Low emission development pathway", "Nature-based development pathway", "Circular development pathway", "Resilient development pathway" and the "Equitable and people-centered development pathway". Symbolizing a roadmap by naming them pathways, urban transformation to enable sustainable living is ICLEIs desired end goal.
The organization's work spreads across over 3,500 cities, towns, and regions worldwide. With its well-established action plan, the NGO wants to create systematic changes in cities in order to make a big and long-lasting change in today's urban development.
Bruxelles, Belgium
The aim of Mobilise Your City is to create a more sustainable life. By partnering up with more than 60 city members, the non-governmental organization wants to push urban mobility planning, policy development, and investment in sustainable transport.
The organization supports its members in three focus points: technical assistance, technical and methodological resources, and advocacy through outreach and communications. The support is provided through their programs - SUMPS and NUMPs. SUMPS stands for the organization's strategic Sustainable Urban Mobility Plan, while NUMPs is its National Urban Mobility Policy to improve the implementation of SDG-related projects and actions.
The NGO has two main goals, the reduction of greenhouse gas for at least 100 cities, and for at least twenty cities to have adopted sustainable urban mobility policies. Mobilise Your City is being funded by the UN to make more work possible and support urban development.
Conclusion
Rapidly expanding cities mean higher energy demands, more waste production, and challenges with traditional mobility and infrastructure, which already calls for innovation in sustainable practices. From restaurant chefs and soda manufacturers to city officials and real estate developers—all sectors are now responding to this imperative.
Businesses are core to the development of cities, and as such, they're not only well-positioned to deliver on the SDG 11 promise, but can also expect multi-faceted business opportunities. More sustainable cities, among other perks, translate into a better operating environment, lower running costs, and healthier, more productive citizens.
A concerted effort to improve communities' sustainability will demand investment across various sectors, including transport, construction, and waste management. This section of the report inspects the three markets and their technological trends that can help companies keep pace with cities' expansion.