*Updated November 2022
This month's publication focuses on Transport and covers three relevant topics: Urban Mobility, Shipping, and Transportation Software. You'll soon discover how we help corporations find sustainable solutions through tech innovation and business models that will fit your company's needs like a glove.
How we made this report
Innovating Sustainability is a series of reports published by Valuer about innovative technologies and business models that make industries more sustainable. Published monthly, each report focuses on a specific industry and includes findings from our database, We take into consideration over 500,000 companies, popular and niche technology trends, market projections, case studies, and lots more.
A sustainable future through the transportation industry
According to the EPA, the transportation sector is the leading cause of CO2 and greenhouse gas emissions (GHG) globally and accounts for 29% of the total GHG emissions by economic sector. The main culprit in this sustainability fiasco is the burning of fossil fuels, which account for the majority of the CO2 that is being produced within the sector.
As the world population by 2050 is expected to jump to 9.9 billion, the taxation that transportation puts on the environment will increase. If you couple this with the number of developing economies and an ever-increasing globalized market, the need for sustainable solutions and practices that lead to decarbonization within the transportation industry at large is imperative, to say the least.

Companies that develop and implement sustainable solutions in the transportation industry
The full version of the Innovating Sustainability report includes four case studies: three corporations (Lime, Maersk, TomTom) that implement sustainable transport systems and one startup that develops innovative technology (Tier IV).
Inspired by these companies we decided to highlight even more corporations and startups that are implementing and developing sustainable and reliable transportation solutions in this article.
Innovative transportation startups
Tokyo, Japan

Tier IV was founded with the purpose of building a collaborative platform for accelerating the research, development, and commercialization of autonomous vehicles. The company develops Autoware, dubbed the world's first open-source software for autonomous vehicles. Autoware has already been used by more than 100 companies in over 10 countries.
Sandnes, Norway

PODBIKE is a Norwegian company developing a human-powered vehicle with electric assist to provide personal transport with minimal environmental impact. Their product is an e-bike with four wheels, which provides full weather protection and is made from easily reusable materials.
Brooklyn, USA

HEVO provides a wireless charging network for electric vehicles (EVs) with the vision of serving as a global standard for universal and ubiquitous EV charging. Their power stations appear as manhole covers and are flawlessly integrated into the standard urban conditions.
Munich, Germany

KONUX provides a predictive maintenance system for rail switches. The KONUX system is an end-to-end solution which uses IoT devices and artificial intelligence to improve network capacity, extend asset lifetime, and reduce costs by continuously monitoring the health of key switch components.
Barcelona, Spain

IoMob is a provider of a blockchain-based technology company aiming to decentralize mobility. The technology integrates transportation services within a blockchain operating system in which every mobility provider can operate without the need for intermediaries, legal agreements, or proprietary apps.
San Francisco, USA

CarVi is an AI-powered driving assistant system that aims to decrease the number of road accidents and improve driver's behaviour. The system combines a dashboard camera and a smartphone app to provide real-time forward collision and lane departure warnings, while automatically collecting data on the driver's habits to offer tailor-made assistance.
New York, USA

Coord develops a curb management platform in order to help improve the safety and efficiency of urban transportation. The product's features include digital inventory of curbs and curb assets, visualization of the impact of alternative curb uses, exploration of new curb applications, digitize curb operations etc.
Beijing, China

UISEE is a Chinese startup that provides driverless-car technologies, with its name being an acronym for Utilization, Indiscriminate, Safety, Efficiency, and Environment. UISEE's autonomous driving system called U-Drive combines AI algorithms, hardware, software, and cloud applications that represent a scalable solution for autonomous vehicles that covers many unpredictable situations.
Guangzhou, China

WeRide is an autonomous driving company developing highly-automated L4 self-driving technology. They provide full stack hardware and software solutions for autonomous vehicles as well as simulation, data labelling, and HD maps.
T

el Aviv, Isreal
Autofleet aims to bridge the gap between inefficient on-demand ride services and existing underutilized fleets. Using advanced machine learning algorithms, the Autofleet platform predicts ride demand, determines prices based on demand dynamics, and optimizes demand-supply matching.
New Delhi, India

Get My Parking developed an IoT- and cloud-based solution that aims to simplify parking by digitizing the entire process. The startup offers solutions for parking contractors (enterprise solutions), governments (smart city), infrastructure partners (platform integration), and consumers (mobile apps).
Alicante, Spain

Carmetry offers an app that uses AI, Big Data technologies, and GPS devices for the management of fleet operations. They can connect a variety of vehicles and bring them into a single platform to provide GPS locations and output reports on how operations can be improved.
Amsterdam, The Netherlands

Avy develops and operates self-flying drones (VTOL/UAV) for medical deliveries, sustainable cargo, and first response missions. The electric long-range drone is 100% emission free and implemented at a fraction of the cost of a helicopter or a plane.
Barcelona, Spain

Eliport solves last mile logistics problem by providing robotics solution with fleets of ground-based delivery machines. These robots are autonomous and they travel on pavements and in pedestrian zones, able to load and unload cargo without any human interaction.
Greenbay, USA

MatchBack Systems developed a platform for avoiding the repositioning of empty containers, based on big data technologies, cloud computing, advanced algorithms, and automation. The company is driving a paradigm shift in the supply chain for importers/exporters, steamship lines, truckers, and third-party logistics to automate and simplify matchback through a neutral industry platform.
Cupertino, USA
Plus.ai specializes in developing full-stack self-driving technology to enable large scale autonomous commercial fleets. They are one of the most advanced autonomous trucking companies today in terms of technological progress and were the first to obtain California's Autonomous Testing License.
Burchsal, Germany
Volocopter is an urban air mobility company that develops eco-friendly air taxis to transport people and goods. Their products include air taxis and ports, heavy-lift drones and a digital infrastructure for monitoring air operations.
New delhi, India

Euler Motors is a full-stack OEM that builds electric 3 and 4 wheelers, with a focus on commercial mobility and last-mile logistics. Their goal is to help companies transition to electric mobility by providing vehicles, driver/mechanic training, software, charging stations, and service.
Toulouse, France
EasyMile is a high-tech startup specialized in providing both, the software powering autonomous vehicles and smart mobility solutions. Their vehicles include a driverless electric passenger shuttle, as well as a driverless electric tow tractor for industrial uses.
London, United Kingdom
CORE POWER is a UK-based development company specializing in scalable atomic power technology for ocean transport and heavy industry. In partnership with leading international corporations, CORE POWER aims to deliver durable zero-emission energy for floating industrial production and deep-sea shipping.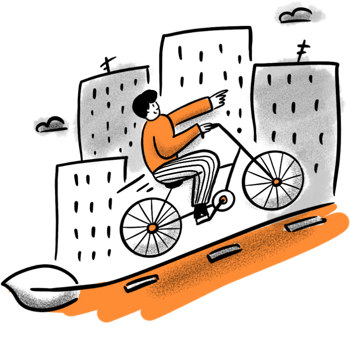 The innovative transportation corporations
San Francisco, USA

Lime is a provider of urban mobility solutions aiming to lower congestion and increase the green footprint of the transport industry. The company is currently active across four continents, mainly North America & Europe, with a presence in South America and Oceania.
Lime's core values are striving towards a greener mobility sector, empowering people not to use personal automobiles for short-distance commutes. Instead, the company envisions a world where people travel using urban scooters, mopeds, bikes, and transit vehicles. With this goal in mind, Lime has completed 200 million rides, replacing over 50 million car trips and prevented more than 17000 tons of carbon from being emitted worldwide.
An essential part of increasing environmental gain, according to Lime, is the quality of the mobility units. Operations such as increasing parts reuse from decommissioned units, improving the unit lifetime, and using zero-emission fleet vehicles are the most important areas for improving environmental performance. Thus to achieve these goals, Lime constructs its third generation e-scooters with parts made from recycled materials, making up to 70% of the scooter.
Lime also joined the Global Platform for Sustainable Natural Rubber (GPSNR) to ensure it uses sustainably sourced rubber in its products. Moreover, by increasing its eco-friendly mobility devices, Lime aims to be carbon negative by 2025 across the entire company and supply chain. In the near future, Lime aims to transition to a 100% zero-emissions operations fleet with the help of zero-emission vehicles and cargo bikes.
The company has also signed onto the Global Climate Group's EV100 commitment to implement an all-electric fleet and is powered by 100% renewable energy, having already made considerable strides in the process. For example, Lime claims that it is the first company to power its units with renewable energy worldwide, employing wind, solar, and hydro sources.
Copenhagen, Denmark

As one of the largest global providers of integrated container logistics services, Maersk directly influences the sector's sustainability, which has grown to be one of its key focuses. The company believes that it can leverage decarbonization as a strategic advantage, intensifying its efforts to achieve net-zero emissions while also supporting its customers to decarbonize their supply chains along the way.
Maersk has outlined several ambitious goals to achieve this, including achieving net-zero CO2 emissions in its operations by 2050, adopting net-zero emission vessels by 2023, and lowering its relative CO2 emissions by 60% by 2030 compared to 2008.
As part of this ongoing shift, in 2019 the company launched Maersk ECO, a net-zero emissions shipping solution based on cooking oil-derived biodiesel. Maersk is also exploring additional sustainable fuel solutions. Its current research leads them to conclude that it is possible to leap-frog transitional fuels and strive to develop fully sustainable alternatives.
Moreover, to further advance the adoption of sustainable shipping fuels, the company joined forces with industry leaders including the American Bureau of Shipping, Cargill, MAN Energy Solutions, Mitsubishi Heavy Industries, NYK Lines, and Siemens to launch the Maersk Mc-Kinney Møller Center for Zero Carbon Shipping.
With additional partners expected to join the initiative, the independent center will support a global network of scientists in developing sustainable fuels. Maersk has also outlined several general targets towards enabling sustainable and inclusive trade.
By 2025, the company hopes to connect 50% of global containerized trade to digital solutions that reduce supply chain barriers, as well as 100,000 SMEs, including women-owned businesses, to international trade. Maersk also intends to support trade reforms in 30 developing countries by 2025 and to help halve food loss in logistics.
Amsterdam, The Netherlands

Since bringing easily accessible portable navigation to general consumers in 2004, TomTom has rapidly grown, expanding its mission to facilitate smart mobility globally through its portfolio of maps, navigation software, real-time traffic information, and APIs. Considering that building a better world is the core of their business, TomTom's efforts focus on increasing road safety and raising environmental impact awareness.
By using its traffic insights, the company helps people, cities, governments, and businesses move more freely, intending to reduce emissions from driving. For example, TomTom's ADAS Map helps to achieve up to 5% fuel savings on the road.
In addition to these decarbonization efforts, the company is constantly exploring measures to reduce its environmental footprint. As of 2020, TomTom has implemented recycling programs in all of its offices worldwide. As part of its collection and recycling effort, in 2020, the company expanded its programs to include approximately 229 tons of waste from electrical and electronic equipment (WEEE), 15 tons of battery waste, and 330 tons of packaging waste.
Compared to 2019, TomTom decreased its waste output by an average of 31%, compared to 15% in 2019. The company also intends to shift to renewable energy sources, achieving a 100% reduction of Scope 2 CO2 emissions relative to 2019. TomTom accomplished this result by adopting certified local wind energy in its Amsterdam offices in 2020, which the company aims to replicate in its Berlin and Harsum offices in 2021.
Moreover, in 2020, TomTom started tracking progress towards the SDGs that best align with its vision, namely SDG 4 Quality education, SDG 5 Gender equality, and SDG 11 Sustainable cities and communities. To support this process, the company adopted the SDG Action Manager developed by B Lab and the United Nations Global Compact.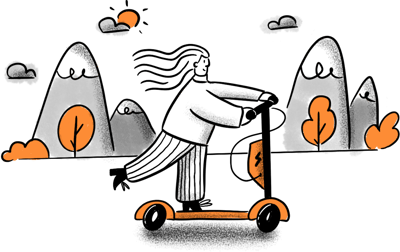 Innovating sustainable solutions in the transportation industry
As water sustains life on this planet, fossil fuels are the transportation equivalent, keeping the industry rolling. The burning of fossil fuels and GHG emissions is the unfortunate side-effect of our globalized and industrialized lives, it's simply how we and our goods get from a to b and everywhere in between.
But as technology progresses in the transportation industry, the emphasis moving forward will be on the innovative and sustainable solutions. This will inevitably push us away from fossil fuels and towards renewable and efficient energy alternatives that will keep driving the transportation industry forward and keep us getting to where we need to be.
[Related Article - Decarbonization and Innovative Aviation Technology]
The good news is that there are companies out there ready to take on the massive issue that is environment and climate degradation caused by the transportation industry at large. The companies listed and many others like them globally are not just innovating sustainable technologies in the sector, but are actively kicking down the door fossil fuels built, into a new eco-friendly and sustainable market, disrupting the "oil-garchy." Additionally, these innovative companies are getting massive help from cities to make the future more sustainable when it comes to transportation.
However, innovation is no easy feat. From finding the right disruptive market to developing technology and solutions, finding the right fit can be like trying to find your way without google maps, difficult and you run the risk of getting lost along the way.
Our goal at Valuer is to be your navigation system and help you get to whatever destination you need. What we offer are complete business insights generated from our powerful AI-driven platform that is complied of data on 500,000+ companies worldwide. So if you're looking for new collaborative opportunities or innovative solutions, the Valuer platform can be your one-stop shop for business insights and data.