*Updated October 2022
In the month's issue of the Innovating Sustainability report series, we teamed up with Supertrends to explore the most influential and disruptive technology trends transforming forestry and land management towards sustainability.
Through our platform and with the help from Supertrends, we generated data-driven insights on technology and companies in forestry and land management, which will then help to identify market disruption and opportunities within the industry with ease.
Staying ahead of disruptive technologies and on top of new market trends is vital for your business. Both Valuer and Supertrends platforms are created with the same goal in mind - to help companies make better decisions that are based on data to drive sustainable growth.
Together we offer a wide range of actionable intelligence, and our complimentary functionalities cover almost every angle that decision-makers need to assess to navigate the challenges of innovation and the uncertainties of the future.
The publication covers three topics relevant to sustainable forestry and land management: Water conservation, sustainable agriculture, and sustainable forest management.
The need for sustainable solutions in forestry and land management
We've all heard that rainforests are the lungs of the world, which could be more accurate than you realize. Trees feed off C02 and release oxygen into the atmosphere. But what you may not know is that when forests are growing, photosynthesis is occurring at such a rate that plants will store and hold onto carbon and store it in trunks, roots, and soil, much like how we store fat - thanks evolution. That process is called sequestration and is clearly an important factor when it comes to regulating a sustainable amount of GHG in the atmosphere.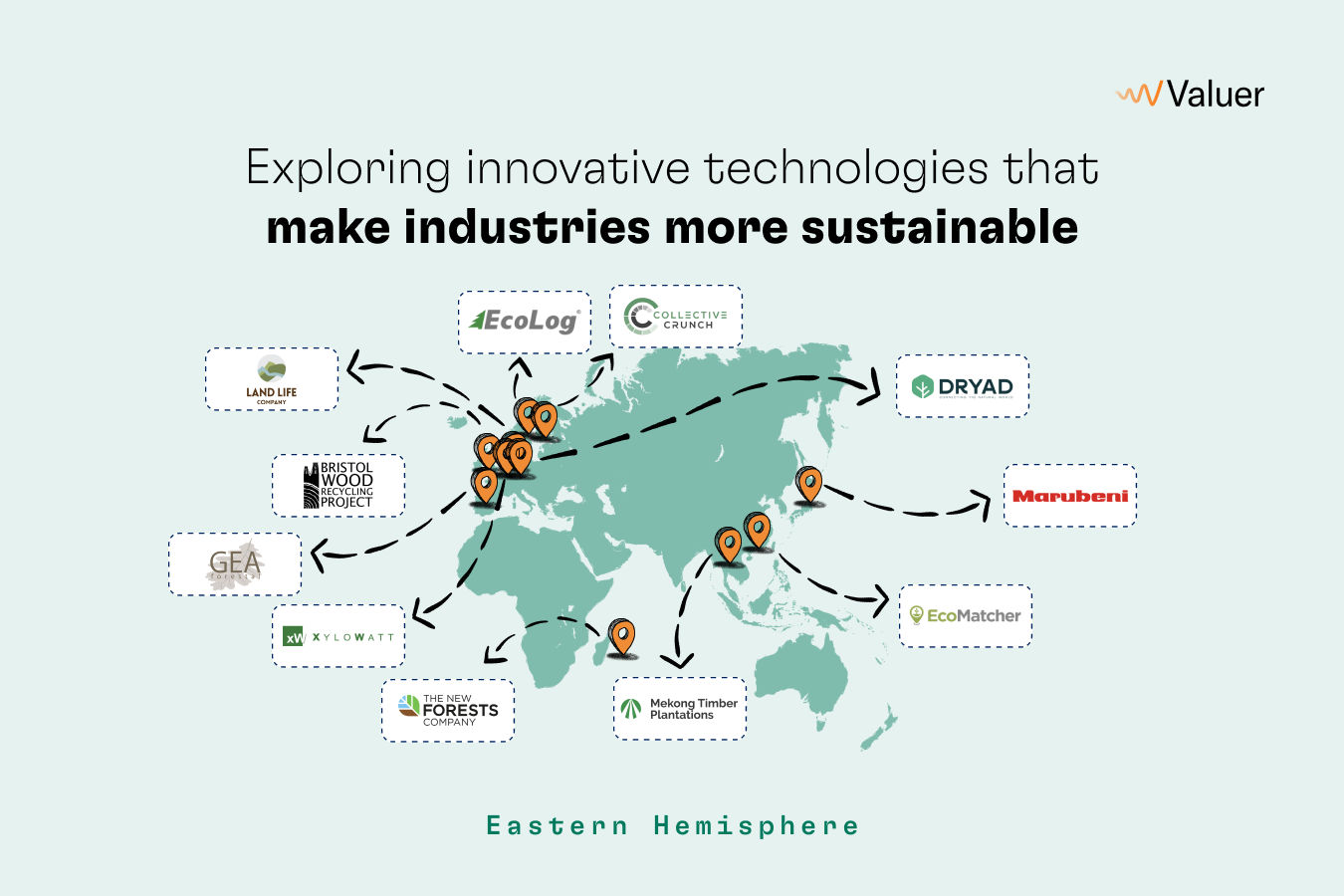 The problem lies in deforestation and when a mass of trees are cut, burned, and/or left to rot they release that stored carbon. The EPA estimates that roughly 10% of global GHG emissions come from agriculture and deforestation. A clear indicator that sustainable solutions and cleaner and greener technologies are the way forward, not to mention also holds massive potential for investment and innovation.
Companies that are innovating sustainability
The full version of the Innovating Sustainability report (available for download) includes four case studies: three corporations (Ardent Mills, Weyerhaeuser, and Marubeni) and one startup (Satelligence).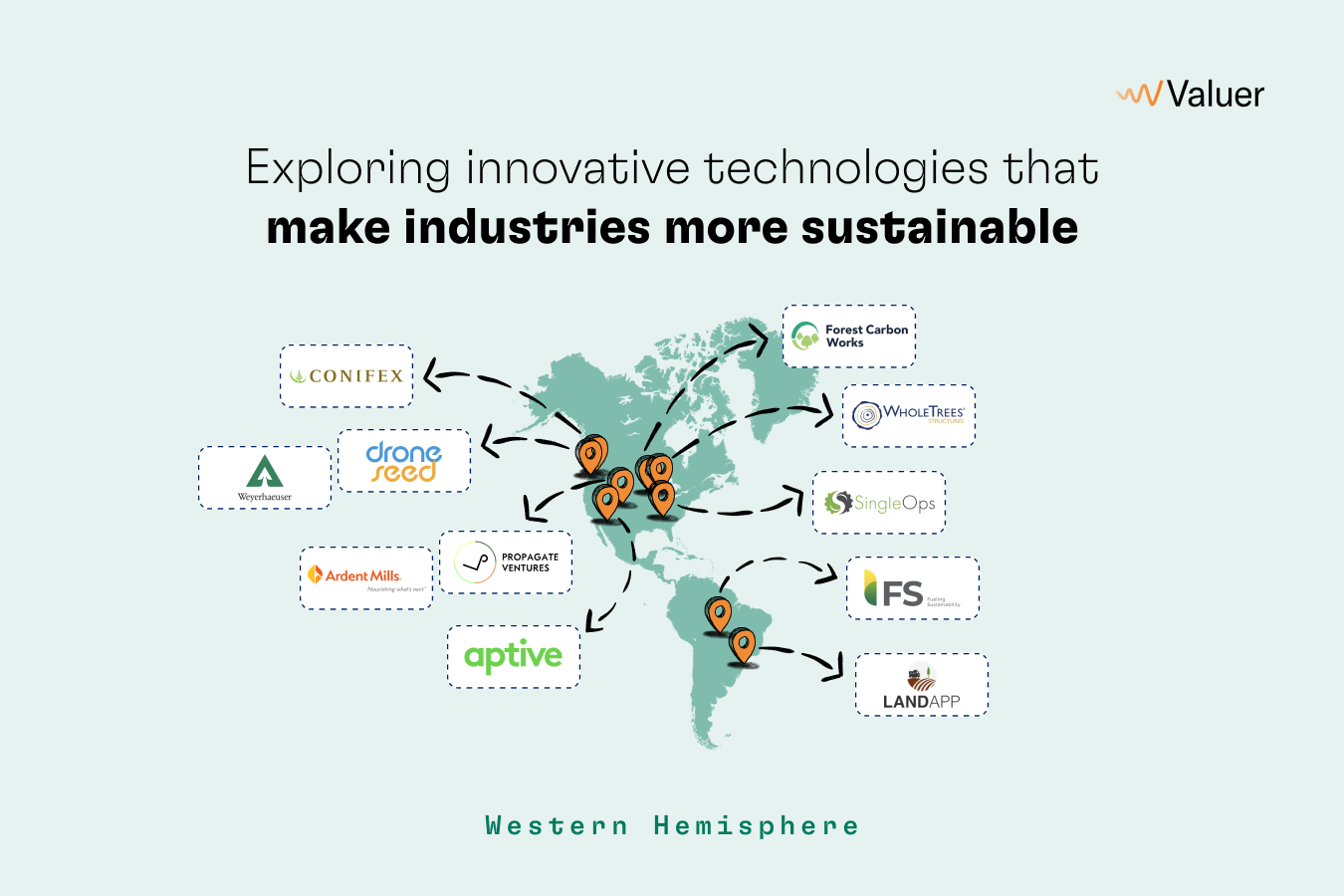 Inspired by these companies, we decided to highlight even more startups and corporations that implement and develop sustainable solutions and technologies within the forestry and land management industry.
Innovative Startups in forestry and land management

---
Utrecht, The Netherlands | See company profile
The startup uses satellite data to provide natural resource management, track deforestation, and remote sensing. Founded in 2016 by Niels Wielaard, Satelligence supplies customers with the tools they need to make decisions towards sustainable sourcing.

---
Seattle, USA | See company profile
DroneSeed is paid per acre to plant tree seed vessels after a wildfire using heavy-lift Drone Swarms

Port Louis, Mauritius | See company profile
The New Forests Company is an Africa-based forestry company with plantations and a production base for export markets.

---
Bristol, The United Kingdom | See company profile
BWRP is saving resources from waste. The startup provides affordable timber and resources to the local community.

---
Minneapolis, USA | See company profile
Forest Carbon Works is a developer of forest carbon offset projects that helps landowners monetize the carbon stored by their forests. The company was founded in 2020 by Kyle Holland and is based in Minneapolis, Minnesota.

---
Lucas Do Rio Verde, Brazil | See company profile
FS Fueling Sustainability is a green company that produces Ethanol, Animal Nutrition, and Bioenergy from corn.

---
Denver, USA | See company profile
Agroforestry analytics and project development platform Propagate helps farmers and landowners make regenerative agriculture work for them by balancing short-term income with long-term returns. Their platform makes it easy to access the operational know-how, implementation tools, financing, and off-take agreements needed to reduce business risks while integrating fruit, nut, and timber trees with animal or crop farming systems. Propagate also actively manages over 100 commercial acres and grows through its agroforestry hubs.

Madison, USA | See company profile
Whole Trees is a design and construction company that develops and constructs sustainable buildings and manufactures timber components.

Amsterdam, The Netherlands | See company profile
Land Life Company provides E2E reforestation services. They use data technologies to reforest thousands of hectares of land while optimizing the restoration process simultaneously.

---
Hong Kong, China | See company profile
EcoMatcher enables businesses to increase engagement through transparent tree adoption programs. This allows companies to become visibly more sustainable, attain talents, and improve the bottom line, while at the same time addressing deforestation and regeneration.

Vancouver, Canada | See company profile
Conifex Timber is a paper and forest products company. They re-use residuals from their sawmill's manufacturing process to generate renewable energy as well as produce sustainable wood products.

---
Madrid, Spain | See company profile
GEA Forestal is specialized in FSC and PEFC certification as well as environmental technical advisory, consulting, and CSR projects for companies.

São Paulo, Brazil | See company profile
LandApp is a technology platform that offers a sustainable solution for construction materials and solid waste transportation.

Söderhamn, Sweden | See company profile
Eco Log Sweden is a manufacturer of forestry machines designed for cut-to-length harvesting. These machines are developed to ensure maximum efficiency and sustainability for forestry.

Vientiane, Laos | See company profile
Mekong Timber Plantations operates as a forestry plantation company. Mekong Timber Plantations manages an existing plantation estate in Laos with a focus on improving silvicultural practices and ensuring the business meets international best practices for responsible forest management.

Berlin, Germany | See company profile
Green Dryad is an environmental IoT startup based in Berlin-Brandenburg. Its mission is to develop a large-scale IoT network that allows public and private forest owners to monitor, analyze, and protect the world's largest, most remote forests. The initial focus is to develop a system for the ultra-early detection of wildfires.

Atlanta, USA | See company profile
The leading all-in-one business platform for outdoor service industries, including tree care, lawn care, and full-service landscaping.

Espoo, Finland | See company profile
CollectiveCrunch is a leader in AI for the forestry industry. They bring a step-change to the prediction of wood inventories.

Phoenix, USA | See company profile
Aptive Environmental provides environmentally responsible residential and commercial pest solutions.
The innovative corporations of forestry and land management

Ardent Mills
---
Denver, USA | ardentmills.com
Ardent Mills is a Colorado-based flour maker, supplier, and grain innovator operating throughout North America, including the US, Canada, and Puerto Rico. As one of the leading companies in the sector, Ardent Mills is dedicated to following Corporate Social Responsibility (CSR) principles. The company's CSR program integrates two approaches: care for the environment and support for the community.

Its environmental strides encompass several impact areas, including agriculture, food security, GHG emissions, waste management, responsible sourcing, and renewable energy. Firstly, Ardent Mills is dedicated to launching wide-scale regenerative agriculture programs across its croplands.
The programs' principal missions are to increase the organic content in soils and improve nutrient efficiency and water infiltration. The target for 2025 is to have 250,000 acres of cropland managed with regenerative agriculture practices.
In 2021, in partnership with Nutrien Ag Solutions, Ardent Mills enrolled 37,480 acres across Idaho and Kansas in programs intended to improve soil health and conserve water. As part of the Idaho project, a large share of the participating growers utilizes reduced or no-till systems and "4R nutrient management", contributing to higher yields and responsible soil management.

Ardent Mills is also dedicated to improving access to nutritious products for people in need and increasing food security. The company aims to donate $300,000 per year, equivalent to 1.25 million meals, to food banks, pantries, and other nonprofits. Additionally, Ardent Mills has set a target to donate 100,000 pounds of food per year. As of 2021, the company has raised $200,000 for the Food Banks of the Rockies and donated over 60,000 pounds in products.

Furthermore, Ardent Mills has set a goal for 2025 to source 100% of palm oil sustainably through credible global standards. As of 2021, the firm has successfully sourced 97.8% of palm products from a certified sustainable source. Additionally, in 2021 the company reached its goal of sourcing 100% SFI-certified packaging. On the renewable energy front, Ardent Mills has made improvements to meet 23.36% of its electricity needs from renewable sources (including directly sourced and purchased RECs).

Weyerhaeuser
---
Seattle, USA | weyerhaeuser.com
As a prominent American timberland company, Weyerhaeuser has taken responsibility to operate sustainably and maintain its forests' biological diversity, water quality, and recreational benefits. The company's sustainable policy guides the company's decision toward sustainable production of wood and wood products of high quality that do not undermine the ability of future generations to reap the benefits of timberlands.

In addition to the internal policies, Weyerhaeuser's entire portfolio is certified by the Sustainable Forestry Initiative's® Forest Management Standard, verifying the company's responsible forest management through third-party audits. The company is assessed against 100 indicators encompassing all aspects of growing, harvesting, and replanting.
The results are published publicly through the SFI website, where the public can also file complaints against the practices. The SFI standard verifies that 100% of Weyerhaeuser timberlands are reforested after harvesting and that the company plants around 150 million trees per year.

The company has sustainability ambitions for three main areas where it expects to make tangible progress by 2030. Firstly, it works towards ensuring that its working forests contribute to mitigating climate change.
Secondly, it aims to ensure that its sustainable products help meet the growing need for affordable, quality housing in communities worldwide. And thirdly, it is dedicated to providing opportunities to rural communities in terms of good job opportunities and investments.

Weyerhaeuser measures and shares its environmental and economic performance and its impacts on society and company profile according to the Global Reporting Initiative (GRI) standards. For 2020, Weyerhaeuser sourced 73% of its energy from renewable sources, primarily renewable biomass, and reported a 16% improvement in the energy efficiency of its wood products facilities over the past five years. Additionally, 99% of its total waste is reused, recycled, or repurposed.

Marubeni Corporation
---
Tokyo, Japan | marubeni.com
Marubeni Corporation has diverse business activities in various fields, including forest products, food, and agriculture. In recognition of the Paris Agreement and the need to limit the global average temperature increase, Marubeni has set medium- and long-term goals to contribute to the fight against climate.

The company's goal for 2050 is to get to net-zero GHG emissions and zero coal-fired power generation. This is expected to be done by decreasing GHG emissions. Those emissions that cannot be reduced will be eliminated through credible internationally recognized nature-based solutions or technological solutions. In its effort to achieve this, Marubeni has set four action plans toward 2030.

Firstly, Marubeni has set a target to reduce its Scope 1 and Scope 2 CO2 emissions by 50%, against an FYe 3/2020 baseline, which is approximately one million tons of CO2 emitted by Marubeni and its consolidated subsidiaries. The second action plan is to reduce by one-fifth its Scope 3 emissions of FYE 3/2020, equal to approximately 36 million tons of CO2 emitted by its associate investees.

The third action plan addresses Marubeni's coal-fired power generation business. The company has witnessed significant progress in its efforts to reduce its coal-fired power net generation capacity and has moved up the timetable for its goal to halve its net power generation capacity.
Instead of 2030, Marubeni aims to cut its FYE 3/2019 capacity in half by 2025, aiming for about 1.3 GW coal-fired power net generation capacity in 2030 and zero in 2050. Furthermore, the fourth action plan encompasses expanding the volume of carbon stocks in Marubeni's forests, which now sit at about 11 million tons of CO2 equivalents, and increasing the sequestrated volume of carbon through multi-purpose utilization of the afforested assets.
Sustainability in forestry and land management
The shift towards sustainable solutions and circularity is becoming a driving force for innovation in the forestry and land management industry, however, it remains only a glimpse into the future.
[Related Article - Innovating Sustainability: The Future of Food and Agriculture]
Luckily, there are startups and corporations that are leading the way when it comes to innovating sustainable solutions and technologies to drive circularity in the industry. The trends we see that are pushing sustainability lie in are in water conservation, sustainable agriculture, and sustainable forest management.
Sustainable technologies are a way forward in terms of mitigating harmful environmental effects and global warming. However, these innovative and sustainable technologies being developed also leave the door open for massive opportunities.
If we look at the global precision forestry market, this is expected to grow to $6.1 billion by 2024 and a CAGR of 9.0%. This is in part due to the sustainable solutions and innovative technologies being developed within the sector.
To this end, Valuer and Supertrends aim to support the development of sustainability in the forestry and land management industry, helping clients harness innovative new technologies and drive the transformation towards circularity and a more sustainable future.