*Updated November 2022
In the newest issue of the Innovating Sustainability series, we teamed up with Supertrends to explore the most influential and disruptive technology trends that will have the greatest impact on the wastewater management industry becoming more sustainable.
Through our platform and the collaborative help from Supertrends, we were able to generate data-driven insights on technology and companies in wastewater management, which helps to identify market disruption and opportunities with ease.
Staying ahead of disruptive technologies and new market trends is vital for businesses. Both Valuer and Supertrends platforms are created with the same goal in mind: to help companies make better, data-driven decisions that drive sustainable growth.

Together we offer a larger range of actionable intelligence, and our complementary features cover almost every angle that decision-makers need to assess in order to navigate the challenges of innovation and the uncertainties of the future.
The report includes valuable data, technology in wastewater management, market predictions, important milestones, case studies, and more.
The publication covers three topics relevant to wastewater management: smart water management, wastewater treatment, and sludge management.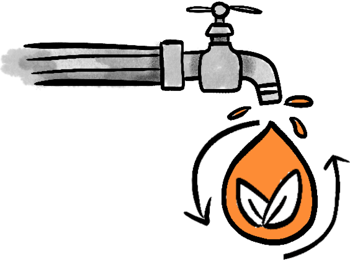 The importance of wastewater management innovation
One person's trash is another one's gold. This saying is particularly relevant when we talk about wastewater management and its circular economic nature. Innovation within this industry is imperative as the average family wastes around 9,400 gallons of water per year, while farming and agriculture account for 70% of the worldwide consumption of freshwater.
Mix this in with poor recovery technologies, pollution, contaminants, and freshwater recourses can expect to see issues with growing scarcity, environmental degradation, and potentially irreparable damage. The long-term solution lies not in drastically cutting water usage but rather in innovative technologies and practices in wastewater management and wastewater treatment.
This is why in this month's innovating sustainability report, we are taking a deeper look into this industry and using our platform to help highlight and identify the technology trends and innovative companies in wastewater management.
Companies that develop innovative technologies and solutions in wastewater management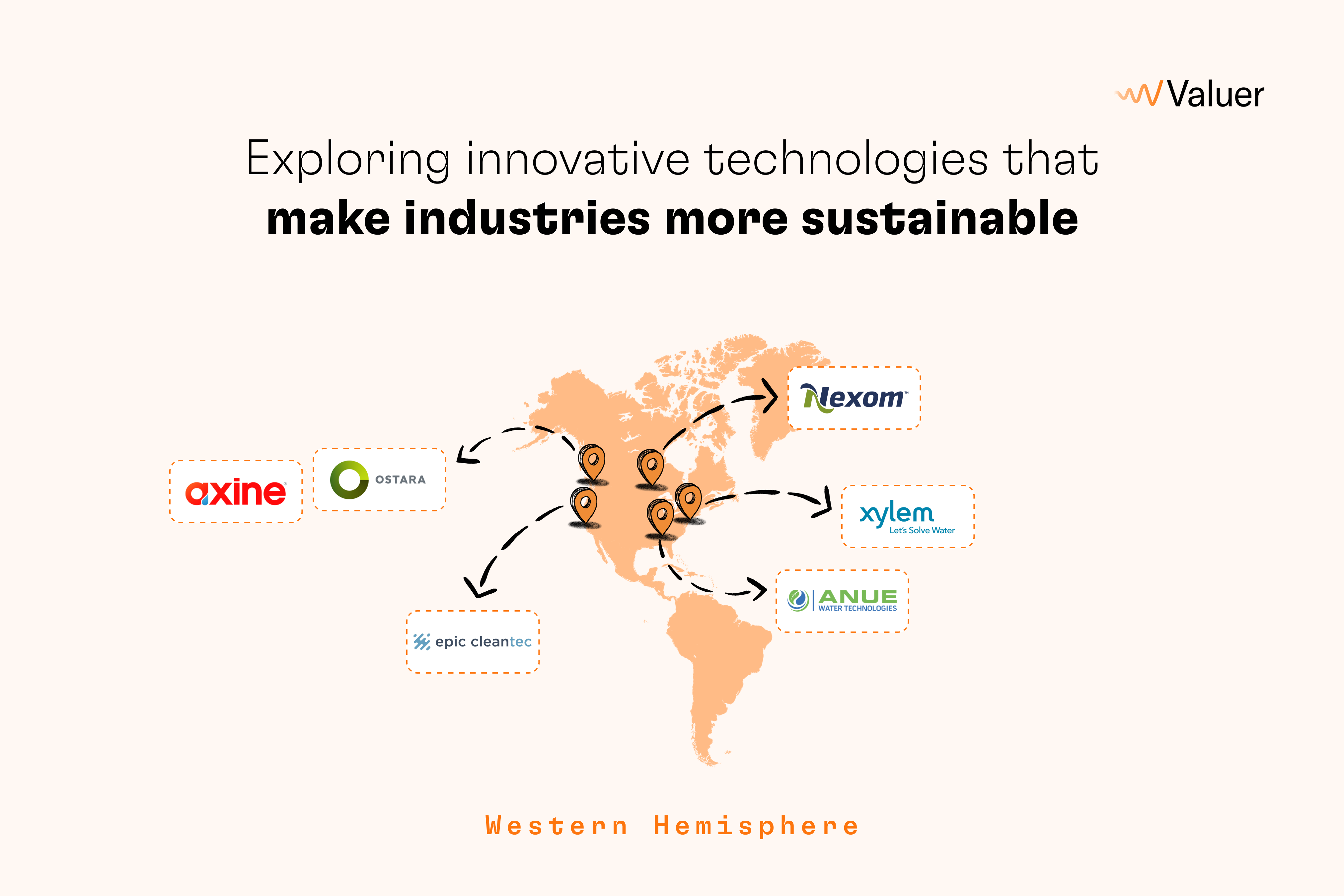 The full version of the Innovating Sustainability report includes four case studies: three corporations (SUEZ Group, Veolia, and Xylem) that implement sustainable wastewater management practices and one startup that develops innovative technology (Kando).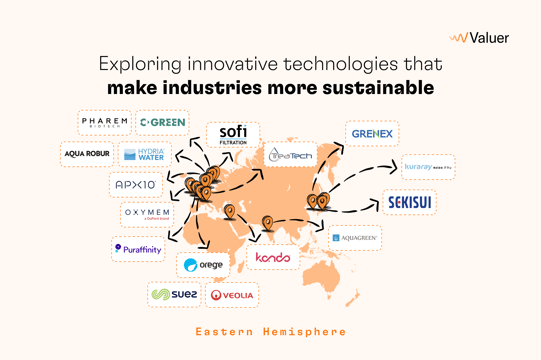 Inspired by these companies, we decided to highlight even more startups and corporations that implement and develop sustainable solutions and technologies within wastewater management.
Innovative wastewater management companies

Hydra Water provides solutions to water and wastewater treatment plants. It is specialized in robust mechanical sludge and solids removal from inlet to outlet, with an offering encompassing installation, service, and production of high-quality equipment.

Sofi Filtration specializes in industrial water filtration. It targets industries with large water streams with fine particle contaminations, providing a microfiltration technology adapted to various applications.

Anue Water Technologies is a wastewater treatment company providing solutions for wastewater odor, industrial corrosion control, municipal sewage water, and process water applications. Its technologies reduce operational costs for sustainable water treatment.

APX10 helps water, wastewater, and district heating utility sectors to leverage the rapidly growing amount of data via its big data analytics platform. Their products provide actionable, data-driven insights through dynamic presentations, including GIS maps, heat maps, and charts.

AquaGreen is a CleanTech company that promotes a sustainable approach to wastewater treatment that destroys microplastics, medicine residues, and other harmful organic compounds and captures heavy metals. To this end, the company's technology dries wet biomass residue and treats it with pyrolysis, turning it into biochar and thermal energy.

Aqua Robur Technologies offers an IoT-based system and wastewater management solution that leverages the technology to detect leaks and other potentially harmful malfunctions in public water systems through data collection and measurement. The system uses prospective communication technologies such as Narrow-Band IoT, LTE-M, and LoRa-WAN.

C-Green Technology develops an alternative sludge wastewater treatment. The company offers OxyPower HTC, a process that converts sludge to biofuel and thus promotes a cost-efficient and sustainable approach.
Kando is a smart wastewater solution provider that detects early-stage water events within the wastewater network and offers real-time insights for the wastewater management team to help them prevent damage to the network. It provides a SaaS platform that provides the clients with well-informed management of wastewater networks.

Puraffinity develops and creates biologically derived purification materials for water and wastewater treatment. It specializes in designing and developing bio-based novel absorbents capable of removing pollutants from contaminated water and wastewater. The company's Customised Granular Media is significantly more efficient in eliminating PFAS than traditional methods like advanced oxidation processes, adsorption resins, ultraviolet treatment, and carbon nanotubes.

Ostara Nutrient Recovery Technologies is a sustainable water treatment and nutrient recovery solutions, provider. Applying a more systemic approach to managing nutrient flows, the company produces solutions that facilitate cyclical phosphorus utilization while contributing to clean water and food security.

TreaTech is developing a patented wastewater solution for the disposal and recycling of sewage sludge and all types of wet waste. TreaTech's solution enables the disposal of liquid waters, turning them into byproducts such as biogas, clean water, and mineral salts that can further be upgraded to phosphorus products such as fertilizers.

OxyMem is a spin-off company that has developed a technology based on MABR (Membrane Aerated Biofilm Reactor), patented and commercialized in 2013. It replaces the traditional activated sludge process in wastewater treatment which reduces the costs of wastewater treatment plants, thus enhancing their system's efficiency.

Pharem Biotech is a biotechnology profit organization that produces enzymatic products to remove organic pollutants in water. Its filtration system removes harmful organic and pharmaceutical components from wastewater through enzyme neutralization occurring in the filter chambers.

Axine Water leverages advanced electrochemical oxidation technology for industrial wastewater treatment. The company developed an in-house proprietary reactor that eliminates water pollutants through oxidation, creating byproducts that can be further used and water that can be reused in industrial processes.

Nexom is a company that provides its clients with biological and filtration-based technologies for wastewater treatment and nutrient removal. Its offering contains several different technological processes for the removal of nitrogen, phosphorus, and select metals.

Orege is a cleantech company that develops, manufactures, and markets municipal and industrial sludge treatment solutions. Orege's SLG (solid, liquid, gas) changes the rheology and properties of the sludge, allowing for better and quicker isolation of sludge solids from the filtrate.

Epic CleanTec provides individual buildings with a circular wastewater treatment system, enabling the clients to recycle their water. It uses the solids from wastewater to produce a high-quality, carbon-rich, and endlessly renewable soil product, while the remaining water gets returned for toilet flushing or watering lawns.

Kuraray Aqua is a company that provides wastewater treatment solutions. Their flagship product is the PVA-Gel, made for aerobic treatment, nitrification, and wastewater denitrification.
Innovative corporations in wastewater management

SUEZ Group has been operating in the water and waste management industry for 160 years. It provides solutions for smart and sustainable management of resources worldwide. It was among the first companies to join the "Business Ambition for 1.5°C: Our Only Future" campaign launched in 2019 by the United Nations Global Compact.
SUEZ Group has defined and is committed to implementing its strategic plan, Shaping SUEZ 2030, which aims to increase the group's positive contribution to creating value in a world affected by climate change. With this plan, the Suez Group aims to strengthen its leading role in preserving the environment and restoring natural capital by accelerating the deployment of the circular economy.
The basis of the Shaping SUEZ 2030 plan is the company's value proposition: offering a portfolio of sustainable solutions with high added value. The portfolio directly contributes to human health and quality of life, supporting a sustainable, circular economy leading to a reduced carbon footprint in the industrial sector.
This is one of the three commitments for 2030 aligned with the 1.5°C trajectories. The other two are to reduce the direct and indirect greenhouse gas emissions from its activities by 45% and help its customers avoid 20 million tons of CO2 equivalent a year by 2030.
SUEZ has already made headway towards its goals. For 2019, the company reported successes in its social and environmental impacts. In terms of water scarcity, 41.4 million people received drinking water and sanitation services in developing countries.
Additionally, the group achieved 79.8% technical efficiency in drinking water distribution networks. SUEZ also reported that in 2019 it sorted and recycled 400,950 tons of plastic, produced 7.1 billion m³ of drinking water, recovered 50.9% of waste in material or energy form, and enabled customers to save 10.2 million tons of CO2.

Veolia is a French transnational company providing water, waste, and energy management solutions, aiming to be the benchmark for ecological transformation. In 2020, the company supplied 95 million people with drinking water, 62 million people with wastewater services and treated 47 million metric tons of waste. With figures as high as these, Veolia has a significant role to play in combating climate change.
Veolia is committed to all 17 UN Sustainable Development Goals (SDGs) and directly impacts 13. This means that there's a direct link between Veolia's operational performance and its ability to respond to the international community's new targets.
The company's Impact 2023 strategic program aims to deliver multifaceted economic, financial, commercial, social, societal, and environmental performance. To this end, Veolia will invite independent third parties to audit and measure its 28 key performance indicators and progress on the 2023 targets.
Concerning environmental performance, Veolia has set up four indicators: combating climate change, circular economy, protecting natural environments and biodiversity, and sustainable management of water resources.
Measured against a 2019 baseline, the company has set a target to avoid an equivalent of 15 million metric tons of CO2 and achieve a volume of 610,000 metric tons of recycled plastic by 2023. Additionally, Veolia aims to achieve more than 75% efficiency in drinking water networks by 2023.
From 2015 to 2020, the company's CSR roadmap has included commitments related to resourcing the planet, resourcing regions, and the company's workforce. For 2019, Veolia reported that it generated €5.2 billion in revenue in the circular economy. Additionally, it captured 60.7% of the methane from landfills it operates, reduced 78.2 million metric tons of CO2 equivalents, and avoided a further 33.2 million metric tons of CO2 equivalents.

Xylem is a water technology company providing solutions in more than 150 countries. It is dedicated to creating innovative and smart technology solutions that address the world's water, wastewater, and energy challenges.
Xylem's contribution to sustainability has led to the company receiving an ESG rating of AAA from MSCI (Morgan Stanley Capital International) and the top Systainalytics score for the industrial machinery industry. Additionally, as of December 2020, Xylem occupies the first place among the companies with the highest environmental, social, and governance capital as a percent of the market capitalization of all large-cap companies (<$9 billion).
Xylem's approach to sustainability is centered around its commitment to deliver solutions that will help its customers achieve their sustainability goals, build sustainable business operations and practices, and provide support to communities affected by water shortages and economic challenges. This is encompassed in its comprehensive set of 2025 Sustainability Goals, with eight goals focused on the world's most urgent water challenges.
The company has set out to save more than 16.5 billion m³ of water and treat 13 billion m³ of water for reuse. Additionally, it plans to provide access to clean water and sanitation solutions for at least 20 million people living at the base of the global economic pyramid. Xylem aims to power its major facilities with 100% renewable energy and recycle 100% of the process water for its operations.
By 2021, Xylem has made significant progress toward reaching its 2025 targets. Its 2020 milestones include treating 4.3 billion m³ of water for reuse, representing 33% of its 2025 cumulative goal, and preventing 1.4 billion m³ of polluted water from flooding communities or entering local waterways.
Additionally, it achieved a reduction of 0.7 million metric tons of CO2, representing 24% of its 2050 cumulative goal. Furthermore, 10 of its 22 major facilities have switched to using 100% renewable energy, and two facilities use 100% process water recycling.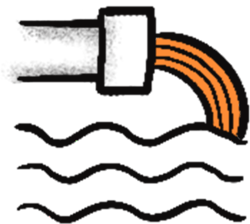 The sustainable future for wastewater management
Green is definitely the new black, as sustainability is progressively becoming a priority for companies and investors alike. This shift towards a circular economy in wastewater management is being propelled by disruptive startups in the industry along with innovative corporations who are embracing sustainable business solutions.
Sustainable technologies and solutions are the way forward and are a massive new market opportunity that you will want to stay on top of. But in order to for all this innovation to thrive, there is an important component, and that is collaboration.
It is through collaboration that innovation can really take off and expand. In that direction, Valuer's offering encompasses connecting clients with innovative companies based on technology, industry, company description, and patent features. After pinpointing a selection of relevant entities, our research team prepares bespoke reports highlighting companies, services, technologies, and more, aiding our clients find new business opportunities.