*Updated November 2022
Innovating Sustainability is a series of reports published by Valuer about innovative technologies and business models that make industries increasingly sustainable. Published monthly, each report focuses on a specific area and includes findings from the Valuer database, which consists of information on more than 500.000 companies, technology trends, market projections, case studies, etc.
Our March 2021 publication focused on three energy management-related areas: distribution, optimization, and storage. We aim to demonstrate how Valuer can help corporations find sustainable energy solutions through tech innovation and business models that will fit your company's needs like a glove.
Innovating sustainability and the management of energy
The United States Environmental Protection Agency or (EPA) states that 25% of Greenhouse Gas emissions (GHG) are from the energy industry and it is the second largest leading industry contributing to GHG emissions, just behind transportation.
Clearly, there is a need for answers to the energy industry's sustainable problems. And thankfully there are corporations, startups, and SMEs out there attempting to tackle some of the environmental issues in the industry through sustainable energy management.
Companies that develop and implement sustainable energy management solutions
The full version of the Innovating Sustainability report includes six case studies: three corporations (Green Mountain Energy, Cisco, and Schneider Electric) that implement sustainable energy management systems and three startups that develop innovative technology (WePower, Bluwave-ai, and Brenmiller Energy).
Inspired by these companies we decided to highlight more corporations and startups that are driving innovation by implementing and developing sustainable energy management systems into this article.

Startups and SMEs
Rosh ha'ayin, Isreal

Brenmiller was founded in 2012 and is a renewable energy company. Their focus is on thermal energy storage. Applications of their innovative technology range from biomass to heat, industrial heat on demand, waste heat recovery, and grid storage.
OttAwa, Canada
Canada-based BluWave-ai applies AI's power to help utilities, grid operators, and electric vehicle fleets transition to and optimize renewable energy use. Its energy optimization software enables customers to balance the costs, availability, and reliability of multiple energy sources in real-time, helping them make informed energy decisions. With this technology, the company aims to drive the transition from a centralized, carbon-based energy model to the point where almost anyone can produce clean energy.
Davis, USA

Sierra Energy aims to turn waste into energy with its proprietary FastOx gasifier. The comprehensive waste-to-energy solution works by vaporizing waste, enabling it to separate organic material in the form of renewable natural gas and inorganic waste in the form of a non-leaching stone. The FastOx gasifier can process various types of feedstocks, including industrial, construction, medical, and electronic wastes to transform them into renewable fuels.
Stockholm, Sweden

C-Green's technology strives to overcome the challenges posed by current sludge disposal methods, offering a cost-efficient and environmentally friendly alternative. C-Green Technology has modernized the hydrothermal carbonization (HTC) method to provide an energy-efficient way of converting sludge into high-energy biofuel. The process runs on the energy within the sludge, thus eliminating the demand for external energy sources.
Chigago, USA

LanzaTech utilizes the power of microbes to turn waste carbon into sustainable fuels and chemicals. The company's gas fermentation technology can be adapted to any feedstock containing carbon dioxide, hydrogen, and/or carbon monoxide, including gasified municipal solid waste, industrial off-gases, agricultural waste, syngas produced from biomass, and reformed biogas. Once processed, the harmful emissions are converted into sustainable fuels and chemicals such as ethanol, sustainable aviation fuel, sustainable diesel, ethylene, polyethylene, and polyethylene terephthalate (PET).
Kirkwall, The United Kingdom

Orbital is a pioneer in tidal energy, with a mission "to unlock a new source of clean, predictable power for millions of people, homes, and businesses around the world." To achieve this, the company utilizes hydro-kinetic energy conversion, enabling them to capture the energy present in tidal streams and river currents.
Ålborg, Denmark

Blue World Technologies aims to retire the combustion engine and reduce air pollution from traffic with its methanol fuel cell systems. Utilizing a combination of high-temperature PEM-technology and methanol-refining, the company develops energy management systems aimed at the transportation and mobility industries.
Delft, The Netherlands

Physee is a clean-tech company focused on developing "energy-neutral buildings, centered around human comfort, and filled with sustainable solutions that don't compromise on aesthetics or functionality." The company is focused on developing connected solutions that maximize energy efficiency, including smart coatings, solar, and sensors.
London, The United Kingdom
Solaris Offgrid aims to bring renewable and stable energy to underserved communities in developing countries. To achieve this, the company has developed a pay-as-you-go (PAYG) model for affordable energy access, tailored to local demands.
Austin, USA

THG Energy Solutions is a provider of web-based energy management and Automated Demand Response (ADR) solutions. THG Energy Solutions provides a utility reporting and analysis portal for electricity, natural gas, water, and other utility services. They offer commercial and business customers actionable energy analytics, sustainability reporting, and automated energy management.
Melbourne, Australia

GreenSync intends to facilitate the clean energy revolution, developing digital solutions aimed at solar, battery storage, and electric vehicle chargers. Its flagship product, deX, links all consumer energy devices, creating an integrated energy and information network. In this way, deX facilitates two-way communication and collaboration between stakeholders in the network, including customers, energy retailers, aggregators, and system operators.
Boston, USA

Power2Peer aims to prevent excess solar power from being wasted during peak sunlight hours with P2PConnect, a platform for renewable energy trade accessible via a free-to-download mobile application. The solution enables users to register as producers, consumers, or both, utilizing Etherium blockchain technology with a back-end software-defined network controller (SDNC) connected to solar microgrids. The SDNC responds to a transaction by dispatching information to the microgrid, thus creating an optimal network of connections to facilitate electrical power transmission.
Hod hasharon, Israel

FSIGHT combines artificial intelligence and big data algorithms to facilitate smart grid management. FSIGHT helps utilities, independent power producers, grid operators, enterprises, and real estate developers to improve their trading performance, as well as help drive asset efficiency, facilitate renewable integration, improve local balancing, and achieve energy cost savings for their clients.
Austin, USA

Grid4C leverages AI and ML-powered analytics to provide energy providers and consumers with insights for better energy management. Its SaaS-based solutions analyze smart meter and IoT data from energy systems to deliver accurate analysis and predict potential problems and faults in the system.
Newbury, The United Kingdom

PassivSystems provides IoT-based solutions to improve home energy efficiency. The company's core product is the IoT-based platform PassivEnergy, which can coordinate smart meters, sensors, and devices across the home to host a wide range of services according to the user's needs.
Somerville, USA

VIA was founded to help the players in the energy industry discover the true value of their data. Through the application of blockchain and artificial intelligence, VIA has developed the Trusted Analytics Chain (TAC). The solution aids data-based decision-making through insights generated from the energy company data. The TAC application (patent pending) allows for increased security, data pooling, and automated data exchange provided by the smart contracts functionality.
Billingstad, Norway

EnergyNest aims to prevent energy loss through heat energy with its energy storage system named Thermal Battery. To achieve this, the solution utilizes a heat transfer fluid (HTF) inside pipes, enabling it to transfer excess heat to the Thermal Battery. After the relocation, the power is kept within the storage units with minimal heat loss until further need.
Redwood city, USA

AutoGrid develops an intelligent data management system for decentralized energy applications. The company offers a range of solutions for managing networked distributed energy resources (DERs) in real-time and at scale. They target utilities, electricity retailers, renewable energy project developers, and energy service providers.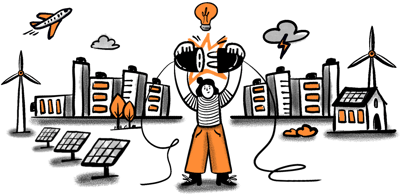 Corporations that innovate
Houston, USA

Ever since its establishment in 1997, Green Mountain Energy has strived to provide consumers with the right to make a conscious choice regarding the origin of the energy they use. Since then, the company has developed a portfolio of services aimed at residential and commercial clients, providing fully renewable energy from solar, wind, geothermal, hydro, and biomass sources.
Sustainability is baked into the very core of the company's existence, with Green Mountain Energy leveraging its portfolio to help clients avoid 9.3 billion pounds (lbs) of CO2 in 2019 alone.
This is the equivalent of taking 8.6 million cars off the road for a year or having 105 million households turn off their lights for a year. The company has also adopted a carbon offset policy, investing in projects which can reduce the impact of its GHG emissions, such as reforestation efforts, methane capture at landfills, wastewater treatment facilities, and energy efficiency technology.
Green Mountain Energy also offers a range of carbon offsets for commercial and residential clients who aim to counter unavoidable emissions. To ensure the impact of its offset solutions, the company sources products using industry-leading third-party certification standards, such as the Verified Carbon Standard, Climate Action Reserve, and Clean Development Mechanism.
Adopting sustainability into its internal operations, Green Mountain Energy has committed to using fully renewable energy at all its offices and uses recycled paper printed with soy ink. The company also aims to empower local communities to adopt environmentally conscious solutions through its non-profit organization Sun Club.
Since launching in 2002, Sun Club has issued over $10 million in grants to more than 110 partners. The company has backed various projects, including clean transportation, sustainable agriculture, energy efficiency, renewable energy, resource conservation, and education and awareness programs.
San Jose, USA

As the energy industry embraces digital transformation, unconventional partners have filled the gap, bringing utilities into the digital age. A leading player in this field is Cisco, a computer networking system provider, offering a broad portfolio of products and services tailored to utilities.
Its activity in this market provides the company with a unique opportunity to influence global energy, leveraging its technology "to positively impact one billion people by 2025." To achieve its sustainability goals, Cisco has outlined a comprehensive strategy addressing its supply chain and business operations' environmental impact.
The company focuses primarily on actions that reduce energy use and greenhouse gas (GHG) emissions, having already implemented over 440 energy efficiency projects in the last five years. Cisco has also committed to powering its activities through renewable energy, sourcing 83% of its electricity from renewable sources in 2020.
Moreover, in 2020, Cisco signed a long-term agreement to buy power from the Mesquite Star wind farm, which will provide approximately 40% of the electricity for its data centers in Richardson and Allen, Texas. Cisco also maintains several programs that promote innovation, focused on sustainability. For example, Cisco's Global Problem Solver Challenge awards up to $50,000 to early-stage technology entrepreneurs who have developed an innovative approach to solving global social and environmental issues.
Moreover, the company has leveraged its internal innovation potential through the Innovate Everywhere Challenge (IEC), including all 75,000 employees across 90 countries. Another pillar of Cisco's sustainability strategy is centered around developing a circular economy and sustainable supply chain.
To this end, Cisco intends to implement circular products and packaging in its entire portfolio by fiscal 2025. The company also aims to reduce the use of virgin plastics by 20% by 2025 compared to 2018, and reduce supply chain-related Scope 3 GHG emissions by 30% by 2030, compared to 2019.
Paris, France

As one of the largest providers of energy management and automation solutions, Schneider Electric aims to utilize its expertise to create a sustainable, better world for all. The company operates following its purpose "to empower all to make the most of our energy and resources." To achieve this, Schneider Electric has fully committed to the fight against climate change, adopting science-based targets to limit global warming to 1.5 °C under the Paris Agreement.
The company's goals include a comprehensive plan to adopt sustainable practices into its organizational structure and becoming carbon neutral by offsetting remaining emissions by 2025. Schneider Electric also aims to reach carbon neutrality in its expanded ecosystem by 2025, which it intends to achieve by providing its clients with CO2 savings greater than its carbon footprint.
Other goals include achieving net-zero operational emissions and reducing scope three emissions by 35% by 2030 compared to base 2017 and engaging with suppliers toward a net-zero supply chain by 2050. Schneider Electric is also committed to securing the needs of vulnerable populations with insufficient access to energy. To fulfill these needs, the company formulated the Schneider Electric inclusive business growth strategy.
Through this initiative, the company aims to provide access to electricity to 80 million people by 2030. Schneider Electric also launched the Access to Energy Training & Entrepreneurship program through which it intends to provide 1 million underprivileged people with skills and jobs training in energy by 2025. The company also readily partners with environmental organizations to advance sustainability best practices and promote climate responsibility.
Schneider Electric joined forces with The Climate Group as part of its EV100 initiative to increase the adoption of electric vehicles. The company also partnered with the Solar Impulse Foundation, identifying 1,000 profitable solutions to preserve the environment.
A key focus of the company is the continued innovation and advancement of its sustainable solutions. As part of this drive, the company invested €1.3 billion in R&D, focused on electric and digital world innovations, such as decarbonizing technologies and incorporating new circular business models into its operations.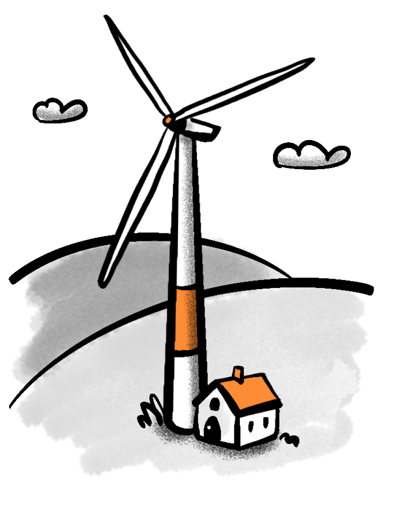 Energy management systems for the future
Energy production is the fuel to the vehicle that is civilization and without it, we would be going nowhere fast. But the energy production industry needs to bridge its innovative capabilities with sustainability because without a planet there would be nowhere to drive that car in the first place.
Now more than ever businesses must seek out innovation leading to a sustainable way of industry; a different way of doing things. Not only due to climate change, but growing consumer demand for greener practices by businesses.
[Related Article - The Future of Food & Agriculture]
But change does not necessarily have to be a bad thing, it leads to new market opportunities and possibilities. At Valuer, we believe that collaboration breeds innovation.
It is only through new technologies and access to innovative ideas that SDG goals can be achieved. What our platform can provide is the means to find startups and relevant ideas to tailor-fit solutions to your company's sustainable strategies, Valuer is essentially the bridge leading corporations to collaboration.
And for us, sustainability is the way forward for businesses and if the energy sector, which is the second-largest leading source of GHG emissions, can drastically cut these numbers down, it will be "a large leap for mankind" and a huge step for businesses in the energy management sector.