*Updated October 2022
According to the UN's Food and Agricultural Organization, 'To be sustainable, agriculture must meet the needs of present and future generations, while ensuring profitability, environmental health, and social and economic equity.'
The agricultural sector is facing unprecedented challenges, from an increasing demand for food brought by a growing population to more frequent and extreme natural disasters due to climate change and the exploitation of natural resources. These challenges show that the world's capacity to meet the demands of the present and the future is not to be taken for granted.
What's more, the way we source food is also important. It's not about fixing one problem but causing another - like increasing greenhouse gasses by raising more animals in farms. Future farming systems and sustainable agriculture should go hand-in-hand.
That said, many agtech companies have taken strides to address these major obstacles. New innovations and technologies in food production create a competitive business landscape within both the startup and corporate spheres.
Organizations that do a great job of addressing sustainable agriculture
The full version of the Innovating Sustainability report includes five case studies: three corporations (Nutrien, Vion, and Netafim) that do a great job of engaging with sustainability goals, and two startups, with their technologies explained in detail (Geopard and NextProtein).
[Related Article: Tech in Focus: Hydroponics vs Aquaponics]
Moreover, the report identifies three sub-industry sectors where sustainability is driving innovation– crop production, livestock farming, and irrigation. All the in-depth details within the report on the companies and the identification of industry hotspots, i.e., trends and technologies, are done by Valuer through our research team and the platform.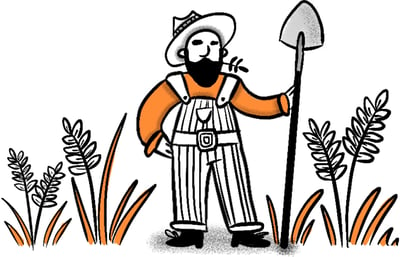 Keeping in line with that, this blog post lists more agriculture, and agtech startups pulled from our platform that works toward achieving the goal of sustainable agriculture. Without further ado, let's see what innovation in agriculture looks like today.
The Innovative startups of agriculture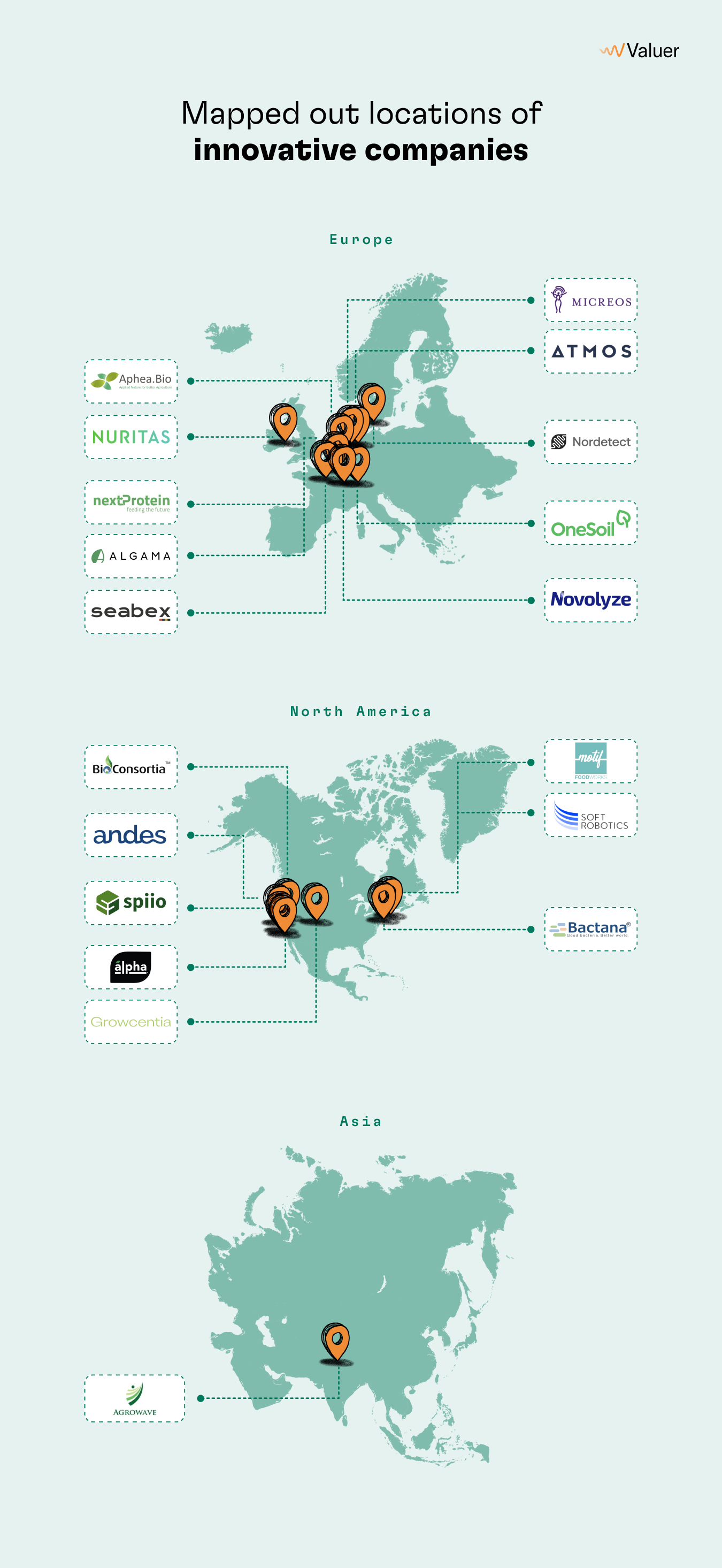 ---
Orléans, France | See company profile
Seabex is an agrotech company that aims to democratize precision agriculture through its platform. The Seabex platform collects farmland parcel data, calculates irrigation needs, and then makes recommendations using artificial intelligence. This sort of approach in precision agriculture would mean less waste of resources such as water. The agrotech company has also developed IoT stations that integrate with the platform and automate farming operations.

---
Paris, France | See company profile
NextProtein tackles resource scarcity and food waste with a portfolio of insect-based protein products intended for animal feedstocks. The company breeds the Black Soldier Fly, which in a working space of 100 square meters can produce the same amount of protein as 100ha of soy.

---
Copenhagen, Denmark | See company profile
Nordetect has developed a lab-on-a-chip solution that empowers farmers to make data-based decisions. Powered by biosensors, hardware, and a data management system, Nordetect helps farmers accurately check their soil's nutritional content, enabling them to optimize fertilizer application, yield increment, and save money.

---
Fort Collins, USA | See company profile
Founded by a team of three Colorado State University microbiologists with a shared passion for sustainable agriculture, Growcentia has developed a method to utilize natural microbes to improve plants' nutrient availability. Growcentia's tailored approach enables growers and farmers in various climates to improve their soil health and plant health, providing maximal yields with a minimal environmental impact.

---
Zwijnaarde, Belgium | See company profile
Founded as a spin-off of the VIB research institute and its partner universities UGent and KU Leuven, the Belgian startup Aphea.Bio develops a technology that can make biopesticides out of microorganisms, offering an organic alternative to chemical pesticides. The company is currently focused on products that help reduce fertilizer application (biostimulants) and control fungal diseases (biocontrol agents) sustainably in maize and wheat.

---
Emeryville, USA | See company profile
Andes is an agrotech company that seeks to combat the challenges of climate change by making seeds more resilient. The startup has its own Microprime™ seed treatment that combines - or rather, embeds - microbes inside the seeds. This increases productivity, i.e., output, and also extends the shelf life of seeds. What's more, it reduces the need for artificial fertilizers like synthetic nitrogen, which are bad for the environment.

---
Davis, USA | See company profile
BioConsortia is the parent-company of BioDiscovery, specializing in the discovery and development of natural microbial solutions that improve plant traits and increase crop productivity. The company achieves this through its patented AMS platform which facilitates the development of tailored microbial solutions for numerous crops.

---
Paris, France | See company profile
Algama is a sustainable food-tech startup that aims to harvest the potential of algae to create food that's good for both people and the planet. Algama hopes to achieve this by leveraging its scientific and technical expertise to develop algae-based alternatives to animal protein.

---
Boston, USA | See company profile
Motif FoodWorks strives to facilitate the sustainable food revolution by helping plant-based food brands improve their products' taste and texture. To this end, the startup uses a combination of genetic engineering and microorganism fermentation technology to brew key protein and fat ingredients that give animal products their appeal.

---
Glendale, USA | See company profile
American startup Alpha Foods is on a mission "to create a convenient vegan alternative for all meat-based comfort foods." Alpha Foods aims to achieve this with its frozen plant-based meat products for flexitarian, vegetarian, and vegan consumers. The startup is intently focused on developing products that provide excellent taste and health benefits, coupled with a positive impact on the environment and animal welfare.

---
Dublin, Ireland | See company profile
Nuritas aims to revolutionize human healthcare by leveraging the potential of peptide-based therapies. The startup has developed a proprietary AI-based platform that has the ability to accelerate drug discovery in a fast and accurate manner, bringing significant cost savings. Nuritas' technology can provide novel solutions to partners across various industries, including pharmaceuticals, food, health and wellness, dermatology/personal care, and animal and plant health.

---
New Canaan, USA | See company profile
By isolating a new bacteria strain from cows' gut microbiota, Bactana developed a novel medication that acts as a healthier alternative to antibiotics administered to livestock. The startup claims that by switching from antibiotics and hormones to Bactana's solution, farmers can increase the livestock's growth, weight, and milk production and reduce their mortality. Since the product is based on naturally occurring bacteria, it is sustainable and healthier not only to animals but also to human consumers, simultaneously minimizing the chances of developing antibiotic resistance.

---
Zurich, Switzerland | See company profile
OneSoil aims to streamline modern agriculture with its AI-powered precision farming platform. To achieve this, the startup leverages satellite imaging technology and machine learning to create an indicator of a plant's health by comparing the values of absorption and reflection of red and infrared light.

---
Bedford, USA | See company profile
By developing solutions that facilitate automation in markets such as food & beverage, manufacturing, e-commerce, logistics, and reverse logistics, Soft Robotics aims to liberate people from "dull, dirty, and dangerous jobs". When designing its products, the startup's main focus is to develop solutions that are less complex than conventional systems and can be integrated with any robot.

---
Delft, The Netherlands | See company profile
Atmos is on a mission to "empower professionals across all industries to effortlessly gather geospatial data from the sky, enabling them to make more informed decisions, efficiently and effectively." To facilitate this, the startup has developed its flagship product, a drone named Marlyn, that combines the "flexibility of a multirotor with the efficiency and speed of a fixed-wing."

---
Gurgaon, India | See company profile
Agrowave is an agritech startup that aims to empower farmers and reduce food waste by optimizing the supply chain. The Agrowave platform is basically a farm-to-business mobility supply chain that connects farmers with markets through mobile pickup stations near their farm gates.
Farmers can just take their produce to one location rather than traveling to find buyers. This reduces the carbon footprint of the produce but also guarantees its freshness, as it reduces the chances of any food going to waste. Beyond that, as the farmer-market relationship becomes more direct, so do profits for both parties. Agrowave has so far worked with over 4,500 farmers.

---
Washington DC, USA | See company profile
By developing products and services that reduce the risk of foodborne infections, the French startup Novolyze aims to make food safer. To accomplish this, Novolyze uses a combination of the latest technologies in microbiology, digital, IoT, and machine learning to create solutions that help the food industry produce safer food while ensuring compliance with international standards.
Innovative corporations in the agriculture industry

Nutrien
---
Saskatoon, Canada | nutrien.com
For the Canadian fertilizer company Nutrien, sustainable agriculture is the focus of its entire organizational culture. The company aims to empower growers to maximize the impact of their resources. For this purpose, Nutien has developed a comprehensive strategy, centered around its product line and a global network of retailers, as well as cooperation with governments, regulatory agencies, and NGOs.
At the forefront of Nutrien's sustainability strategy is its portfolio of over 1,700 products that significantly reduce nitrogen loss in air and water. Nutrien also offers digital tools such as the data platform Agrible, which provides farmers with field-level predictive analytics. In addition to business benefits, the solution enables farmers to measure their performance and track their progress in line with the Field to Market® sustainability metrics. Agrible also allows the supply chain members to compare the environmental impact of various growers to satisfy their personal sustainability goals.
Another prominent aspect of Nutrien's sustainability programs is education. The company advocates the 4R Nutrient Stewardship System (4Rs), a science-based farming approach that aims to improve environmental protection while also enhancing the farmer's production, profitability, and sustainability. Nutrien advances these principles through several organizations, such as the 4R Nutrient Stewardship Certification for Retail facilities and the 4R Designation for crop advisors in North America, the 4R Solution Project in Africa, and Fertcare in Australia.
As part of its ongoing education programs, in 2019, Nutrien trained approximately 900 growers in South America. The participants partook in 47 training sessions on soil fertility, plant nutrition, plant physiology, and best practices in nutrient and crop input management.

Vion
---
Boxtel, The Netherlands | vionfoodgroup.com
Vion is one of the leading meat processing companies, serving over 100 million daily customers. With a global reach, the company is well aware of its impact on the environment and has developed a robust strategy to minimize its effects. To this end, Vion launched an initiative to empower customers to make informed choices regarding the carbon footprint of the products they buy. Starting in 2022, the company will designate its products with a CO2 label detailing their footprint based on the supply chain data. As part of the initiative, Vion aims to include at least 20 pig farms in 2020 and include all the Good Farming Star farms by 2021.
The company aims to motivate as many farms as possible to collect data regarding their CO2 footprint, sharing the results between the farmers and providing them with knowledge regarding best practices to reduce their environmental impact. Vion will facilitate this initiative through JoinData, a co-operative that promotes secure data exchange in the agricultural sector.
Vion has also developed a strategy to ensure the efficient use of resources. The company promotes the adoption of circularity in the agricultural industry, developing new methods to incorporate safe, processed animal proteins in animal feed.
The company also maintains a low water footprint, upholding the use of soy certified by Round Table Responsible Soy (RTRS). Vion makes sure that all pigs raised under its Good Farming Star program participate in the certification program. A particular emphasis is placed on the continuous improvement of its organic pig farms under the label De Groene Weg. All suppliers are EKOcertified and use the EKO-code as a scoring instrument on twelve topics, including energy, soil, manure, biodiversity, and circularity. Each supplier that is a part of this program must focus on at least two objectives a year, leading to consistent improvement.

NETAFIM
---
Tel Aviv, Israel | netafim.com
Originating from the need to farm the Negev desert in Israel, Netafim is a producer of precision irrigation systems with a long history of maximizing the value of scarce resources. Due to its expertise in drip irrigation, the company directly impacts the global effort to curtail the effects of climate change. In addition, Netafim has been careful to implement sustainability into its business processes, maintaining strict controls over its resource consumption and environmental impact.
The company is committed to eco-friendly product design, aiming to minimize resource waste in its supply chain operations. Netafim also launched a recycling initiative, salvaging more than 25,300 metric tons of used plastic drip lines since 2010.
Another aspect of Netafim's strategy is to empower local communities to adopt sustainable agricultural practices. The company provides donations and equipment in several countries globally. Some initiatives include developing community gardens and providing young people with knowledge regarding industry and technology, and sustainability. For example, between 2018 and 2019, Netafim's Learn2Live program in South Africa provided 40 preschools with drip irrigation equipment for small vegetable gardens.
Netafim is also keenly aware that modern agricultural technology such as drip irrigation solutions is too expensive for many smallholder farmers. Thus, to help them implement this technology, they offer several financing channels. For instance, Netafim joined forces with Rabobank to participate in the Agri3 Fund, which aims to catalyze $1 billion in public finance to promote sustainable agriculture and reforestation. Moreover, between 2016 and 2019, Netafim has provided over $100 million in structured financing loans to farmers and dealers worldwide, mainly in Africa, Latin America, and Europe.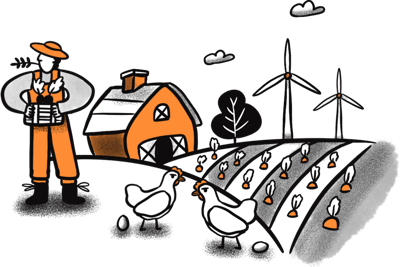 Sustainability is here to stay
Agricultural sustainability is a growing concern for the general public because of its considerable use of land, water, and other natural resources. Considering the world population is projected to reach 9.6 billion by 2050, increased pressure will be put on the agricultural industry to produce enough food and resources to meet the growing demand. As a result, sustainability is of the utmost importance and is not only reflected by the general public's concern but also with farmers.
Agtech companies are taking notice of consumer demands and have started to implement sustainable practices. In addition, companies are now making innovation in agriculture a top priority and are constantly seeking collaborations and partnerships with agriculture startups hoping to alleviate the crop production challenges that mankind will face in the years to come.
We believe that technological breakthroughs and creativity are critical to reducing the time and cost necessary to achieve the SDGs. As we saw from the startups and agtech companies, the role of technology in agriculture is crucial to improving production, resilience, and supply chain management, all of which contribute to a sustainable food network. Moreover, we believe that blending purpose with profit to achieve more sustainable operations promises companies a competitive advantage that meets the expectations of modern customers, employees, and investors.
But there's no one-size-fits-all approach to aligning with SDGs. This is why it's essential that each organization addresses the challenge from a perspective that makes the most sense to its strategies.