The word "sustainability" gets thrown around the proverbial ring quite a bit in our current climate. Possibly a bit too much, as by now everyone is annoyed with companies green-washing everything in sight. With businesses green-washing themselves, you could potentially think of a "boy cries wolf" scenario where any company claiming to be "green" and "sustainable" would scare off potential investors, however, that doesn't seem to reflect reality.
Why? Well, frankly the incentive is there to funnel more investment into sustainable solutions and technologies, and that incentive is sheer growth. Let's take the energy management industry, specifically, growth seen in energy management systems. According to Allied Market Research, the global energy management systems market is expected to grow to $62.3 billion by 2023, with a CAGR of 13.5%.
The reason being is that sustainable technologies and solutions in the energy management industry and its various sub-industries grant companies an upper hand over their competitors. Sustainable solutions increase productivity, and reduce costs, making the bottom line of sustainability good for your bottom line.
Investing in sustainable solutions, especially in the energy management sector is extremely important, not only for the above-mentioned market opportunities and projected growth but also because avoiding increased environmental degradation is, to put lightly, necessary.
If we take a look at the numbers provided by the EPA, 25% of GHG emissions are generated by the energy industry, making it the second-highest contributing factor to GHG emissions. That's not the kind of silver medal you want to win.
It's numbers like these that motivated us to take a deeper look into sustainable trends in industries. Intrigued by the innovative technologies and companies focusing on these particular areas is why we decided to create what we called Innovating Sustainability Reports.
With these reports, we could jump into numerous industries and pull out focus areas and technologies to identify what are the current trends, market opportunities, and technologies that are developing.
In this article, we want to take a look at one of our favorite Innovating Sustainability Reports on the energy management industry, deconstruct it, and show how you can use our AI-powered platform to generate similar results as in the energy management report. Hopefully, this can give you some insight into how to utilize and get the most out of the platform.
Reports vs platform: the key difference
Just for full disclosure, when we created the Innovating Sustainability: Energy Management report, we had not yet launched the platform that you see today. What this means is that these reports were built a bit differently than they would be if you were to solely use the platform today. The key difference here lies in the utilization of the cluster maps.
In the report, the data cluster you can see is generated on our backend through the platform using the six focus areas identified by our research team. The platform then places the various companies in the map in proximity with one another depending on the sub-industry a company is in and in the technology or solution it provides.
[Related Article - Innovation in Action: How We Used Our Platform for the SDG 15 Report]
On the current platform, you can still access cluster maps through the "Explore Industries feature", however, instead of the user generating specific clusters, there is a list of industries you can choose from. You can also pair this feature with another we call "Explore Technologies", which will allow you to take a deeper dive into numerous technologies and see which companies are using or developing them.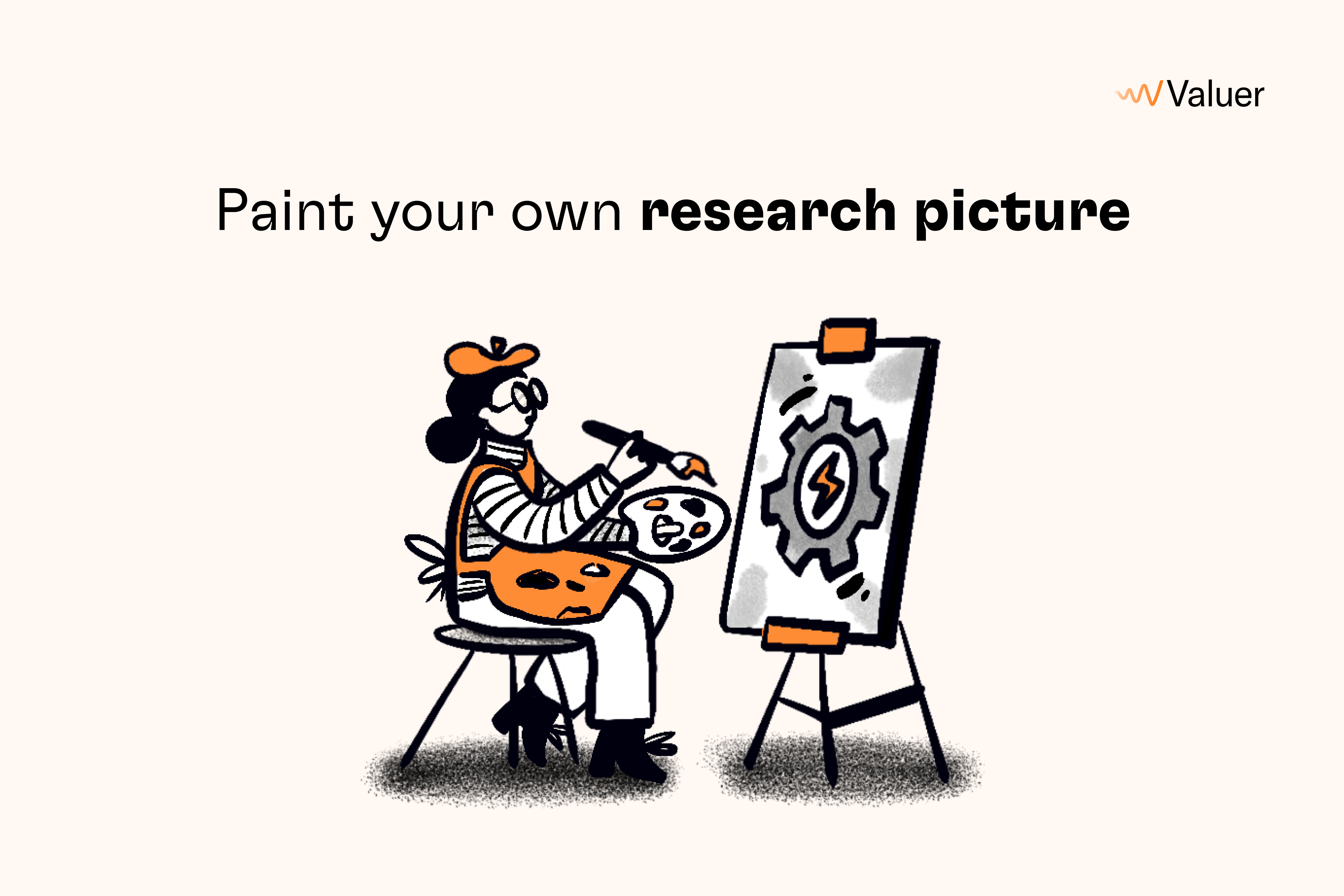 By combining both these features, you can really start to form a picture of emerging market opportunities and trends that can help shape your search. This is particularly useful if you are unsure where you want to begin your search. But if you're looking for something more specific or can't find what you're looking for, you can reach out to our team as we still offer bespoke reports that we generate in house.
Now, moving back to setting up your research. First, we'll cover some database specifics and then we can get into how we used our database and AI in the research for the Energy Management report. This will be a perfect starting point for getting off the blocks in setting up your own research on the platform.
The database and AI interaction
Let's kick off with the backbone of the platform, and that's the database. It's compiled of millions of data points on companies and technologies that have been what's called 'data scraped' and then filtered by our team to ensure the right data is in the right place and that your results are reliable. This data is used to make company profiles, industry & technology overviews, etc.
How our AI understands search inquiries and filters we set is based on natural language processing (NLP). Our NLP is based on a refined version of BERT, which takes the keywords and semantics of your search inquiry and translates that into reliable results. This allows our users access to relevant information without having to be specific in their rhetoric during their search inquiry. Basically, BERT and NLP allow for variation and flexibility in your inquiry and lets us to go from point A to point B in our search smoothly.
It's from these NLP algorithms that the platform can comb through the database, filter, and narrow down the results from the 500,000 plus company profiles in the database to around 3,000 companies that will then be further analyzed to generate the insights in the report.
From these data points our team can now identify parameters and in this case six specific areas in the energy management industry. These six areas are:
Peer-to-Peer Energy Trading, Microgrids, Internet of Energy, AI Energy Management Platforms, Thermal Energy Storage, and Battery Innovation.
These six focus areas are the basis from which we started our research into the top startups and corporations and the research into the energy management industry. Now let's use these parameters to help set up your platform search into energy management and energy optimization.
Setting up your platform search
Now that you understand a bit about how we were able to set up the research phase of our reports, it's time to set up your own search using our platform. First, you'll be asked to type in a decently thorough description, which isn't necessary but is recommended to get the best results.
Take sustainability and energy management as an example. Your search could start as:
Start with with our Industries feature
Sort but sub-industries
View correlation between sub-industries
Find interesting companies
Add to radar
Enrich company profiles
(optional) order bespoke report on captured targets
How to read your results
Two things you'll notice about the results page and company profiles off the bat are the "Valuer Score" and the "Match Score". Our goal when creating the platform was to let users easily apply the algorithms' power in their research and for users to get their hands on data-driven insights quickly and reliably.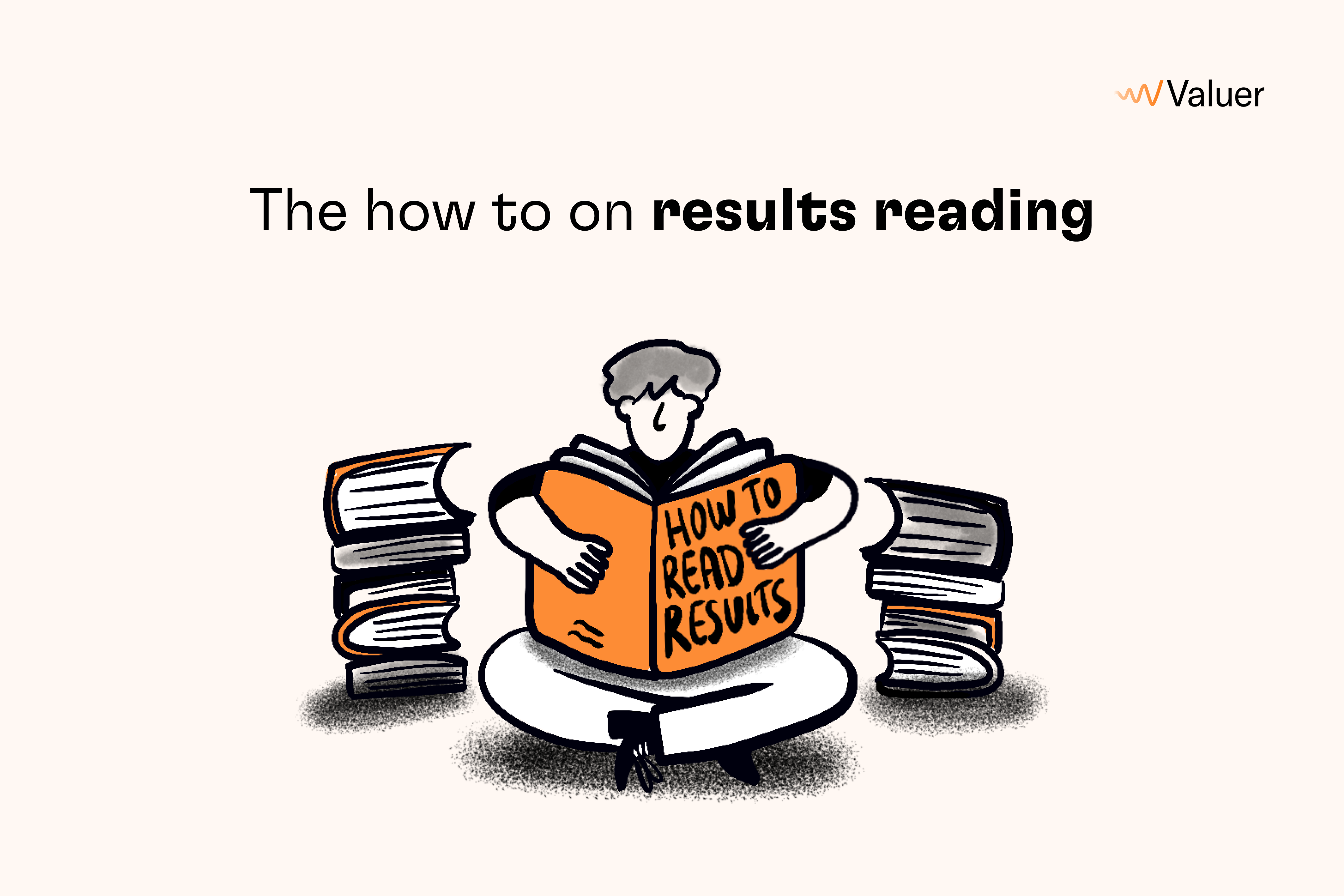 We want the experience to feel tactile in that you can really get your hands into the process, but also want that journey to feel smooth and intuitive. And that is precisely why we have these two scores, so let's break them down and you can see what we mean.
Match score
First off, the match score. It's a percentage score calculated by the platform that lets you know how well-suited a company is in regards to your search inquiry. However, just because the match score is lower than you expected, still take a look at the company profile.
Why is that? Well, this is because the percentage is dynamic and based on your search parameters. In other words, your match score is based on how detailed your search inquiry is. The aim of this feature, besides making the ride on the platform smoother, is that anyone or any company looking for a good fit for business collaboration or investment opportunities can use this as a barometer for the degree of fit for a potential partnership or collaboration.
Valuer score
Secondly, we have the Valuer score. This is a metric on the platform that allows you to instantly receive a snapshot of how a company is performing. We use a ranking system that is from 1 to 100 and that is also rooted in direct comparison to other companies within the database. There are five criteria used to make up the Valuer score and they are:
Success - This includes funding history, age, and size to calculate the success the company has received
Growth - Uses a combination of data, including development and funding history to forecast potential future growth.
Maturity - Scores the current development stage, including funding and operational size to determine its level of self-sustainability.
Innovation - This reflects how unique and original a company's approach is at addressing an issue or a market gap compared to its peers.
Sustainability - Sustainability reflects the scale at which a company's products and services can be used to make business operations more sustainable.
The applicability of the Valuer score is really what you make of it, but we see it as an extremely valuable tool for VCs and investment firms. For example, if you're a VC looking for your next investment opportunity in energy optimization and sustainability, you can quickly scan over the company profiles you've generated in your search and see which companies are scoring high in sustainability and innovation.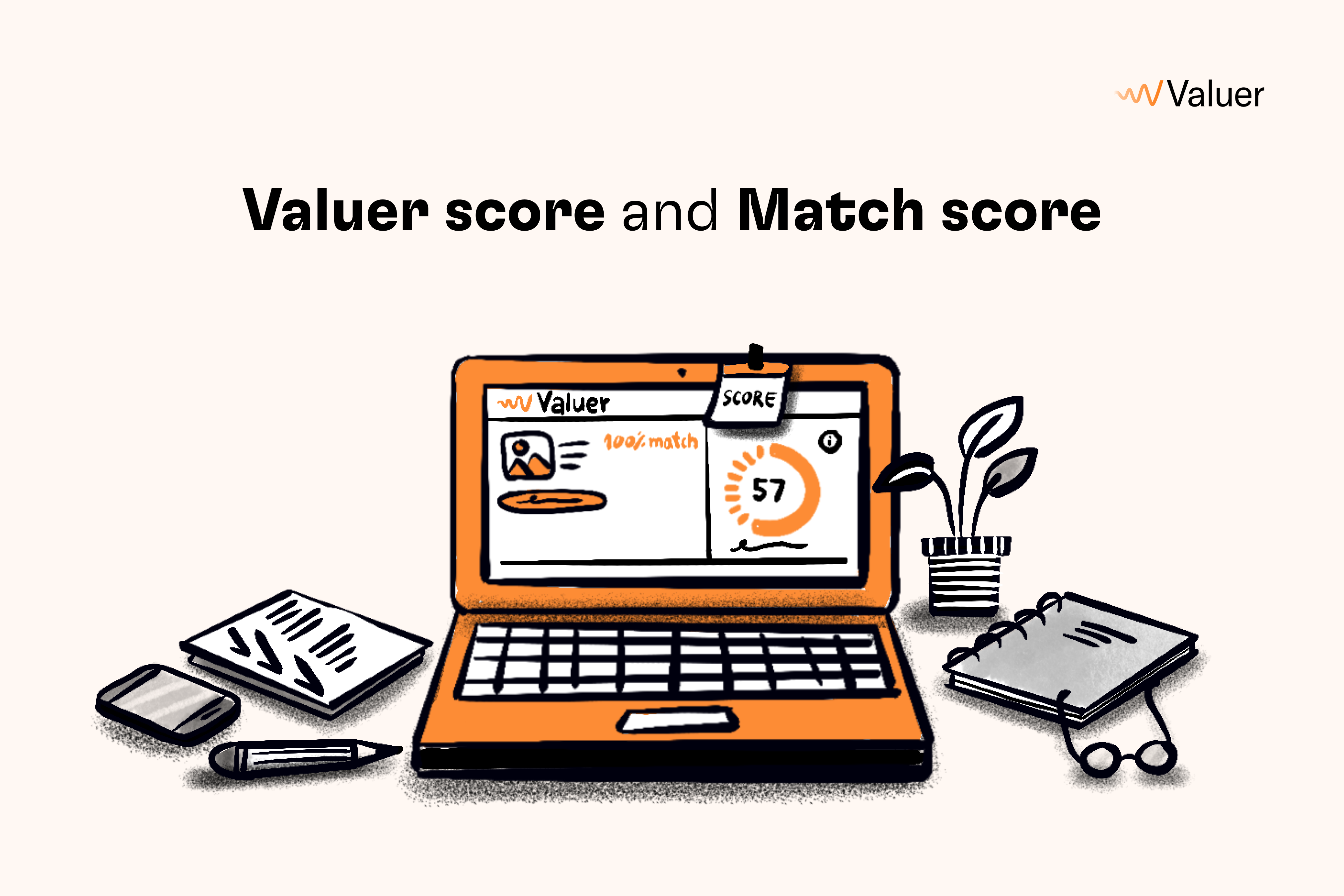 Both Match scores and the Valuer Score are meant to be a tool to help guide your research and just make the whole journey easier. You can also use them as a tool to guide your next step in the research process, and that is unpacking company profiles and enriching company data.
Enriching company profiles
When you open a company's profile, you will see the standard basic info and, you will also see an option to enrich the data or information on that particular company. What it means to enrich a profile is that it opens up in-depth information on a company in the following areas:
Business Model - Data and detailed knowledge on the engine room of a company and how the company makes a profit.
Value Proposition - What a company promises to deliver. Such as products, experience, communication, services, etc.
Product portfolio - What a company is developing, the products they currently offer, and the products success in the market.
Technology overview - In-depth knowledge into what technologies a company is applying and/or developing. Discover how they apply technologies and deliver their products and services.
Market Opportunities - The data on where a company is situated in the market, its growth, and its projected market potential.
Achievements & Future Plans - Company achievements, such as partnerships, awards, investments, etc. and future plans
The data that you get from enriching a profile is the same data that we used when creating the company case studies covered in the energy management report. These data-driven insights allowed us to explore actionable ways in which companies are applying energy management systems and energy optimization in several facets of the energy management industry instantly. This feature is meant to give you actionable insights while cutting out the massive amount of time it would take to research this on your own, all done by our AI-powered platform.
Sustainability and market opportunities in energy management
Sustainability may be a buzzword, but it's one where you can understand the hype. The market gap created from businesses and industries needing sustainable solutions primed the market for innovation and opened the door wide open for business and market opportunities.
Just take a look at the numbers in 2021, renewables topped the chart regarding investment, with a 5% increase compared to 2020 and accounted for 70% of the total $530 billion spent on energy. Making it clear that innovation in sustainable solutions and technologies poses a massive market opportunity for companies and investors, especially in the energy management industry.
The difficult part is how to identify sustainable solutions that apply to you and how you can apply them in your own business context. Hopefully, you can take the walkthrough laid out here and tailor it to your own needs, whether that's in energy management systems, energy optimization, or anything else for that matter. See the platform in action, try it out, and use the data-driven insights to fuel your next business collaboration, innovative solution, and/or investment opportunity.