*Updated September 2022
Enterprises across the globe are referring to the term "data-driven innovation" more and more. Few people, however, have a clear understanding of what it implies.
This can be narrowed down to the difficulty of grasping the importance of this innovative approach without concrete examples. Companies typically want to keep their innovation and product development methods hidden in order to maintain a competitive advantage, making it difficult for "rookies" to grasp how these processes operate in a practical working environment.
For many companies, identifying innovation opportunities is a challenge. Many lack expertise and fresh ideas to recognize data they can benefit from and translate it into new products or markets. Their internal development cycles are being disrupted by the rapid movement of an influx of new technologies, and creating new ones from scratch is quite costly and resource-demanding.
In this article, we will explain why Valuer can be your new innovation hub. We will briefly outline what the platform can offer and how your organization can use this tool as an innovative solution.
1. Take advantage of our massive database
Our data-driven platform offers an end-to-end solution to assist enterprises, accelerators, investment professionals, R&D teams, and innovation managers/teams in identifying disruptive technologies, market opportunities, industry trends, and innovative businesses.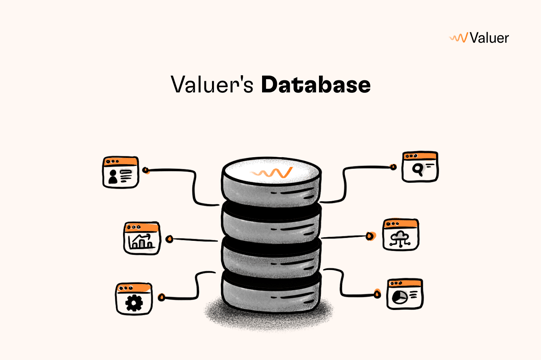 The Valuer database encompasses a central element of this offering. Our database consists of over 600,000 companies and millions of data points on these companies and technologies that have been scraped and filtered by our in-house team.
This data is what makes the backbone of all the insights, features, and information that you can access via the Valuer app, with the database being constantly updated to ensure that the available insights and information are not both actionable and representable of global markets.
2. The use of AI, Machine Learning, and NLP
AI is an essential piece of our Valuer system/infrastructure and allows us to objectively process large amounts of data to identify relevant results for the questions being asked.
There are a couple of main AI applications on our platform. We use neural networks to predict missing data points, clustering to make sense of large amounts of data, and NLP to understand search queries. We apply these different AI applications so the user doesn't have to analyze data. Moreover, we allow you to help train the AI by voting results up or down based on relevancy, which allows for a more tailored experience for your next search.
3. Integrate your entire team seamlessly
We also understand innovation is a team effort. Valuer doesn't eliminate the need for an innovation or analyst team within your organization. Instead, we're designed to blend in with your own established processes and provide valuable assets that your innovation team can take advantage of.
Vote together, annotate, plan, and share results with your team members and relevant stakeholders. Our platform allows users to onboard team members efficiently and provides enterprises with adequate tools to integrate with us, either from a management perspective or a database perspective. In the end, you can design your own digital innovation ecosystem.
In essence, you get a dedicated platform focused on growth, digital transformation, scouting missions, and innovation processes. Simply put, the Valuer platform assists you in discovering unexplored opportunities that meet your specific innovation requirements. So far, we've helped organizations like BMW, PwC, Microsoft, Deloitte, and Grundfos, among others, discover innovation opportunities.
4. Find the unknown unknowns
A notable aspect of the Valuer Platform is that it can help your team identify industry trends, market gaps, business solutions, innovative technologies, etc., that may be outside your scope of expertise or just lost amongst the vast amounts of data out there.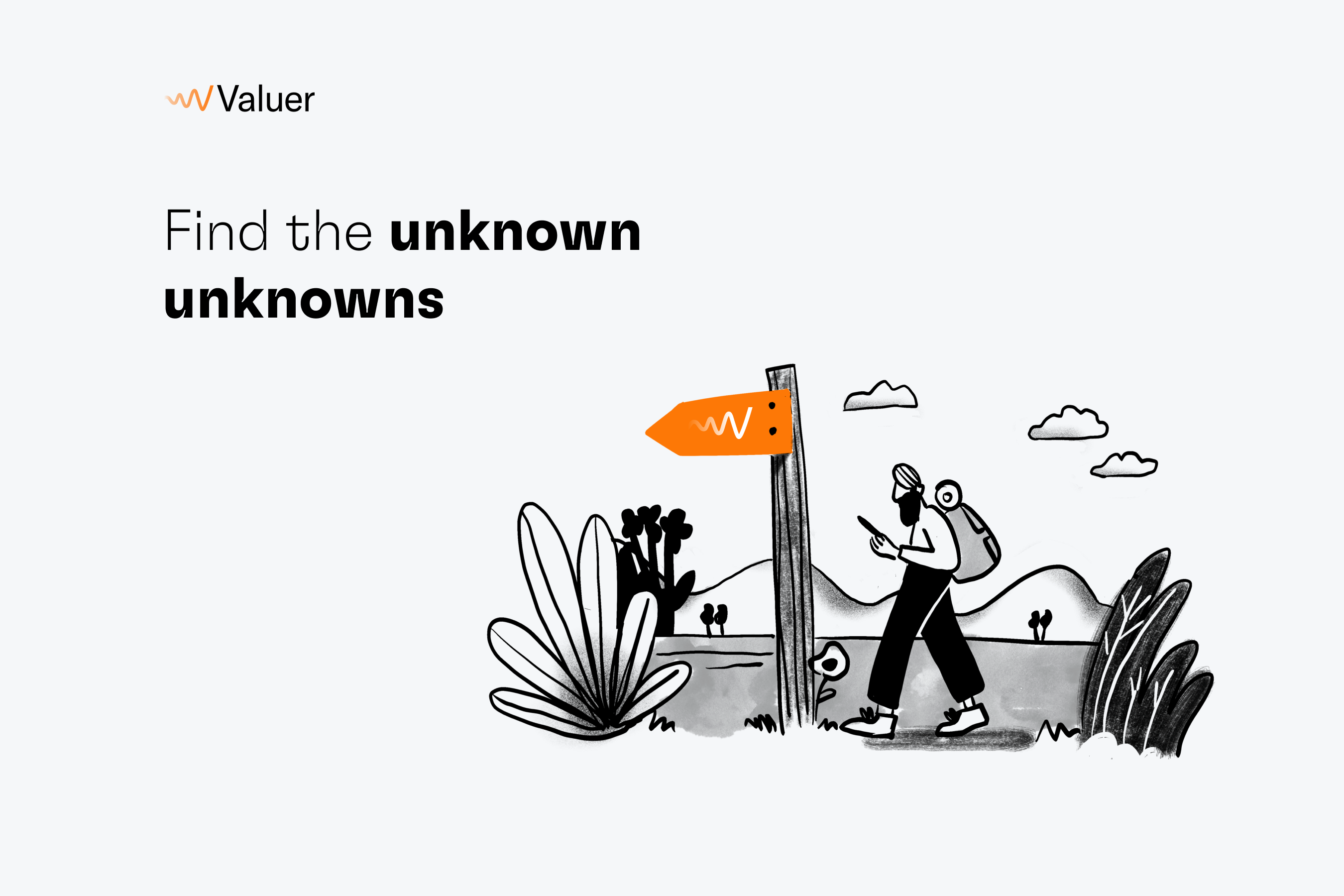 All of our features are meant to wade through large amounts of data and give you the most relevant and reliable results. Use the platform to find companies that harness specific technologies or similar companies to the ones you're interested in. Use it to explore industries and technologies, as well as to get in-depth data on any technology or company you are interested in. The features not only give you insights into avenues you have been looking into already but also ones you have not gone down as of yet.
5. Ease of use that streamlines your innovation process
One of the major pain points when it comes to the innovation and investment process is the number of resources spent by organizations and teams. It's not easy to innovate; that's why we've not only designed a tool that can help cut down on the time it takes to generate actionable data and results but also a tool that can be easily understood and navigated. Which could help cut the time and money poured into due diligence.

Each one of our features is built to be intuitive and easy to use so you can get your results quicker. And when it comes to your results, each company profile is fitted with a match score, which is a percentage score based on how closely the profile fits your inquiry, plus a general overview of a company. You can further filter and search through results and even get a quick data overview of the companies listed. This way, you can swiftly browse through hundreds or thousands of companies.
And if you're looking into a technology or a particular company, you can always order a research report straight from the profile you are looking into. The insights and data in these reports are formatted in a way that's easy to understand and cuts right into what you're looking for. Plus, if you need help with any service we offer, we provide plenty of material and have a team ready to assist you.
6. An innovation radar
When you are searching through results on our platform and you come across a company profile you are interested in, you can simply just save it to your own personalized "Radar." The Radars feature works a lot like a playlist, but instead of songs, you are adding company profiles.
This feature allows you to set up and personalize your own radar list, so when you see a profile you like, you just click add to radar and select which one of your radar lists you would like this profile to be added to. It makes it easy to keep track of various companies on the platform, allowing you to keep your innovative search going. Once a profile is saved to your radar, the platform will stay on top of that radar and notify you if there are any changes with any of the companies in your said list.
7. Exploring industries & technologies
Another way our platform and services help with your innovation strategy is by quickly allowing you to explore particular industries and various technologies with our "Explore Industries" and "Explore Technologies" features.
Explore Industries allows you to select an industry and instantly get an overview of it through a cluster map. Here, each industry is mapped out by its sub-industries and the startups that occupy each sub-industry. From there, you can view a list of companies and startups that make up the entire industry or just view the ones in particular sub-industries.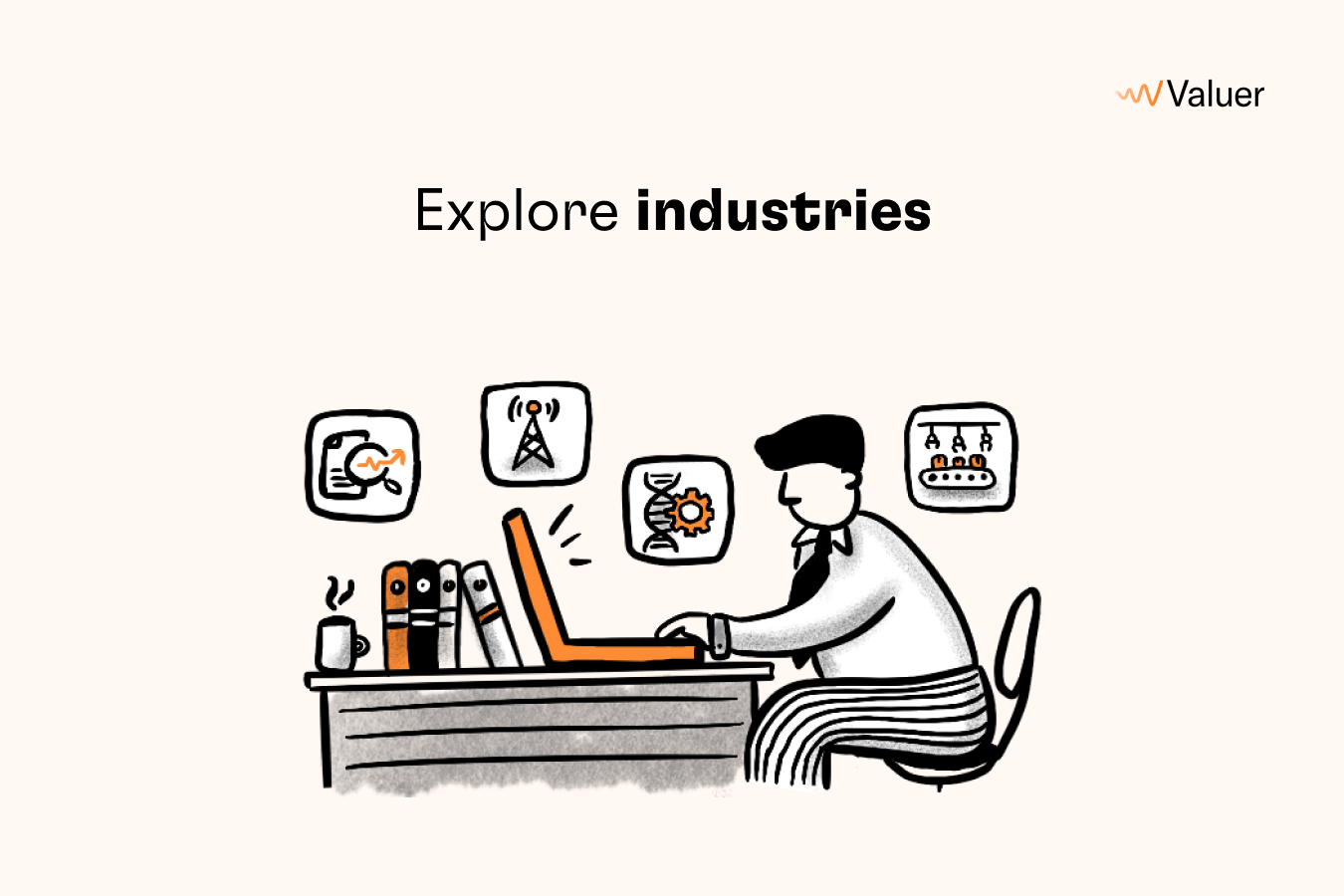 The Explore Technologies feature allows you to dive into various innovative technologies and their applications. Here, you select a technology you are interested in and access a list of companies that harness this technology in one way or another. This feature also allows you to request a "technology deep-dive" report.
These reports, done by our research team, go more in-depth on any technology you want and provide valuable insights into five key areas– sustainability, maturity, market opportunities, benefits, and applications, as well as a detailed description of the technology. If you need this report to be more tailored to your organizational needs, you can just reach out to our team, and we'll help you out.
8. Company profile enrichment
On any company profile, there is an option to "request enrichment." This enrichment is essentially an in-depth report– similar to the technology deep-dive, where you can request an in-depth research report on the profile you have selected.
These enrichment reports, carried out by our research team, provide insights and data into five areas– the business model, product portfolio, value proposition, market opportunities, and achievements. And just like the deep-dive reports, you can also reach out to our team if you need anything tweaked in the enrichment report.
9. Bespoke reports
One of the services we provide is bespoke analyst reports. These reports are pretty much what they sound like; they are reports that are tailored to your specific needs. Our team of researchers will work with you to define the optimal format and scope of the information you want to receive. During this process, you can specify the number of sub-industries, technologies, companies, etc., that you would like to be included and pick the exact format of each analysis.
These reports are sourced from our platform and compiled with other data points through the Valuer research team. These reports can help you stay updated and informed on the latest innovation hotspots in your industry, spot business solutions, keep updated on emerging and disruptive technologies, or any other key strategic area your organization is looking into.
10. An innovation hub
Valuer's platform and services act as a one-stop shop for innovation. From the database to bespoke reports and everything else in between, Valuer as a whole is a tool that your team can use to uncover and explore the whole ecosystem of innovation. Each feature is designed to maximize efficiency while delivering reliability, saving your organization valuable resources in exchange for actionable data.
We are constantly expanding and adding to our database, improving and adding features to the platform, and continuing to grow so we can truly make our platform an innovation hub for firms and investment professionals alike.