The primary goal of Valuer's bespoke research reports is to provide insights into emerging technologies from specific sub-industries and the innovative companies within them. As such, the bespoke reports can help you discover potential acquisitions and other market opportunities, find out about startups on the cutting edge of emerging technologies, gain a brief overview of companies that offer a specific product or service, and more.
In essence, Valuer's bespoke reports allow you to combine several different products from the Valuer platform into one easily-shareable design. The focus and contents of the report are up to you, and if you aren't entirely sure how to define your area of interest, our team of researchers and technology experts can help you.
The individual reports can include various sub-industries, technologies, and companies. You can define the structure of the report to fit your specific needs or choose your broad area of interest (for instance, sustainable energy innovations) and let our team of researchers define the report's content.
All about our Bespoke Reports
Our bespoke research reports are intended to help you gain an in-depth view of any number of sub-industries, technologies, or companies of your choice. Depending on your needs, our team of researchers will cooperate with you to define the optimal format of the report. During this process, you can specify the number of sub-industries, technologies, or companies you want to include and pick the format of each analysis.

The company and technology analysis comes in two formats: a standard full-length option and a shorter, to-the-point summary. The sub-industries have only one format and are always presented as brief overviews since their primary function is to connect the relevant technologies and companies within the specific sub-industry.

If you need help defining the scope of the report, our sales representatives and technology experts can help you choose the focus and define the contents in regards to how many sub-industries, technologies, and companies you want to include. But if you're already familiar with the Valuer app, you can also add the companies and technologies of interest to a Radar and request us to curate the content and design it in a single shareable PDF file.
How Do We Make The Bespoke Reports?
The information within each bespoke report is sourced from our platform, which currently contains over 500,000 companies from a wide range of industries and over 120 technologies. As our database is updated regularly, the results can yield a large number of companies depending on your area of research.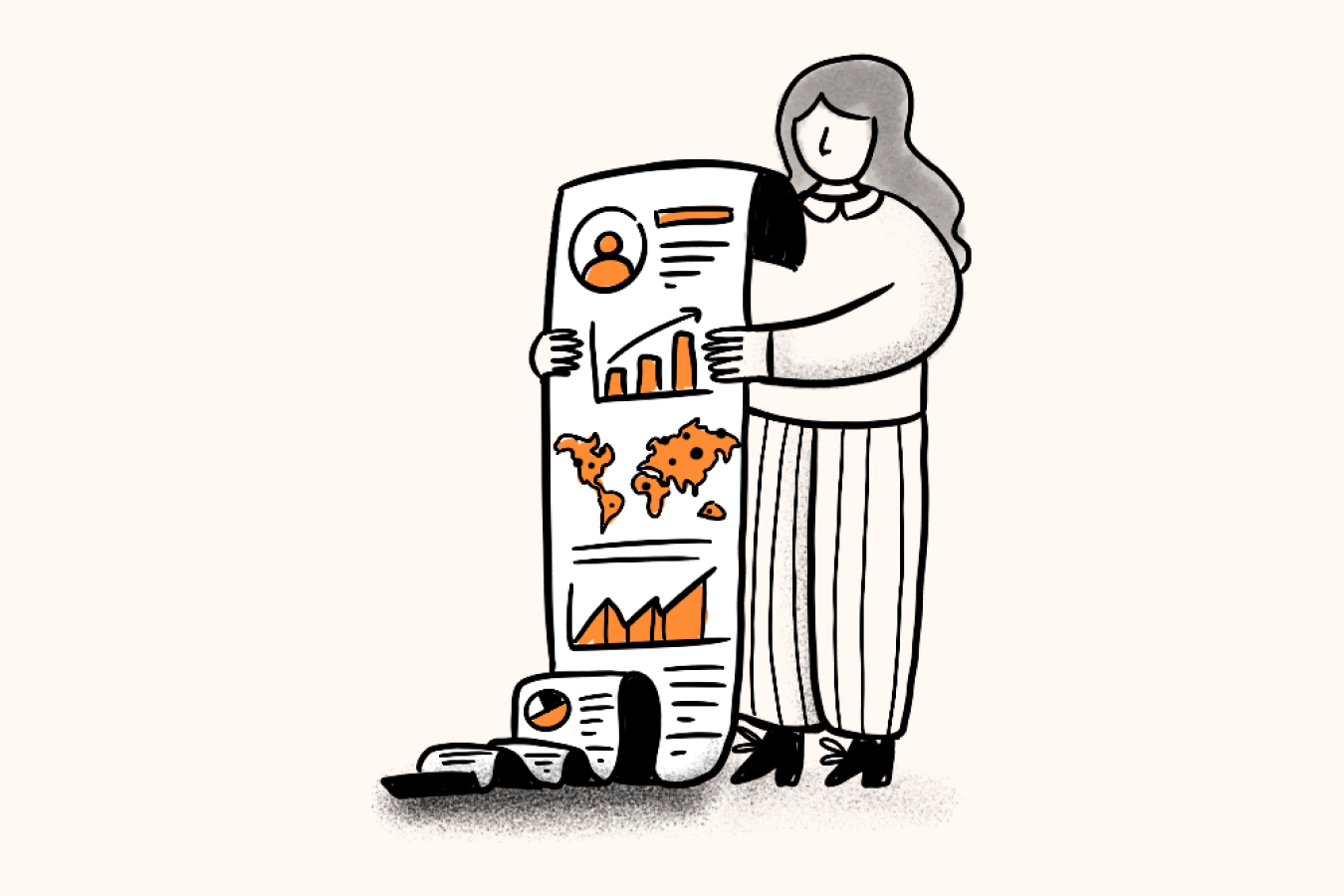 For instance, let's say you want to learn more about innovation in a specific field, such as blockchain technology or cybersecurity. Due to the popularity of these technologies, our database is likely to provide a large number of companies operating in these sectors, which is much higher than the number of companies we include in a report. In this case, you can select the final number of most relevant companies yourself or request assistance from our research team, who can do the selection for you.
How Long Does It Take To Make A Bespoke Report?
The lead time to produce a bespoke report depends on the number of elements (sub-industries, technologies, and companies) that you would like to include. But as a reference, a format that includes five companies and five technologies can take one month to produce and design. The report's design is standardized; however, it includes your company logo, an optional foreword written by your team, and an "about your company" page.
How Can Companies Use Bespoke Reports?
As the contents and the format of the reports can be combined to satisfy your unique needs, the use cases depend entirely on you. The reports come in an accessible PDF design that you can easily share within your organization, serving as a convenient tool during presentations and meetings. The bespoke reports can also be used as marketing or promotional materials that you can share with your target audience.

Now let's take a closer look at some use cases where we believe our reports have the highest transformational value, acting as a tool to support innovation within your organization.
Keeping updated on the latest innovations
Our research reports can help you stay connected to the newest developments and innovation opportunities within the most cutting-edge industries, such as healthcare, energy, cybersecurity, fintech, etc. With our offering, we can help you track, discover, and respond quickly to the best-fit technologies and learn more about the companies at the cutting edge of your industry.
For example, you can find partners who are pioneering cyber security technologies, track the latest trends in the financial industry's digitization, and any other use cases that rely on detecting innovation opportunities and technology trends.
Bespoke Reports Can Help You Discover New Business Opportunities
These reports can benefit a wide range of enterprises, including private equity firms, corporate venture efforts, venture capitalists, and family offices. They can help private equity clients identify previously unavailable opportunities or support corporate ventures' internal or external corporate strategies with on-demand data and resources to seek, monitor, and plan actions.
[Related Article - The Best Tips for Identifying Trends and Opportunities With Valuer]
They can also help venture capitalists get a leg up on the competition or identify their next investment. We can also assist corporations in identifying M&A targets as well as family offices searching for investment opportunities.
Make Innovation A Priority In Your Business Strategy
These bespoke reports on trending technologies, and the companies that use them, can provide you with detailed industry insights, covering sub-industries, regions, rivals, etc., that offer you near-instantaneous information to keep pace with the latest developments.
As such, we can help you peer into the thousands of companies pioneering emerging technologies that have the potential to be acquired, as well as bolster your innovation strategy to outpace the competition. The reports can also help you develop a corporate strategy with a robust tool that allows you to create, track, and monitor individual activities.
Other reports available through our services
Here we will clarify the two different types of reports you can order through our platform in addition to ordering a bespoke report called "Technology Deep Dives" and "Company Enrichment." These are reports that are focused on a particular technology or company that you select from our platform when you have landed on a company profile or technology you want more in-depth data on.
Technology Deep Dives
Technology deep dives allow you to gain a deeper understanding of emerging technologies and their most relevant uses. You can request them through the platform in the "Explore Technologies Feature" and then by selecting a particular technology profile. The standard layout of the analysis includes an introductory technology description, followed by a listing of its applications, primary benefits, state of maturity, market trends, and sustainability impact.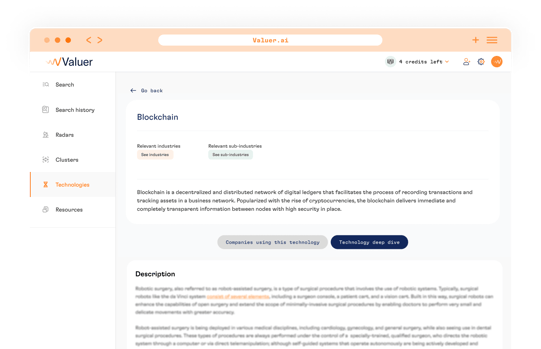 Once a technology deep dive report is completed, it gets added to the platform and connects the technologies and relevant companies to the corresponding industries and sub-industries associated with that specific technology.

The technology deep-dive report also provides you with specific industry insights that might not currently be available on our platform. For example, you can request a bespoke or tailored technology deep-dive report into something you do not see on the platform.

For instance, if you want insights into a particular application of AI and its uses within FinTech. Once you order a bespoke technology analysis, our technology researchers will do some research to ensure that the request is deliverable. If it is, we will add the technology to the platform, and you can then use your credits to access it then.
How Can Companies Benefit from Technology Deep Dives?
Our bespoke technology profiles are primarily used to learn more about novel technologies, identify the most recent developments within them, and track their adoption across various industries. In addition to delivering a detailed analysis of the technology and its developments, the Valuer platform feature also lists companies that use the technology in their product portfolio. As such, the bespoke reports can help you gain insights into the newest industry trends and innovations, as well as get a closer look at potential competitors, partners, or acquisition candidates.

The information can also serve as a benchmark to help you understand how your company stacks up against the broader industry in terms of implementing emerging technologies, bolstering your innovation strategy, and keeping track of emergent technologies, trends, and market developments.

Notably, the Technology Reports are a convenient tool to get the latest information on a technology's sustainable potential. Requests on areas within sustainability, in general, are some of the most popular for bespoke reports because they take a closer look into the technologies and companies driving sustainable business solutions within a specific sector.
Company Enrichments
Requesting a company enrichment report starts with a search and selection of any of the company profiles on the platform. Once you find a company that you'd like to learn more about, you can request our research team to enrich that company profile. An enriched company profile features a company description, executive team, business model, value proposition, product portfolio, technology overview, market overview, and achievements, providing an overall summary of the most important aspects of a company.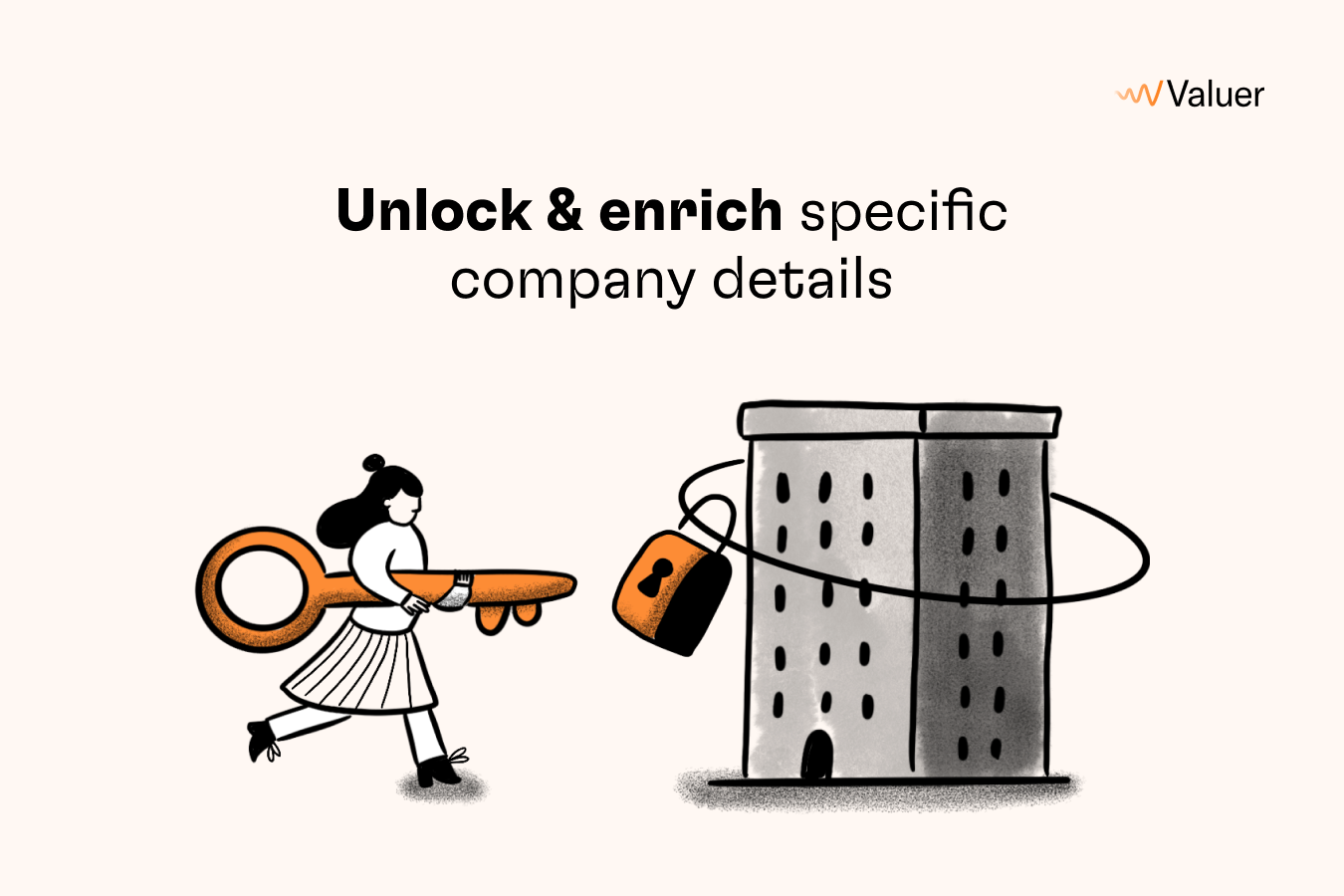 If you're not interested in such a detailed overview of a company, you can instead choose to feature more companies in a bespoke report with a shorter summary description. This version includes the most crucial information and data about the company, such as a short description, the founding date, location, number of employees, total investments, the company's development stage, and a list of clients.
How Can Companies Use Company Enrichments?
The most popular uses of Company Enrichment reports include discovering various innovation opportunities, such as partners for product development or broader collaboration, identifying acquisition targets within a narrow target market based upon specific selection criteria, gaining a deeper insight into your competitors, or identifying companies spearheading the adoption of a particular technology.

As you can see, the uses of the technologies and company enrichments tend to overlap in some areas. This is due to the fact that the two offerings are intertwined and are used to identify potential matches within the other feature.
For example, if you request a list of potential matches in the FinTech industry that develop blockchain-based solutions, our researchers will start the selection process via our technology tool. If you wish to do this yourself, you can use the technology tool to browse for companies that employ that particular technology and order a bespoke report based on your private selection.
Transform Your Approach to Innovation with Valuer Bespoke Reports
Faced with a rapidly changing business landscape, staying ahead of the curve can become a significant challenge, and failing to innovate can be a massive mistake. Whether you are an established corporation with a dedicated innovation management team, or an SME looking for new opportunities, our bespoke reports can be tailored to fit your needs and help you stay in touch with the latest technologies and companies that use them.

Valuer bespoke reports give you the freedom to set specific requirements for the analysis, be it a deeper dive into one particular technology or a narrowly defined investigation of companies that fit a certain goal. Trust us to help you find innovation opportunities and potential partners or acquisition candidates to speed up your R&D processes and help you stay ahead of the competition.
Powered by the Valuer platform, you can simplify all aspects of the innovation discovery process, allowing you to quickly and easily gain in-depth innovation insights into your specific topic of interest. Simply explain your unique business goals and relax; our team of dedicated researchers will make sure to deliver a customized report to satisfy your needs.