Strategic innovation is mandatory for every company that wants to survive the fast-paced transformation of technology. Customers also like an innovative approach by companies. In fact, 84% of consumers think the company they buy from must be innovative.
Moreover, over the next several years, almost half of the Fortune 500 firms will be replaced. As startups enter the market at a rapid rate, the life expectancy of established firms is gradually dwindling. This means that strategic innovation isn't optional anymore—and many companies have realized this.
But, where to start? Many organizations have no clue how to account for value production as they start their corporate innovation journey. They may also have underlying worries about shifting operational practices in order to accommodate their innovative approach. Over half of business executives (54%) indicated it's tough to integrate their businesses with strategic innovation goals, according to a PWC survey.
Yes, strategic innovation generates real benefit and a real way to increase ROI, but it also generates a variety of other types of value, ranging from the tangible and straightforward to the subjective and vague.
Many professionals are, understandably, hesitant to put effort, work, and capital into a strategic innovation initiative without any concrete plans and metrics. This concern is reasonable, given that an innovative approach has the power to reshape an organization and accelerate its growth, implying that a call for strategic innovation is a call to action for an entrepreneurial opportunity.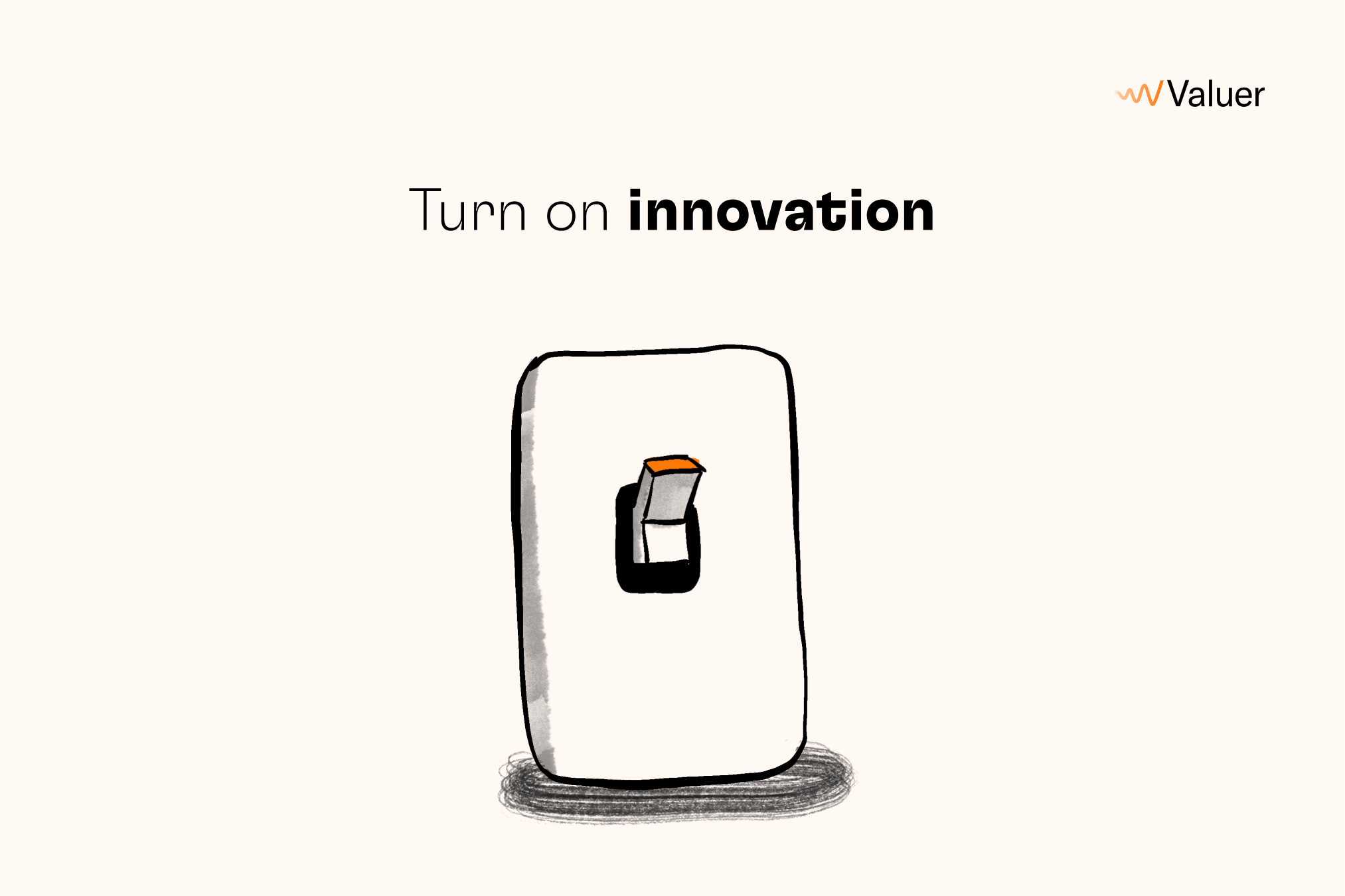 Change, in whatever form, can be viewed as a threat by those who are invested in well-defined procedures and activities. As a result, many people will not support any corporate innovation effort or implement an innovative approach unless certain measurements and data accompany it.
[Related Article - 10 Ways to Identify New Business Opportunities with Valuer]
What we want to cover in this article is how investing in strategic innovation is a key factor to increase ROI. And if your innovative approach is paired with a data-driven platform like Valuer, that ROI will skyrocket.
So let's kick this article off with how we see strategic innovation creating value and then we can hopefully show you how Valuer is the best AI platform for businesses looking for opportunity and growth.
How does strategic innovation create business value?
Many companies and geographic areas rely on strategic innovation to grow, develop, and flourish. Innovation may thrive in a specific geographic area or in companies that are recognized for their creative ways.
Entrepreneurship opportunity is based on strategic innovation. All prospective company owners should have a basic understanding of what innovation is, why it's essential, and how they might use it in their own companies. Former Starbucks CEO Howard Shultz says:
"Innovation must be disruptive. And by disruptive, I mean disruptive. You gotta fracture and break the rules and disrupt."
Companies that have been around for a long time must update their procedures and establish more complex ways of working in order to stay up with market development, technological developments, and the entire industry. Strategic innovation helps companies achieve growth, stand out from the competition, make the most out of their know-how, meet customer needs more efficiently, attract the most talented people, and create a unique selling proposition.
When it comes to generating a market opportunity, corporate accelerators and innovation accelerators are two options that many organizations have chosen. However, they aren't always the best solution, and in this article, we explained why. Which is why data-driven insights that are backed by AI decision making and AI-driven analytics is the better option.
How to innovate with Valuer?
Valuer's platform, based on Artificial Intelligence (AI) algorithms, that brings a lot of valuable data to the table. Valuer's data-driven innovation platform helps companies, accelerators, and venture capital firms identify revolutionary startups, trends, technologies, market possibilities, and innovative business models by providing an end-to-end innovation pipeline.
Valuer's massive database of companies can connect customers at diverse phases of their innovative journey and market development, providing data-driven insights on cutting-edge technology and market opportunities, or helping them build innovative business models. We also created free and premium versions of the platform so you can try it out and discover how AI-driven analytics may help you grow your business.
How does Valuer's platform work?
Valuer's platform gathers millions of publicly available data points from the global innovation economy using proprietary machine learning algorithms. These algorithms will serve as your AI assistant, guiding you through our platform.
The AI will collect data, interpret it from hundreds of languages and dialects, and organize it in a way that offers you whatever you need to uncover any market opportunity and lead you toward data-driven innovation.
You don't have to assess data to improve decision-making. Instead, Valuer does this for you. The innovation platform fills the gap between raw information and intelligent decisions by providing critical data-driven insights.
Once you enter the platform as our customer, you can choose whether you want to find a company that works with a specific technology, find a particular company, analyze a specific sector, or discover market trends. When you select what you're searching for, you then type in what you need. Essentially, it is an AI-powered search.
For example, you could type in "IoT technology for smart cities." Then, our natural language processing does its best to understand the context of the term you've written. After this, you'll also be able to select sectors and subsectors you want to analyze. Once you've chosen what you want to dive into, you'll be able to submit your search, and then the AI-powered search will process your enquiry and return a list of relevant information accordingly.
The list of companies you get is ordered according to the Valuer Score, from highest to lowest. The Valuer Score takes into account the company's success, growth, maturity, innovation, and sustainability potential. From here, you can research the companies business model, value proposition, product portfolio, technology, achievements, market positioning, and other data that you can use to maximize your innovation ROI.
With Valuer—what do you get?
If you're curious about what you will get when you sign up to the platform, don't worry, you've come to the right place. Below are five things that you can get out of the platform that only our platform can provide and that can jump-start your innovative journey.
A personalized AI assistant
Valuer's platform harvests millions (+21 million and counting) of accessible data points from the global innovation economy using proprietary machine learning algorithms. These algorithms, along with our AI decision making, will assist you in navigating the endless lists that you would otherwise have to scroll through.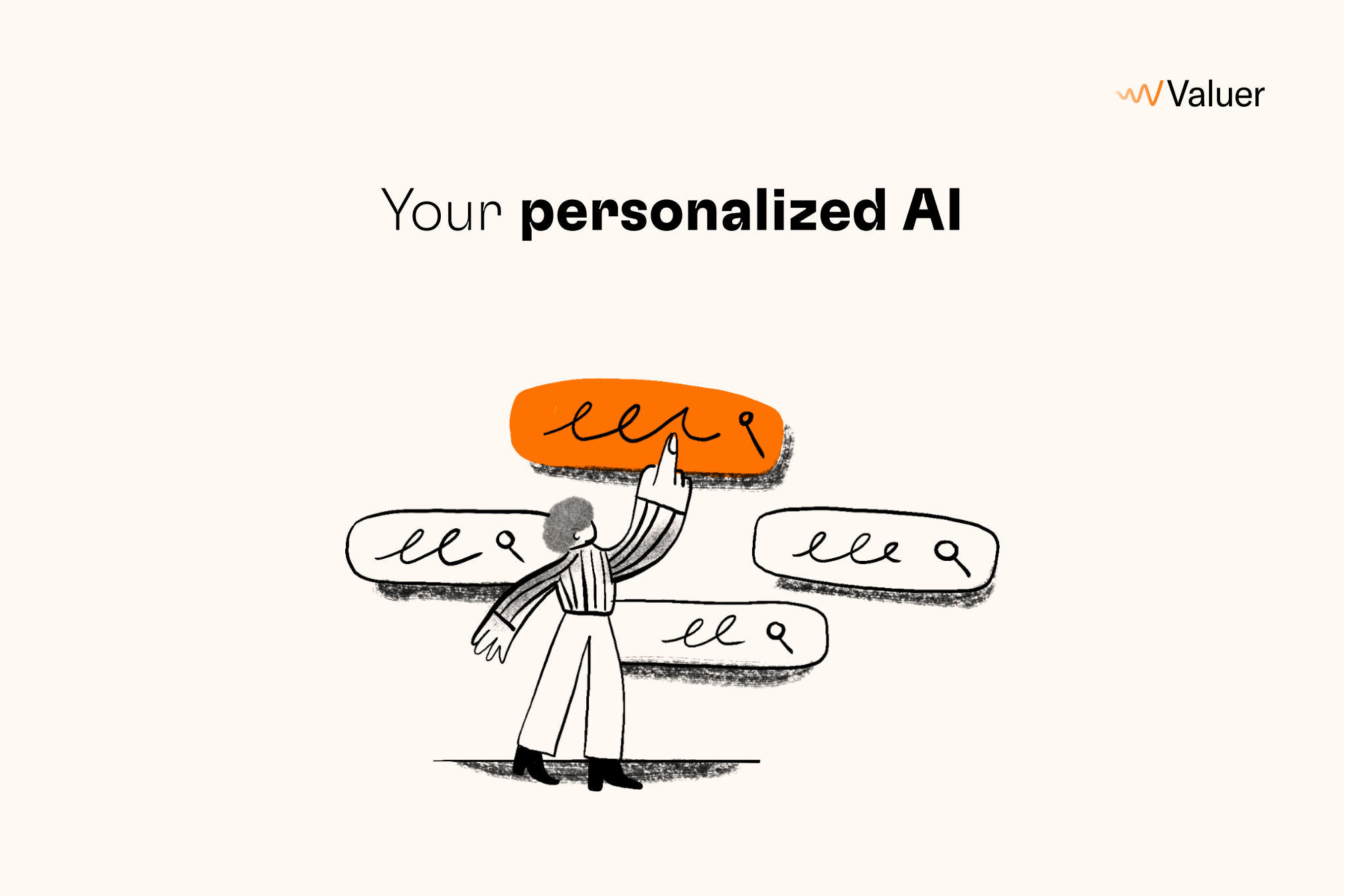 The AI-powered search gathers this data and translates it into hundreds of languages and dialects to ensure that our platform provides unbiased data from all geographical locations, which is then organized into a way that adds context to the users' research requests.
We also provide you the option of training your AI assistant. Although we'd like to think we're all-knowing, we're not. Thus our AI's output will occasionally be limited by the information it gets. You may, however, train it by voting up or down on outcomes. As a consequence, we will have a better understanding of your company and be able to provide the outcomes you were hoping for.
Valuer is a tool that allows you to maintain your finger on the pulse of strategic innovation and opportunity. You can teach it to recognize patterns and it has the ability to locate new acquisition prospects or partners. You may establish disruption triggers for your sector from anywhere and at any time or just stay up-to-date with the latest innovation.
Customized radars
Let's introduce you to our new feature, which we are calling "radars". How it works is once you add your search results to a radar, we'll keep you and your team informed anytime something new occurs, whether you're looking for insights, market opportunities, or sectors to monitor. This feature is a market disruption radar that keeps an eye on what's going on in the market.
The two types of searches offered are quick search and structured search. Simply put the URL of a company that interests you or your coworkers into the AI-powered search engine. Our artificial intelligence algorithm will provide you a fast overview of connected firms, disruptive startups, industries, market development, and technology.
If you prefer to use structured search instead, enter a few lines of what you're looking for in plain human language and provide some context in terms of regions of interest. Our AI will take care of the rest, providing you with the data-driven insights you want as well as some you didn't realize you needed.
Map out sustainable opportunities
Due to shifting global attitudes, companies are increasingly recognizing the need for sustainable technology. It is becoming increasingly important for businesses to bridge the knowledge-to-action gap by implementing sustainable business strategies.
We can think of sustainability as a way to fulfill our current demands without sacrificing the requirements of future generations. It is supported by three pillars: economic, environmental, and social concerns.
However, the shift towards sustainability is very difficult. Valuer wants to make this challenge easier. Thanks to the clusters and radars generated by our platform, together with information provided by our innovation analysts, you can easily identify sustainable opportunities and sustainable technology that makes this process smoother for your company.
Solutions for your particular needs
If you are from the healthcare sector, you can stay updated with the newest medical advancements. Moreover, companies from the industrial engineering sector can connect with the latest technologies such as AR, predictive analytics, and others. We also cover financial services, mobility, energy, cybersecurity, and many other industries.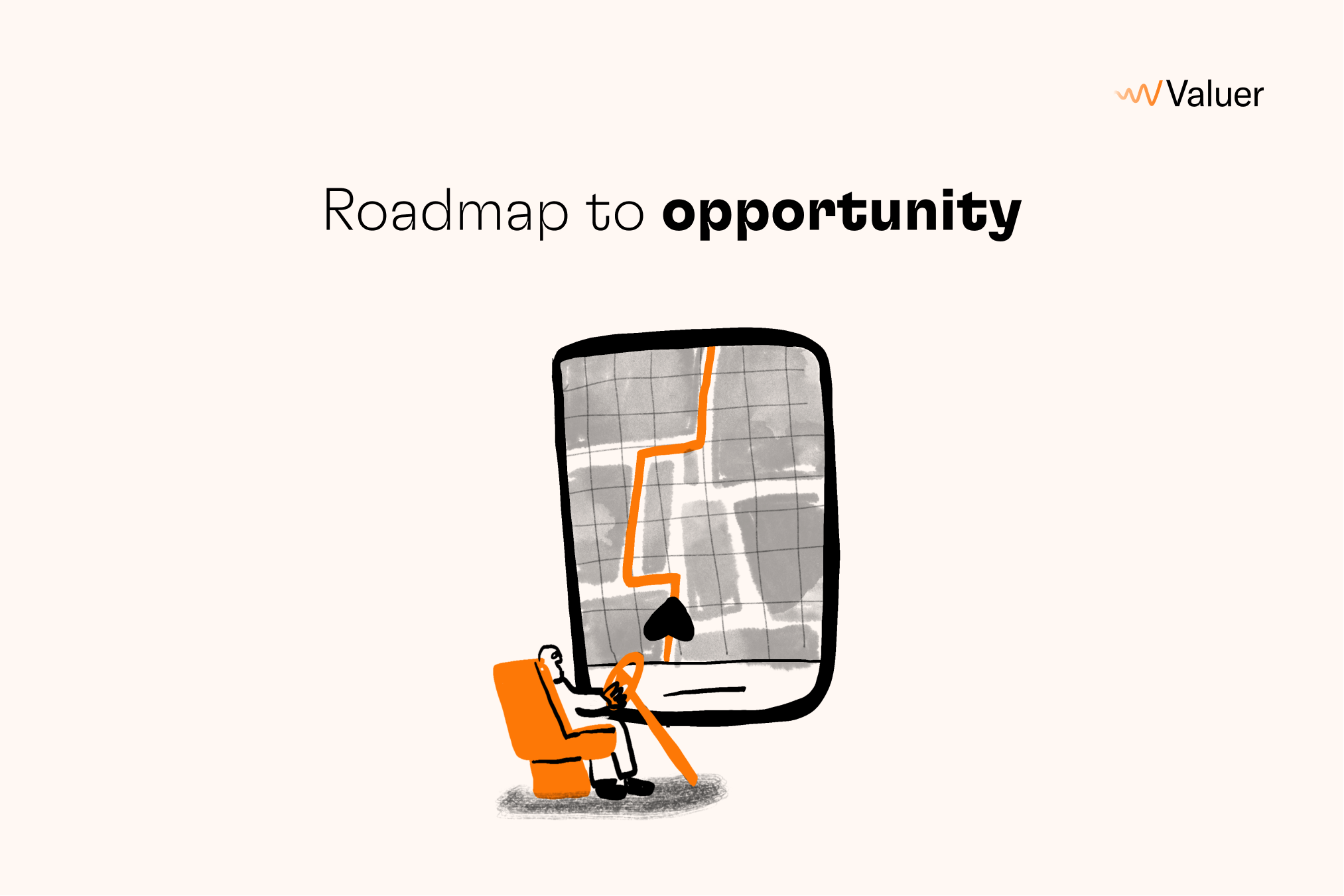 When it comes to your organization type, we also offer various customized solutions. VCs, investment professionals, corporate accelerators, mergers, and acquisitions are only some of the organizational types we can help find innovative opportunities. Regardless of whether your goal is growth, procurement, sustainability, R&D, digital transformation, or corporate innovation, we can find the right solution.
Actionable insights for smarter decision making
Based on millions of data points, Valuer creates a list of business cases and identifies commonalities in different product offers and business models. These are used to determine a client's likelihood of success, market maturity, degree of fit, and level of innovation. This approach, for example, may help the client detect security problems, reduce energy waste, and increase the use of renewable energy.
We begin by scanning the global innovation ecosystem for a macro picture of what trends and market developments are driving the sector, so you can better understand and gain data-driven insights about an industry, technologies, or how sustainability is included. As a consequence, a picture of market development and a map of the key market opportunities in a given area are produced.
The scan may be used to identify business opportunities and track how new technologies are spread. This information may help you remain on top of potential market repercussions, both directly and indirectly, as well as determine how much to invest in a particular industry. You can then choose a relevant industrial area to focus on and begin a deeper micro dive into the business models, products, and concepts used by successful companies and innovative startups in that market.
Your new strategic innovation partner
When you collaborate with Valuer, you get a dedicated staff focused on your development and strategic innovation. These experts, on the other hand, are not meant to replace your innovation departments or team.
We understand how important it is for your internal processes to run smoothly and efficiently. We aren't just another tool in which you must invest a lot of time and effort. Valuer gives specialized insights into a number of sectors rather than offering solutions for a particular issue, like a conventional innovation accelerator or consultant would. With our assistance, you'll be able to identify fresh market prospects you weren't aware of.
Instead of offering one-time advice, Valuer's innovation platform turns clients into partners. This allows us to form strong bonds with our clients by providing services and procedures that are suited to their vision and expertise.
The Valuer platform assists you in identifying any untapped market opportunities and firms that meet your specific innovation requirements. We've previously helped companies like BMW, Deloitte, and Grundfos find their own unique strategic innovation opportunities.
To sum up, how our platform increases your ROI is by making your strategic innovation venture based on actionable and reliable data. The AI-driven analytics does the work for you quickly and uncovers insights and opportunities you wouldn't even know existed or would be hard for an innovation team to find.
The versatility of our platform really makes us the one-stop shop for strategic innovation and the best AI platform for businesses out there at the moment. So, give our platform a spin for free and see for yourself how we can get your innovative ball rolling.