*Updated November 2022
Innovating Sustainability is a series of reports published by Valuer that explores innovative technologies and business models that can make industries more sustainable. Published monthly, each report focuses on a specific area and includes findings from Valuer's database with more than 500,000 companies, technology trends, market projections, case studies, and more.
This month's publication focuses on Waste Management and covers three relevant topics:
- Waste reduction
- Waste recycling
- Waste disposal.
By exploring the innovation ecosystem, we aim to demonstrate how Valuer can help corporations find sustainable solutions and business models that will fit their needs like a glove.

Innovating a sustainable future in waste management
It is estimated that the average European produces 481 kg annually, and when we factor in the rest of the world it's little wonder how the great pacific garbage patch became the environmental monstrosity that it is now.
The way we manage waste is one piece to the sustainable puzzle in how we try and tackle the negative effects of human consumption. Waste that isn't managed properly can directly contribute to GHG emissions, the degradation of the environment, and can have a negative impact on human health.
Companies that develop and implement sustainable waste management solutions
The full version of the Innovating Sustainability report includes four case studies: three corporations (Tetra Laval, Covanta, Biffa) that implement sustainable waste management practices and one startup that develops innovative technology (Nordsense).
Inspired by these companies, we decided to highlight even more startups and corporations that implement and develop sustainable solid waste management solutions in efforts to meet waste reduction goals.
Waste management startups that innovate
Copenhagen, Denmark

Nordsense has developed a smart waste management solution to help cities, waste operators, and waste haulers increase their efficiency and reduce their negative environmental impact.
Milton Keynes, The United Kingdom

Winnow develops artificial intelligence tools that provide data to drive improvements in kitchen production processes and to help organizations improve on food waste reduction, save money, and reduce their negative environmental footprint.
Paris, France

Phenix provides logistic solutions to reduce waste from unsold items and food. They developed an app that can let you track which businesses have leftover food so you can pick it up, cutting down on food waste.
Hamercaz, Isreal

Sufresca has developed a post-harvest treatment technology that can extend the shelf life of fresh fruits and vegetables for several weeks.
Nyon, Switzerland

A one-stop-shop solution for biological plant protection, aiming to reduce food waste and support organic food production by developing farm-to-fork solutions, like biological fungicides and coatings.
Goleta, USA

Apeel Sciences offers plant-based technology for food waste management that can be applied to fruits and vegetables in order to extend their shelf life.
Helsinki, Finland

Sulapac produces a wood-based, biodegradable plastic alternative, enabling clients to switch to more sustainable practises and thus, reduce the single-use plastic on the planet.
Green Island, USA

Ecovative Design extracts mycelium from mushroom's root and transforms it into biodegradable and sustainable materials to create products ranging from leather like textiles, to sustainable packaging, to high performance foams for apparel and beauty.
Lausanne, Switzerland

TreaTech is developing a patented solution for the disposal and recycling of sewage sludge and all types of wet waste. Their waste-to-energy or (WTE) plan is to derive by-products of wastewater that can be used in the creation of other products, such as fertilizers.
Swindon, The United Kingdom

Recycling Technologies builds solutions for plastic waste management and recycling, converting plastics to hydrocarbon products using patented recycling technology.
Oslo, Norway

Quantafuel developed a plastic-to-liquid technology that converts mixed plastic waste into advanced low-carbon fuel and chemicals.
San Francisco, USA

Brightmark Energy provides plastics renewal technology and renewable natural gas solutions, producing RNG by recycling organic waste from farms and producing oil and oil-based products by recycling plastics.
San Jose, USA

Full Cycle Bioplastics creates plastic alternatives by converting mixed organic wastes into polyhydroxyalkanoate (PHA), a cheap, compostable bioplastic creating an alternative to oil-based plastics.
Toronto, Canada

Woodland Biofuels specializes in WTE technology that converts biomass (wood and agricultural waste) into cellulosic ethanol to be burned as fuel.
Brantford, Canada

GreenMantra Technologies is a clean technology company that upcycles discarded plastics into multi-purpose polymers and other materials creating an efficient solid waste management recycling solution.
Montreal, Canada

Enerkem uses proprietary technology to convert waste into biofuels and renewable chemicals, in essence truing trash into clean forms of fuel.
Paris, France

Uzer combines IoT and mobile technologies in order to motivate communities and individuals to consume responsibly.
Den Haag, The Netherlands

Saltrex has developed a B2B auction platform that enables companies to trade damaged goods to reduce waste and greenhouse gas emissions.
Amsterdam, The Netherlands
Excess Materials Exchange helps companies identify high-value reuse options for their excess materials or waste products by developing an online marketplace that matches the supply and demand of companies' excess materials across industries.
Bratislava, Slovakia

Sensoneo is an enterprise-grade smart waste management solutions provider, targeting cities and businesses to cost-efficiently manage the waste lifecycle and improve the environment and well-being of people.
The innovative corporations of waste management
Pully, Switzerland
Tetra Laval is a company that provides a cutting-edge solutions based upon advanced technology related to liquid food processing, liquid food packaging equipment and liquid food distribution.
Tetra Laval is committed to multiple sustainability targets across its packaging, processing, and distribution sectors. Their Tetra Pak carton packaging products have dominated global markets since their inception in the 1950s, becoming one of the most recognizable names in the industry. Combined with the other two companies under the group (DeLaval and Sidel), Tetra Laval incorporates multiple practices and initiatives following their sustainability strategy to reduce their impact on the planet.
The company is also innovating in new products that incorporate more sustainability practices. One example is their non-aluminum foil packaging product made from a coated polyethylene terephthalate (PET) film, which started its first commercial test in late 2020. Another example is their first plant-based package launched in Serbia, made from 82% renewable materials.
Morristown, USA

Covanta Holding Corporation is an owner and an operator of EfW (energy-from-waste) conversion infrastructure, as well as other waste disposal projects and businesses related to renewable energy production.
Since 2009, the company has reduced GHG emissions from their waste-to-energy facilities by up to 50% by implementing several changes. They've diverted post-recycled solid waste from landfills, generating energy that otherwise would have been produced by GHG-emitting fossil fuel power plants and recovered metals for recycling.
Additionally, the company is working on a science-based GHG reduction target by 2022 that will be accelerated with the implementation of five projects, with one being the installation of new Low NOx technology at two out of the four units at their Fairfax waste- to-energy facility.
High Wycombe, The United Kingdom

Biffa is a waste management company providing expertise and integrated technological solutions for collection, treatment, recycling, and technologically-driven energy generation services. As one of the largest waste management companies in the UK, Biffa is set on achieving its long-term sustainability strategy by incorporating various practices in its value chain and since 2002, has already cut back CO2 emissions by 65%.
One result of reducing emissions is their accreditation as a Carbon Saver Gold for 12 years in a row, signifying that their emissions data is independently reviewed by a third party, confirming the decrease of their carbon intensity per ton of waste every year.
Another notable example where they've seen improvements is in their rail transportation. By developing and improving them to transfer special waste types to their designated landfills, they've reached a 75% reduction in transport emissions in comparison to road haulage.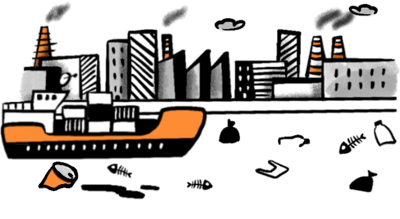 Waste management practices to clean up tomorrow
When it comes to waste, it's something we humans are pretty good at. From plastic bottles to food waste, we have littered our planet with landfills and filled the oceans with plastics. However, waste is just an inevitable byproduct of consumption and no matter what we use to wrap our goods in, waste will always be an issue.
So it is down to the way we manage our waste that becomes the integral step towards sustainability. With the various Waste Management companies striving towards sustainable solutions to the issues that face the sector, disruptive technology will inevitably open up new markets for the taking.
[Related Article - Innovating Sustainability: The Future of Transport]
With the threat that waste pollution poses to the entire environmental degradation picture, the various waste management startups and corporations must work on innovative solutions to this sustainable battle.
At Valuer, we believe that innovation is key to sustainability and one way to achieve innovation is through collaboration. But as a company, finding the right collaborative partners can be a massive undertaking.
Our goal is to help companies in the collaborative process by finding them the right comparative fit that matches their business's specific needs. Through our database of over 650,000 startups and companies, our Valuer AI-powered platform can generate the business insights that will pave the way towards a successful business partnership. Try the platform and see how Valuer can jumpstart your innovative journey.