*Updated November 2022
In the newest issue of the Innovating Sustainability report series, we teamed up with Supertrends to explore the most influential and disruptive technology trends that will have the greatest impact on the manufacturing industry becoming more sustainable.
The report includes valuable data, manufacturing technology, market predictions, important milestones, case studies on sustainable manufacturing companies, startups, and more.
The publication covers three topics relevant to sustainable manufacturing: Sustainable materials, circular manufacturing, and industrial automation.
Manufacturing and its impact
The manufacturing industry's negative environmental impacts are felt more in lower and middle-income countries compared to the global north. This is of course down to industrialization in many of these countries and globalized trade pushing manufacturing to lower and middle-income countries where labor costs are lower.
However, the environmental degradation that is generated due to the sourcing of materials is a global issue. This will require innovation within better business practices and sustainable manufacturing technology to help reverse the current destructive practices. The good news is that there are various corporations and manufacturing startups that see sustainability as the future and our leading the way towards a greener future in the manufacturing industry.
Manufacturing companies that develop and implement sustainable solutions
The full version of the Innovating Sustainability report includes four case studies: three corporations (Renault Group, IKEA, Schneider Electric) that implement sustainable manufacturing practices and one manufacturing startup that develops innovative technology (Oden Technologies).
Inspired by these companies, we decided to highlight even more startups and corporations that implement and develop sustainable solutions and technologies within the manufacturing industry.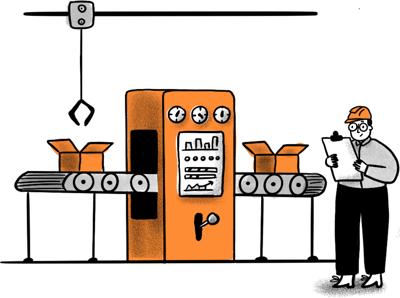 Sustainable manufacturing companies and startups
New York, USA

Oden Technology uses IoT to collect data that will help manufacturers reduce waste and increase output. It takes machine in production performance data and sends it in real-time to the cloud-based analytics platform, where they visualize process flows and problems.
Copenhagen, Denmark

Beyond Leather Materials develops a leather-like textile by using organic apple waste from the juice and cider industry. The leather alternative named Leap is a sustainable vegan product that closely resembles leather in appearance, texture, durability, and use.
Troy, USA

Plex Systems has developed the Plex Smart Manufacturing Platform, which is intended to provide process and discrete manufacturers with the ability to connect, automate, track, and analyze their business aspects, putting companies on the right track towards industrial automation.
Bergamo, Italy

Vegea is a sustainable manufacturing company that develops and commercializes technical coated fabrics and biomaterials applicable in fashion, furniture, packaging, and automotive interiors by utilizing waste from wine production. Vegea's biomaterial products are perfect for clients that need to reach their sustainability targets while also promoting a more sustainable and healthy approach to the industry they're operating in.
Aarhus, Denmark
Pond uses advanced sustainable technology to turn natural materials into strong and durable biocomposites, which can be fully biodegraded and composted. Its biodegradable resin system can replace crude oil products in all industries.
Engelwood, USA

Gevo leverages low-carbon, renewable resource-based carbohydrates as raw materials and is at an advanced stage in developing renewable fuels and renewable natural gas for use in manufacturing processes. Their products include low-carbon fuels with a significantly lower carbon intensity than fossil-based petroleum fuels.
Beijing, China

BluePha has developed a unique sustainable manufacturing technology to create low-cost, high-efficiency, disposable degradable plastic PHA Biopolymer. It can be used in agriculture and as a material for toys and packaging, which can degrade after discarding. It can also be used as food suppliants for farm animals who can use it to improve their gut bacteria.
London, United Kingdom

KraftPal Technologies offer superior packaging and/or modern shipping alternatives to wood, composite, plastic, and all other solutions. The pallets they produce are unique innovative transport carriers made from corrugated cardboard in a fully automated process.
Jyllinge, Denmark

InfinityPV offers a wide range of services, producing many products based on printed solar cells, to consultancy services related to the manufacturing process. They manufacture organic solar cells that do not use harmful chemicals and apply robotics in their industrial automation production.
Rotherham, United Kingdom

Metalysis' solid-state alloy powder technology is a commercially proven manufacturing technology for the production of numerous metals and alloy powders through the Cambridge-born FFC process. Being cost-competitive and low environmental impact, Metalysis is considered a better alternative to traditional processes.
Chassieu, France

Lavoisier Composites manufactures the Carbonium - an eco-sourced composite material made from carbon fibers. The Carbonium is sourced from the composite byproducts from the aerospace manufacturing cycle.
Bern, Switzerland

Neustark produces a climаte-friendly concrete, allowing for the removal of CO2 from the atmosphere and its permanent storage in recycled concrete granulate. Their sustainable manufacturing technology aims to reduce the necessary cement in fresh concrete to the regulatory minimum.
Washington, United Kingdom

Advanced Electric Machines is a traction motor technology developer with an aim to provide sustainable and environmentally friendly solutions. Their sustainable manufacturing technology is able to run with any commercially available 3-phase inverter and has zero risk of demagnetization, thus enabling low-cost traction motor alternative.
Lyon,France

Qubes provides clients with a Smart Manufacturing Software that aims to transform traditional practices and bridge the gap to contemporary methods by fostering the digitalization in factories. It allows clients to follow the production in real time, improve the industrial performance, connects the machines, and increase the data's reliability.
Kannonkoski,Finland
Betolar is an advanced materials producer, specializing in new geopolymer-based low carbon materials for the construction industry and circular economy. They are offering a scalable alternative construction material production with up to 80% less carbon emission compared to traditional cement.
Suzhou, China

Harmontronics is an innovative developer, designing, and manufacturing smart manufacturing solutions. The company is focused on small-scale precise product automation, providing flexible and efficient solutions.

Innovative corporations in sustainable manufacturing
Boulogne-Billancourt, France

As one of the leading automotive manufacturers worldwide, Renault Group has been taking concrete steps towards contributing to the circular economy, the fight against climate change, and environmental degradation. Renault Group has set ambitious targets to achieve carbon neutrality and sustainable manufacturing practices in Europe by 2040 and worldwide by 2050.
The company was the first carmaker to have its decarbonization targets validated by the Science Based Targets initiative in 2019. The roadmap to these targets is backed by a climate project comprising nine main actions that the Group plans to implement by 2030. Already, the Group has reached the European Union target for passenger cars with 92g average CO2 emissions/km and it was ranked in the top 3 carmakers by the World Benchmarking Alliance (WBA) and CDP.
Renault Group also implements circular economy principles in the manufacturing of new vehicles. The company reports that 36% of the total mass of a newly produced vehicle in Europe comes from recycled materials. Additionally, the Group's Renault and Dacia vehicles are 85% recyclable and 95% recoverable. By reusing parts from its End-of-Life vehicles to provide economic repair options to customers and by reconditioning and remanufacturing used parts, the Group saves 80% of energy, water, and chemical products.
With regard to vehicle use, Renault plans to electrify all new Renault passenger car models by 2025 and increase the rate of use of vehicles by at least 20% through shared mobility. As a pioneer in electric vehicles, Renault is already at the forefront of electric car-sharing in Europe, having the largest electric fleet for car sharing with more than 10,000 vehicles in most European capitals. With 40 manufacturing sites worldwide, Renault Group is taking steps towards lowering its emissions related to production.
To this end, the company plans to halve its sites' emissions by 2030 and reduce emissions from the transportation of parts and vehicles by 30% by 2030. The Tangier plant gets 92% of their energy from biomass while almost all the remaining energy needs are met by locally produced wind power. This enabled the plant to avoid more than 86,000 tons of CO2 emissions in 2020.
Älmhult, Sweden

Since 2008 IKEA has been the world's largest furniture retailer. As a conglomerate of this size and influence, IKEA is invested in finding ways to make its products affordable and sustainable at the same time. Starting on the renewable energy front, IKEA is headed towards reducing the absolute GHG emissions from retail and other operations by 80% by 2030, measured against a 2016 baseline.
One way IKEA is on track to achieve this goal through their sustainable manufacturing practices. IKEA is by meeting their energy needs from over 750,000 solar panels installed on warehouses and showrooms. As an interim goal, IKEA has set out to consume 100% renewable electricity by 2025 across the IKEA Group and the IKEA retail business of Ingka Group. Consuming 1% of the planet's lumber means that IKEA has a big role to play in addressing biodiversity and deforestation. By the end of 2020, the company had reached its more sustainable resources goal for wood, sourcing more than 98% of wood that has been either certified by the Forest Stewardship Council or recycled.
Approximately 12% of the total wood used in home furnishing products and packaging is recycled. Besides wood, IKEA's carbon footprint is made up of other materials such as plastic, rubber, metals, and textiles. To reduce its climate impact, IKEA is phasing out single-use plastic products, eliminating all single-use plastic products from its home furnishing range.
At the end of 2020, IKEA reported that 44% of its plastic products were based on recycled and/or renewable materials. In addition to this, IKEA has started the process of replacing the virgin polyester used in its textile products with recycled polyester and by the end of 2020, the share of recycled polyester reached 83%. Since metals account for 28% of IKEA's materials climate footprint, the company has set a target to gradually eliminate inorganic raw materials by 2030.
In the meantime, IKEA will focus on identifying ways to responsibly source the raw materials that are critical to the IKEA business. Consequently, in 2021, IKEA will form a partnership with Pact, an NGO, to enhance their knowledge about the effects of inorganic extraction and mining on the environment.
Rueil-Malmaison, France

At the core of Schneider Electric's business are efficiency and sustainability. The multinational corporation provides energy and automation digital solutions by integrating energy technologies, real-time automation, software, and services. Schneider Electric was ranked as the Most Sustainable Corporation in the World by Corporate Knights.
The company is on a path towards a net-zero CO2 supply chain with no CO2 offset by 2050. The company has six long-term commitments with regards to sustainable practices in manufacturing: climate, resources, trust, equal, generations, and local.
These are part of Schneider Electric's 2021-2025 Schneider Sustainability Impact (SSI) transformational program. With regards to climate, the company aims to increase its green revenues from 70% in 2019 to 80% by 2025 and has already made progress in the first quarter of 2021, reaching 72% green revenues.
Schneider prides itself on helping its customers decrease their carbon footprint and in 2020 it saved 134 million metric tons of CO2 through its offers. By 2025, it has set out to reach savings of 800 million tons of CO2 emissions for customers. Nevertheless, Schneider also looks inward in their own supply chain emissions and has set a target to reduce 50% of CO2 emissions from the top 1,000 suppliers' operations. Furthermore, the company joined The Climate Group EV100 initiative and pledged to replace 100% of its company cars with electric vehicles by 2030.
The eco-consciousness of Schneider Electric also encompasses resource-use. The company's SSI program includes goals to increase the green material content in its products by 50% and to make its primary and secondary packaging free from single-use plastic by using recycled cardboard.
Progress is already being made on all sustainability initiatives, including green energy. The company achieved its intermediary goal of sourcing 80% of its electricity from renewables by 2020 on its path to reaching the 100% renewable electricity goal by 2030.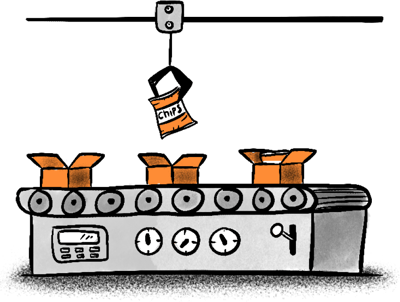 The future of manufacturing companies
The shift towards sustainable manufacturing practices and solutions is the innovative wave forward that businesses and investors alike should be looking to catch. The manufacturing industry is a field that has overreaching effects that influence an abundance of various sub-sectors.
[Related Article - The Way 3D Printing Technologies Are Shaping The Future of Industry]
The importance of manufacturing startups and corporations looking to innovate sustainable technologies and solutions in the manufacturing industry should be highlighted. Not only for the steps these companies take to offset climate change and environmental degradation, but for the new market opportunities these solutions create.
Staying ahead of disruptive technologies and on-top of new market trends is vital for your business. Both Valuer and Supertrends platforms are created with the same goal in mind: to help companies make better, data-driven decisions that drive sustainable growth.
Together we offer a larger range of actionable intelligence, and our complementary functionalities cover almost every angle that decision-makers need to assess in order to navigate the challenges of innovation and the uncertainties of the future.