*Updated November 2022
Innovating Sustainability is a series of reports published by Valuer about innovative technologies and business models that make industries increasingly sustainable. Published monthly, each report focuses on a specific area and includes findings from Valuer's database, which consists of information on more than 500.000 companies, technology trends, market projections, case studies, etc.
This month's publication focuses on Energy Generation and covers the three most popular topics in energy generation and sustainability at the moment: Waste-to-Energy, Marine Energy, and Solar Energy. Our aim is to demonstrate how Valuer can help corporations find sustainable solutions through tech innovation and business models that will fit your company's needs like a glove.
Innovating a sustainable future with energy generation
According to the International Energy Agency (IEA), the global energy demand is expected to rise by 4.6% in 2021, counterbalancing the 4% drop in demand in 2020. The absolute majority of the growth, equal to almost 70%, is set to occur in the emerging market and developing economies. Fossil fuels such as coal, oil, and renewable gas continue to dominate the market; however, renewable energy is gaining steam, with the demand growing by 3% in 2020.
The image painted by this market development is clear. As concerns over climate change and rapid growth in the developing world push the energy demand, renewables emerge as the only way forward. Thankfully, the competitive landscape has contributed to a sharp increase in corporations, startups, and SMEs developing innovative new energy generation technologies, which promise to alleviate the issue and help to create a more sustainable future.
Companies that develop and implement sustainable energy generation solutions
The full version of the Innovating Sustainability report includes six case studies: three corporations (Vestas, Vattenfall, and First Solar) that implement sustainable energy generation systems and three startups that develop innovative technology (Orcan Energy, SEaB, and Ubiquitous Energy).
Inspired by these companies we decided to highlight even more corporations and startups that are implementing and developing sustainable energy generation systems in this article.
Innovative energy generation startups
Munich, Germany

Headquartered in Munich, Orcan Energy was established by Dr. Andreas Sichert, Dr. Andreas Schuster, and Richard Aumann, based on their research on ORC technology conducted at the Technical University of Munich. Aiming to commercialize the gained knowledge in the field, they founded Orcan in 2008, developing solutions that transform unused waste heat into affordable and decarbonized electricity.
London, United Kingdom

SEaB Energy is a London-based tech company that provides its clients with environmental services focused on organic waste management and energy generation. With a vision for a decentralized and decarbonized future of waste management and energy generation, the company developed Flexibuster™ and Muckbuster®, two highly effective anaerobic digestion (AD) systems. Those solutions are engineered to turn a wide range of organic and farm waste into energy, with Muckbuster® generating a high-value fertilizer as a by-product.
Redwood City, USA
Spun-out from MIT, the Silicon Valley-based Ubiquitous Energy has developed a transparent photovoltaic window coating that harvests solar energy from glass surfaces and converts it into electricity. The technology can generate up to 2/3 of the power that traditional solar panels do while not compromising the structure's aesthetic appeal. In addition to solar windows, the technology has applications in electronics, smart home technology, and other surfaces with exposure to sunlight.
Copenhagen, Denmark

MASH Makes ApS is a privately held renewables and environment company spun out from the Technical University of Denmark. It specializes in extracting value from feedstocks, offering a range of solutions that convert a wide range of waste resources into commodities such as electricity, biofuels, and fertilizers. MASH Energy's current conversion capabilities include biomass, car tires, wastewater sludge, and communal waste.
Paris, France

Orège™ is a french clean-tech company that provides manufacturers and municipal owners with high-performance environmental services. They specialize in conditioning, treatment, and recycling of complex and highly toxic sludge. In 2016, due to their innovative SLG® solution, they were awarded as 'Breakthrough Water Technology Company of the Year' at the Global Water Intelligence Awards. This solution uses an advanced technology that significantly reduces the volume of sludge while also modifying its physio-chemical and rheological properties.
Budapest, Hungary

For more than two decades, VPP Energy Group has worked on innovative and environmentally conscious solutions, developing synergies between existing energy market segments. With a team of nearly 100 employees, VPP Energy Group covers the development, construction, and long-term energy project operation from both a technical and financial engineering aspect. Its Virtual Power Plant Solution (VPPRS) forms the 360 Energy Management Service System's core, connecting energy producers with consumers and multiple markets through a smart grid. In turn, this enables the company to provide its services to both energy producers and consumers.
Paris, France
Enertime is driven by the goal to undertake, innovate, and lead the efficient and sustainable energy transition. To this end, the company designs, develops, and implements modules called Rankine Organic Cycle (ORC), which produce renewable or carbon-free electricity from heat. Enertime also develops high-temperature heat pumps and turbomachinery, enabling its clients to solve different energy supply problems.
Duiven, The Netherlands
PRIMCO's primary focus is on developing waste management solutions capable of converting organic residual flows into further applicable, high-quality inputs. Through its actions, they enable societies to switch to more sustainable approaches, which are less dependable on fossil fuels and better committed to the promotion and usage of clean energy.
Roskilde, Denmark

Since 2014, AquaGreen has focused on re-thinking the role of waste materials in the industrial engineering process. The company develops integrated superheated steam drying and pyrolysis solutions, which enable it to convert wastewater sludge and low-grade biomaterial resources into thermal energy and fertilizers rich in plant-available phosphorus, carbon, and nutrients. Its methods are developed in coordination with DRU (Danish Technical University) and were first invented for Norway's fish farming industry.
Olgiate Olona, Italy

For Exergy, sustainability is no longer a choice but a need. Thus, to convert its vision into reality, the company develops and manufactures Organic Rankine Cycle (ORC) systems with a proprietary Radial Outflow Turbine technology. Its ORC systems have multiple applications, producing electricity from renewable energy such as geothermal, biomass, and concentrated solar and waste heat resources from industrial processes, gas turbines, and engines.
Antwerp, Belgium

QPinch is a spinout from Ghent University on a mission to reduce the carbon footprint of industrial processes. To achieve this, the company develops heat pump technology that can reduce the energy input by returning up to 50% of the residual heat back into process heat. Qpinch provides its clients with a significant improvement in energy efficiency, emissions, and costs, making their processes more sustainable and eco-friendly.
Franklin, USA

Aries Clean Technologies designs, develops, constructs, and operates its proprietary gasification systems, ensuring its involvement in every project aspect. Its fluidized bed gasification technology converts biomass into renewable energy and inert biochar, resulting in a 90% volumetric reduction. In contrast, the downdraft gasifiers use biosolids and carbon-containing waste material, reducing biomass volume by up to 85%. Aries Clean Technologies can process various feedstocks, including biosolids, RDF, woody biomass, food waste, and other organic materials.
Eindhoven, The Netherlands

ZigZagSolar develops Building Integrated Photovoltaics (BIPV) systems, intending to convert most buildings to Net Zero (NZB). The company believes that this approach can lead to less air pollution and aid the fight against climate change while dramatically reducing the buildings' operational costs. ZigZagSolar's primary focus is on developing affordable, aesthetic, and economical solar facades with a high production capacity.
Lausanne, Switzerland

Insolight is a clean-tech company developing solar panels that offer 50% more energy production than traditional solutions. Its modules have agricultural and industrial applications, allowing instant adjustment of the transmitted light to optimize crop and electricity production. Insolight made this possible by designing a flat solar concentrator panel with a fixed orientation, based on a patented optical micro-tracking system, which keeps each cell in focus regardless of the sun's position.
Diemen, The Netherlands

Solnet is an innovation-oriented company passionate about guiding businesses through the renewable energy revolution. The company aims to help its clients achieve their sustainability goals through its portfolio of integrated smart solar, energy-as-a-service, and energy storage solutions. With this, it intends to fulfill its vision of "a carbon-neutral world, where Solnet is enlightening the energy revolution."
Dresden, Germany
Heliatek envisions a world where virtually all buildings are energy-independent Net Zero Buildings. The company intends to facilitate this transformation through its ultra-light and flexible solar film, which can be added to any surface to produce energy. Based on this technology, Heliatek offers two solutions, including HeliaSol®, a ready-to-use option, ideal for retrofitting existing building structures, and HeliaFilm®, a tailor-made solution that can be integrated into any facade or roof system.
Dresden, Germany

Kiwigrid is a software and IoT company on a mission to reshape the energy world and make our lives more efficient, sustainable, and more manageable. To this end, the company develops intelligent energy management solutions, connecting businesses from various sectors to create an open ecosystem for the generation and distribution of energy. Kiwigrid enables its customers to use the platform for numerous reasons, helping them enter new markets, diversify their offerings and differentiate themselves from the competition.
Berlin, Germany

Solmove aims to leverage pre-existing roadways for the production of solar energy. The company intends to achieve this by embedding solar panels on the roads, which it sees as an untapped capacity for power production. Solmove believes that its approach provides numerous benefits, such as enabling the solar roads to earn money by producing electricity and supplying cars with clean energy.
San Carlos, USA

Swift Solar envisions a world where all energy is clean, which it intends to support through the development of perovskite tandem solar cells. The company claims that tandem cells provide numerous benefits over traditional photovoltaics, including being able to cross the 30% conversion efficiency barrier while providing low production costs and the capability to integrate into ultra-lightweight and flexible solar panels. Swift Solar is currently focused on R&D, with no commercially available products for sale.
Oxford, United Kingdom

Oxford PV is a spinout of the University of Oxford that aims to increase photovoltaic's efficiency through the development of perovskite solar cells. The company offers tandem solutions, which utilize perovskite cells built on top of traditional silicon solar cells, resulting in a 30% improvement in generation capacity. Ultimately, Oxford PV aims to fully replace silicon with perovskite cells, which offers significantly better solar absorption and lower production costs.

The innovative corporations of energy generation
Aarhus, Denmark

In terms of sustainable energy, not much needs to be said about Vestas, one of the leading players in the wind energy industry. To date, the company has installed over 77,000 wind turbines in 83 countries with a combined capacity of over 132 GW. This capacity has enabled Vestas to avoid the release of more than 1.3 billion tonnes of CO2.
Nevertheless, the company aims to further increase its actions in the fight against climate change by fully embracing sustainability in every aspect of its organization. "Integrating sustainability into everything we do is a part of our vision to become the global leader in sustainable energy solutions," said Lisa Ekstrand, Senior Director and Head of Sustainability at Vestas.
To accomplish this, Vestas has focused on four main points, starting with achieving carbon neutrality without offsets by 2030. Its first steps are to transition 35% of its corporate cars to electric vehicles or plug-in hybrids, including 127 sustainably fuelled service vehicles. By 2025, Vestas aims to transition its entire corporate fleet to zero-emission vehicles. As part of its carbon neutrality drive, the company is also committed to reducing its supply chain CO2 impact by 45% per MWh generated by 2030.
Vestas also aims to introduce a zero-waste wind turbine design by 2040. Currently, the company's wind turbines have average recyclability of 85% due to non-reusable composite materials. Vestas aims to incrementally improve this rate, increasing its recyclability from 42% to 50% by 2025 and 55% by 2030.
The company is also developing a new waste management strategy based on implementing circular economy principles in various stages of its value chain. A long-term goal of the company is to lead the transition towards a world powered by renewable energy. To this end, Vestas has focused on developing power-to-x technologies, including hydrogen and e-fuels solutions.
To this end, the company joined the Getting to Zero Coalition in 2019, an initiative developing methods to reduce CO2 emissions in the shipping sector, and partnered with Mercedes-Benz in the Formula E Championship to promote electric transportation solutions.
Solna, Sweden

As a large producer of renewable energy, power producer Vattenfall is committed to incorporate sustainable practices across their whole value chain. Since its inception in 1909, the Swedish company established a presence in the Scandinavian region and countries such as Germany and the United Kingdom, generating and providing power using several different methods.
As part of their commitment to eliminate fossil fuel use within one generation, Vattenfall is incorporating sustainable energy systems and practices through different initiatives in renewable production and climate-smart energy solutions for their customers. Vattenfall is focusing on multiple targets that address the climate change challenge, starting with the reduction of greenhouse gas emissions.
They aim to reduce 38% of Scope 1 and 2 GHG emissions by 2030, and 20% of absolute Scope 3 GHG emissions from the use of sold products by 2030. As their first steps towards reaching these targets, Vattenfall is adopting smart energy solutions across three projects, aiming to make the city of Uppsala more sustainable.
The consequence of these projects will be the reduction of GHG emissions from 360,000 tonnes to about 140,000 tonnes or well over 50%. Outside of this, Vattenfall will also reduce their NOx, SO2, and dust emissions by incorporating several practices, like shifting to biomass, converting coal-fired power plants into gas-fired plants, and using different measures for reducing combustion emissions on current coal fires power plants.
In addition to tackling climate change, Vattenfall is set to achieving its ambition of becoming a circular business by 2030. Sustainable resource management is a key part of this goal, causing the power producer to strive for optimization of resource use across all parts of their operations. Examples that encompass these claims are their ongoing initiatives to produce green hydrogen, with the most prominent one being their collaboration with Preem.
Through this partnership, both companies want to incorporate fossil-free hydrogen for large-scale biofuel production. As a result, more than 12.5 million tonnes of CO2 emissions are projected to be reduced, corresponding to about 20% of Sweden's total emissions.
Tempe, USA

Tempe-based First Solar is one of the largest providers of utility-scale photovoltaic (PV) power plants and solutions. Since the end of 2019, the company's manufacturing capacity has reached 5.5 gigawatts, with 25GW of their modules generating electricity to power more than 12 million average homes. Furthermore, they displace over 17 million metric tons of CO2e per year and save 45 billion liters of water.
Along with these impressive metrics, First Solar is committed to improving its sustainability strategy by incorporating more practices and initiatives across its value chain. Through the Sustainability Policy, First Solar is dedicated to addressing challenges and goals in the environmental, economic, and social areas of their company.
As part of their goal to reduce their GHG emissions intensity per watt produced by 2021, the company incorporated several practices like increased module efficiency and manufacturing throughput, as well as installed onsite PV installations at their production facilities in Ohio and Malaysia, and their recycling facility in Germany. This enabled them to reach their 2021 goal three years early, with their GHG emissions being intensively decreased by 40%.
Another example of their dedication towards environmental challenges is manufacturing water intensity. Since 2009, First Solar achieved a 64% decrease in this, mostly as a result of the significant improvements in module efficiency, manufacturing throughput, and implementation of water conservation and recycling projects across their operations.
Furthermore, all of their facilities generate zero wastewater discharge under normal operations. Having a longstanding position in PV recycling, it is obvious for First Solar to aim at incorporating a circular economy model across their operations.
Ever since the initialization of their global PV module recycling program in 2005, the company has been investing in improvements in the PV recycling technology, leading them to a process that recovers high-mass fraction materials such as glass and frames with more than 90 mass-%.
One notable example of this recycling technology is in their facility in Malaysia, where the recovered laminate material is reused in rubber products. As a result, one kilogram of First Solar's semiconductor material can be reused 41 times over, which translates into a use time of more than 1,200 years. On the other hand, the remainder of the recycled module scrap that cannot be used in secondary raw materials is handled properly using several responsible waste treatment and disposal techniques.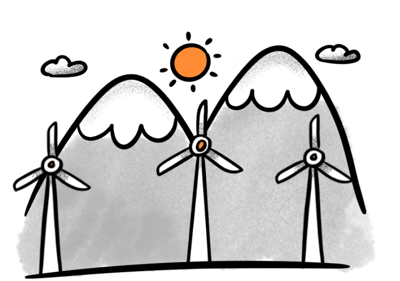 Energy generation for a green tomorrow and a sustainable future
It is clear that the world is slowly waking up to the fundamental issue that is climate change, and small steps to decarbonize our energy supply are slowly being taken. However, nowhere near enough is being done to tackle the problem seriously, and we must not rest on our laurels.
Even though renewable energy production is continuously rising, the world remains in a precarious position. According to the IEA, fossil fuel demand will continue to grow in 2021, with coal alone increasing by 60% more than the total renewable capacity. In turn, this would raise emissions by nearly 5%. If we intend to develop a sustainable future truly, this bleak situation must not repeat in the coming years.
Thankfully, innovative companies have taken the mantle to tackle the problem, developing breakthrough new technologies and solutions, which promise abundant renewable energy for a sustainable future. By shifting the focus from governments to the private sector, corporate innovation is set to tackle green energy production in a more agile environment. This enables companies to place sustainability as a core tenet of their business, leveraging the free market to develop a better world and a green tomorrow.
[Related Article - Innovating Sustainability: The Future of Energy Management]
We at Valuer aim to empower these pioneers in their endeavors by fostering a culture of innovation and cooperation to bridge the innovation gap between large corporations and innovative startups. By connecting startups with innovative technology that complements a corporation's unique needs, the Valuer AI platform can help organizations adopt the most compatible sustainability-related solutions.