*Updated November 2022
In the latest issue of the Innovating Sustainability report series, we teamed up with Supertrends to explore the most influential and disruptive technology trends transforming the food retail industry into becoming more sustainable.
Through our platform and the collaborative help from Supertrends, we generated data-driven insights on technology and companies in food retail, which helps identify market disruption and opportunities with ease.
Staying ahead of disruptive technologies and on top of new market trends is vital for your business. Both Valuer and Supertrends platforms are created with the same goal in mind: to help companies make better, data-driven decisions that drive sustainable growth.
Together we offer a wide range of actionable intelligence, and our complimentary functionalities cover almost every angle that decision-makers need to assess to navigate the challenges of innovation and the uncertainties of the future.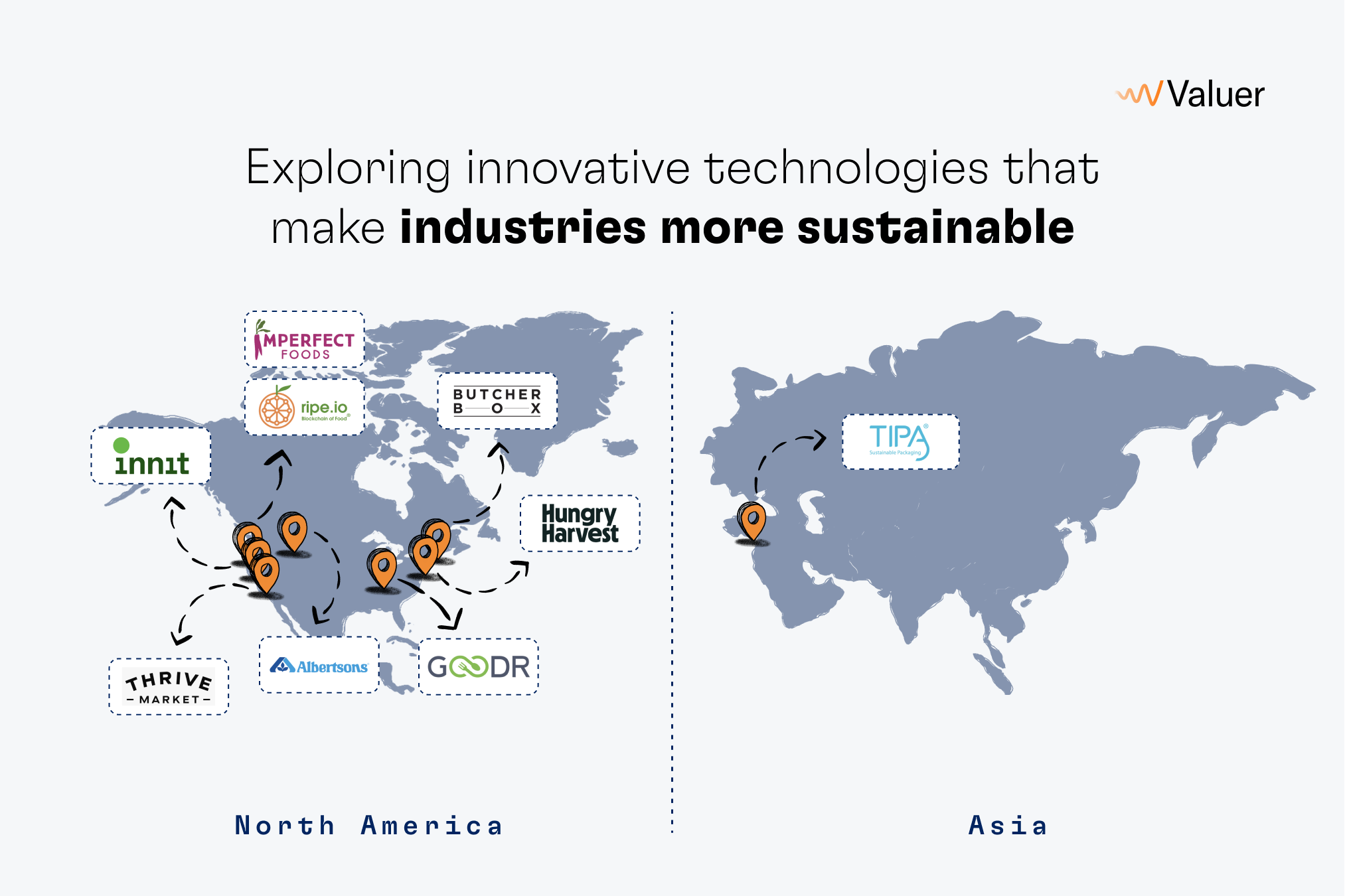 The report includes valuable data, sustainable technology, market predictions, important milestones, case studies, and more.
The publication covers three topics relevant to sustainable food retail: food e-commerce, food delivery, and sustainable packaging.
The environmental costs of food retail
The food retail industry is a massive and encompassing industry. This leaves the door open for innovative solutions to the sustainable issues rising from packaging, waste, and the transport of goods.
The EPA states that about half of municipal waste that is produced or sitting in landfills is made up of food packaging and food waste itself. Glass and cardboard production produces GHG emissions.
Aluminum production can generate toxic sludge and pollutions. Plastic production contributes to significant amounts of GHG emissions. This is compiled with the negative environmental impacts plastic and single-use plastic waste has.
[Related Article - What You Should Know About Ocean Sustainability As We Start to Celebrate World Oceans Day]
Packaging and waste are just one side of the coin because the macro picture of food retail has to include production and transportation and their impact on the environment.
Companies that develop and implement sustainable food retail solutions
The full version of the Innovating Sustainability report (available for download) includes four case studies: three corporations (Aldi, Ahold Delhaize, and Albertsons) that implement sustainable food retail practices and one startup that develops innovative technology (MIWA).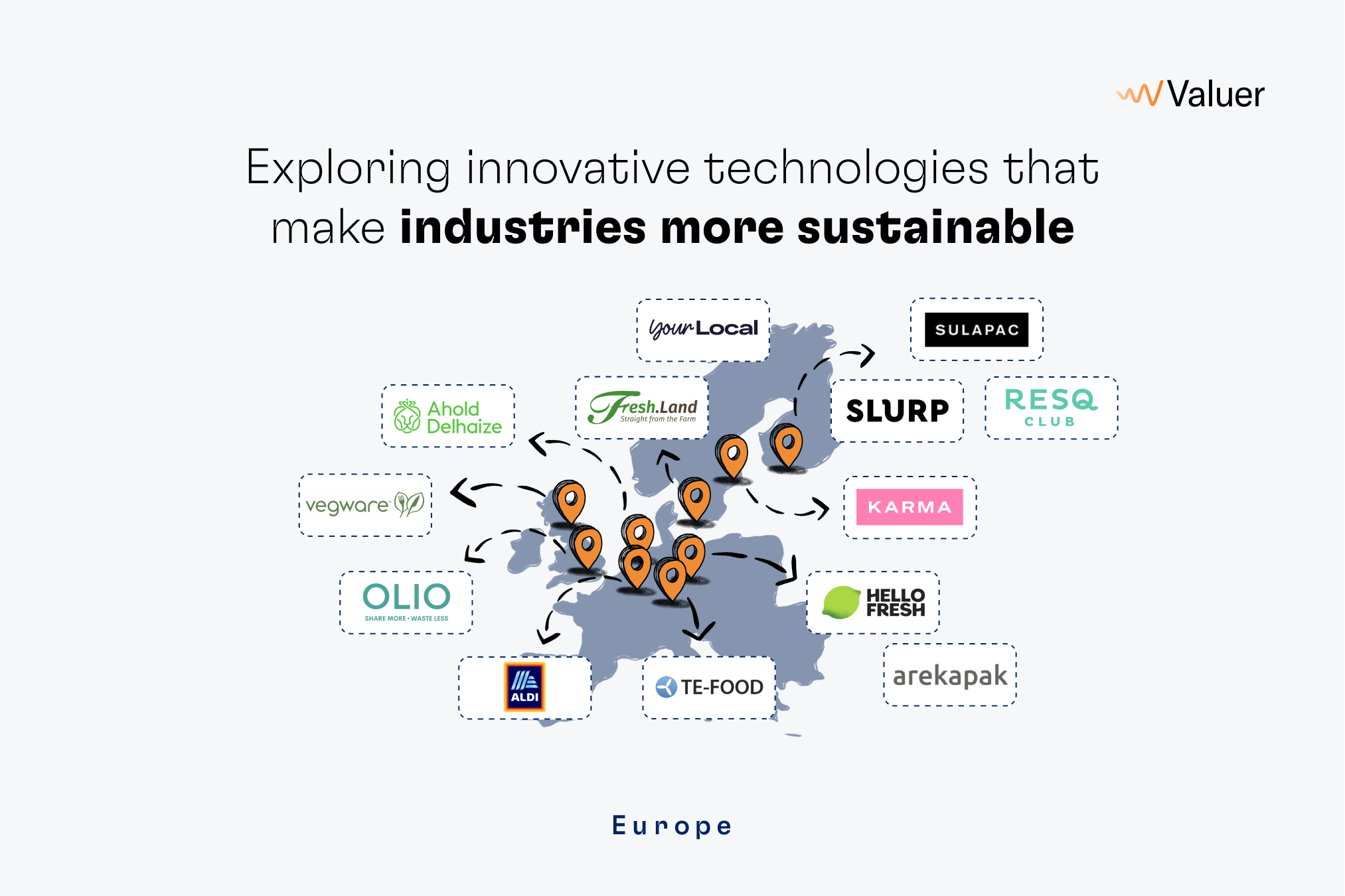 Inspired by these companies, we decided to highlight even more startups and corporations that implement and develop sustainable solutions and technologies within the food retail industry.
The innovative startups in food retail

MIWA
---
Prague, Czechia | miwa.eu
MIWA developed a complete business ecosystem for smart and reusable packaging. The MIWA packaging solution is based on smart reusable capsules for storage, in-store modular units that contain the capsules, shopper smart food containers, and shopper application.

Hungry Harvest
---
Baltimore, USA | hungryharvest.net
Hungry Harvest offers a farm-to-doorstep weekly delivery service for fruits and vegetables that would otherwise be thrown away. They collect, pack and deliver mixed, organic, all-fruit, and all-veggie boxes, offered at a 20% to 30% discount rate.

Sulapac
---
Helsinki, Finland | sulapac.com
Sulapac produces a wood-based, biodegradable alternative to plastic packaging. To manufacture its products, the startup uses woodchips collected from industrial side streams and plant-based binders. All of the products and materials are fully biodegradable, microplastic-free, and have a low carbon footprint.

Fresh.Land
---
Copenhagen, Denmark | fresh.land/dk
Fresh.Land is a pioneering online marketplace that enables farmers to sell their fresh harvest directly to consumers without intermediaries involved in the process. Their platform provides customers and farmers with all the logistics, payment, legal, and knowledge required in one integrated solution.

Slurp
---
Helsinki, Finland | slurp.coffee
Slurp is a coffee subscription service delivering artisan coffee from the coffee roasters to consumers' mailboxes. The platform can learn users' preferences and provides them with a personalized subscription that best fits their needs and requirements.

Innit
---
Redwood City, USA | innit.com
Innit developed a smart kitchen platform providing users with tailored food recommendations, meal planning, smart shopping lists, and integration with non-connected and connected kitchen appliances. By leveraging Google Assistant, Innit enables customers to get step-by-step guides for everyday cooking with the touch of a button or voice commands.


Goodr
---
Atlanta, USA | goodr.co
Goodr is a blockchain-based food waste management platform that allows businesses to donate surplus food to nonprofits that reduce hunger. The company aims to reduce hunger and food waste and help businesses save money with its solution.

Ripe.io
---
San Francisco, USA | ripe.io
Ripe.io is a blockchain company that provides a distributed supply chain platform to facilitate communication and transparency within the food industry. The company leverages blockchain, IoT, and Artificial Intelligence (AI) to aggregate real-time data on the origin, journey, and food quality.

HelloFresh
---
Berlin, Germany | hellofresh.com
HelloFresh provides users with a meal kit delivery service to make easy and appealing meals at home by offering weekly deliveries of recipes and groceries. This service's end goal is to reduce the burden of meal planning and grocery shopping.
Imperfect Foods
---
San Francisco, USA | imperfectfoods.com
Imperfect Foods is a subscription-based service that provides users with fresh and seasonal produce and various pantry staples. It offers a weekly, customizable order and logistics to bring it directly to the customer's home, making it a time-saving and convenient way of buying groceries.

ButcherBox
---
Boston, USA | butcherbox.com
ButcherBox is a meat delivery service that delivers grass-fed meat and seafood free of antibiotics and hormones directly to its user's door. The company partners with high-quality suppliers, enabling users to create a custom box, select the delivery frequency, and get the meat frozen in an eco-friendly box free of charge.

Thrive Market
---
Los Angeles, USA | thrivemarket.com
Thrive Market is an e-commerce membership-based retailer providing users with natural and organic food products. It offers customizable orders, setting a personalized schedule for recurring deliveries, and the ability to add or remove items, skip a delivery or pause the membership altogether.

TE-FOOD
---
Albstadt, Germany | te-food.com
TE-FOOD is an end-to-end, farm-to-table food traceability solution. It provides a set of tools to enable complete supply chains to track and trace products tailored to their specific processes, data sets, and technical environment. It is a secure and scalable solution with the end goal of improving transparency.

TIPA Corp
---
Hod Hasharon, Israel | tipa-corp.com
TIPA Corp provides fully compostable flexible packaging that offers the same durability, functionality, transparency, and sealability as conventional plastic. TIPA's films biodegrade into soil nutrients within 180 days of disposal inside a compost system.

Arekapak
---
Berlin, Germany | arekapak.de
Arekapak offers an authentic, fully ecological packaging solution to reduce the usage of conventional plastic. Sustainable packages are made by pressing and using areca palm leaves from India as the raw material. Once the packaging is no longer needed, it can be safely discarded due to its biodegradable properties.

Vegware
---
Edinburgh, The United Kingdom | vegware.com
Vegware develops plant-based compostable foodservice packaging. Its products are entirely made from plants using renewable, low carbon, recycled, or reclaimed materials that are sustainably sourced.
Innovative corporations in food retail

ALDI
---
Starting in the 1940s, Aldi has become a major grocery retailer with an international presence. Aldi's Corporate Responsibility principles guide its actions across its business operations. There are three main areas of activity where Aldi is making the most significant impact: preserving the environment, improving resource efficiency, and fair working conditions.
The company's commitment to buying 100% renewable electricity, using greener refrigerant gases, and purchasing carbon offsets led to Aldi UK and Ireland becoming carbon neutral in 2019. Through its energy efficiency initiatives, Aldi UK and Ireland has reduced its carbon footprint by 55% per m² since 2012. On a broader scale, in 2020, the ALDI SOUTH Group approved science-based targets for climate protection and set a target to reduce its overall operational emissions by 26% by 2025 against a 2016 benchmark.
The Group is also committed to reducing its use of plastic, setting a target to have 30% of recycled content in plastic packaging across the Group by 2025. Furthermore, the Group has committed to making its own-brand product packaging recyclable, compostable, or reusable by the end of 2025.
Aldi UK and Ireland is making strides towards reducing the impact of its packaging with more than 3200 tons of unrecyclable plastic replaced with recyclable alternatives and more than 7400 tons of plastic removed from its own-label products. Additionally, 92% of Aldi UK and Ireland's own-brand packaging is recyclable, intending to make it to 100% by 2022.
Regarding fair working conditions, Aldi is committed to human rights and fair labor standards throughout the supply chain, which is reflected in its ALDI Social Standards in Production. Moreover, the ALDI SOUTH Group works towards achieving the global United Nations Sustainable Development Goals (SDGs) in the context of human rights, and in 2017 it was the first discount retailer to join the United Nations Global Compact together with the ALDI North Group in 2017.

Ahold Delhaize
---
Zaandam, The Netherlands | aholddelhaize.com
Ahold Delhaize is a Dutch grocery retail company with more than 6,500 stores in 11 countries. The company's sustainability strategy includes four key focus areas: healthier choices, product transparency, waste elimination, and reducing climate impact.
The company's two main targets for 2030 are science-based climate targets adopted in 2020, and they include the reduction of absolute emissions from its operations (scope 1 and 2) by 50% by 2030 and reduce absolute emissions from its value chain by 15% by 2030 (against a 2018 benchmark). On this path, Delhaize has reduced the CO2 emissions of its Belgian stores by 70%, and all 763 of them have become CO2 neutral.
Furthermore, Albert Heijn, Ahold Delhaize's subsidiary, has halved CO2 emissions per store and has switched to 100% Dutch wind energy. Ahold Delhaize is also a founding member of the 10x20x30 Food Loss and Waste Initiative. It takes actions to reduce food waste across its brands' operations and gives surplus food to food banks, charities, and restaurants that cook with unsold food.
Additionally, it prevents food that is not suitable for human consumption from ending up in landfills by sending it to be recycled. By 2030, the company aims to achieve a 50% reduction in food waste compared to a 2016 baseline. In another effort to move to a circular system, Ahold Delhaize has committed to making 100% of its own-brand plastic product packaging reusable, recyclable, or compostable and to have 25% of its own-brand plastic product packaging made from post-consumer recycled content by 2025.
The company is also focused on improving the sustainability of its supply chain. It has set sustainability criteria for seven commodities, including coffee, tea, cocoa, palm oil, soy, seafood, and wood fibers. Additionally, Ahold Delhaize strives to deliver transparent and traceable product information to the customer, starting with fruits and vegetables and progressing to seafood and meat supply chains. To this end, the company will use blockchain and artificial intelligence.
Albertsons
---
Boise, USA | albertsons.com
Albertsons operates more than 2,200 supermarkets across the US under 20 banners with about 270,000 employees. As one of the largest retail companies in America, Albertsons aims to conduct its business with sustainability at the core of its operations. The company focuses on providing local, sustainably sourced, and animal-cruelty-free products. Additionally, it strives to reduce its impact on the environment and climate and provide a safe and inclusive workplace for its employees.
In April 2021, Albertsons began evaluating its operations and supply chain opportunities to propose an emissions reduction goal to the Science-Based Targets initiative (SBTi). So far, the company has deployed more than 800 energy efficiency projects, leading to estimated annual savings of over 2 million metric tons of CO2 equivalent. Furthermore, Albertsons' commitment to procuring renewable energy has put it on the list of top 30 companies in the US EPA's Green Power Partnership.
Food waste is a significant concern for grocery retailers of this size. Albertsons is part of the Pacific Coast Collaborative's West Coast voluntary agreement to reduce wasted food. The collaborative's target for 2030 is to have food waste in the Pacific Coast region reduced by 50%. Moreover, Albertsons' manufacturing facilities are on track to reach their goal of zero waste by 2022, with 11 of its 18 manufacturing facilities reaching that goal in 2016.
In terms of plastic and packaging, Albertsons has developed a Plastics and Packaging Pledge with several goals to reduce its plastic waste. For one, Albertsons is committed to making 100% of its own-brand product packaging recyclable, reusable, or industrially compostable by 2025.
Furthermore, the company aims to make its own-brand plastic packaging with 20% recycled content by 2025. On the path towards reducing its plastic waste, Albertsons has recycled more than 10 million kilograms of plastic film from its stores and distribution centers.
Facilitating a sustainable food retail industry
The shift towards sustainable solutions and circularity is becoming a driving force for innovation in the food retail industry; however, it remains only a glimpse into the future.
Luckily, there are startups and corporations that are leading the way when it comes to innovating sustainable solutions and technologies to drive circularity in the food retail industry. The trends we see that are pushing sustainability in the industry lie in are in food e-commerce, food delivery, and sustainable packaging.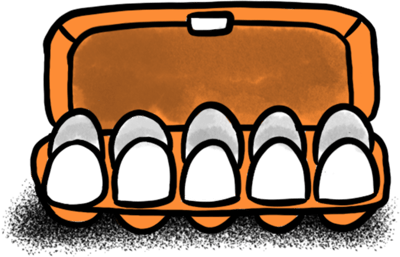 For instance, food e-commerce is expected to grow to $34.6 billion by 2023 with a CAGR of 23.4%. This is also reflected by the numbers showing that food delivery surged to 103% during the pandemic and is an industry vertical on the rise.
With the growth that is being seen in food retail, it's clear that the need to reduce waste and increase efficiency in delivery methods is needed to push the industry towards circularity. This necessity for sustainable solutions in food retail is opening the door for business and market opportunity for the companies that are in pursuit of these sustainable goals. This is backed by numbers indicating that the sustainable packaging market is expected to grow to $413.8 billion by 2027.
To this end, Valuer and Supertrends aim to support the development of sustainability in the food retail industry, helping clients harness innovative new technologies and drive the transformation towards circularity and a more sustainable future.