*Updated December 2022
Identifying New Business Models and Technologies Within SDG 9
Understanding the potential of disruptive innovation in addressing some of the complex issues our planet is facing, each month Valuer publishes a report dedicated to one of the 17 UN Sustainable Development Goals.
This month, the "SDG Forecast" focuses on SDG 9: Industry, Innovation and Industrialization and demonstrates how corporations can engage with the goal by embracing innovative approaches to energy efficiency and decentralization, public transport and traffic management, sustainable construction, and industrial automation.
Aiming to help large organizations become more sustainable, the report provides market opportunities, trending technologies, and three successful startups that work within areas relevant to the UN goal. Moreover, the publication explains how Valuer's online platform uses AI to help large companies find SDG-related startups and technologies that match their unique needs and goals.
Organizations that do a great job at addressing SDG 9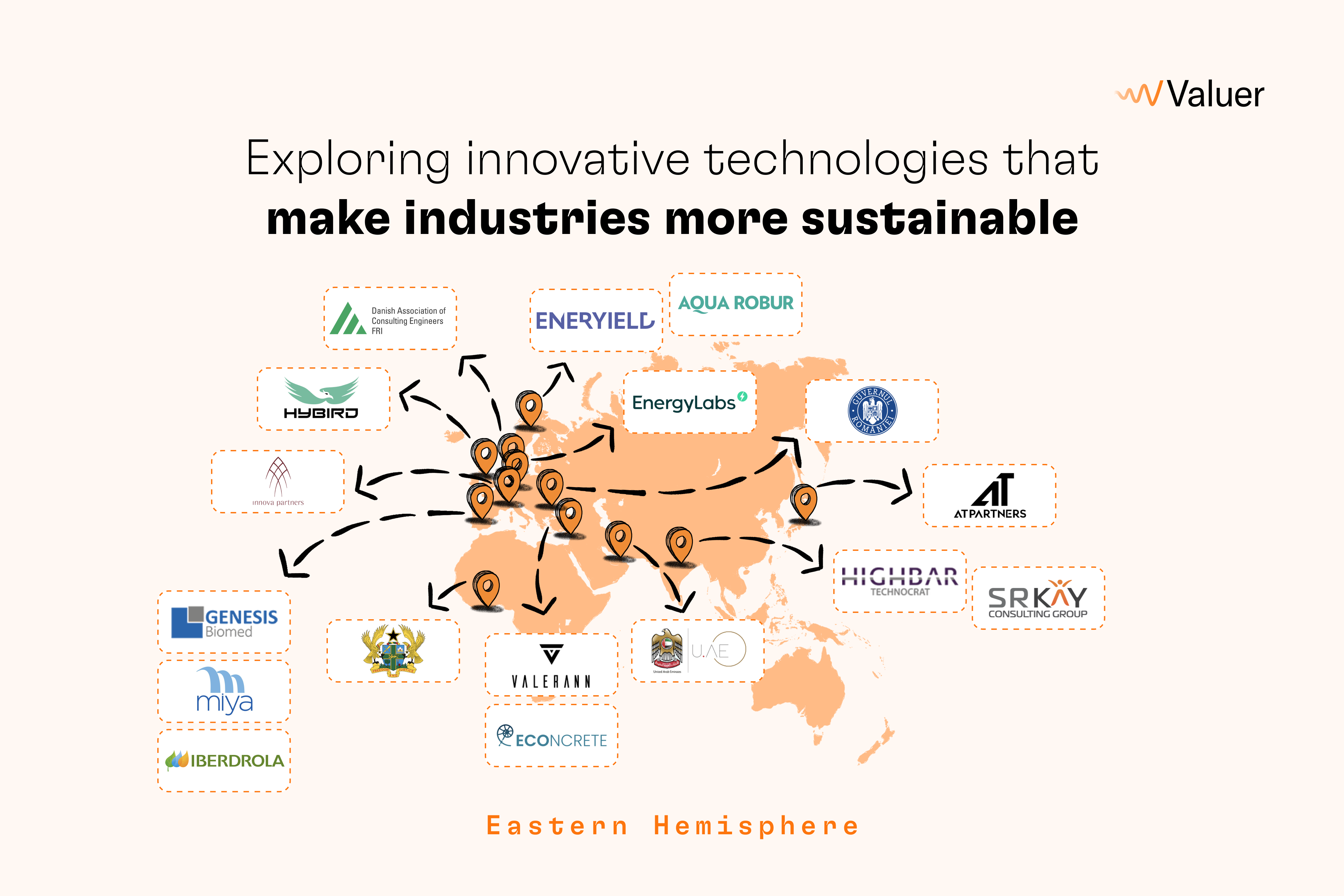 The full version of the SDG Forecast report includes six case studies: three SDG 9 startups (One Click LCA, Neuroflux, FSIGHT) in detail and three corporations (DuPont, Bechtel, and Q-Free) that do a great job of engaging with the UN goal. To provide more inspiration, this blog post lists additional NGOs, governments, corporations, and startups that work toward achieving the goal.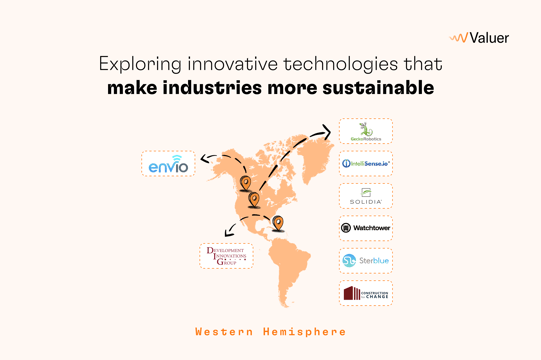 Industry, innovation and infrastructure
startups
Berlin, Germany

ActiveEnergy builds energy-saving technology by optimizing supply and voltage levels. They analyze real-time data of the voltage level at the mainline and adapts it. Specializing in retail buildings, ActiveEnergy also provides a cloud-based web portal that allows users to monitor energy consumption and savings analytics in real-time.
Tokyo, Japan
AT PARTNERS provides new investment schemes and data platforms to support open innovation strategies of operating companies. They provide an environment in which all operating companies can select startups according to their respective strategies with a focus on rapidly evolving technologies such as AI, autonomous driving, IoT and sensors, cybersecurity, virtual realist, biomedical, robotics, energy and many others. AT PARTNERS also provides PoC/development support and M&A advisory services.
Gothenburg, Sweden

Aqua Robur develops complete Internet-of-Things (IoT) systems for the water sector with applications in municipal water supply, irrigation, district cooling, and industrial water. They have developed the technology to measure and collect data to monitor water quality and to detect any potential leakages. They bring forth a new level of autonomy that is made possible by integrating hydro-based power supplies and LoRa communication functionality.
Ottawa, Canada

Canadian-based BluWave-ai applies the power of AI to help utilities, grid operators and electric vehicle fleets transition to and optimize the use of renewable energy. BluWave-ai's energy optimization software balances the costs, availability, and reliability of multiple energy sources in real-time, to improve energy decisions for their customers. The goal of BluWave-ai is to drive the transition from a centralized, carbon-based energy model to the point where clean energy can be produced by almost anyone, anywhere, aided by advanced real-time computing to optimize its generation and use.

Gothenburg, Sweden
Eneryield provides machine learning algorithms for intelligent energy analytics. It provides solutions for disturbances in power quality in power grids and has the capacity to make more informed decisions while boosting energy efficiency while identifying important information regarding the health status of the components.
Calgary, Canada

Envio Systems enables connectivity and interoperability by using its cloud-based building technology for existing commercial buildings. It offers BASE, a building management software that helps property owners and managers to maximize operational efficiency and energy savings while addressing the technical barriers to energy efficiency upgrades.
Sunnyvale, USA

Falkonry provides companies, both large multinationals and regional manufacturers, with predictive operations solutions. These solutions allow companies to power their digital transformation and to achieve improvements during the production process, quality, yield, and safety. Falkonry utilizes an evidence-based approach to discover hidden insights in your companies' operational data to drive future operational decision-making.
Dubai, UAE

Fleetroot is a real-time, IoT platform for fleet and mobility management that promises to help businesses improve efficiency, safety, and quality of connected assets and resources. The company offers three variations of its solution: connected delivery for delivery and logistics companies, connected commute for educational institutions, and connected mobility for rental companies, leasing and mobility providers.
Pittsburgh, USA

Using a data-driven approach, Gecko Robotics utilizes robots and software to inspect and test industrial-type infrastructures such as tanks, boilers, scrubbers, piping, and more. This is achieved by a range of cameras and sensors mounted on the robots that can inspect wall thickness, cracking, pitting, and other forms of degradation. Their use of robots and software tools provides larger data collection at a much faster rate and more cost-effective compared to conventional methods.
Barcelona, Spain

Genesis Biomed is a consulting company specialized in the Life Sciences R&D sector that includes biopharmaceutical, biotechnology, medical devices, in vitro diagnostic, nutraceutical, and cosmetic industry. Additionally, Genesis Biomed invests in seed-stage projects where they later develop their own R&D projects.
Navi Mumbai, India

Highbar Technocrat Ltd. is an information technology solutions provider that specializes in the infrastructure industry. It provides services in the form of enterprise business solutions, line of business IT solutions, and process consulting with a focus on increasing the efficiency of the infrastructure industry. Highbar has expertise in a wide range of industries that include roads, airports, water supply, and telecommunications among many others.
London, The United Kingdom

HyBird uses AI technology specializing in computer vision to reality model that inspects and predicts structural weaknesses and failure for industrial assets. They provide a workflow solution that visualizes, analyzes, and contextualizes inspection and engineering data on a collaborative virtual 3D replica of industrial assets.
Naples, Italy

Innova Partners provides prototypes ready to become future successful products by utilizing their exclusive Agile Research Framework. They do this by focusing on the consumer and the domain by conducting market research and competitive analysis by keeping a close eye on the industry and linking different sources of funding. Innova Partners fills the empty space between industry and research by offering its customers "smart intellectual property".
Cambridge, The United Kingdom

Intellisense.io is the leading industrial AI company with a particular focus on the mining industry providing solutions to optimize efficiency, sustainability, and safety. It utilizes a real-time decision-making platform and a portfolio of process optimization applications that covers the entirety of the value chain.
Singapore, Singapore
Positive Energy developed a blockchain-based asset financing, trading, and management platform for small to mid-size renewable energy projects. The digital platform streamlines the process of matching investors with renewable energy projects, thus aiming to make financing renewable energy projects cheaper, easier, and faster. The company promises that by using the platform, customers can reduce their time-to-finance by up to 50%.
Seattle, USA

Founded in 2013, Seeq enables manufacturing organizations to rapidly find and share data insights. Oil & gas, pharmaceutical, specialty chemical, utility, renewable energy and numerous other vertical industries rely on Seeq to improve production outcomes, including yield, margins, quality, and safety. Headquartered in Seattle, Seeq is a privately held virtual company with employees and partners in the United States, Asia, Canada, Europe, and South America.
New Jersey, USA

Solidia is a cement and concrete technology company focusing on developing scalable solutions for the building and construction industry. They offer patented green solutions to provide superior and sustainable building materials by utilizing waste materials and CO2 to address the carbon challenge from both ends. They also introduce AI in the concrete production process in an effort to reduce waste, improve quality control, and system optimization.
Pune, India

SRKay Consulting Group invests in innovative seed and early-stage ideas. Specifically, they invest in innovative, high-potential opportunities and businesses with a focus on futuristic ideas aimed to create cost-effective, productive, and engaged workplaces and organizations.
San Francisco, USA

Sterblue builds the central platform for industrial asset inspections and management that include power lines, wind turbines, and other industrial infrastructure. Powered by dedicated AI, Sterblue platform utilizes an image processing software taken from drones, helicopters, smartphone devices, and satellites to give you access to insightful information that could identify signs of corrosion, broken equipment, and other safety hazards.
Tel-Aviv, Israel

Valerann utilizes state-of-the-art traffic management data platform using an end-to-end system installed on the road itself. It processes a wide range of data to provide real-time, high-resolution insights and predictions by leveraging AI and Big Data algorithms to relay information to drivers and road operators. This information includes danger recognition, accident prevention, optimal traffic flow adjustments, and autonomous cars guidance and support.
Boston, USA

Using its patented robot technology, WatchTower provides a leakage detecting technology designed to reduce water break and infrastructure damage loss by detecting leaks and fixing problems before showing up. This process can be done remotely, with data being delivered remotely while also mapping out the piping infrastructure in 3D.
Industry, innovation and infrastructure companies
Tel Aviv, Israel
ECOncrete is a science-based company that is working to advance nearly half of the UN's 17 SDGs. The company provides bio-enhancing concrete solutions that are rich in recycled materials and byproducts and are used to enhance marine life and help reduce the ecological footprint of coastal and marine development projects. ECOncrete's products brings innovation within the concrete and construction industry ultimately changing the way our future coastlines look and function.
Bilbao, Spain

Iberdrola's commitment to clean energy has become a global energy leader and is the number one producer of wind power. Iberdrola transformed its business model more than 20 years ago where they actively been pursuing a sustainable and low-carbon future.
Iberdrola views innovation as an important strategic area within their company portfolio in an effort to enhance sustainability, efficiency, and competitiveness of the company.
Iberdrola strongly believes in working closely together with people, society as a whole, and its stakeholders. This is why they are one of the top companies who support startups in Europe and a leader of the European Region in terms of resources allocated to R&D and innovation.
Copenhagen, Denmark

FRI (Danish Association for Consulting Engineers) is a trade association of several Danish consulting firms that provide a wide range of services including project planning and management using a technical-scientific approach.
They are involved in a wide range of projects including construction, environment and climate, energy, infrastructure and with industrial design.
FRI's mission is to influence the development of society and the framework conditions for both consulting and engineering companies.
Industry, Innovation and Infrastructure Governments

The Romanian Government has taken great strides to evolve into a society that can withstand the many global challenges we face today. The government's principle aim to ensure the sustainable development of Romania and to improve the overall living standards of all its citizens.
Romania's Sustainable Development Strategy 2030 addresses many of the challenges the country faces such as lack of transport/road infrastructure, an outdated industrial sector that reduces greenhouse gas emissions, as well as being for many years, one of the worst performers in Europe towards innovation.
As such, the Romanian Government has put forth a bold new strategy to build resilient infrastructure, to promote inclusive and sustainable industrialization, and to foster innovation.
UAE's Vision 2021 aim is to make the UAE among the best countries in the world that aims at six distinct national priorities including healthcare, sustainability, and education.
As such, the UAE has developed various strategies that aim to promote its overall economic and social positioning by diversifying its national income based on a sustainable and knowledge-based economy.
A major part of this strategy is focusing on the industrial sector by creating and maintaining a sustainable environment and infrastructure. The government wants to ensure sustainable development while preserving the environment while keeping a nice balance between economic and social development.
In recent years, Ghana's economy has grown where its infrastructure capacity has been struggling to keep up. From 2013 to 2016, Ghana underwent a power crisis which was estimated to cost the economy 2% in GDP growth. This crisis revealed the need to diversify Ghana's energy base to include renewables.
The government has since out forth a new budget aiming to invest in transformative economic and societal infrastructure as a way to create more jobs, to reduce poverty, and to foster sustainable industrialization and innovation.
Specifically, the Ghanaian Government introduced several programs which target poverty in rural and deprived communities, railway development, road infrastructure and a program that facilitates private sector investments in a minimum of 216 factories.
Industry, innovation and infrastructure NGO's
Seattle, USA

Construction for Change is an infrastructure NGO that partners with local NGOs for community-based construction projects. Construction for Change brings in international expertise on construction projects while leveraging local resources and local labor. Construction for Change handles design and project management to build new schools, medical facilities, and vocational training facilities across Asia and Africa.
Madrid, Spain
Miya is a world-leading water operator who provides urban water efficiency solutions across the globe. It specializes in areas such as water efficiency, commercial management, and water treatment where their focus is on designing and implementing solutions that improve their clients' financial and operational efficiency. Miya's vision consists for two key elements: a Values-Based Approach centered around abundance and sustainability, and an Efficiency-Driven Approach.
Bethesda, USA

The Development Innovations Group (DIG) works to create financial and urban infrastructures to help lift communities out of poverty. By providing financial services to communities in poverty, DIG can help families start businesses, finance homes, or even finance public works projects with local governments, helping communities escape the poverty trap. DIG also works on physical infrastructure projects, such as water, sanitation, solid waste infrastructure, slum development, and even transportation infrastructure. DIG works in over 50 countries on every continent except for Australia, and works in post-emergency and post-conflict settings.
Last month's issue: SDG 14, protecting our ocean, sea, and
marine resources
In our last month's issue, we focused on SDG 14: Life Below Water, which looked in how corporations can alleviate the harmful impact on aquatic life while at the same time, support the sustainable development of cities and communities by embracing innovative technology.
Conclusion
Sustainable development requires a mindset which, once adopted by businesses and individuals themselves, will help create a more equitable society and the ability to cope with the constant changes brought about by global, regional, and national challenges.
The UN's Sustainable Development Goals raises important questions regarding concern for countries' citizens, respect for public institutions, moral values, and cultural and ethnic inclusiveness that will ultimately lead to a more sustainable society.
We believe that technological breakthroughs and creativity are critical to advancing SDG 9 and reducing the time and cost necessary to achieve results. Moreover, blending purpose with profit promises companies a competitive advantage that meets the expectations of modern customers, employees, and investors.
Adopting creative technology to make operations sustainable can, among other benefits, generate new revenue, reduce costs in the long-run, open the way to untapped markets, increase supply chain resilience, and improve brand image.