Enterprises across the globe are referring to the term "data-driven innovation" more and more. Few people, however, have a clear understanding of what it implies, with good reason, and they frequently misrepresent it to others, further complicating the situation. Many believe that it's just a buzzword. Perhaps as a consequence of the above.
This is partly because it is difficult to grasp the importance of this innovative approach without concrete examples. Companies typically want to keep their innovation and product development methods hidden in order to maintain a competitive advantage, making it difficult for "rookies" to grasp how these processes operate in a practical working environment.
Partly because the innovation sought might be a never-before-imagined system, technique, or product that will solve a quantifiable need or problem. Or incremental innovation as an improvement to an existing system or product that is based on data.
For many companies, identifying innovation opportunities is a challenge. Many lack expertise and fresh ideas to recognize data they can benefit from and translate it into new products or markets. Their internal development cycles are being disrupted by the rapid movement of an influx of new technologies, and creating new ones from scratch is quite costly and resource-demanding.
In fact, during the pandemic, the pace of innovation nearly doubled, going from 8% in 2019 to 14% in 2020. Meanwhile, average digital transformation spending increased from $27 million to $27.5 million.
Valuer has seen this need and decided to address it with its platform based on Artificial Intelligence (AI). In this article, we're giving you some of the many reasons why Valuer should be your new innovation hub.
1. Take advantage of our massive database
Valuer's data-driven platform offers an end-to-end solution to assist enterprises, accelerators, and venture capital firms in identifying disruptive technologies, market possibilities, and creative businesses.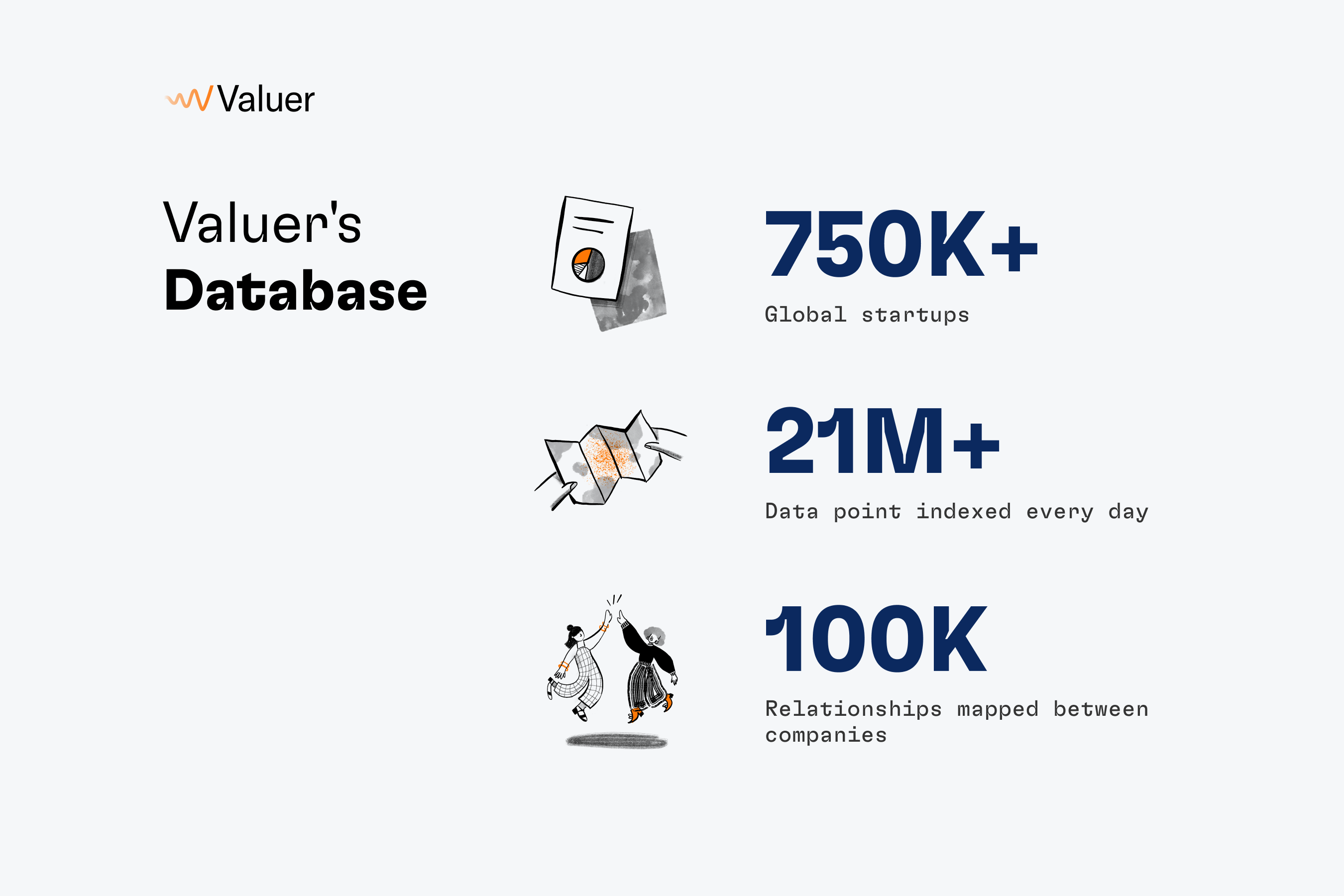 Valuer's vast database of over 750,000 companies, and adding +1000 daily, driven by machine learning algorithms, can match companies at different phases of the innovation/growth process, such as researching new technology or market prospects, or developing creative business models, offering both free and paid versions.
2. Get a long-term partner
What is unique about Valuer's platform is that our customers become our partners—instead of offering a one-time consultancy. We're an agile out-of-the-box innovation platform, where everyone benefits from the other. With the ability to set up personalized services and processes that match our customers' vision and expertise. To put it simply, the Valuer platform assists you in discovering unexplored markets and locating firms that meet your specific innovation requirements. So far, we've among others helped brands like BMW, PwC, Microsoft, Deloitte, and Grundfos, discover innovation opportunities.
3. Unique AI and Machine Learning algorithms
Valuer's platform uses unique machine learning algorithms to harvest millions (+21 million and counting, to be exact) of available data points from the global innovation economy. These algorithms coupled with our AI will help you navigate the eternal lists you would otherwise have to scroll through.
The process collects this information and translates hundreds of languages and dialects to make sure our platform provides unbiased data that covers all geographical regions and organizes them into a format that delivers context to the users research requests.
The user doesn't have to analyze data to improve decision-making—Valuer's algorithms do this instead. The platform bridges the gap between raw data and smart decisions with valuable data-driven insights.
Moreover, we allow you to train your AI assistant. Although we would like to be all-knowing, we're not, so results will sometimes only be as good as the input our AI receives. However, you train it by voting results up or down. That way, we get to know your business and will offer the results you did know, you were looking for.
4. Find the unknown unknowns
From the millions of data points, Valuer creates a list of business cases and identifies similarities in different product offerings and business models, which serve to map out the success potential, market maturity, degree of fit, and the level of innovation of each result. This model can, for instance, help the user determine how to identify security threats, reduce energy waste, and increase the use of renewable energy.
Sometimes all you need is a list and core data on the company. Other times you want to understand the full spectrum. In that case, simply order a research paper and our analysts will get to work and provide you with qualitative data on those companies - e.g. business model, product/service model, value prop etc..
If you want to understand and get deeper insights into an industry, technologies, or how sustainability is included, we start by doing a scan of the global innovation ecosystem to get a macro perspective of what trends and movements are driving the industry. This creates an assessment of how the market is doing and maps out themes and clusters of this area.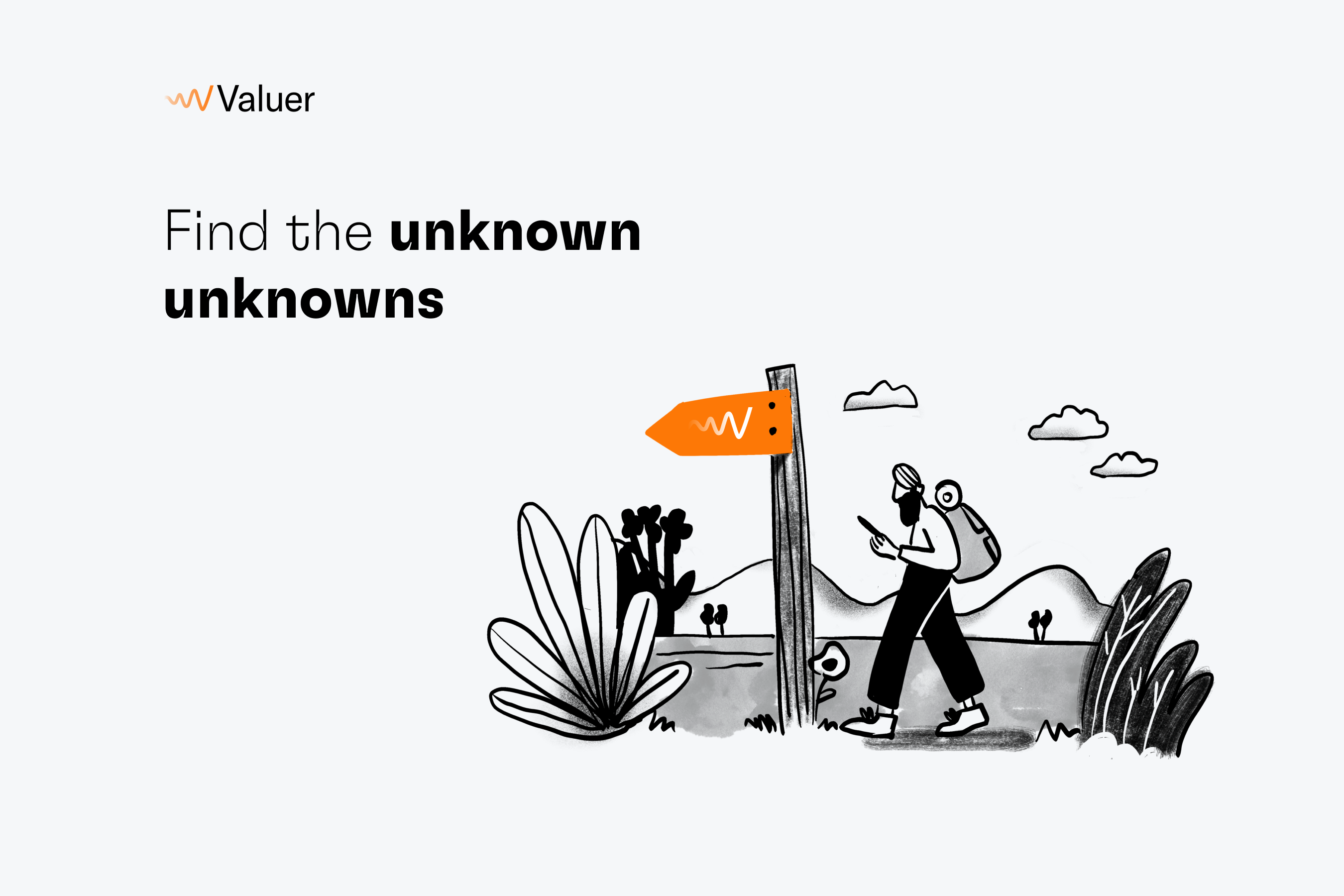 Thanks to the scan, our users will quickly understand how attractive the market is and see the distribution of newly available technologies. This information can help you to always stay on top of potential influences over the market, both directly and indirectly, as well as find out the amounts invested within the industry. Then, the unit can choose a relevant area of the industry they want to tackle and launch a deeper micro dive to understand the business models, products, and concepts that successful businesses within this cluster have used.
5. Not a replacement for your innovations or researchers team
With Valuer, you get a dedicated platform focused on your growth, digital transformation, scouting missions, or innovation processes. However, this platform doesn't represent a replacement for your innovation team.
We understand your work processes are important, to be effective and efficient. We're designed to blend in with your own established processes. Valuer doesn't eliminate the need for an innovation or analyst team within your organization. Instead, we provide valuable assets your innovations team(s) can take advantage of. We enable innovation and creativity.
6. Integrate your entire team
We also understand innovation is a team effort. Vote together, annotate, plan and share results with your team members and relevant stakeholders. Valuer's model allows users to onboard their team members and provide them with an equal understanding of the industry - and enable them to collaborate and make informed decisions on whether to partner, collaborate, or acquire some of the best players in the field. Does your company have special needs to integrate with us, either from a management perspective or a database perspective, we've added that as well. In the end, you can design your own digital innovation ecosystem.
7. Your one-stop innovation hub for all your radars and inquiries
Whether you're looking to find insights, companies, or follow industries, simply add search results to a radar - and we will update you and your team every time something new happens. Think of it as a playlist. Add your favorites to a playlist, and our AI will monitor and let you know if new things occur. A disruption radar that keeps a hawkeye out for your business. You can use two types of search: quick search and a more structured search.
With quick search, simply enter the URL of a company you or your colleagues find interesting. Our AI will instantly give you an overview of similar companies, adjacent industries, and technologies. Or, to use structured search, enter a few lines of what you are looking for, in plain human text, and give us some context in terms of industries of interest. Our AI will get work and serve you the companies that fit the bill.
8. Ease of use that streamlines your innovation process
Finding the unknown unknowns is likely the most difficult part of scouting for innovations or innovative companies. We've created an immersive experience, where we quickly show you adjacent companies, radars, and technologies. Deep diving into the world of innovation will never be as easy as this.
We've also made navigating our platform intuitive and engaging, allowing users to interact and really get hands-on with AI and their subsequent innovation processes. To start, you simply choose what you are looking for, whether it's specific technologies, a particular company, an industry overview, or market trends, the platform has you covered.
From there, you get to interact with your AI assistant by describing what you're exactly looking for.
9. Valuer score
The Valuer score is meant to help you navigate and pick out the startups and technologies that are a fit for your inquiries - and fit for growth. It is an accumulation of criteria and data that has been calculated by our AI.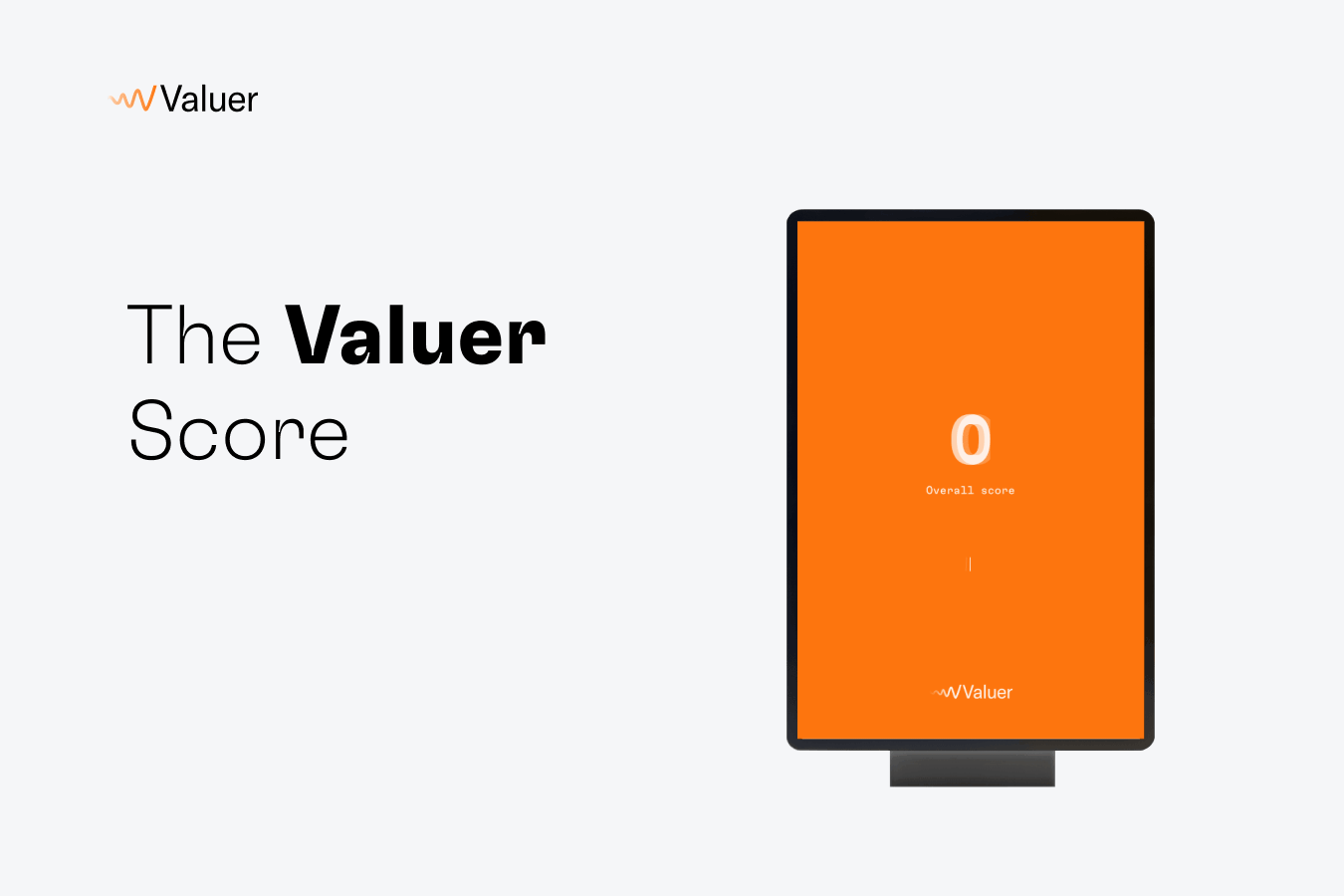 It simply puts a company on a 1 to 100 scale and reflects a cumulation of criteria that is based on company success, growth potential, maturity, innovativeness, and sustainability based on the available data and in comparison to the other companies in our database. This makes it easier for you to select which startups and companies you want to collaborate and/or invest in. The Valuer score keeps evolving as we train the AI in different scenarios.
10. Additional resources
We've added support and playbooks to help you get the most out of our platform. Our support structure and team are always here and ready to help so you can get the ball rolling on innovation effectively. And don't underestimate the importance of good content, as we offer thought leadership articles, ebooks, case studies, and reports that can help you further hone your business solutions and innovative curiosity. This is something other platforms and databases simply lack and something we bring to the table.
There is much much more to our platform, but 10 reasons why, make a sweet headline.