*Updated October 7, 2022
The global fintech market reached new heights in 2021 when global investments in the industry hit between $91.5 and $102 billion. Couple this with the fact that the average fintech investment has tripled from 2019 and 2020 to nearly $10 million in 2021, and it's not difficult to see why banking is consistently being moved to the digital sphere.
These numbers show that banking and crediting institutions are well aware of the importance of partnering with fintech companies. The established institutions have the resources, and the startups have the innovation.
The layout of fintech startups in Asia
So what about fintech industry in Asia -- one of the largest and fastest-growing economies in the world, and a strong contender as a startup hub? Venture funding in Asia saw a 50% in 2021 from 2020, reaching $165.1 billion. In step with the rest of the world, Asian fintech companies have seen an increase in investment, and the region serves as headquarters for some of the best global fintech startups.
Related article - A Deep Look at How Fintech Has Accelerated During the COVID Years
Only in Southeast Asia, fintech funding tripled to $3.5 billion within the first three quarters of 2021 compared to all of 2020. Unicorns in this region have grown to a total of 35, most of which are based in Singapore and Indonesia, predominantly serving the fintech sector.
Meanwhile, Asia Pacific has the fastest-growing fintech industry in the world due to a combination of the giant, mature Chinese market with smaller emerging economies. The total number of fintech startups in the APAC (Asia Pacific) market is estimated to be 6,268, so you can be sure that there will be stiff competition and plenty of excellent startups.
In China alone, startups - in general, not just fintech - received a record $131 billion in VC funding in spite of stricter government regulations. What's more, the APAC region has the most fintech users, and experts believe that by 2024, their fintech sector will generate the most revenue on a global scale. In terms of sub-sectors of fintech, digital payments remain the largest, though personal finance is expected to grow as well.
The best fintech startups in Asia
That brings us to the top Asian startups working on innovative fintech solutions. Let's take a look at some of the top fintech companies that the AI-powered Valuer engine provided for us.

Granatus Ventures
---
Yerevan, Armenia | granatusventures.com
Granatus Ventures was founded in 2013 by Yervand Sarkisyan, Manuk Hergnyan, and Pierre Hennes. Although the startup is headquartered in Armenia's capital Yerevan, it also has offices in London and Singapore. Granatus Ventures works as a mediator between startups around the world and the Armenian emerging technological market, providing help in the form of investment, network, and expertise.
Tarabut Gateway
---
Dubai, UAE | tarabutgateway.com
Tarabut Gateway is the first regulated platform for open banking in the MENA (the Middle East and North Africa) region. It was founded by Abdulla Almoayed, and it's currently based in Dubai, UAE.
Tarabut Gateway offers an open banking service through an API system with an interconnected network of traditional banks and fintech companies. This online platform allows its users to manage financial products and information in the most secure, fast, and cost-effective way.

Optio.Ai
---
Tbilisi, Georgia | optio.ai
Founded by Giorgi Mirzikashvili and Shota Giorgobiani in 2016, Optio.Ai is one of the top fintech companies in the region. It's based in Georgia's capital Tbilisi and has so far received over $116K in funding.

Optio.Ai's mission is to offer a digitalized banking system through smart applications of data analytics and AI. Their software allows financial firms to carefully classify their customers and their transactions so that they can enhance the customer's banking experience and help them manage their finances in a more precise way.

In fact, the main purpose of this AI-powered algorithm is to help bank customers make smart decisions about their personal finances with the help of a chatbot that analyzes their bank accounts, spending habits, goals, etc. and then plans their budget and makes suggestions, with the aim of helping them "maintain healthy finances." In February of 2021, the Bank of Georgia teamed up with Optio to create a virtual assistant that will help customers with a host of areas.

liwwa
---
Amman, Jordan | liwwa.com
Liwwa is a lending platform that allows its clients to invest in small business loans. It was founded by Ahmed Moor and Samer Atiani in 2013. The startup is headquartered in Amman, Jordan, but also has offices in Cairo, Egypt.
Through its credit model, Liwwa runs a risk analysis of the borrower's profile and then proceeds to grant the requested loan. Then, Liwwa sells the loan to third-party buyers. The startup works with various funding sources such as international lenders, its own marketplace, local banks, and European DFIs. Overall, the platform is easy to use, and its advanced analytics allow investors to make informed decisions and earn competitive returns.

UPayments
---
Sharq, Kuwait | upayments.com
Kuwait City-based mobile app UPayments provides its customers with a safe and effective online payment service. UPayments offers a variety of options, including online bill payments, creating a personal eCommerce business, etc., all through its simple mobile app. In the end, the uPayments platform offers its clients an incredibly useful online money-managing tool. The company was founded by Ali Alhabshi and Nasser Al Humaidi in 2016 in Kuwait.

NymCard
---
Beirut, Lebanon | nymcard.com
NymCard was founded in Beirut, Lebanon, in 2017 by Ayman Chalhoub and Omar Onsi. NymCard is a B2B modern payment infrastructure platform that helps its customers issue and process payment cards in partnership with the world's top card networks (VISA/MasterCard) through their open API platform.

PolicyStreet
---
Kuala Lumpur, Malaysia | policystreet.com
PolicyStreet is a Malaysian insurance fintech company based in Kuala Lumpur. It was founded in 2016 by Wilson Beh, Winnie Chua, and Yen Ming Lee with the aim to provide people with insurance in a transparent and straightforward manner.
In other words, PolicyStreet makes insurance simple. This online platform doesn't only sell insurance. It also informs customers about different insurance options that are the most affordable in a transparent way. Partnering with a handful of companies throughout the country, PolicyStreet offers their young clients all types of insurance (car, life, home, employee benefit).

Delta Sales App
---
Biratnagar, Nepal | deltasalesapp.com
Delta Sales App is another top fintech startup in Asia that helps companies manage their sales. The company was founded in 2017 by Ekta Golchha in Biratnagar, Nepal.
Delta Sales App is a mobile app that allows salespersons to receive and track orders, receive payments, track salesmen, plan orders, organize expenses, and everything sales-related in one single platform. It's especially useful for the management and tracking of field sales, as field agents will always remain on top of store names, locations, products, transactions, etc.

Coins.ph
---
Pasig, Philippines | coins.ph
With the mission to increase financial inclusion across Southeast Asia, Coins.ph provides a mobile platform that allows anyone to benefit from the multiple financial services offered through the app. This blockchain-backed platform provides its users with instant and direct access to banks and a variety of payment services, from bill payments to remittances.
What's more, you can buy loans, pay bills, and send money through the mobile app without even being connected to your bank account or credit card. Coins.ph was founded in 2013 by Ron Hose and Runar Petursson, and it's based in the Philippines's Pasig. So far, the company has received over $10 million in funding.

PayTabs
---
Al Khobar, Saudi Arabia | site.paytabs.com
PayTabs offers a customized online platform for any business. Its main goal is to offer clients a secure system to safely perform any online payment. The platform is mainly geared towards online shops, like startups, online enterprises, web shops, or e-commerce ventures. This top fintech company was founded in 2014 by Abdulaziz Fahad Al Jouf in Al Khobar, Saudi Arabia.

Hatcher+
---
Singapore, Singapore | hq.hatcher.com
Through machine learning and artificial intelligence technologies, Hatcher+ identifies possible partnerships between investors and startups around the globe. Hatcher+ helps early-stage startups to secure investments. On the other hand, it helps investors create a fund and its recommendations result in successful returns to investors. The startup was founded by Dan Hoogterp, John Sharp, and Wissam Otaky in Singapore back in 2016.

Lightnet Group
---
Singapore, Singapore | lightnet.io
Lightnet, looks to increase cross-country payments in Southeast Asia. Lightnet's mission is to replace existing payment systems (ex. SWIFT) with a more modern and effective financial infrastructure. Bridging the gap between established banks and non-bank networks, Lightnet offers an instant and cost-effective financial option for customers, especially to the underbanked population.
The network is fast, affordable, and secure. It allows for real-time transactions across Asian borders. Lightnet is based in Singapore and was founded by Chatchaval Jiaravanon in 2018.

tabby
---
Dubai, UAE | tabby.ai
Perhaps it's not surprising that an innovative shopping startup found its home in Dubai, the shopping center capital of the world. Tabby was founded by Hosam Arab in 2019, and it's a cool fintech startup that basically allows customers to shop with less guilt.
Through its online payment service, Tabby offers clients a "buy now, pay later" alternative. You can choose between different payment options, such as paying 14 days after delivery or with 4 monthly installments that are interest-free. This service is available to people from Saudi Arabia and the United Arab Emirates.

MoMo
---
Ho Chi Minh, Vietnam | momo.vn
Momo is a versatile online payment platform that allows users to handle payments for just about everything. It's based in Ho Chi Minh and has been around since 2013.
Through partnerships with local banks and international payment networks, Momo offers an e-wallet service in Vietnam. Momo allows customers to make cash transfers, pay bills, settle loans, and make a variety of online purchases, such as buying airline tickets or paying for a taxi ride. You can also book hotels and buy games or movie tickets through Momo's platform.
What's more, the platform regularly shows customers discounted offers on items or services, promotions on their own deals, etc. Payment options are quite diverse, and users can opt for postpaid wallets (similar to credit cards) and repayment without interest.
The landscape of Asian fintech companies
Asia is home to nearly half of the top 20 fintech hubs in the world. Yet, similarly to Europe, the different regulations of each country present a common obstacle for cross-border development. A difficult hurdle to jump and one that should be tackled with awareness and compliance if a fintech startup is looking to expand its area of operations beyond its foundational borders.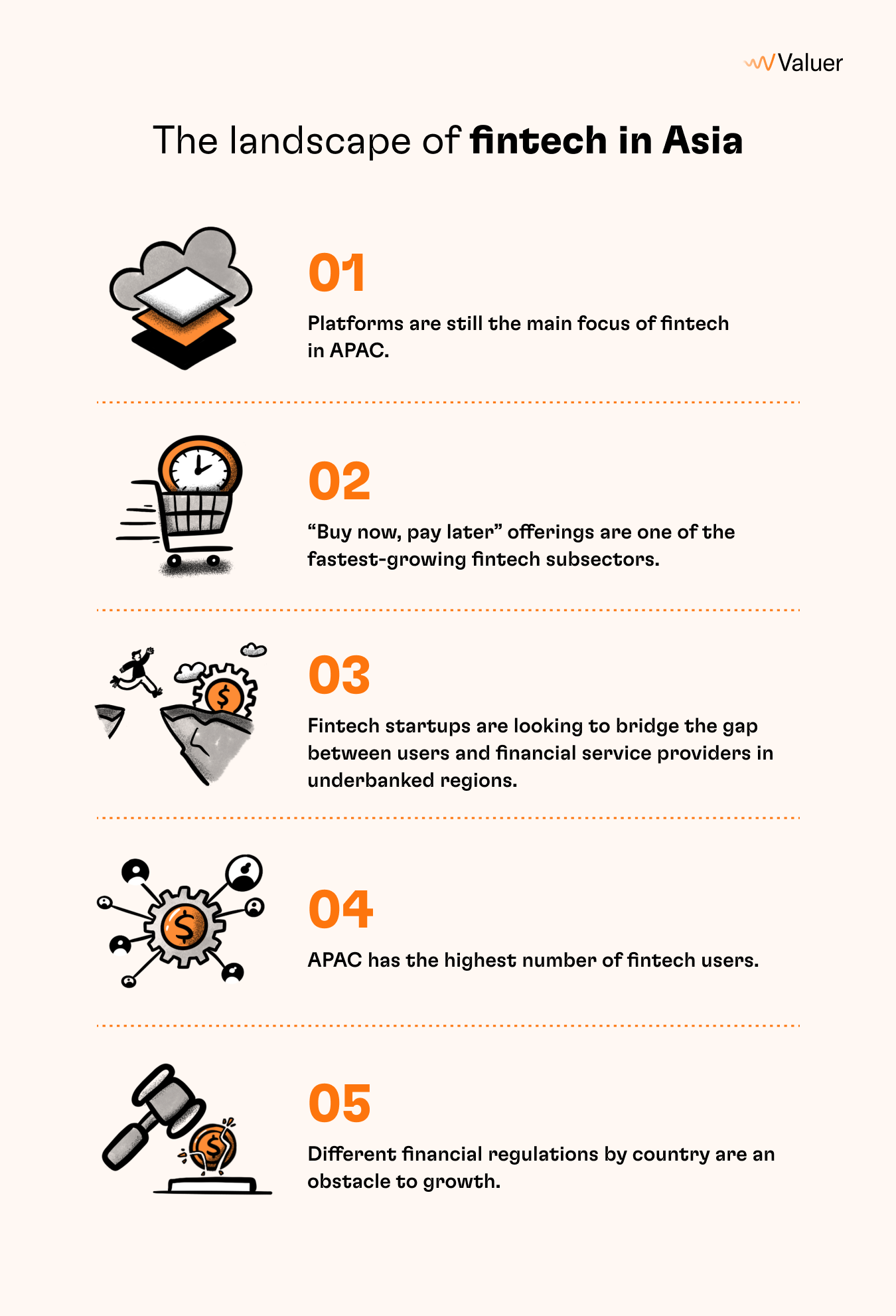 In any case, as we already mentioned, the growth of fintech startups in Southeast Asia and APAC is astounding. Trends from 2021 show that fintech in APAC is mainly focused around platforms, such as digital payment networks. SPACs (special purpose acquisition companies) and "buy now, pay later" developments in fintech also show great promise as there's a lot of public interest in these types of ventures. Consequently, they're considered one of the fastest-growing sub-sectors.
An example of this would be one of our list's top Asian fintech startups - the Vietnamese company MoMo. In addition, we also saw a similar offering from the Dubai-based Tabby. This implies that the popularity of these types of fintech startups isn't limited to APAC and is dispersed throughout various parts of Asia.
Lastly, Asian fintech companies have a lot of room for innovation because there are still some unbanked and underbanked regions in the continent that would stand to benefit from digitized financial services. India is an example of a country where fintech unicorns are aiming to become the link between people and financial services like banks, insurance companies, etc.
The way of the future
All these startups have managed to successfully permeate the market by offering financial services and solutions for everyday challenges. And not just that - today, it's more about streamlining financial processes and making them as smooth as possible. It's now about going beyond functionality - it's the fintech age of optimization.
With the implementation of innovative technologies, the top fintech companies in Asia have managed to improve the financial services industry, and improve people's everyday lives, while also attracting investments and collaborations from all over the world. We are excitedly left wondering which new innovative ideas will come from the East.