*Updated November 2022
The telecommunications (telecom) industry has connected the world, providing the network and infrastructure to enable smart and mobile devices. However, the traditional market is saturated. What's in store for the future of the telecom industry? The answer lies in innovative telecom startups, as the main innovation hubs around the world.
Disruptive telecom startups are transforming the industry
The telecom industry has been turned upside down as mobile and innovative services sweep the market. And yet, it is the sector that has acted as an enabler and disruptor since the early 2000s.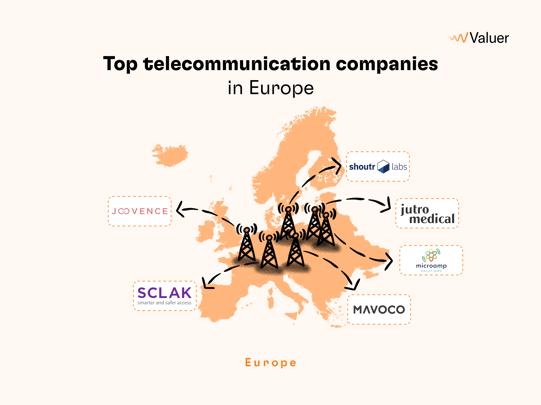 This is partly due to the removal of difficult regulations and the lower barrier of entry to the market. However, it is also linked to the fast-paced change within the technology industry driven by the evolving preferences of consumers and breakthrough technological innovations that reinvent the consumer experience.
In this article, you will find a list of telecommunication companies discovered through the Valuer platform. It showcases some of the most innovative candidates within their industry i.e. some of the top telecommunication companies on the market today.
The best telecom startups in Europe
---
Milan, Italy | sclak.com
First off on our list is Milan-based Sclak. Sclak was founded by Mastalli Andrea Filippo in 2014. So far, the company has received over $3.5 million in funding. Sclak deals with one of the most popular aspects of telecommunication innovation today - IoT, or the Internet of Things. This is technology that connects electronic devices to a central device, like a smartphone, through which you can set up automated processes or activate/deactivate the connected elements. Examples of this are smart homes or automated systems in agriculture.
Sclak, in particular, is a security system. It allows you to control electric, electromechanical, or electromagnetic locks that are used on shutters, gates, doors, etc., through a single smartphone app that you can install on your own device, like a smartphone. Sclak uses the highly secure SHA2 encryption protocol and offers a simple safety protocol in case you lose your phone.
---
Berlin, Germany | shoutrlabs.com
Shoutr Labs is a Berlin-based startup that was launched in 2013. The company tackles telecommunication innovation from an interesting angle - content sharing through WiFi networks. The startup is particularly geared towards museums, allowing them to enrich the visitors' experience. They also work with AR (augmented reality), often for the same purpose.

So how does it work? Basically, museum visitors have the opportunity to access content tailored for the particular exhibition through their smartphones by connecting to the museum's WiFi network (no need for an internet connection). This is much more than an audio guide because they get to interact with more aspects of the pieces and in forms beyond sound. The content can include static pages, AR, multimedia, or even direct communication to other visitors or the exhibitor.
For instance, back in 2016, Shoutr Labs helped the Berlin Natural History Museum enrich the visitors' physical experience for their main exhibit - the T-Rex called Tristan. Visitors received a map of the space that informed them of what they could explore. The six exhibition stations in the room showcased Tristan's skull, teeth, etc. Visitors could click on each separate piece to get more information, like a 3-D animation, talks or text about the T-Rex, or even an augmented reality animation of Tristan coming alive.

---
Eisenstadt, Austria | movoco.com
Mavoco is a B2B telecommunication startup that helps facilitate inter-device communication for IoT businesses. It was founded in 2014 by Anton Cabrespina, Helmut Lehner and is headquartered in Eisenstadt, Austria. The total funding for Mavoco to date is $8 million.

We already talked about an IoT startup (Sclak) and how its function is to connect the central, controlling device (a user's smartphone, for instance) to the network of controlled devices, like locks, electronics around the house, etc. Mavoco's project is to help those IoT businesses make sure that all the devices within a network stay connected at all times. To that end, they've developed a CMP (connectivity management platform) that ensures a constant connection between devices and offers 24/7/365 monitoring of those devices.

This platform can help IoT businesses simplify telecommunications processes. It's also easily scalable, integrates with a lot of software, and offers additional services for businesses regarding subscriptions, tariffs, etc.

---
Paris, France | joovence.com
Joovence is a startup that works with an interesting interdisciplinary branch of telecommunications - teledentistry. Where the focus is on orthodontics. The company was founded in 2020, so it's still in its early stages. However, the startup has gotten funding of around €1.7 million. Joovence was founded by David Dela Cruz and Nathan Carmel and operates in France, Italy, and Spain, although the official headquarters are in Paris.
Joovence doesn't sidestep the fundamental and traditional aspects of dentistry - they still work with physical locations and connect customers to some of the best orthodontists in their areas. What is different is that the platform allows users to complete their treatment with fewer visits to the dentist's office and offer additional access to custom projections, like 3D graphics of what their teeth could look like after treatment.

So, how does it work? First, interested users can sign up for free online and test if they're eligible through the website's online consultant (eConsultant). Then, they visit an office to get impressions and a professional opinion. Finally, they receive a 3D simulation of their teeth, after treatment, and estimations of how much time the treatment would take as well as how many aligners they'd need, etc.
If they wish to proceed, they can - at this point - pay and start their treatment with invisible aligners. Both in the age of the pandemic and at a time when cities are more crowded than ever and traffic is a nightmare, teledentistry seems like a great solution.

---
Warsaw, Poland | jutromedical.com
It's not just dentistry that can benefit from telecommunication innovation, but medicine too. Jutro Medical is a telemedicine company that combines in-person and online primary medical care. It was founded in 2019 by Adam Janczewski and is based in Warsaw, Poland. Funding has reached around 9.9 million USD, or €8.4 million. Like Joovence, Jutro Medical aims to use telecommunication to reduce the number of physical visits to a primary care physician and takes a mobile-first approach.

What's really amazing about Jutro Medical is that it comes at no additional expense for users and is integrated within the existing medical infrastructure, the National Health Fund (NHS). Users only need to download the app to gain access to a family doctor and receive tips or e-prescriptions through an online medical examination on the very same day. This reduces not only hospital visits but also time spent in queues.

In addition to the online check-up and e-prescriptions, patients can also make appointments for physical follow-ups at the Warsaw clinic, medical leave slips, and referrals.

---
Lublin, Poland | microamp-solutions.com
We're stepping into the age of 5G, and Microamp Solutions is one of the most innovative startups readying the world for the upcoming 5G networks. The company was founded in 2019 by Dawid Kuchta, Marcin Goralczyk, and Marta Kuchta and amassed funding of about $2.6 million to date. Microamp Solutions is headquartered in Lublin, Poland.
So, what exactly are the ambitions of this top telecom startup? For starters, the development of young technologies, such as autonomous vehicles, AR, VR, and IoT, requires connecting wireless networks that are more reliable, more stable, and faster.
Microamp Solutions is working on providing an innovative 5G mmWave infrastructure that would be appropriate for such new and demanding tech. In a more general sense, the 5G mmWave technology provides super-fast networks with minimal latency that could be set up in an easy and affordable manner.
Telecommunication in Europe and the world
The world is more connected than ever, and the barrier to entry has been lowered, meaning that hundreds of innovative telecom startups are surfacing around the world. Europe, as a major global region for startups, has already made great contributions to the rise of some top telecommunication companies.
As we saw, telecommunication innovation is a resourceful field that reaches into and revolutionizes multiple industries, going beyond the basics of social and business communication. The list of top telecommunication companies was a great example of that.

We witnessed how telecom startups are working on IoT and helping optimize it. We witnessed how telecommunication innovation can enrich the museum experience for visitors. We also saw telemedicine and teledentistry on the rise. This hints that we are - or indeed, have been for a while - at the cusp of a new phase in technology. Let us illustrate.

In the first book of his Hitchhiker's Guide to the Galaxy series, the late Douglas Adams characterizes the phases of civilization thus:
"The History of every major Galactic Civilization tends to pass through three distinct and recognizable phases, those of Survival, Inquiry, and Sophistication, otherwise known as the How, Why, and Where phases. For instance, the first phase is characterized by the question 'How can we eat?' the second by the question 'Why do we eat?' and the third by the question 'Where shall we have lunch?'"

Similarly, technologies such as telecommunication, once past the basics, enter the phase of sophistication. So, today it's not just about a phone call, it's about simplifying and optimizing every aspect of our lives. And come on- who doesn't hate going to the doctor's office?
The future of the telecom industry
Developments in 5G technology and AI within IoT are a big part of the future of the telecom industry. For starters, 5G has become a priority for multiple telecom sectors and companies, and 5G devices and networks are already up and running since 2019 in various locations around the globe.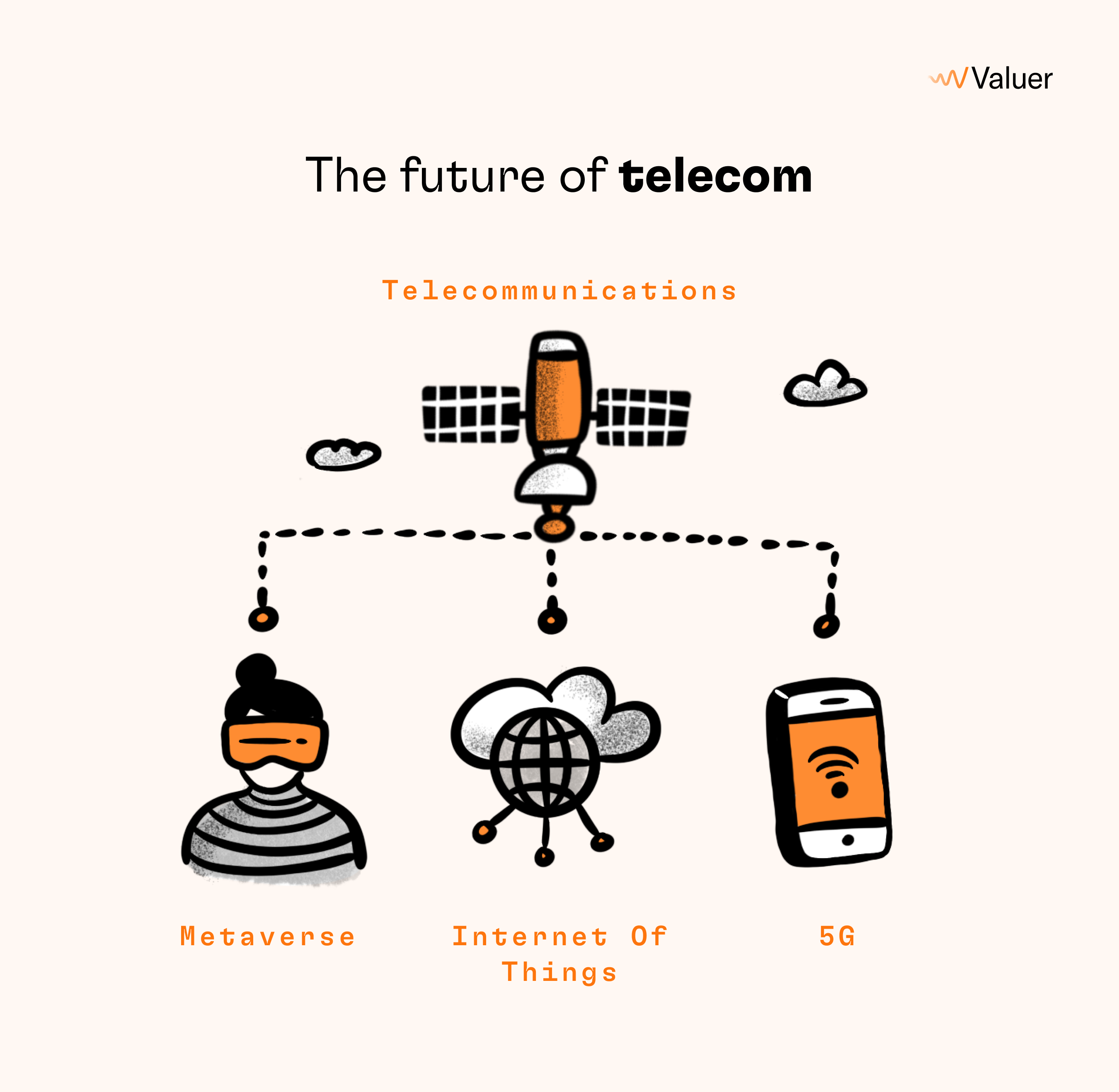 As a 5th generation mobile network, 5G is meant to provide faster speeds, lower latency, higher capacity, etc. The downside is that to use 5G, you need a 5G-compatible device - which means that the landfills may be in for another wave of discarded-yet-perfectly-functional smartphones.

IoT is all about connecting objects to our own devices that serve as a control center. From farmers being able to monitor weather and soil conditions to doctors using IoT robots to perform minimally invasive surgeries, the future of telecom will only see this subsector grow and flourish.

Then, there's the Metaverse. It's a given that the development of the Metaverse will revolutionize the way we communicate, at the very least through the popular medium of VR (virtual reality). And mind - all three - 5G, IoT, metaverse - are tightly interwoven, and the technologies grow together.
In any case, we're all very curious about the future of the telecom industry. But with the collective work of big industry giants and small innovative startups to popularize and eventually launch the Metaverse, we will likely be back to sci-fi novels to predict what the top telecommunication companies will be working on in a few years.