As the world continues to hold its breath for society to return to normalcy amidst the pandemic, there is no doubt that the consequences of it will change the course of our work lives for years to come.
According to a Gartner report, around 80% of organizations worldwide made it mandatory for workers to work from their homes during the pandemic. Another survey conducted by PwC says that 78% of digital decision-makers have agreed to let remote working continue even well after the pandemic is over. These decisions result in a spread of digital transformation and ultimately, a rise in the use of remote working technology.
About 70% of all companies worldwide have a digital transformation strategy or are already working on one. Companies all over the world are investing more into digital transformation now. During the pandemic, it has been estimated that while 52% of companies were ready to cut down on their spending, just a mere 9% considered cutting the cost for digital transformation. Digital solutions are expected to grow and are estimated to reach a valuation of a whopping $3,294 billion by 2025.
[Related Article - How to Remain Innovative as a Corporation While Working Remotely]
Remote work as a new normal
While the COVID-19 caused severe business disruption in various businesses, remote work offered the best alternative to continue business operations. Working from home has proven to be more productive, efficient, and convenient. In a FlexJob survey, 66% of participants reported remote work to be more productive and had lesser distractions.
While the pandemic pushed us all into quick remote working setups, if it were to be the long-term mode of work, companies need to step up their digital game and make it more optimized. The growing technological landscape, such as the launch of 5G, customer data platforms, hybrid cloud solutions, AI, and machine learning, can all be well utilized to spearhead your digital journey.
Providing laptops and access to cloud solutions is not enough if the remote work culture becomes a crucial part of the organization. Now is an excellent time to learn about the needs of remote working environments and find better ways, better digital transformation solutions to strengthen a flourishing remote work culture in every company.
3 ways corporate digital transformation can help create a remote work culture
Many companies that want to start their digital transformation journey to create a remote work culture don't know what steps should be taken.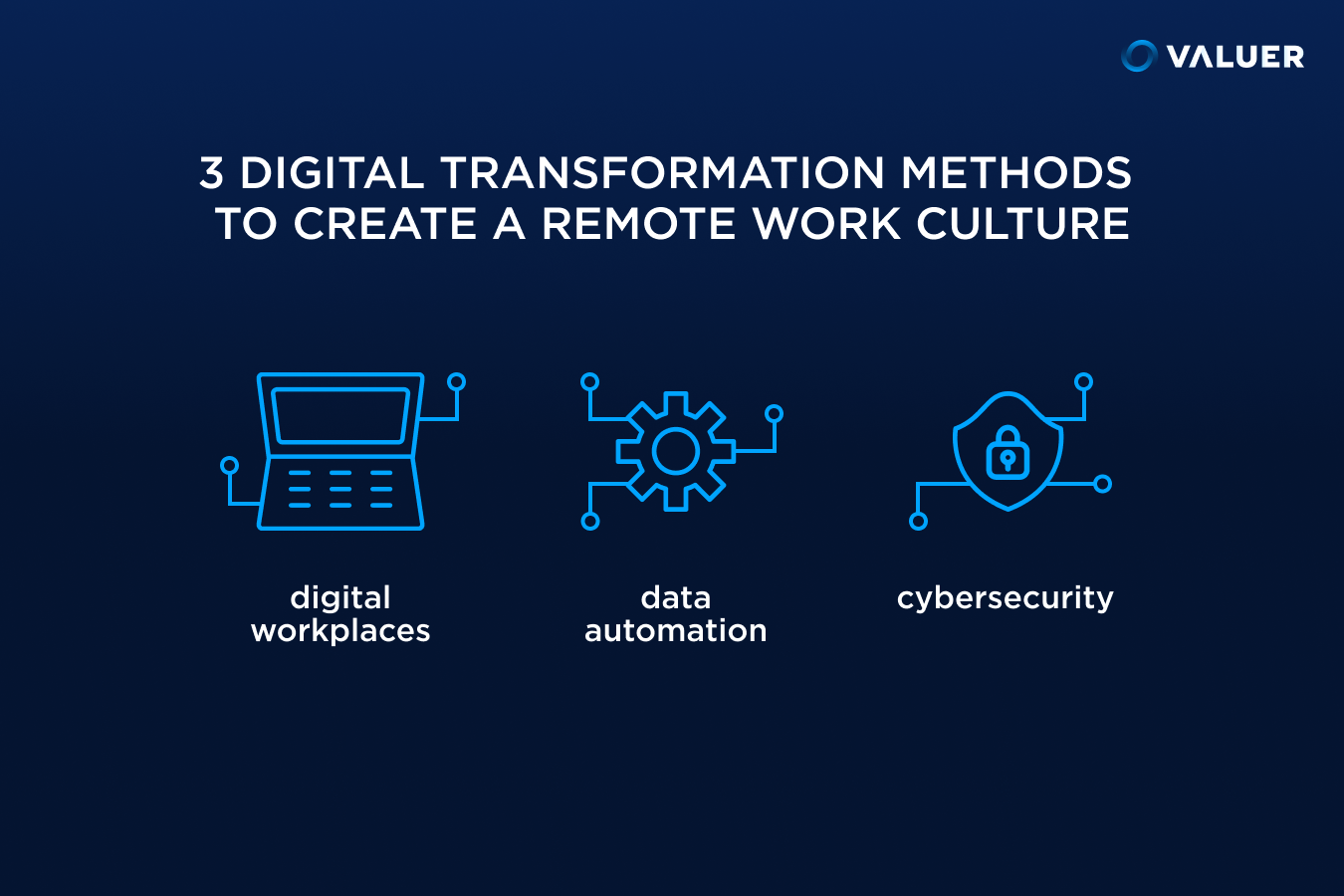 Here are three ways of implementing digital transformation for remote work in a company of any size:
Digital Workplaces
Zoom and Skype business calls helped many businesses through the pandemic. But these will not suffice if a company is thinking about remote working for the long term. It's time to completely revamp your business communication channels, make way for digitalization, and provide a virtual work environment.
Even when working from home, the employees should feel the professional space during their work hours. Digital workplaces are aimed to help employees get their work done with good quality and on time.
A modern digital workspace should satisfy all the organization's needs - from daily tasks to management and analytical job. No matter the location, employees should access information quickly and perform their work without any hassle.
Some early adopters of flexible working and remote working like the UK Department for Work and Pensions have found immense benefits by launching innovative digital workspaces. The UK DWP department found great success with their digital workspace initiative that was a gamification platform. The platform encouraged users to submit innovative ideas and help find better ways to improve work engagement among their employees.
United, a regional financial services company from America, collaborated with Microsoft Fasttrack to deploy a cloud-based mobile device management plan. This system helps their employees to work remotely and securely and gives them full freedom to use their mobile devices for work without worries of information leaks.
The local government of the town of Cascais in Portugal has launched a mobile-enabled digital workplace that has dramatically improved their employees' productivity. Several apps for document management, email, online collaboration were made available for access across multiple device platforms. The employees were equipped with better connectivity with the Microsoft Exchange Online platform, which further helped bring the team under a unified corporate email service.
Excuses about task delays because of remote work is a big issue for any company. This is the main reason to provide employees with all the necessary digital tools, applications, and IT infrastructure required for a smooth workflow.
Emphasizing the need for communication and encouraging teams to adopt digital communication tools to share all work-related information and record every transaction - is a must for a company that wants to digitalize its workflow.
Data automation
As you are trying to create a remote working culture, you will soon find that the rules don't work the same way when there is little physical contact within your organization's various departments. Ensure your employees can carry out administrative tasks and interdepartmental tasks smoothly by using business automation software.
Automated HR systems, help desks, automated analytics, reporting, automated project management, and other supporting services need to be implemented and set in place to ensure excellent work. All the data must be stored and managed automatically and digitally to avoid losing important information when working remotely.
For instance, consider using a regular spreadsheet application. An average user spends about 9 hours a week updating information manually. By using automation tools, you can easily consolidate your various data reports and get the job done quickly. You can check out some widespread data automation and collaboration tools like Google Suite, MS Office teams, Trello, Assembla, Github, Jira, and more to make your jobs easier and suit your collaborative needs.
One better way to accomplish this issue is to get a custom automation tool for your company's needs. Outsourcing business process automation to software development partners is a cost-effective solution that lets employees and managers focus on core project activities and accomplish regular and repetitive tasks with software solutions.
Cybersecurity
One of the biggest concerns with remote work is the overall security of your company data and confidential work documents and emails. Remote working makes you more vulnerable to cyber-attacks. But with the help of the right digital tools and the best security solutions, you can prevent your cybersecurity issues.
First of all, you need to educate and train your staff on the security best practices and pitfalls and use advanced authentication systems to prevent any attempt at backdoor access.
Here are some prevalent cyber-attacks your team should be aware of:
Phishing emails. A cybersecurity report says that phishing emails have considerably increased 600% since the COVID-19. You can get a tool that helps to recognize suspicious emails and warn your team.

Loss of personal devices that could let an attacker gain access to your company data. Employing multi-factor authentication and device encryptions can avoid illegal data access in case of stolen or missed mobile and laptop devices.

Unsafe Wi-Fi networks. Employ a proper VPN to ensure all data access to your organization's data happens through secure encrypted channels only.

Security vulnerabilities present in personal devices. Formulate the best practices and security recommendations for your BYOD policy and make sure your employees keep their devices up to date with all the latest security patches.
You will have to decentralize your IT infrastructure and use proper cloud-based solutions with stable security features. You can also employ AI and machine learning-based monitoring and threat prevention systems to strengthen your cybersecurity.
Cultural change through the digital transformation journey
About 87% of companies believe building culture in remote teams is the topmost challenge in implementing a remote work model.
Some companies are afraid of starting their digital transformation journey as they are scared of big changes. But all these changes are exceptionally positive.
Internal resistance within your teams may arise due to the fear of uncertainty and changes remote working can bring to your work culture.
Every organization has to tackle the initial inertia to adopt new changes, the doubts about the changes, and the possible cynical criticisms towards the digitization efforts. You need to ensure your teams are well informed of the need for change, your goals and be trained on the right way to accept the changes digital transformation brings in. It is up to the leaders to ensure that the human component of remote working is well taken care of with proper communication and an efficient digital transformation plan.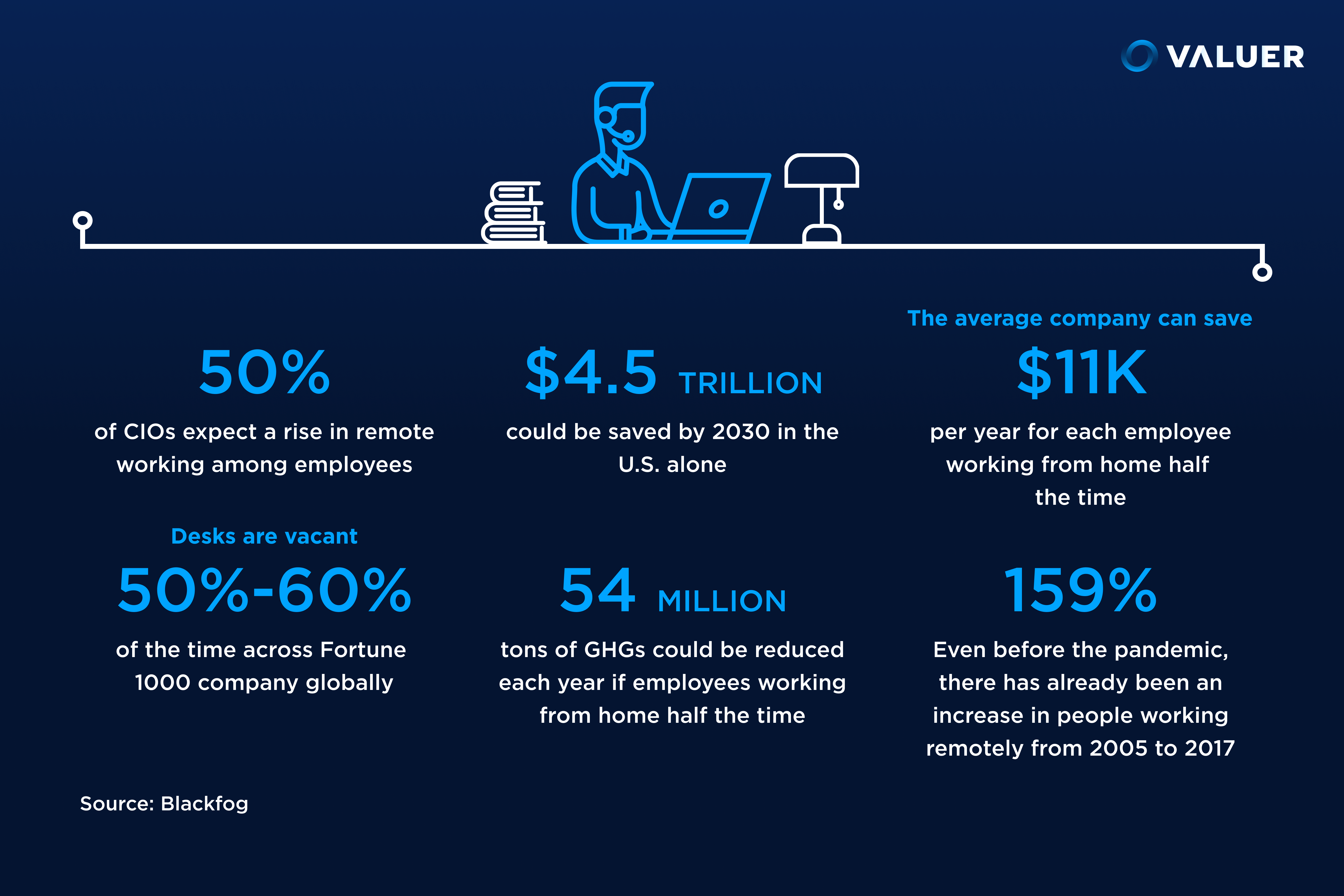 Be open to digital innovations and foster an environment that promotes digital transparency and a healthy work-life balance.
So, where to start?
Digital transformation could affect various aspects of your business, such as process automation, business models, customer experiences, marketing strategies, technology adoption, remote working, and more. Not understanding the impact of digitization and failing to set clear goals may cause hiccups when implementing your digital strategy.
The first step should be consulting with experts and have a good understanding of your digital goals. Create a roadmap that clearly defines the various stages of digital transformation your company needs, and start implementing each of them step by step.
Fostering a remote working culture goes beyond just asking your employees to work from home. Try to build a strong culture with the help of digital tools and a good understanding of your team dynamics so that you can build strong long-term relationships even when working remotely from diverse physical locations.
You must build a trusting work environment with no communication barriers. The road forward will be digital, so start paving your way early on with an open mindset towards innovations.
Valuer has developed a data-driven platform that connects corporates, accelerators and venture funds with new technologies, by using a combination of their database infused with artificial intelligence matching technology alongside data from external sources.
The vision is to help firms discover, analyze and connect with new companies that can help boost their innovation activities and take their company to the next level.
Guest Author: Iryna Bilyk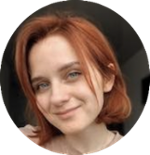 Iryna Bilyk is an expert content marketing manager who works at YouTeam - a marketplace for instant engineering team extension. She passionately discovers and writes about technology, innovations, and software development solutions.