The changing landscape of corporate innovation
In 2014, Sphero moved its team to California for a four-month acceleration program at Walt Disney's corporate accelerator run by Techstars. Sphero had just graduated from its first Techstars accelerator and sold over $20 million in products.
So, why this move?
As CEO Adam Wilson said: "[We] were looking for guidance to take [our] products to the next level, to infuse a deeper story into our robots." Four months later, the BB8 robot toy from Star Wars: The Force Awakens was born. Sphero's business transformed the moment it signed the Disney deal, setting a perfect example of what corporate accelerators can do for startups.
Going back to the beginning of the corporate accelerator model, in 2021 Techstars pioneered the concept when it partnered with Microsoft to manage its corporate three-month intense, hands-on mentor program. The rest is history. Today, according to the Corporate Accelerator Database, there are over 71 corporate accelerators launched worldwide and hundreds of stories like Sphero's.
By definition, a corporate accelerator is an accelerator managed by or directly sponsored by one or multiple established firms. The motivation behind it ranges from staying close to emerging trends and talent pools to sourcing deals for corporate venture capital activity and diversifying their existing investment portfolio. In the Deloitte report, it describes them as "a valuable innovation and business building tool that is fast and agile, like an experimental playground". In their quest for innovation and activating new business development opportunities, corporates are now placing their bets on corporate accelerators.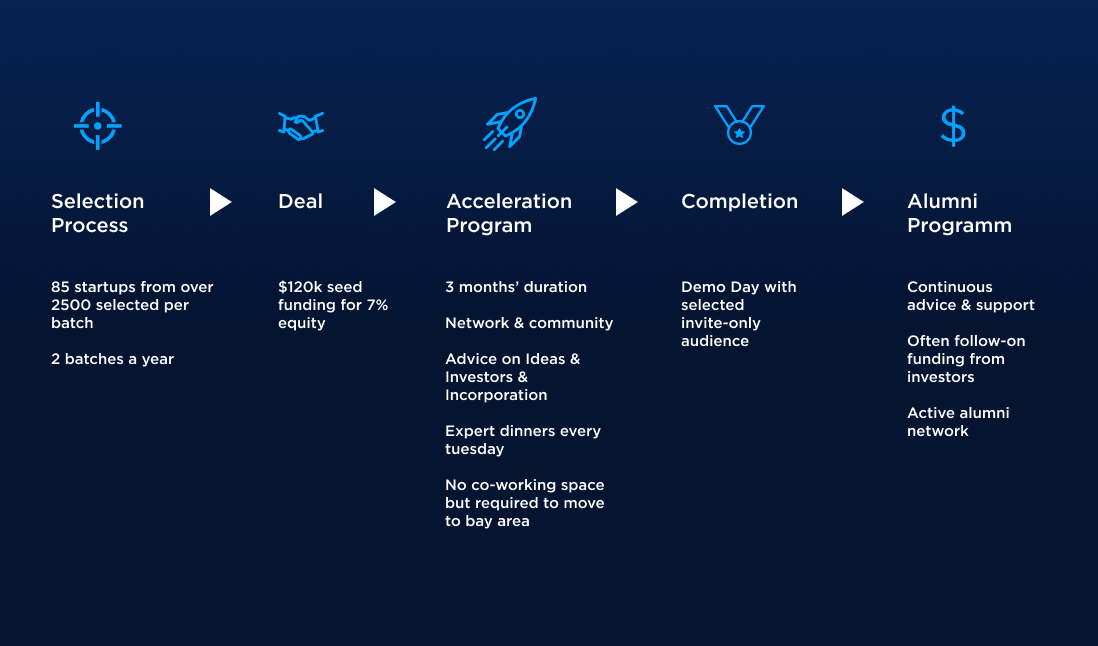 Revisiting the market for innovation
There are only two options for corporates today, argues Gary Stewart, director of Wayra UK, the accelerator of global telecoms company Telefónica. "We have to disrupt or we will be disrupted."
Startups are major sources of innovation, as they capitalize on emerging technologies to invent products and services or reinvent business models. Corporates, on the other hand, tend to rely on the practices that have enabled them to compete and thrive, and they are often slow to react and adapt to new opportunities. For startups and corporates, a corporate accelerator offers the best of both worlds.
"When it comes to agility, start-ups have an edge over large corporations – whereas large corporations sit on resources which start-ups can only dream of. The combination of entrepreneurial activity with corporate ability seems like a perfect match, but can be elusive to achieve." - as Tobias Weiblen and Henry W. Chesbrough wrote in a 2015 article titled, Engaging with Startups to Enhance Corporate Innovation.
"To transform the core, a corporate needs some partners that provide radical innovations and other partners that bundle such innovations", as stated in the report After the Honeymoon Ends: Making Corporate-Startup Relationships Work by Boston Consulting Group.
In order to challenge the status quo and bring innovation forward, corporate accelerators cannot simply rely on a good reputation. They need to create one, in order to attract the best candidates. In order to start, they have to turn on their search mechanisms.
[Related Article - Partnering With New Businesses as a Corporation]
Building the next generation of entrepreneurs
Corporate accelerators have the resources and capital to empower the future generation of entrepreneurs and unlock their potential.
Bring on the challenge
Challenges are becoming an increasingly common form of engagement by corporates and the corporate accelerator is in the perfect position to facilitate this engagement by organizing an innovation challenge.
Take the New Energy Challenge by Shell, for example. Every year, Shell Ventures partners with Rockstart, YES! Delft, and Get in the Ring and brings together startups that develop disruptive solutions that could be vital in accelerating the energy transition. Startups get a grant, a Shell mentor and direct entry to world-class accelerator programs. What more could they need?
and the winner is...
Each year innovative-minded student entrepreneurs compete for the Philips Innovation Award. As the largest student-entrepreneur award in The Netherlands, The Philips Innovation Award brings together students with innovative ideas wishing to turn them into a real start-up.
With the mission to stimulate an innovative entrepreneurial culture among students, an innovation award model could bring fresh, new ideas to the corporate world. Having your corporate name attached to the Innovation Award, will have students lining up in no time.
Hack the problem
In Silicon Valley, ideas have been born from brainstorming for years. Today, locking yourself up in a room for 72 hours to try and find a solution for a problem is called a hackathon. Hackathons, for example, are an integral part of MasterCard's innovation strategy.
Each year, MasterCard organizes the Masters of Code Competition which takes place across their 10 Innovation Hubs. The competition is a series of hackathons that brought together the world's top developers, designers and entrepreneurs to leverage the power of MasterCard APIs. A must on the agenda of any corporate accelerator.
Activate your network
Innovation is everywhere. It is just waiting to be discovered. So why wait for innovation to come to you, when you can search for it yourself? One of the advantages of corporate accelerators is their vast network of partners, with whom they can join forces in their quest for the next big thing.
Get into the academic world
Want to identify the next business leader of tomorrow? He might be still studying at the library. So, while he is still studying for his exams or is busy writing his academic term paper, a corporate accelerator can partner up with a world-renowned business school, sponsor a number of scholarships to prospective students and offer its experience in entrepreneurship and business development and strategy by providing a few lectures during the academic year. Who knows? You might even inspire him to drop out and start a business immediately.
Sponsor a big event
We have all heard of the Web Summit, the Mecca for startups. It's an annual tech event that promises eye-opening experiences, exposure to emerging trends and the best of the best when it comes to startup discovery. It allows corporate accelerators access and exposure to entrepreneurs, talent, ideas and trends that will certainly refresh your startup portfolio. By sponsoring such an event or organizing a side event within an event of that size, new possibilities will be popping up immediately.
Scouting mission
Finding the needle in the haystack is not an easy task. But who said startup scouting is easy? With hundreds of thousands of startups created each year, how do you distinguish the very best from the rest? Leave it to the scouts, their meetings, networking lunches and after-work drinks. In the end, unmasking startup heroes and discovering incredible innovations makes it all worthwhile.
Turn the corporation into a test bed
One of the biggest assets of the corporate accelerator is its connection to the core of the corporation, its people, resources, and knowledge. Why not turn all that into having a competitive edge?
Concept testing
Many startups today need the necessary tools and expertise from corporates to assess whether their product prototype is marketable without having to actually introduce the product into the market. The corporate accelerator is in a position to turn the corporate into a test bed and this is exactly what BMW Startup Garage does.
By becoming an early client of startups with groundbreaking technologies that might potentially have a huge impact on their business, BMW Startup Garage gains early access to promising new technologies at low cost and basically free of risk, while startups get the necessary feedback to get the product right. Win- win.
Customer immersion
By facilitating access to their clients and customers, corporates can help startups test, improve and promote their product or value proposition, while also providing corporates with insights into what their customers are likely to value.
Marriott Hotels' TestBed program is pioneering this concept by allowing startups whose purpose is to improve the entire hotel guest experience to test their products and services within an operating Marriott Hotel in Europe. That way startups receive the needed feedback from Marriott's guests and associates, and Marriott Hotels embrace new technology to streamline processes in their domain.
Coworking space
The open, fast-paced atmosphere in coworking spaces fosters creativity and innovation and many corporates are embracing the new movement. They can create coworking spaces themselves by carving out unused space in their building and offering it to the community.
For example, Johnson and Johnson has a coworking incubator space called JLabs, which provides early-stage companies access to its research facilities, financial support, office space and administrative support. But more importantly, it keeps the potential next healthtech unicorns close to them.
A new way of innovation
In order to succeed in an increasingly competitive market and to withstand disruptive developments, corporates need to find additional sources of innovation. Partnering and collaborating with startups is a great way to accelerate the entire corporate innovation journey and identify the most disruptive startups and business models in order to shape the future of the industry. The corporate accelerator is just one of the mechanisms facilitating this engagement, and has so far proven as a successful one.
Staying ahead of the curve and spotting innovation as it happens is the "why" of the corporate accelerator phenomenon and accelerators are becoming an important tool, helping them deal with one of the most disruptive periods in the history of the corporate world, and supporting their journey from 'now' to 'next'.
It's been a steep learning curve over the past few years for corporates, but the experience has helped them gain confidence in their ability to make corporate-startup collaborations work, as stated in Boston Consulting Group's report. Moreover, the need for radical change and scaling fast will certainly drive future corporate - startups partnerships and corporate accelerators are at the frontline of this phenomenon.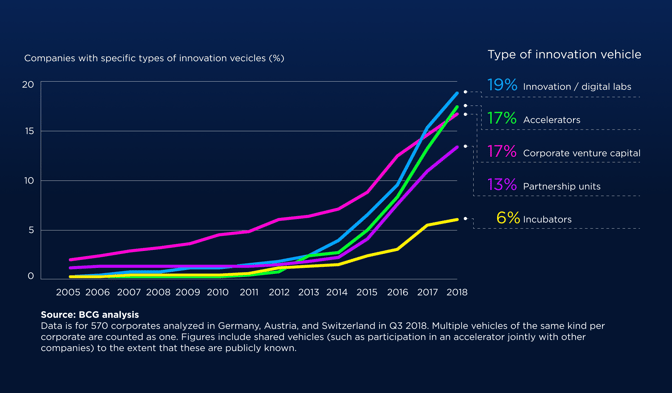 Leaving behind the internal corporate quest for new business opportunities, it is important to note that external parties can also offer a helping hand in this process.
Valuer.ai has developed a data-driven platform that connects corporates, accelerators and venture funds with new technologies, by using a combination of their database infused with artificial intelligence matching technology alongside data from external sources.
The vision is to help firms discover, analyze and connect with new companies that can help boost their innovation activities and take their company to the next level.