*Updated August 2022
If you happen to be working in global supply chain management, you've likely felt the supply chain squeeze for a couple of years now. However, the run-up to Christmas 2021 seems to be when the "squeeze" became a pressure cooker due to increased public awareness and fear-mongering around the "cancellation of Christmas"- at least within the North American markets.
There are also knock-on effects from the logistics and supply chain management bust-ups, plus other global events, which have led to an 8.5% inflation increase in the US by July 2022. This is also mirrored by an 8.9% HICP inflation in the EU by July 2022.
Needless to say, there has been a lot of analysis and divisive rhetoric trying to pinpoint a specific cause for the current state of the global supply chain flow, much of which seems to have been misconstrued or amplified as political ammunition.
In this article, we are going to look at the facts and the general consensus regarding the major contributing factors to the current challenges of global supply chain management. We look at how our research and investigation reveal a perfect storm of contentious geopolitics, the global pandemic, a lack of global industry standards, and the continued use of antiquated systems for controlling supply and demand.
The strain that led to the squeeze
As we all know, 2021 was not uneventful regarding all of the fateful events that happened around the globe. A lot of these events have played a role in leading to the global supply chain crisis in 2021. Not only did these events affect regular consumers, but also an enormous amount of businesses in practically every industry. Let's dive into a few aspects that prompted the shortages of supply.
Computer Chip Shortage
One of the most impactful issues that the supply crisis has brought is the scarcity of computer chips which are a fundamental part of the automotive and technology industry. Unfortunately, it is an ongoing problem, and according to Brandon Kulik, head of Deloitte's semiconductor industry practice:
"The shortages are going to continue indefinitely. Maybe that doesn't mean 10 years, but certainly, we're not talking about quarters. We're talking about years."
It doesn't sound very optimistic, however, let's dive into the reasons that caused this misfortune.
First of all, the demand is significantly higher than the supply available at this current moment. People keep buying new phones, computers, and consoles, even though the shipping time keeps prolonging.
Moreover, do you remember the horrible fire at Renesas Electronics factory in Naka, Japan on March 19, 2021? A power surge resulted in a fire that damaged 23 machines which led to an international disaster. But why did it make such a huge impact? Mostly because this company has significant control over the production of microcontroller chips used in cars. It took more than 3 months for the computer chip supplier to get back to full capacity, meanwhile outsourcing the production to other vendors in different Asian countries.
Furthermore, many car manufacturing brands like Toyota, Nissan, and Honda had to pause their manufacturing due to the lack of raw materials, which makes the shipping process far longer.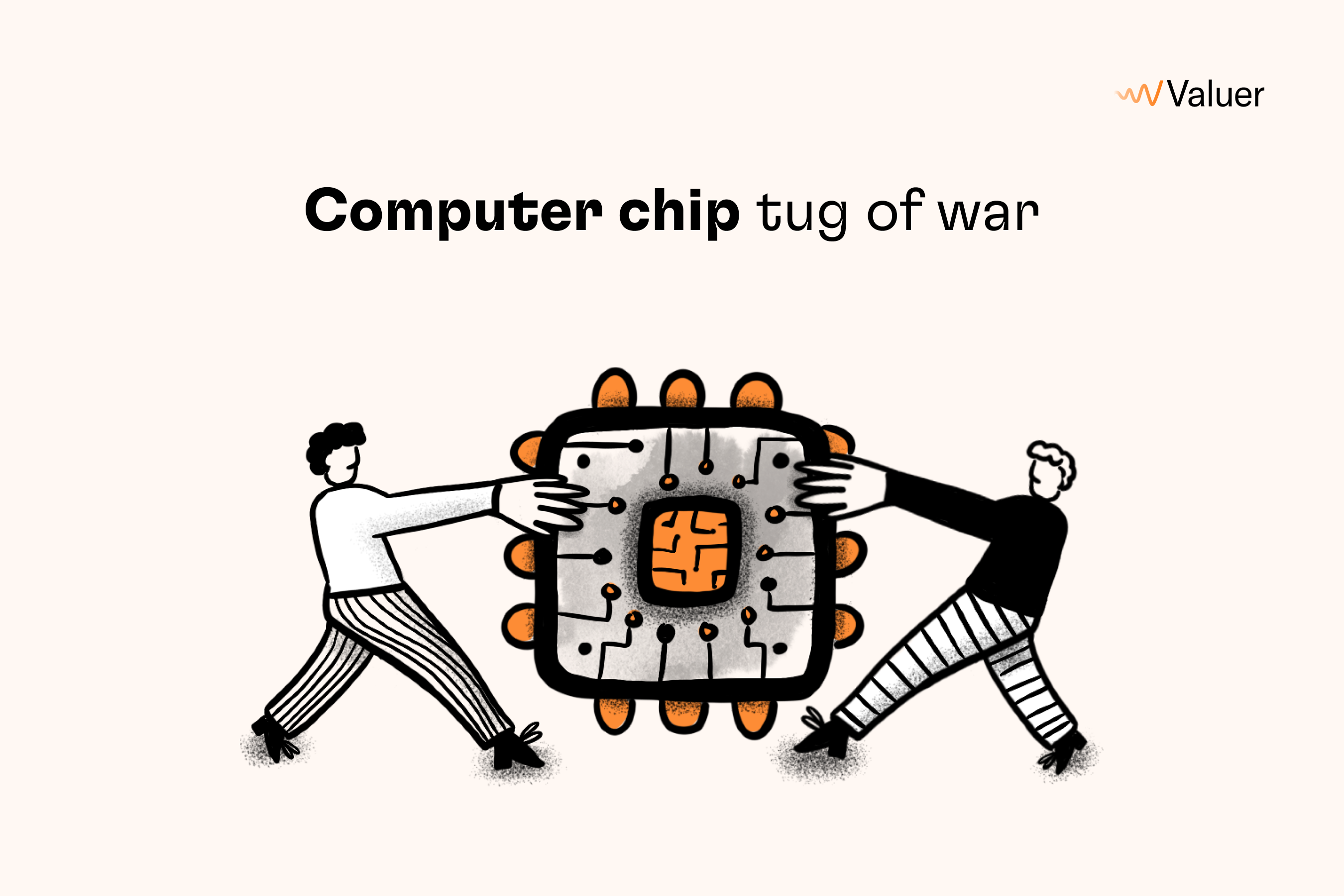 However, we might wonder why nobody tried to create new production facilities in order to optimize the ongoing problem. In fact, there have been a few companies, for instance, Samsung and Intel, that decided to build new fab plants, but unfortunately, it takes more than a few weeks to create such advanced infrastructures. Going further, another problem is that there are not enough skilled employees that would be willing to work on the construction project.
Could it get even worse? Unfortunately, yes. The shipping delays have made everything even more complicated. Global Pandemic shutdowns, a deep freeze in Texas in February 2021, and a Covid outbreak in Malaysia - where the chip-packaging plants had to shut down were only a few more reasons that made everything extremely difficult to fix.
Remember Brexit?
Moving on to another reason for the supply crisis, you probably remember Brexit. And how much it has changed the EU as well as the whole trading system between European countries. Even though the UK's decision about leaving the EU was made in 2016, it started to impede shipping relations with neighboring European countries at the start of January 2020.
This hit both sides hard as 43% of British exports were to these neighboring EU countries. Nevertheless, a significant number of manufacturers, including the electronics industry, claimed that the supply challenges are the result of Brexit's restrictions. For example, the UK has an ebb and flow deficiency of 90,000 HGV drivers, and Brexit was the impetus for this deficiency.
Raw Material Shortages
Another important factor connected to difficulties in the supply chain flow is raw material shortages. For instance, have you tried to renovate your house and the wait for the furniture was exceedingly long? The reason is down to the delays of shipments in many industries like foam producers for mattresses and couches.
Another great example is the PS5 shortage that forced Sony to produce the older versions of the gaming console due to the global chip shortages that were mentioned before. Sony confirmed that throughout the year 2022, that will be their tactic in order to "fill the supply vacuum and keep gamers within the PlayStation ecosystem". As we can see, the spread of the COVID-19 virus impacted negatively not only our healthcare system but also a lot of different aspects of our everyday lives.
Green supply chain start
ups from our platform:

The year the world changed
With all that said, let's go back to the beginning of the unfortunate year of 2020 when the global pandemic showed its tragic effects. As we remember, almost every country went into a full lockdown without knowing what the outcome might bring. Unfortunately, we didn't have to wait long to see the results.
Panic, lockdown, and safety precautions
Without a doubt, lockdowns have changed a lot in our daily lives. But there were a few positive aspects that came out of them, for example, spending more time with your family or overall better personal hygiene. However, there were more than enough negative sides to the pandemic. Panic, isolation, and uncertainty caused a big downgrade in peoples' mental health.
Changing safety precautions after each lockdown, vast amounts of fake information related to COVID-19, and the vaccination were more than enough to mess with people's optimistic outlooks on the future. And if you own a business, you were probably greatly impacted by the restrictions as well as the shortcomings. And to add more frustrations to our everyday lives, a complete crisis in the supply chain was another reason to worry about. How did it happen?
According to Steven Melnyk, Professor of Supply Chain Management at Michigan State University:
"Existing supply chain models have been very efficient at driving down costs. But the pandemic has highlighted serious risks to the supply chain, and now is the time for companies to take a serious look at whether they can simply return to their previous supply chain model…This will still include a global factor, but the long-term rebalancing will limit exposure by avoiding single-region or single-supplier sourcing. A balance of global, regional, and local sourcing will prove to be less risky and more efficient in the long run."
With that said, it's time for companies and governments to reconsider their logistics and supply chain management strategies and make them more robust to cope with events "out of our control." But to understand these different strategies, let's briefly brush up on geopolitical relations.
Geopolitics and supply chain flow
Firstly, the relationship between China and the USA has been far from ideal prior to the global pandemic. Yet, after COVID-19 spread, the shift in cooperation between those two countries changed the whole supply chain flow worldwide. Before, countries strived for efficiency and low labor costs but now, with the rising trend of protectionism in the States, that has spread to other nations and the blockades in the logistic networks. Acquiring a new strategy was an inevitable outcome.
To begin with, there is a strategy that aims to redirect manufacturing back into the domestic markets. This is called Reshoring, and it has been a popular shift in the supply chain, mostly in the USA, due to its tense relationship with China since 2019.
Another idea, called Nearshoring, is striving to restructure various supply chains, by bringing them into a country geographically closer to their consumer markets. Think maquiladoras for US-based markets.
Lastly, the strategy called China +1 aims to comprise a supply chain flow that deals with other countries in addition to China. This lets corporations leverage their existing supply chains while allowing them to keep access to the Chinese market. This will reduce over-dependence and make the supply chain flow more robust. But just changing supply chain management strategies is just one area of consideration when it comes to supply chain flow.
Consumers buying more
One thing that needs to be asked is if the supply chain issues in 2021 contributed to consumer behavior change. We all experienced a situation when we wanted to buy some basic supplies like toilet paper, face masks, or even disinfectant liquids during the outbreak of the virus. However, the reasoning behind those situations is not only prompted by the shortages in global supply chains but also because people started panic buying in order to prepare themselves for the uncertain times.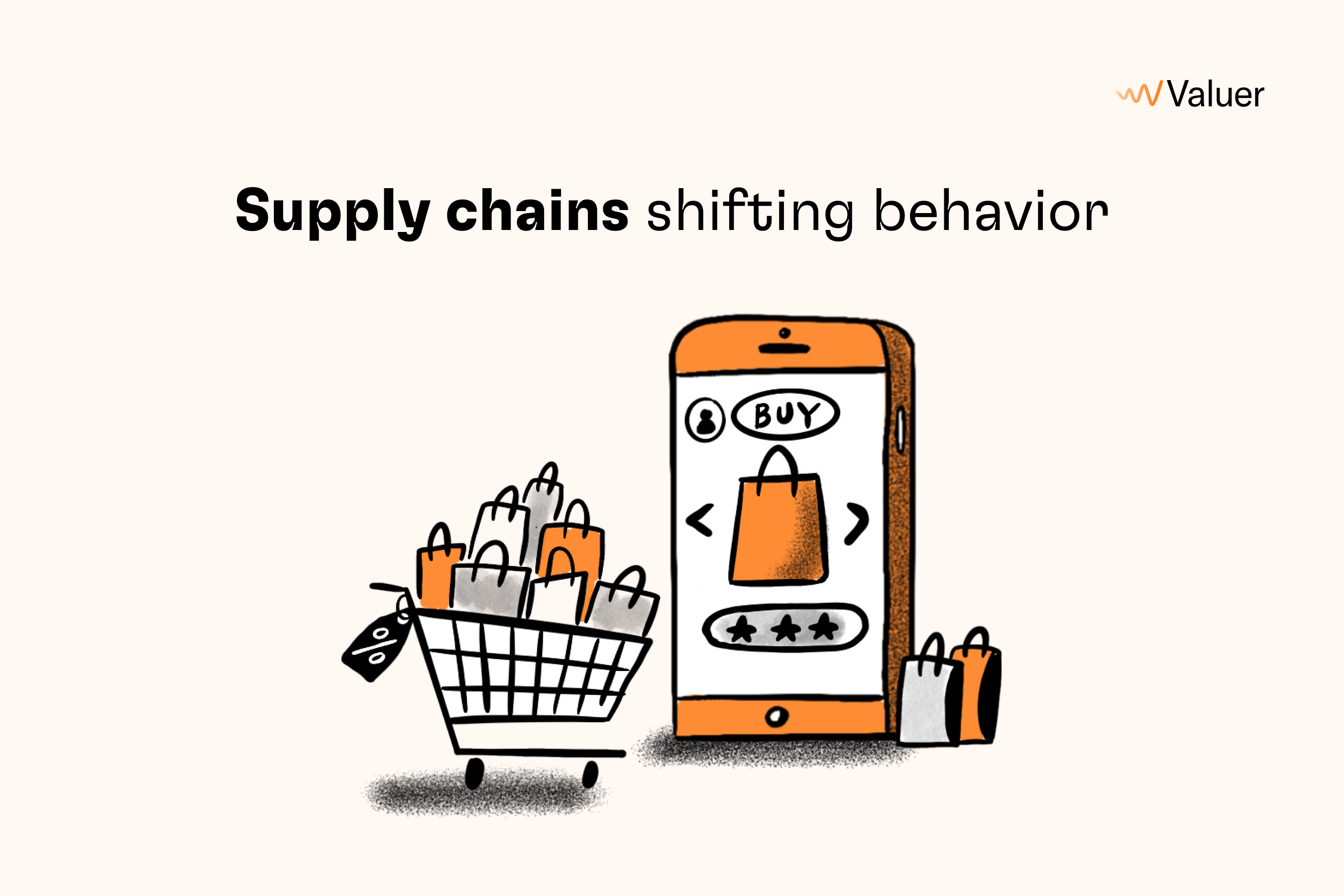 Looking at the statistics, we can observe an enormous increase in the number of food purchases in 2020 prior to the year before. For instance, canned meat purchases grew by 88%, Rice purchases increased by around 66%, and oat milk by 377%. This increase is down to the fact that those products are long-lasting. You can see that the sheer uncertainty has changed a lot in our buying behavior.
Moreover, the problem seemed to get even more complicated due to the fact that shortages started to pile on one another. It appears that there is a trickle-down or snowball effect when it comes to issues with supply chain flow.
Antiquated global supply chain management systems
It's undeniable that our logistics and supply chain management systems are quite outdated and ready for an upgrade. Even though the adaptations are always an extremely expensive process, it's wise we start changing them in order to move with the changing trends.
Some actions that could be taken can be described in the three areas of improvement according to Forbes:
It is important to limit and control the sourcing strategy from other countries. Having no regional production facilities is not an ideal solution when there is a global shutdown related to a pandemic. Hence, regionalization is a way to go.

Create a supply chain that is driven by itself and highly automated. It means that using AI technologies is key in preventing a supply chain crisis from happening in the future.

Modernization is the last step to optimizing logistics and supply chain management operations. For example, replacing manual spreadsheets with using advanced software to control operations is a great way to start.
Despite the rocky path the future of logistics and supply chain management is bright
The last two years have been challenging in many sectors of our life. In 2021, in the wake of the COVID-19 pandemic, global supply chain management flow broke down, leading to global shortages, and affecting consumption patterns. In early 2020, the COVID-19 pandemic first slowed down the global supply chain flow as manufacturers suspended operations. What struck so hard and quickly at the unprecedented logistics disruption was the speed at which a single problem snowballed into a crisis.
Moreover, raw material shortages and the overall fear of the unknown must have decreased everybody's hope for a better future. The threat of the virus on our health as well as our daily activities was more than enough to change our behaviors.
However, many initiatives have been taken in order to optimize logistics and supply chain management. For instance, creating more production infrastructures or preparing strategies that aim to rebuild the global supply chain flow. Creating modern and regional logistic networks that would survive during the next global disaster is the way forward. The crisis, even though predictable and harmful to a significant amount of industries, might have brought innovative changes that will help us survive any future catastrophes.