While innovative startups come and go like the wind, there is always something to learn by watching when pinnacle examples of corporate business and industry leaders forget that they aren't untouchable.
Market shifts can rattle the foundations of even the most prominent enterprises. It is a reminder that no one is safe and that complacency can lead to innovation failure. So, to learn from the more famous examples of a marketing failure, here are 50 brands that failed to innovate.

1. Kodak
---
Kodak is a technology company that dominated the photographic film market during most of the 20th century.
How they failed to innovate:
Even though they developed the world's first digital camera, the management was so focused on the success of photography film that they missed the digital revolution. They failed to keep innovating and filed for bankruptcy in 2012.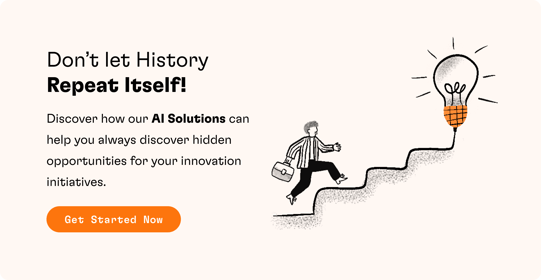 2. Nokia
---
Nokia was the first to create a cellular network in the world. In the late 1990s and early 2000s, Nokia was the global leader in mobile phones.
How they failed to innovate:
The company overestimated the strength of its brand and believed it could arrive late to the smartphone race and still win. In 2008, one year after the first iPhone release, Nokia finally decided to compete with Android, but it was too late. Their products weren't competitive enough.

3. Yahoo
---
In 2005, Yahoo was one of the leading players in the online advertising market. But it undervalued the importance of Search in favor of pursuing a presence in traditional media outlets.
How they failed to innovate:
Focusing more on media meant they neglected consumer trends and needed to improve the user experience. Yahoo failed to develop a model to monetize content "views," similar to Google.

4. Xerox
---
Xerox was the first to invent the PC, and its product was way ahead of its time.
How they failed to innovate:
Management thought going digital would be too expensive and was convinced that the future of Xerox was in copy machines. Xerox failed to understand that you can't keep perpetually making money on the same technology. Sometimes technology fails too.

5. Blockbuster
---
Xerox was the first to invent the PC, and its product was way ahead of its time. Unfortunately, the management thought going digital would be too expensive, and they never bothered to exploit their opportunities.
How they failed to innovate:
The management became complacent, overvalued the strength of their brand, and failed to see the changing tides. While Netflix was shipping out DVDs to their consumer's homes, Blockbuster figured their physical stores were enough to please their customers. It wasn't.

6. Segway
---
Designed to be a revolutionary means of transportation, the Segway was a personal motorized scooter invented and brought to the market in 2001.
How they failed to innovate:
Even though the product was revolutionary, they failed to see the difference between practicality and blue sky thinking. City infrastructure and safety were not addressed before going to market, so many critics asked why anyone would invest in something that expensive that you were not allowed to use?

7. IBM
---
International Business Machines (IBM), nicknamed "Big Blue," is an American multinational technology company that had its breakthrough in the 1960s with the IBM System/360– a family of computers designed to cover the complete range of applications.
How they failed to innovate:
In the early 1990s, IBM failed to adjust to the personal computer revolution and thus began its downfall. The company changed its focus back on hardware instead of software solutions. After several transitions, IBM is one of the most potent names in enterprise software.

8. JCPenney
---
JCPenney is one of the last remaining department stores dating back to the turn of the 20th century, and had one of the most successful catalog businesses in the world.
How they failed to innovate:
When the market changed, JCPenney couldn't find its new niche. Revenue dried up when Ron Johnson took over as CEO. During his time at JCPenny, the company lost about $985 million, 19,00 employees, and 138 stores closed. This led to the mass exodus of loyal customers.

9. Tie Rack
---
This British tie retailer, founded in 1981, failed to do its research on men's shopping behavior.
How they failed to innovate:
Their stores only sold scarves, ties, and cufflinks, but men mainly bought ties when they bought shirts. Even though Tie Rack offered quality ties, it wasn't enough to wow its target.

10. Blackberry Motion
---
BlackBerry, a line of smartphones and tablets, was successful in 1998. They changed the game in the mobile industry by offering a device with an arched keyboard.
How they failed to innovate:
A few years later, the mobile industry started focusing on more extensive touchscreen displays, while BlackBerry was more concerned about protecting what it already had. Failing to adapt to changes, in 2017, CEO John Chen announced that BlackBerry was officially out of the smartphone manufacturing business.

11. MySpace
---
MySpace, a website that was once the dominating social networking until Facebook came onto the scene.
How they failed to innovate:
Because of the growth of Facebook, MySpace started seeing a decline in its users and decided to change its niche. The flexibility and free expression allowed on the myspace platform was once its biggest differentiator and had become the most common reason for users leaving.

12. Commodore Corp
---
During the 1970s and 1980s, Commodore's desktop computers were a massive success.
How they failed to innovate:
Due to their lower resources and economy of scale, Commodore couldn't keep up with the PC advancements. Their customers started complaining about the custom ECS chipsets, which failed to match the PC and Mac display hardware features at the time. Commodore was unable to innovate and filed for bankruptcy in 1994.

13. Sears
---
Another American department store founded in the 19th century, Sears was another goliath in the catalog shopping market that remained competitive from the 1940s to the 1980s.
How they failed to innovate:
As the market shifted away from the general store model, Sears found it challenging to adapt to the changing consumer tastes. It fought and lost battles on multiple fronts: including the rise of smaller boutiques, the rise of discount stores such as Walmart, and today's current digital shopping market.

14. Macy's
---
Macy's, another historically significant American department store chain, is today known as America's largest department store.
How they failed to innovate:
Macy's thought they knew their customers well and wanted to keep their traditional store concept. Today, Macy's CEO Terry Lundgren is under the impression that shoppers prefer to shop in brick-and-mortar stores. But the numbers say otherwise, as revenue continues to fall.

15. Hitachi
---
Japanese brand Hitachi used to be an electronic giant with Sony, Panasonic, and Sharp.
How they failed to innovate:
The electronics industry changed, and consumers don't have as much desire for high-priced products. In addition, the digital revolution changed the way electronic gadgets work. They changed the way they are manufactured.

16. Polaroid
---
Founded in 1937, Polaroid was one of America's early high-tech success stories. The company became a hit in 1972 when they introduced the SX-70, the camera that superseded the old peel-back Polaroids with a picture that developed as you watched.
How they failed to innovate:
The company filed for bankruptcy in 2001 due to the digital photography boom. The company leaders continued to believe paper print was what customers wanted. They were great people who failed.

17. Nike FuelBand
---
A bracelet for fitness-tracking, Nike FuelBand, was launched in 2012 by Nike. There was a lot of hype because it represented the future of wearable computing.
How they failed to innovate:
The product wasn't a necessity that needed to exist. Nike continues improving the product but plans to exit the wearable device business and stick to software.

18. Toshiba
---
Another Japanese company that used to be a tech giant is now struggling to stay alive. In the mid-1980s, Toshiba was one of the world's most innovative companies.
How they failed to innovate:
The Internet killed Toshiba's growth. People were buying their competitor's computers for lower prices online. In 2016, Toshiba announced that it would stop making PCs for European consumers but continue selling computers to businesses in Europe and the US.

19. RadioShack
---
RadioShack, an American retailer, founded in 1921, operated a chain of electronics stores for over 50 years. The company was at its peak in 1999, known for supplying the best and latest electronics.
How they failed to innovate:
Competition with Amazon, Walmart, and RadioShack's failed attempts to spice up their game with new marketing strategies or consult a digital branding agency led them further into the red. Smartphones also led to a decline in RadioShack's sales as the modern smartphone could do nearly everything that RadioShack sold.

20. Motorola
---
Even though Motorola kept producing various versions of its cellphone, they failed to see that customers wanted innovation in software rather than hardware.
How they failed to innovate:
Motorola's new products in the early 2000s lacked market knowledge and weren't enough to grow the business. The products weren't user-friendly, and Motorola missed the movement to 3G. Motorola didn't implement 21st-century communication in its products, making it hard to compete with smartphones.

21. Borders
---
Borders Group opened its first bookstore in 1971, and they were a success for years. But in the mid- 2000s, Borders failed to adapt to new technologies and never embraced the Internet like Amazon and Barnes & Noble.
How they failed to innovate:
It wasn't just the Internet and competition that killed the company. It was their overall strategy. Borders opened too many stores making it harder to shed unprofitable locations. In 2011, Borders filed for bankruptcy, closing 399 stores and laying off 10,700 employees.

22. Palm
---
Palm was one of the top three companies dominating the personal digital assistants (PDAs) market. These were the predecessors of the first smartphones in 2005.
How they failed to innovate:
Because of the launch of Apple's iPhone and BlackBerry, Palm could not respond to its success. The company was too slow to realize that smartphone customers wanted wireless voice and data from the device.

23. Sony Walkman
---
Sony, a manufacturer of electronic products, changed how we listen to music with the invention of the Walkman in 1979.
How they failed to innovate:
Sony didn't adapt to technological innovations such as digitalization, the shift towards software, and the growth of illegally downloadable music online. Sony had the technology to launch a better product than the iPod, but it never happened. The company was too afraid to test out something new, thinking it would threaten their compatibilities on the market.

24. National Geographic TV
---
One of the most respected brands in history, National Geographic started as the official magazine of the National Geographic Society, published continuously since 1888.
How they failed to innovate:
The company was presented with an idea to start a new NG cable channel in the 1980s. National Geographic turned down the picture, so the producers decided to do their own thing. They launched Discovery Channel along with the History Channel.

25. Pan Am
---
Pan American World Airways was an airline once known as a brand ahead of its time.
How they failed to innovate:
Pan Am suffered a reputational setback because of tragic accidents and terrorist attacks. Customers lost trust, and Pan Am was associated with being the "unsafe" choice of airlines. Their innovative ideas couldn't save the company, so in 1991 Pan Am went bankrupt and shut down.

26. Circuit City
---
Circuit City was an American multinational consumer electronics retail company founded in 1949 and was one of the pioneers in the 1970s in marketing televisions, stereos, and boom boxes.
How they failed to innovate:
In the 1990s, Circuit City tried out a concept of mass retailing automobiles called "CarMax," where the company built extensive lot inventories for used vehicles. However, after the company let much talented management go, consumers started complaining about the lack of knowledge of its salespeople, and the idea failed.

27. Google Glass
---
The product was one of the first large-scale attempts at capitalizing on artificial reality. The buzz around the product was crazy, and had so much potential. But when the product launched in 2015, its high price and privacy concerns, combined with a general lack of awareness of consumer needs, never saw the product go mainstream.

28. Netscape
---
Netscape was one of the most popular internet browsers in the late 90s and was a favorite for academia in the early days of the Internet when dial-up was the most common way to access the Internet.
How they failed to innovate:
Netscape was built with outstanding technological innovation mixed with great leadership. But the company lost its battle to Internet Explorer and other competitors.

29. Abercrombie & Fitch
---
American fashion brand Abercrombie & Fitch was once one of the trendiest casual wear and accessory brands in the early 2000s.
How they failed to innovate:
As "Fast Fashion" brands like H&M and Forever 21 began to offer a constantly revolving selection of cheap clothing at a fraction of the price. Abercrombie failed to follow suit, and its brand became outdated and overpriced for its demographic.

30. Hummer
---
Hummer, a vehicle first created for the military, was made famous by Arnold Schwarzenegger, who purchased the first civilian Hummer.
How they failed to innovate:
As consumers became increasingly environmentally conscious with their purchases, the Hummer became a pariah. During the peak of the 2000s energy crises, sales of this vehicle plummeted for "gas-sippers" instead. Sales went down and the brand shut down in 2009.

31. MapQuest
---
Before satellite navigation hardware or Google Maps and Apple Maps took over, people got driving directions from MapQuest.
How they failed to innovate:
Somewhere along the way, Mapquest lost its way. In terms of their primary mission, which was all about simple, informative directions. If you compare Google Maps and Mapquest now, the Mapquest interface is a mess.

32. Atari
---
Atari pioneered arcade games, home video game consoles, and home computers. Their innovative products, such as Pong and Atari 2600, were the games that helped define the electronic entertainment industry in the 1970s.
How they failed to innovate:
Their views towards gaming as an industry were flawed. They viewed gaming as an individual process rather than a shared experience which was the complete opposite of their original design.

33. Toys R Us
---
Toys R Us, a kids toy retailer, was once one of the largest toy store chains. The brand signed its death when signing a 10-year contract to be an exclusive toys vendor on Amazon.
How they failed to innovate:
Amazon allowed other toy vendors to sell on its site despite the deal. Toys R Us sued, but as a result, they missed the opportunity to develop their e-commerce presence.

34. Pets.com
---
Pets.com, launched in 1998, used to be an online business selling pet accessories and supplies.
How they failed to innovate:
Due to the brand's weak fundamentals and poor timing, its 300 million dollar investment capital vanished along with the company in 2000 during the dot.com bubble.

35. Tower Records
---
A retail music chain that was the first to create the concept of the retail music store.
How they failed to innovate:
After decades at the top, Tower Records couldn't keep up with the digital revolution. As more and more people bought digital music, there was less and less need for retail stores. Despite this, management believed that digital was a fad, and it closed its final US store in 2006.

36. HMV
---
CD, VHS, and video game retailer HMV is a popular brand in the 1990s.
How they failed to innovate:
But the company began to struggle with digital disruptions. At first, HMV refused to believe the bloom of online retailers or that people would start downloading music. The company leaders felt confident about their brand and loyal customers who, in their heads, loved coming to the shop for the floor experience.

37. Compaq
---
Compaq was a company founded in 1982 that sold, developed, and supported computers. It used to be one of the largest sellers of PCs in the 1990s.
How they failed to innovate:
The company struggled to keep up with the price wars against Dell and was acquired for 25 billion dollars by HP in 2002. The brand remained in use by HP until 2013.

38. Enron
---
Enron Corporation was an American energy, commodities, and services company named America's most innovative company by Fortune from 1996 to 2001.
How they failed to innovate:
That same year the dot-com bubble burst and Enron quickly built high-speed broadband telecom networks. This project cost a fortune for the company with no return on profit. The CEO of that time, Jeffrey Skilling, hid the losses from the company.

39. Hostess
---
Due to a "healthier" snack craze that has more consumers watching their nutrition, the purchasing of twinkies dwindled. Yet Hostess continued to churn out highly processed foods.
How they failed to innovate:
Their failure to keep up with taste trends and rebrand themselves caused them to file for bankruptcy in 2012, laying off its 18,500 workers and putting its snack brands up for sale.

40. General Motors
---
In 1908, GM was the largest automobile manufacturer from 1932 through 2007.
How they failed to innovate:
By failing to innovate and ignoring the competition, GM found itself at the doorstep of the largest bankruptcy in American history. The company leaders only cared about making a profit and chose not to invest in reliable parts or products.
41. America Online
---
In the mid-1990s, America Online (AOL) was one of the only Internet providers.
How they failed to innovate:
Their Instant Messenger platform was one of the best messaging apps when it first came out. But because of Microsoft's Messenger, AOL feared losing its customers and failed to develop a new competitive strategy. Additionally, the decline of dial-up and the rise of broadband led to a rapid decline in monthly customers.

42. Clinton Cards
---
Known for their greeting cards, Clinton Cards used to hold a 25% share of the greeting card market.
How they failed to innovate:
When everything shifted online, their stores began losing their appeal, and Clinton Cards became a dying business.

43. The Sharper Image
---
The Sharper Image was a consumer electronics and lifestyle product company that grew into a $760 million company with 196 stores.
How they failed to innovate:
The company depended too much on the air purifier's success, and Consumers Reports started questioning the product's safety. Due to criticism, masses of people began returning the faulty item. The company was losing so much money that in 2008 it declared bankruptcy and closed down 90 of its 196 stores.

44. TiVo
---
Tivo was one of the first digital video recording (DVR) products to come on the market and fill a need. People could easily record shows that they weren't home to watch in real-time without the hassle of programming a clunky VCR or awful DVD recorder.
How they failed to innovate:
TiVo is on this list because the brand decided to play nice on the market. They attempted to sue cable companies that came out with their DVRs too late. By the time the court documents were filed, DVRs were everywhere.

45. Pebble
---
Pebble corporation developed a line of smartwatches. Their campaign on Kickstarter became one of the most-funded products of all time.
How they failed to innovate:
The predictions of wearables booming on the market were falsely tied to the success of smartphones. The market was still tiny and not mature enough to sustain the type of predicted growth. In 2016 the company called it quits and sold its technology to Fitbit.

46. DeLorean Motor
---
The DeLorean Motor Company was an American automobile manufacturer founded in 1975 in Northern Ireland. In 1981 production began for DeLorean DMC-12. A car that was supposed to be safe, long-lasting, and sustainable.
How they failed to innovate:
Because of the car's shoddy performance, DeLorean produced fewer than 9000 cars and filed for bankruptcy.
47. The Concorde
---
The Concorde was a British-French turbojet-powered airline that closed its doors in 2003.
How they failed to innovate:
Even though the total flight time to cross the Atlantic was less than four hours, its high energy consumption forced airline companies to look for better options. Due to all the technical flaws and financial challenges, the Concorde flew its last plane in 2003.
48. The Daily
---
The first digital iPad-only newspaper launched in 2011. It featured flashy graphics, videos, and new ways for readers to interact with the content. Readers could only access the newspaper through a paid subscription through the iTunes store.
How they failed to innovate:
The Daily's revenue was split between Apple, but that model was unsustainable, and after less than two years, The Daily shut down.

49. XFL
---
Initially, the XFL was operated between NBC and the World Wrestling Federation and was made as an outdoor football league.
How they failed to innovate:
Their competitor NFL was already showing football, the XFL football league didn't present anything new, and the teams played their only season in 2001.

50. Nortel
---
Nortel was a multinational telecom and data networking equipment manufacturer that failed big time.
How they failed to innovate:
Their research and development team had fallen behind, and the business began to decline because of broadband and VoIP. Plus, around 2000, Nortel had misstated their financials, which wasn't discovered for several years, bringing them down. In 2009 the company filed for bankruptcy.