*Updated October 24, 2022
The rise of Fintech
Fintech, or financial technology has become one of the most successful global industries in the last decade. From mobile payment, trading, and cryptocurrency applications, FinTech has transformed the way finances are done. The hub of this technological trend is in the United States, where there is currently 1,491 startups and $58.5 billion investment in the industry, according to Digital Information World.
Fintech is a global industry with startups having a presence in 6 continents. The USA is considered the global capital of Fintech with the largest investment in the industry, followed by China, The United Kingdom, and India.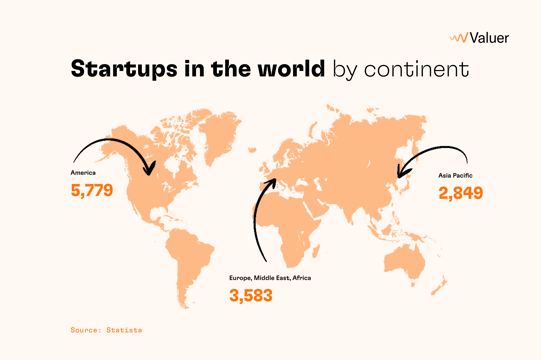 With the fintech industry growing every subsequent year, the market is starting to fill up with fintech startups and innovative financial services such as customer relationship management (CRM) technology, trying to fulfill customers' needs that will ultimately shape the future of finance.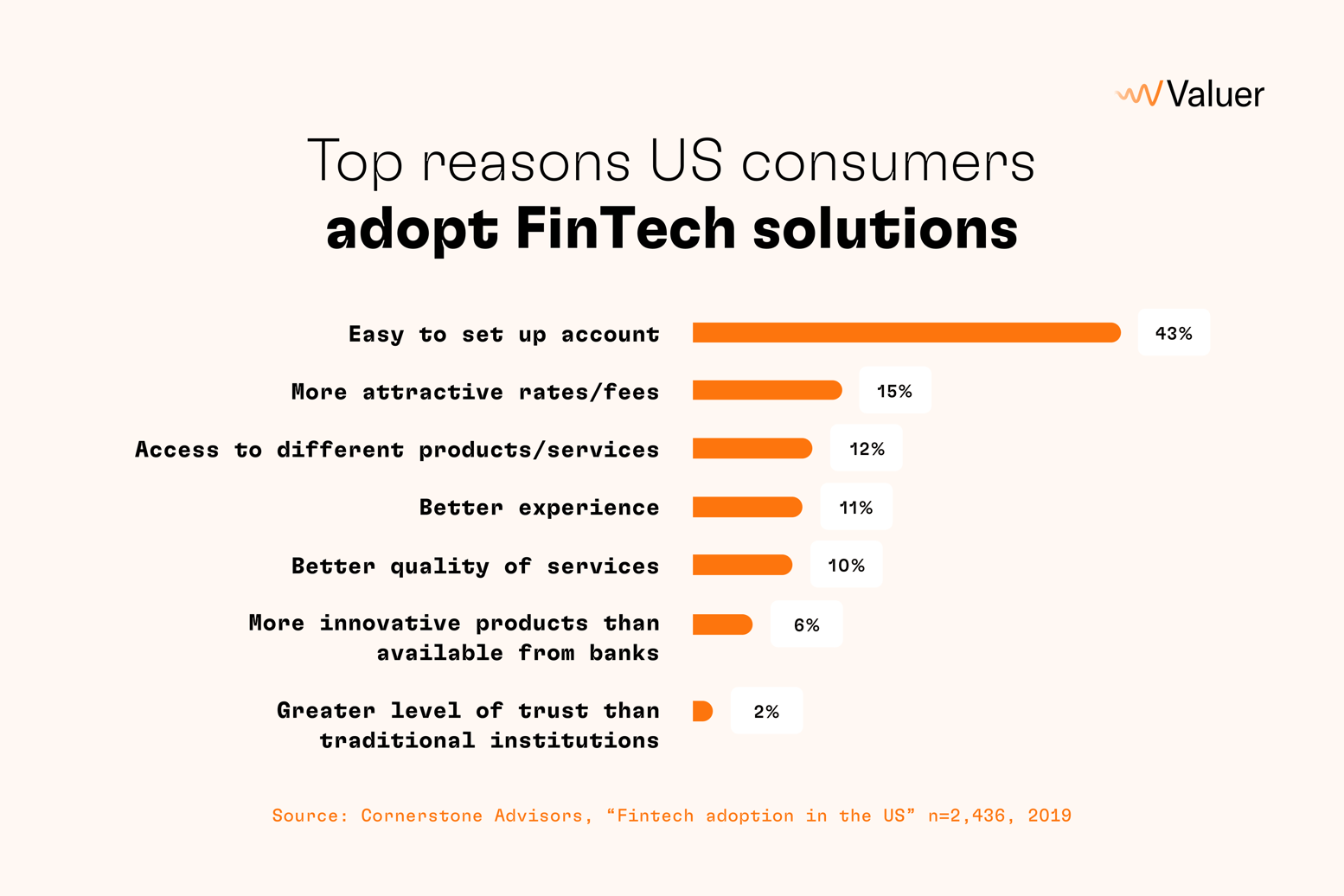 A year with much growth
The last year has shown that startups are on the rise across all of America. In March 2019, there were 774,725 businesses that were less than 1 year old, according to Statista. These businesses had all started from scratch and were unrelated to existing corporations. These startups have generated $34.5 billion in revenue globally.
We are facing a period when many are realizing they have the power to innovate a product and company on their own. Entrepreneurs are taking the leap of faith and starting their own businesses, which can be a success or a flop. How can you determine what fintech trends are relevant now, which startups have made most profit, which ones are being invested and funded in?
Valuer used its platform to scan and identify some of the most promising startups based on their revenue, investment level and funding.
Related article - Best Fintech Startups in Asia
The best Fintech startups in the USA by state
Alabama
Spur simplifies human resources with a software platform which partners with employees to deliver embedded financial services hourly. Their business model saves time and money while encouraging workers to increase their financial standing.
City:

Huntsville

Year Founded:

2017

Founder:

Glenn Clayton
Arizona
This self-pay patient payment platform provides a dozen different payment methods for patients to make their open balance payments. Salucro provides solutions from online payment to provider-facing integrations.
City:

Phoenix

Year Founded:

2004

Founder:

Clayton Bain
Arkansas
The south-central region startup simplifies farm ownership and real estate for those not experienced in the agriculture industry. This crowdfunding platform gives users access to producing farmland.
City:

Fayetteville

Year Founded:

2018

Founder:

Carter Malloy
California

San Francisco Bay area startup offers lending and wealth management services from early-stage business professionals. Their focus is to create the most modern fintech products which would facilitate smarter money use and create financial independence.
City:

Los Angeles

Year Founded:

2011

Founder:

Mike Cagney, Dan Macklin, James Finnigan, and Ian Brady
Colorado
This portfolio platform originated from a group of successful startups, equity firms and enterprises. Specialising in marketing, business management and customer experience, EverCommerce's platform operates mainly in service industries such as home, fitness, wellness and health.
City:

Denver

Year Founded:

2016

Founder:

Eric Remer
Connecticut

Payrailz brands themselves as "Do It For Me", enabling financial institutions better, innovative payment solutions to keep their users in control. The digital payment platform uses AI, security and a cloud-based software to engage their customers with solutions.
City:

Glastonbury

Year Founded:

2016

Founders:

Fran Duggan, Paul Franko
Delaware

This startup originated from a group of students who were struggling to pay off their hefty student loans. Their mission was to make this experience different for all students entering college. College Ave ensures its customers get the rates they deserve on loans as they choose a personalized approach for each individual. Those who loan have a choice between deferred, interest only, flat payment and full principal/interest payments.
City:

Wilmington

Year Founded:

2014

Founder:

Joe DePaulo, Tim Staley
Florida
The 'neo' way of banking, Dapple Pay was developed by to attorneys from South Florida after being involved in a hearing where a client was found in contempt for delinquent child support payments. The two founders saw this as a window of opportunity to create a platform to facilitate these payments and reducing their corresponding fees, which would mean they never appear on anyone's ledger but their own. Today, the platform is multifunctional and internationally available on application stores for both Apple and Android devices.
City:

Pomapno

Year Founded:

2018

Founder:

Danielle Watson, Malik Leigh
Georgia
Kabbage provides cash flow management solutions geared towards small enterprises. Small businesses can sign up instantly using their businesses' data and access capital through their automated system.
City:

Atlanta

Year Founded:

2011

Founder:

Rob Frohwein, Kathryn Petralia, Marc Gorlin
Hawaii

Founded by the entrepreneur behind Tetris, there's no surprise that Blue Planet Energy's energy platform is innovative and developed. Blue Ion is used to create smart microgrids and can be delivered on and off grid within North America.
City:

Honolulu

Year Founded:

2015

Founder:

Henk Rogers
Idaho

VisitPay is centered around patient self-pay solutions in the healthcare industry. The Boise startup generates revenue cycle management reports and focuses on financial, operational, and clinical information making it a go-to service for medical patients.
City:

Boise

Year Founded:

2010

Founder:

Kent Ivanoff, Vincent Martino
Illinois

This AI startup's mission is to find solutions to battle cancer. Using genome data, Tempus' goal is for each patient to benefit from treatment physicians through analysis and machine learning.
City:

Chicago

Year Founded:

2015

Founder:

Eric Leftkofsky
Indiana

Indiana based digital platform, Mandolin brings forth an avenue for artists and fans to connect through live or virtual venues. On top of this, the platform provides content creation, distribution and live-streaming of music events. In the COVID area, it has transformed into an online community where musicians can perform their latest works.
City:

Indianapolis

Year Founded:

2020

Founder:

Mary Kay Huse, Robert Meitus, Steve Caldwell
Iowa

Since 1998, Businessolver has used technology promoting employee benefits. Finding the right benefits for your employees, their software features multiple features such as a recommendation engine, mobile app, employee benefits engagement etc. The platform also offers benefits with their HR program from payroll & billing, compliance, verification services, and more.
City:

West Des Moines

Year Founded:

1998

Founder:

Sean McMurray
Missouri

As a state, local and federal government partner, PayIt is a mobile application that delivers innovative solutions for governments to people. The 'Digital Government Platform' allows residents to access essential government service lines from their smartphones and other technological devices.
City:

Kansas City

Year Founded:

2013

Founder:

John Thomson
Kentucky

Hijro facilitates the global trade network using a distributed ledged technology. What this means is that Hijro uses their technology to connect banks, buyers and suppliers using a streamline. Their network has been labelled as a "global fabric" for trade as it has formed a community and created a more secure way of moving assets and value around the world in one place.
City:

Lexington

Year Founded:

2014

Founder:

Casey Lawlor, David Sutter, Lafe Taylor
Louisiana
Chaka Technologies started out to end trade barriers in Africa and the rest of the world. Their platform provides African people and businesses the opportunity to invest in the global capital market. Their services extend across over 40 countries internationally.
City:

Lafayette

Year Founded:

2019

Founder:

Brock Thibodeaux
Maine

Wallit is an offered-based advertising platform and mobile application, which simplifies transactions by automatically gives customers cash back for paying in-store or online with their debit card from any financial institution. Another feature is its customer automation for restaurants and retailers, allowing them to save money on card processing fees. The mobile application is family friendly and has multiple functions such as shopping, spending, saving and budgeting.
City:

Westbrook

Year Founded:

2016

Founder:

Mike Vien
Maryland

Nayax is a cashless payment platform which offers financial services to a variety of merchants. Their mission is to do help clients scale their businesses by accepting all forms of payment, which is possible due to their presence in 65 countries worldwide. Nayax has developed an agile ecosystem to help sellers from the bottom up.
City:

Hunt Valley

Year Founded:

2005

Founder:

David Ben-Avi, Yair Nechmad
Massachusetts

An all-in-one point of sale platform, Toast facilitates information between restaurants and the hospitality industry. The cloud-based system can track sales, inventory, and other data insights. Toast sets out to boast the industry from all aspects ranging from front to back of house, guest-facing technology, and customer success.
City:

Boston

Year Founded:

2013

Founder:

Fredette, Aman Narang and Jonathan Grimm
Michigan
Credibly uses data science and technology and emphasizes on customer experience. Designed to serve small and medium sized businesses, Credibly offers financing products that benefit any stage of business development and credit score. The fintech platform also provides business loans and cash advances.
City:

Southfield

Year Founded:

2010

Founder:

Edan King, Ryan Rosett
Minnesota

Connecting patients to health practitioners, Bright Health offers plans to their consumers via broker partners and private/public exchanges. By lowering care costs, Bright Health gives healthcare users the tools they need to optimize their service and practices to their clients.
City:

Minneapolis

Year Founded:

2016

Founder:

Bob Sheehy, Kyle Rolfing, Tom Valdivia
Missouri

Neocova offers fintech services through AI, analytics, and cloud-based systems. Their goals are to get technology up to speed digitally, present a more cost-effective business model, and to shorten the traditional business model of community banks. Ultimately, they aim to decomplicate the existing systems and contracts for financial institutions.
City:

St Louis

Year Founded:

2019

Founder:

Kelsey Weaver, Lindsay Lockhart & Sultan Meghji
Montana

This Montana-based platform makes messaging between customers and companies easier. A database for customer service you can communicate via a multitude of messaging methods from text to Facebook messenger. Quiq also offers itself as a standalone customer service channel.
City:

Bozeman

Year Founded:

2015

Founder:

Mike Meyer
Nebraska

This SaaS company started when they realized credit applications were outdated and unreliable. Fiado acquires all the information necessary to process applications quickly and therefore saves you the time and energy. Their technological solutions cut down the traditional time frame it takes to process applications from 5 days on average to 24 hours.
City:

Omaha

Year Founded:

2020

Founder:

Clark Ruby and Matt Phillips
Nevada

WithMe provides commerce solutions covering three main areas: Business, Finance and Retail. Each different product has a team of experts tailored to the industry, which which assist you through their platform.
City:

Las Vegas

Year Founded:

2019

Founder:

Andre Gao, Danielle Jenkins, Jonathan Jenkins
New Hampshire

Built to aid people with excessive medical bills, Resolve is a data-insights platform that provides patients with lower rates. The startup audits, reviews and negotiates bills to see if there are errors with the quote they've received.
City:

Hanover

Year Founded:

2019

Founder:

Braden Pan
New Jersey

Clover Health's platform serves Medicare patients and delivers insights to their physicians or healthcare practitioners. Their vast database provides users with information starting with point of care all the way to lowering costs.
City:

Jersey City

Year Founded:

2012

Founder:

Vivek Garipalli
New Mexico

Through their collaborative business model, Caringcent is a college athletics partner which offers gifts and funding. Following experience and research of fundraising, their team has developed customizable donation solutions to engage potential donors with options and opportunities.
City:

Albuquerque

Year Founded:

2015

Founders:

Jack Hill, James (Jim) P. Wills, Lowell A. Williams
New York

Providing health insurance in 18 states and counting, Oscar Health uses technology, design and data to deliver consumer-focused solutions. Oscar's clients range from health practitioners, individuals and families, and businesses. Their team consists of 24/7 Doctor on Call service for its members and unparalleled customer support.
City:

New York

Year Founded:

2012

Founders:

Mario Schlosser, Josh Kushner, and Kevin Nazemi
North Carolina

With over $140 billion transactions across a network expanding the country annually, AvidXchange has changed the way Americans make their payments. Their software solutions include automated invoicing and bill payments to several different industries.
City:

Charlotte

Year Founded:

2000

Founders:

Michael Praeger & Chris Tinsley
North Dakota
Bushel is a software platform that brings together enterprises of the agricultural industry which facilitates mainly in sharing information, completing transactions, and contract management. Their primary customers include grain elevators, cooperatives, and ethanol plants.
City:

Fargo

Year Founded:

2017

Founders:

Jake Joranstaad, Ryan D. Raguse
Ohio

Inforce Policy Management leader, Proformex offers a user-friendly workflow for life insurance and annuities. The platform has data aggregation, analytics, and portfolio all integrated to seamlessly aid independent life insurance firms.
City:

Cleveland

Year Founded:

2016

Founder:

Mike Pepe
Oregon

Its name may give it away - Crowdstreet works with online real estate to offer deals to investors with CRE firms. It provides these firms with technologies, data, and services across America. With Crowdstreet, over 100,000 investors have access to a large list of real estate assets.
City:

Portland

Year Founded:

2013

Founders:

Darren Powderly, Michael Taus, Tore C. Steen

Pennsylvania

This SaaS software provides financial institutions with solutions to their dated systems in a minimally disruptive method. Their digital platform offers omnichannel support with servicing solutions for their customers.
City:

Malvern

Year Founded:

2009

Founders:

Michael Sanchez
Rhode Island

Splitwise is a mobile application as well as a web platform that helps users divide their expenses with one another. This tool is useful among roommates, friends, travelers, and couples. By organizing shared expenses in an IOUs in one place, users can see what they owe and to whom. Additionally, Splitwise sends reminders about outstanding finances and uses a 'fairness calendar' by crowdsourcing neutral fairness opinion based on user data.
City:

Providence

Year Founded:

2011

Founders:

Jonathan Bittner, Marshall Weir, Ryan Laughlin
South Carolina
in/PACT's integrates customers of financial institutions and loyalty programs to causes that matter to them. Their cloud-based platform provides solutions for charities via digital banking in a secure and efficient workflow. By giving them the means to donate, customers are more likely to support the causes they are passionate about.
City:

Charleston

Year Founded:

2015

Founder:

Ammar Charani, John McNeel
Tennessee

An easy-to-use investment platform, Alto Solutions gives unique solutions targeted towards IRAs by means of private equity, venture capital, cryptocurrency, etc. Investors can time and cost-effectively access their retirement funds and reserve them in places once offered only to highly valued individuals.
City:

Nashville

Year Founded:

2016

Founder:

Eric Satz
Texas

Bestow provides accessible health insurance centered towards families. Their direct-to-customer structure provides 'industry first' APIs and insurance for all of their customers needs. Through data and AI, Bestow has created many options for insurance protection plans.
City:

Dallas

Year Founded:

2016

Founder:

Jonathan Abelmann, Melbourne O'Banion
Utah

A B2B model, Nav gives access to individual and business credit and finance reports. Through their web and mobile app, you can set objectives, have a financial overview and report from their data customized towards your needs.
City:

Draper

Year Founded:

2012

Founder:

Caton Hanson, Levi King
Virginia

Genworth is a multifunctional platform that guides its users in protection, investment and planning for the future. Innovation is a priority for this Virginia based startup as it is a strong promoter of sustainability around the world. The Genworth team combines global experience with technology innovation and thus is a leader in that marketplace.
City:

Richmond

Year Founded:

2004

Founder:

Dave Reedy
Vermont

VENTURE.co facilitates private placements with financial solutions. Their cloud-based technology is aimed towards brokers, dealers, investment firms, etc. Their technological solutions are custom-branded towards investors through a virtual data room and online documentation.
City:

Burlington

Year Founded:

2014

Founder:

Aaron Pollak
Washington

International transfers at affordable rates, Remitly is a mobile application that operates in most states in order to transfer funds person-to-person. Their online services are seen as a disruptor for the $588 billion industry by being time and cost-efficient.
City:

Seattle

Year Founded:

2011

Founder:

Joshua Hug, Matthew Oppenheimer, Shivaas Gulati
Wisconsin

Using machine learning and predictive analytics, Sift Healthcare is providing its clients with data towards their healthcare payments. Sift also delivers detailed information reporting and c-suite tools as products for its users.
City:

Milwaukee

Year Founded:

2017

Founder:

Justin Nicols, Virgil Bistriceanu
Wyoming

Casper Labs label themselves as the 'futureproof blockchain protocol'. Producing smart contracts, their tools are purpose-built blockchain solutions for all. Blockchain-friendly, Casper Labs has opened a world of innovation for its users.
City:

Cheyenne

Year Founded:

2018

Founder:

Medha Parlikar, Mrinal Manohar
The Future is Fintech
Fintech has transformed the way we make payments, whether it be for business or personal purposes. Even amid the COVID-19 pandemic, Fintech has facilitated both startups and corporations in innovative solutions. Though the Fintech industry faces the same challenges financially, their unique innovative skills may be the solution to economic recovery. By partnering with other corporates and investors, Fintech startups can find opportunities to grow in terms of new products and services to the public around the world.
Related article - Best Fintech Startups in Europe