To keep up with market development, tech trends, and industry overall, companies that have existed for years need to modernize their processes and develop more sophisticated ways of working. Corporate accelerators and an innovation accelerator represent an option that many companies have decided to go for when trying to generate a market opportunity. However, in order to understand the concept, we need to explain some key terms.
What is an accelerator?
"Startup accelerators, also known as seed accelerators, are fixed-term, cohort-based programs, that include mentorship and educational components and culminate in a public pitch event or demo day."
An innovation accelerator can be privately or publicly sponsored and span a wide range of sectors, whereas typical business incubators are frequently government-supported, take no equity, and seldom offer money. Unlike business incubators, seed accelerators have an open application procedure that is very competitive. Another difference is that an innovation accelerator program can have a start and end date, with many companies participating in order to win a particular amount of investment.
The word "accelerate" refers to increasing the rate of movement. An innovation accelerator program improves and expedites the learning and implementation process. There are several sorts of corporate accelerators available, each with its own set of goals. The discrepancies come from the fact that each application has a different business model. Let's look at three of the most common types of corporate accelerator programs available to entrepreneurs today.
What is a corporate accelerator?
A corporate accelerator represents a major corporation's program that provides a fixed-term, cohort-based program that includes seed funding, mentorship, connections, and sales, among other things. The program generally concludes with a formal pitch event (demo day) in which the companies pitch the corporate sponsor for funding or collaboration.
Corporate accelerator programs aim to develop and implement new ideas. Mentorship, technical product help, business development introductions, recruitment aid, fundraising guidance, and (sometimes) capital investment are some of the services they give. As a result, a plethora of fresh alternatives become accessible on a regular basis. According to the 2016 Global Accelerator Report, corporate accelerator programs resulted in a total investment of over 206.740 million dollars in 11,305 companies throughout the world.
Large conventional organizations cast a broad net for disruptive startups that can help them accomplish particular goals through a corporate innovation accelerator. Teams apply in the same way they would for traditional accelerators, but with a mandate from the sponsoring company - usually to create something new using proprietary technology or within the confines of a specific strategic objective. In exchange, accepted startups have access to the corporate sponsor's executives, intellectual property, strategy, and other assets.
Businesses can use this sort of innovation accelerator to help launch new enterprises that suit their unique needs. Enterprises may grow new products and processes that serve them uniquely by bringing innovation in-house, as compared to more limited innovation strategies like corporate venture capital (CVC).
[Related Article - Accelerating New Growth With Data-Driven Innovation ]
Furthermore, automation, AI, machine learning, the Internet of Things (IoT), and AR/VR are some of the most commonly used technologies for corporate innovation.
How do accelerators work?
Some of the candidates are so early in their development that they have yet to make a sale or have merely a product prototype. Only a limited number of companies get admitted into the finest programs with the most to offer, something that happens with admissions to top educational institutions.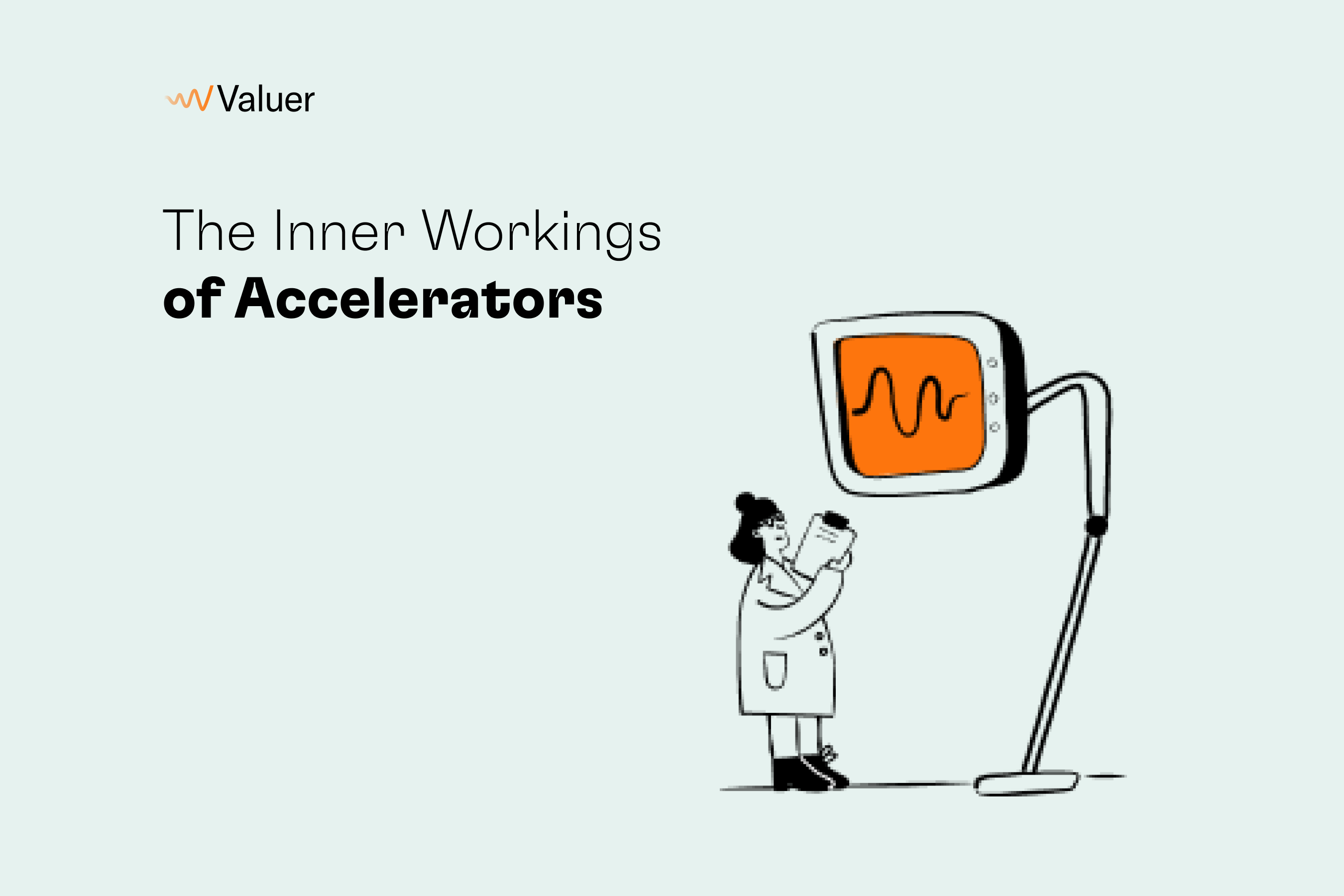 In fact, accelerators on average graduate 9.6 companies per cohort, with 2.6 cohorts per year. When you add the two numbers together, you get a worldwide innovation accelerator program that graduates about 25 startups every year. The average acceptance rate for a program is 3.8%. This means that it's really hard for disruptive startups to get into an accelerator and many of the good ones don't make it simply because accelerators don't accept too many applicants.
A normal program lasts three months, although others are only six weeks long. Early-stage companies are the main focus of an innovation accelerator. Incubators, on the other hand, may accept early-stage to late-stage businesses.
When a startup is accepted, it is assigned to a cohort of peers and given everything it needs to develop, including organized business education, office space, and access to a network of peers and advisers. The program concludes with a pitch contest or demo day, during which teams present to investors in the hopes of receiving their first round of outside investment.
The startups that enter an accelerator should either already be successful or have a strong basis on which to develop. As a result, accelerators may concentrate their advice and resources on helping businesses scale up as soon as feasible.
In addition, accelerators frequently provide early funding to their startups and take ownership shares in them. Y Combinator, Dreamit Ventures, and Techstars are only some of the world's most popular startup accelerators.
The downsides of accelerators
Although accelerators have been a trend for the past few years, there are some downsides to the concept.
-Large costs for small startups. Startups might spend a lot of their time and money on joining an accelerator or innovation accelerator when they could instead redirect these resources to developing a better product.
-Culture confusion. Not all startups have the same culture as the accelerators they joined. They are required to align their business needs with the needs of the accelerator. This could disrupt their authentic culture and take them in a direction they didn't want to go, often leading them to miss out on potential opportunities.
-Long accelerator programs. With startups, every second is precious. And long accelerator programs might not always be the best solution for a disruptive startup looking to scale. It could turn out as a waste of time, where efforts could have been used on product development or promotion.
-Low acceptance rates. Corporates might miss out on many opportunities due to the low acceptance rates of an innovation accelerator. There are many disruptive startups with innovative products that just don't make the cut, or don't even bother to apply.
Valuer as an Alternative
Valuer can eliminate all the downsides of an accelerator and innovation accelerator, by bringing more valuable data to the table. Valuer's data-driven innovation platform provides an end-to-end innovation pipeline to help corporations, accelerators, and venture capital firms find disruptive startups, market development, technologies, market opportunities, and innovative businesses.
Valuer's huge database of companies, powered by machine learning algorithms, can connect customers at various stages of the innovation pipeline and market development, providing info on cutting-edge technology and market opportunity, or building creative business models. We also provide free and premium versions available so you can test drive the platform and see how data-driven insights work for your market development.
How does Valuer work?
Valuer's platform harvests millions of publicly available data points from the global innovation economy using unique machine learning algorithms. These algorithms will act as your AI assistant, helping you navigate our innovation platform.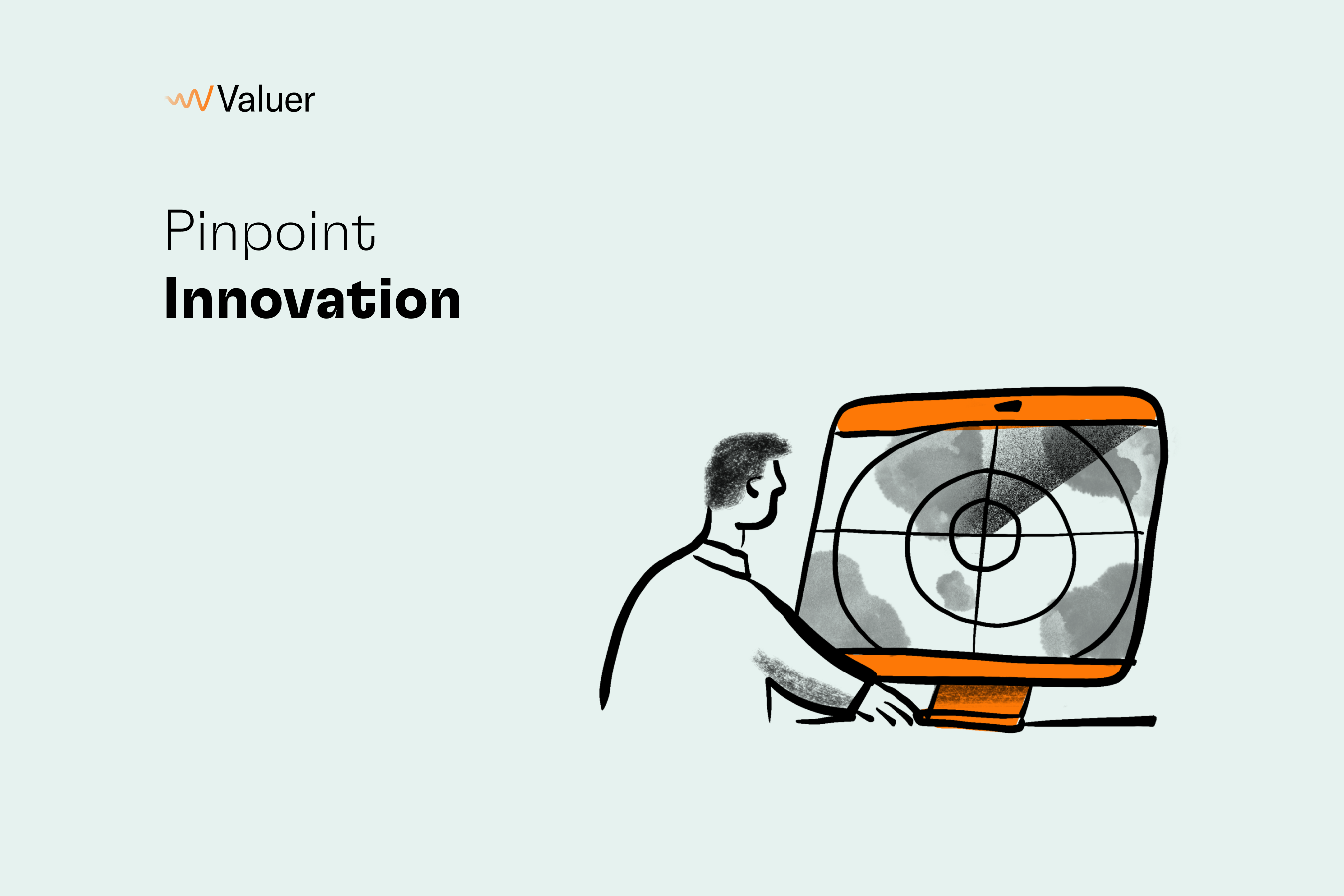 Our data-driven innovation platform will gather data and translate it into hundreds of languages and dialects to ensure that we provide unbiased data from all geographical locations and arrange it in a way that gives you everything you need to discover any market opportunity and steer you towards data-driven innovation.
To enhance decision-making, the user does not need to evaluate data, instead, Valuer's algorithms do it. With significant data-driven insights, the innovation platform bridges the gap between raw data and smart decisions.
What does Valuer provide?
Intuitive radars
Simply add search results to a radar - and we'll keep you and your team updated whenever anything new happens, whether you're searching for insights, market opportunity, or industries to watch. It basically works as a playlist where you add your favorite "artists" (startups and companies), and our AI keeps an eye on them and notifies you if anything new happens. Valuer is a disruption radar that keeps an eye out for market development.
Quick search and structured search are the two types of searches available. Simply type the URL of a firm you or your coworkers find intriguing into a quick search. Our AI will provide you with a quick summary of related businesses, disruptive startups, sectors, market development, and technology. Alternatively, if you want to utilize structured search, type a few lines of what you're looking for in plain human text and provide some context in terms of areas of interest. Our AI will do the rest and get you the data-driven insights you need and some that you didn't know you needed.
A massive database
Valuer generates a list of business cases based on millions of data points and discovers commonalities in distinct product offerings and business models. These are used to map out the client's success potential, market maturity, degree of fit, and level of innovation. For example, this model may assist the customer in identifying security concerns, reducing energy waste, and increasing the usage of renewable energy.
Sometimes all you need is a list and some basic corporate information. Other times, you want to be able to comprehend the entire spectrum. Simply order a report, and our analysts will provide you with qualitative information about those businesses, such as their business plan, product/service model, and so on.
Valuable insights
We start by scanning the global innovation ecosystem to obtain a macro picture of what trends and market developments are driving the sector, so you can comprehend and receive deeper data-driven insights into an industry, technologies, or how sustainability is incorporated. This results in a picture of market development and a map of the major market opportunity in an area.
You can use the scan to determine market opportunity and to observe how new technologies are distributed. This data may assist you in staying on top of possible market effects, both directly and indirectly, as well as determining the amount of money invested in the sector. The client may then pick a suitable sector of the industry to focus on and begin a deeper micro dive to learn about the business models, products, and concepts utilized by successful firms and disruptive startups in that market.
Accelerator vs. Valuer
Valuer isn't a consultancy agency. You receive a dedicated team focused on your growth and digital transformation when you work with Valuer. These professionals, however, are not intended to take the role of your innovation accelerator team.
We realize how essential it is for your internal operations to be successful and efficient. We're not just another tool on which you must invest your time. Rather than providing answers for a single subject, like a typical innovation accelerator or consultancy would, Valuer provides specialized insights into a variety of industries. With our help, you'll be able to spot new market opportunities you didn't even know existed.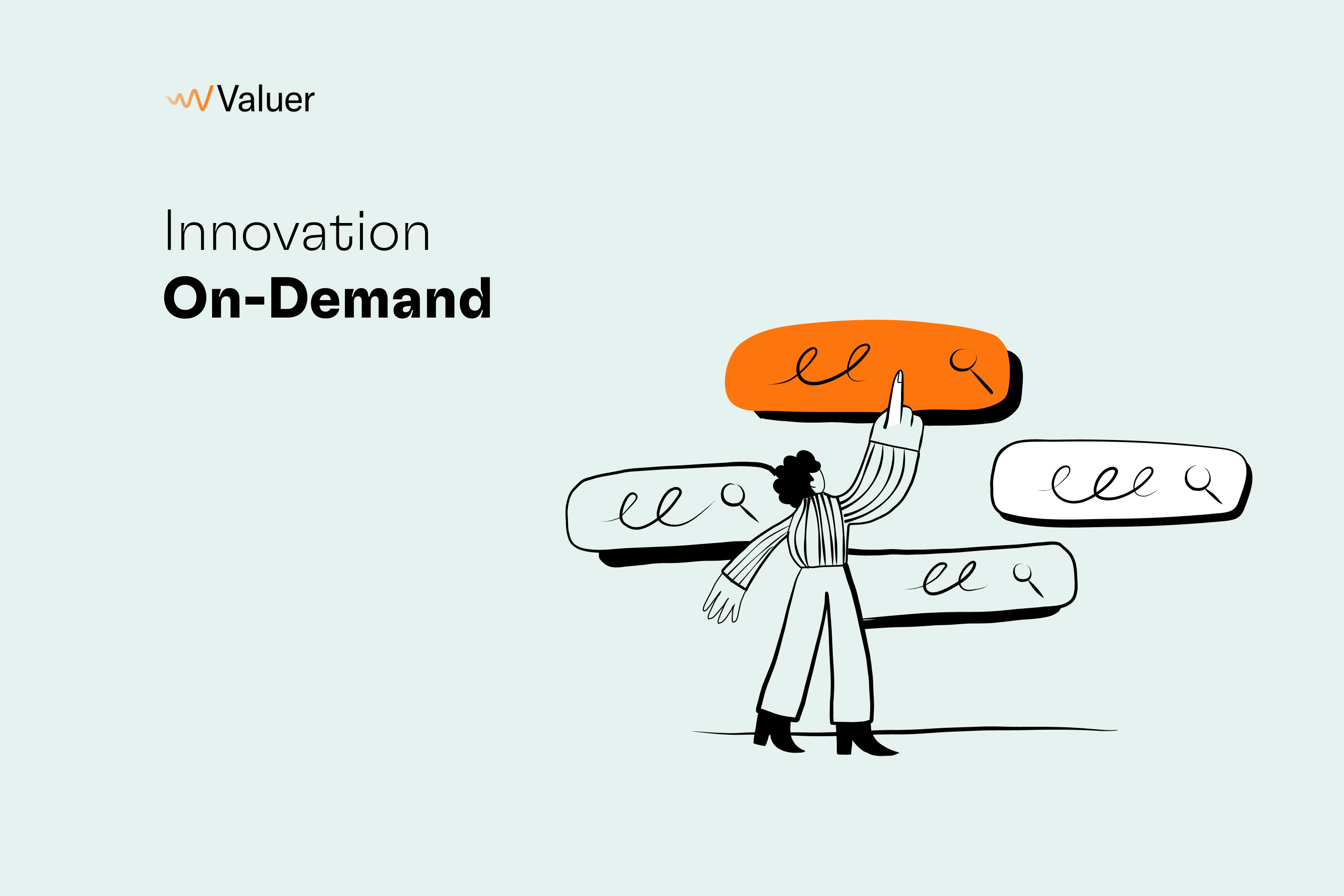 Valuer's innovation platform is unique in that instead of providing a one-time consultation, our clients become partners. This enables us to build great relationships with our clients by offering tailored services and procedures that align with their vision and expertise.
Simply said, the Valuer platform aids you in uncovering any untapped market opportunity and identifies companies that suit your unique innovation needs. We've already assisted organizations such as BMW, Deloitte, and Grundfos in identifying their unique innovation possibilities.
An innovation accelerator program relies heavily on human capital. This means that these programs won't have experts in all fields, unlike our AI-driven platform that has the ability to collect data from all industries. It can detect trends, market development, new tech, and disruptive startups that an innovation accelerator simply doesn't have the ability to detect.
Our innovation platform works as a personalized AI assistant for your particular business, providing data-driven insights that lead to an increased ROI. The platform is adaptable, allowing you to get information at your fingertips and use it whenever you need it.
Data-driven Innovation Platform
Finding the unknown is perhaps the most challenging aspect of scouting for new ideas or businesses. We've designed an engaging experience in which you'll be shown nearby firms, radars, and technology fast. It will never be as simple to delve into the realm of innovation as it is now.
We remove ambiguity by using our scoring system and AI algorithm to give data-driven insights from which you can begin your inventive path. Learn more about what our innovation platform can do for you.